Best Label Makers
These devices make home organization a snap in the kitchen, home office, workshop, or garage When you're neck-deep in a playroom or pantry reorganization project, the last thing you want is an afternoon fighting with your printer to make labels for your storage containers and bins. Bluetooth label makers, which you pair with a smartphone via an app, are a quick and easy way to create simple or fancy labels on the go.
Editor's Pick: Phomemo D30 Label Maker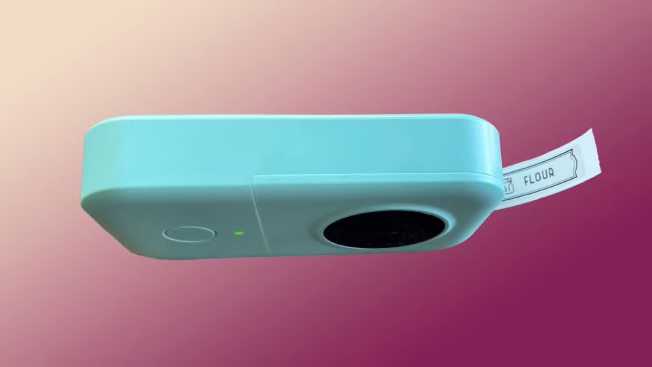 Price: From $37
Where to buy: Amazon, Phomemo, and Walmart
Specs: 5.6 ounces; 5.2x3x1.2 inches
Not everyone needs the Cadillac of label printers, especially if you're just looking to occasionally organize your office or kitchen pantry. Costing only $37, the Phomemo D30 Label Maker walks the line between fashionable and functional in a cute minty color that made us want to keep striving for an organized home. Using the app, you can produce labels in under 10 seconds. Or you can connect it to your printer for more elaborate jobs. You can easily scroll through extensive font options, choose the style you want with just one click, and preview what it will look like before wasting label tape.
The lithium battery comes charged and ready to print, and you can even print pictures, bar codes, or date and time stamps. The easy-tear labels can be separated with just one hand, and the device is smart enough to calibrate the paper roll to the proper position if you don't align it perfectly.
More advanced labelers or crafters can use the "creation" mode for heftier, more complex projects, while hobbyists and occasional organizers can use the "lite" mode, where everything is quite self-explanatory. The only downside of this product is that it doesn't produce larger labels for bigger items like some of its competitors. But with just a few clicks, you'll have a high-quality label that doesn't peel off and will last as long as you need it to.
The Phomemo app does ask for either a phone number or an email address to send a verification code, but that's the extent of its data retrieval.
Best Charger-Free Label Printer: Brother P-Touch Cube
Price: From $39.99
Where to buy: Amazon, Brother USA, Office Depot, and Staples
Specs: 12.8 ounces; 4.5x2.4x4.5 inches
For about the same price as the Phomemo, this label maker feels like more of a workhorse; it's heavier and sturdier, and a bit bulkier. It runs on six AAA batteries. A quick push of the cutting button makes a clean, precise cut each time. Because the cutting button requires little hand strength, children, older people, and those with disabilities may find it easier to use. The high-quality labels should stay well adhered to your spice jars. 
The corresponding Brother app itself is well-organized and intuitive, and saves templates you might want to use again. It doesn't require any personal information and asks to send notifications, which you can easily opt out of. The directions include a "next project" idea book for labels to organize your home, office, and more.
Most Dependable No-Frills Printer: Brother P-Touch Cube Plus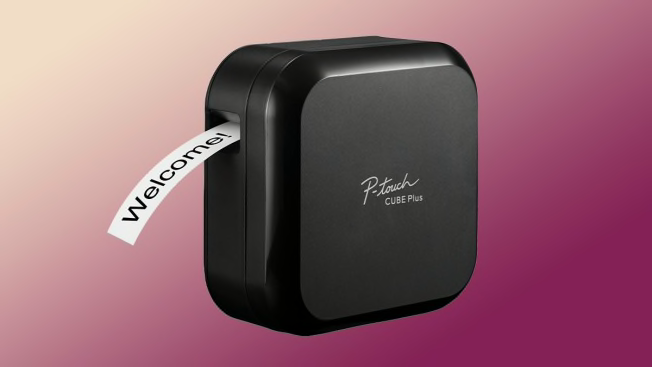 Price: From $99.99
Where to buy: Amazon, Brother USA
Specs: 1.4 pounds; 5x2.6x5 inches
It might not be pretty, and it sure is heavy, but the Brother P-touch Cube Plus seems like it will still be labeling years from now. Its no-ripping label-removal system cuts the label for you and even spits it out like a gumball machine. This makes the P-Touch Cube Plus the most hands-free option and easiest to use if you have your hands full during your project.
The Brother app features a wide variety of fonts, styles, and ideas. It also helps you with Bluetooth issues by prompting you through troubleshooting questions such as "Is your printer on? Is your phone too far away from the printer?" These user-friendly, step-by-step interactions make the app and printer unintimidating and accessible throughout the process. Both Brother products produce high-quality labels that seem durable and long-lasting.
This label maker costs more than its sibling Brother P-Touch Cube, in part because it comes with a built-in rechargeable battery rather than AAA batteries, it works with Windows and macOS rather than just Android or iOS, and it accommodates more label sizes (up to 24 mm tape rather than 12 mm). It also has a memory function allowing you to store up to 30 labels for quick reprints.
For Serious Crafters: Cricut Joy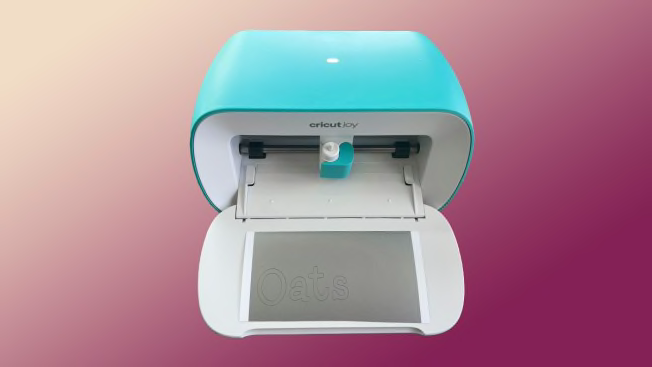 Price: From $129.00
Where to buy: Amazon, Best Buy, Cricut, Home Depot, Staples, and Target
Specs: 3.75 pounds; 8.5x4.25x5.5 inches
This is not just for your average labeling job. If you're ready to fully personalize and decorate each of your portable drinking cups, your kids' lunchboxes, T-shirts, hats, and just about anything else you can think of, then you need a Cricut. There's no need to buy a fancy phone case once you have this machine. You can make a variety of decorative cutouts in various materials. 
Highly regarded as a go-to splurge item in the crafting and scrapbooking world, the Cricut Joy is much larger than all of the label printers on our list, and much heavier, at almost 4 pounds. This means it's not really a carry-it-around-the-house style device. One major difference is that it prints on vinyl and can be used for extensive crafting and labeling beyond the basic label printers. But this comes at a cost; it's much more expensive and has a steep learning curve that you won't be able to master in just minutes like the others. As I was new to using a Cricut, the entire process took about an hour to learn for just basic label making rather than just a few minutes from downloading the app to producing a label with the other products. Also, separate vinyl and materials need to be purchased separately, which can compound the cost. (There are only two test materials included as samples.) The labels are meant to be extra durable; they're full vinyl adhesives, which are likely to last a bit longer than other label makers.
"[The Cricut] is a lot more versatile, and the aesthetics that it provides can really amp up your 'organizing game,' " says Cindy Sullivan, president of the Institute for Challenging Disorganization. "Where a simple label is highly functional, there is something to be said for stylizing your labeling. When people are more inspired by the visuals these can provide, it may engage them to use their systems more diligently. And really, that's what labels are about—defining spaces so that we can easily find what we need when we need it."
The app requires you to create an account, including your email address and a password, because after a 30-day trial, access to the full app costs $9.99 per month to use thousands of images, over 700 fonts, and thousands of project template starters. Sullivan adds that you shouldn't really attempt a more complex system like this to replace basic label making because it can cost you time figuring it out rather than getting organized.
Another Label Maker We Considered
Product: Phomemo M110 BT
From: $59.99
Where to buy: Amazon, Phomemo, and Walmart
Specs: 8 ounces; 4.5x3.4x2.5 inches
The Phomemo M110 is the bigger, bulkier version of the Phomemo D30 and offers a bit more flexibility with the size of the label you're creating. It uses the same app as well, and has a wide variety of fonts, styles, and images, with quick creation and easy label cutting. Its size, compared to the smaller Phomemo, makes it a bit less portable, and its alignment wasn't as precise when it came to cutting the label exactly on the cut line compared with the other label printers. But it's still a solid option when it comes to durable, lasting label printers. 
How We Evaluated Each Bluetooth Label Maker
Ease of use: It should be a straightforward, easy-to-use tool that enhances organization instead of detracting from it because of cumbersome steps and technological difficulties. We looked at whether the directions were easy to understand, keeping an eye out for QR codes and tutorials rather than clunky, text-heavy options, from the moment the device was unboxed to the final label in hand. Also, we analyzed how intuitive the corresponding apps were to use without extensive training by downloading the app, printing on preset settings, and then moving on to more complex templates, font changes, and additional settings. We watched for printing quality, speed, and connection. Finally, when we were tearing labels off, we even asked ourselves whether it would be easy for a small child to do, or if most people could do it one-handed, to ensure complete access to most users.
Privacy: We also kept an eye on privacy, because no label maker should be demanding your personal info to type "flour" on a food storage container, let alone your phone number, address, age, or any other data. David C. Williams, director of hyper-automation at AT&T, reminded us that whenever an app, such as a label maker service, asks for personal information, we make a choice. "I would recommend people to have a brief decision point: What am I getting in exchange?" He said that anything beyond asking for your email address might be too much, and that you could also verify that an app has at least four stars and 40-50 ratings/reviews, which you can look through.
We watched for apps that require more personal information than others, and those that didn't need any at all to set up, to ensure that users could quickly move to printing without stumbling over security questions or concerns. 
Style and size: While a label maker doesn't have to be the cutest thing you own, it does help you love a product a little bit more when it's stylish, including the device's color and shape, and the labels it actually produces. We also examined how clunky or bulky the label makers were. It should be portable enough to keep with you as you find a place for every item in your home, a guiding principle of Marie Kondo's KonMari Method. (The phrase "Does this spark joy?" might jog your memory.) 
"I love the idea of a portable label maker that you can have by your side while you tidy. Instead of having to write down all of the labels or running to your computer every time you need to print out a label, a portable label maker makes it much more convenient," Kondo says. "I recommend a label maker that is small and is easy to carry with you. "
To determine the most usable sizes, we checked the weight and dimensions, and held each product to see how easily maneuverable it was to use.
Functionality: More than anything, it's key that your Bluetooth label maker actually functions well to serve its purpose. Williams explained that a properly functioning Bluetooth device works best when it's fully charged to properly transmit the Bluetooth signals. He also recommended looking for a Bluetooth 2.0 device and ensuring the box clearly states that the product is compatible with the device you'll be using, such as your specific type of phone.
"Read the fine print. Read the details. I wouldn't just pick the one that was your favorite color," Williams said, adding that you want to invest in a product, not just opt for the cheapest one. "You get what you pay for," he said. "The $19.99 option may be cool for now but you're probably going to regret not getting the $50 option." He added that you should consider your intended frequency of use and how complex your projects might be. "If you're a power user on Etsy and you're printing labels all the time, then you probably do need something with a little bit more horsepower."
Other aspects of functionality include the app's ability to remember your style preferences, including past labels you've made, and that it works quickly and efficiently. We watched for printing speed, accuracy in cutting off the label, the quality of the labels themselves and the printed text, and consistency through repeated use.
This product evaluation is part of Consumer Reports' Outside the Labs reviews program, which is separate from our laboratory testing and ratings. Our Outside the Labs reviews are performed at home and in other native settings by individuals, including our journalists, with specialized subject matter experience or familiarity and are designed to offer another important perspective for consumers as they shop. While the products or services mentioned in this article might not currently be in CR's ratings, they could eventually be tested in our laboratories and rated according to an objective, scientific protocol.
Like all CR evaluations of products and services, our Outside the Labs reviews are independent and free from advertising. If you'd like to learn more about the criteria for our lab testing, please go to CR's Research & Testing page.
When you shop through retailer links on our site, we may earn affiliate commissions. 100% of the fees we collect are used to support our nonprofit mission. Learn more.