If you're like most of us, many of your documents now live on laptop drives or in cloud services. But when you need to print out a permission slip or a quick copy of your quarterly report, you'll still want a great printer.
But finding the right printer isn't easy. The cheapest inkjet printers aren't the bargain that they seem to be. Our research shows that what you're saving up front in purchase price can be spent on ink costs in the first few years of ownership. That's why many injkets have low owner satisfaction ratings—and why we don't recommend many of them. 
Laser printers tend to be cheaper to run and more reliable, and they have better owner satisfaction ratings. But they also have their limitations; they're more expensive, and they don't do a great job with graphics.
We've put together a list of the best printers for many people's needs. But first, it makes sense to understand your choices and how to navigate them.
Choose Between Inkjet and Laser
Inkjet or laser printer? The choice depends on the kinds of documents you need to print and how often you need to print them, as well as your budget. Here are the relative strengths and weaknesses of each kind of printer.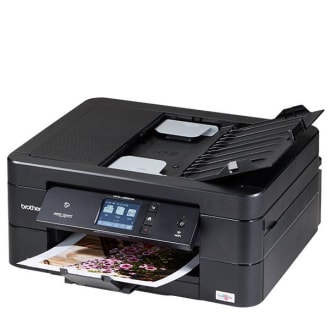 Inkjet Printer
If you don't print a lot and you typically print a combination of text, graphics, and photos—especially if you do it in color—an inkjet might be an option. 
But while inkjets can be cheap to purchase initially, the ink costs can be very high because of the price of ink cartridges. They also use that costly ink during maintenance cycles to keep the print heads from clogging.
An inkjet printer that uses ink cartridges can have annual costs of around $70 or more, compared with around $15 per year for a laser printer. You can cut that expense significantly with an ink tank printer (see below) where ink costs typically come in at less than $10 annually.
Keep in mind, though, that the brand reliability and owner satisfaction ratings—based on CR's member surveys—tend to be lower for inkjet printers.
Printers--All-in-one Ratings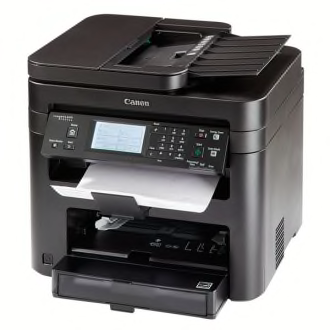 Laser Printer
If you print only text documents—and quite a lot of them—a laser printer makes sense.
Monochrome laser printers produce razor-sharp black-and-white text, which is what most consumers use their printers for. And they do it fast and inexpensively.
Typical toner costs for a black-and-white laser printer are about $15 a year, while an inkjet can set you back five times as much. Laser printers also tend to outperform inkjets in terms of speed, cranking out black-and-white text at a rate of nine to 25 pages per minute. Another advantage: According to data from our member surveys, laser printers tend to be more reliable than inkjets. 
But most laser printers aren't great at printing graphics or photos, although some of the more expensive models do better at this task. And color laser printers are expensive to purchase, and their toner costs are high. 
3D Printers Ratings
Regular
A regular (or basic) printer's only function is to print. So if you don't need to scan, copy, or fax—or if you own other machines that do those tasks—a regular printer could be a good fit. Models start at under $100, though the cheapest models are inkjets, which can have high long-term ink costs. (See below.) 
All-in-One
You can get also get a printer that has scanning, copying, and even faxing capabilities—often for roughly the same price as a regular printer. They don't take up much more space, either. And purchasing an all-in-one printer can be less expensive than buying separate devices to perform these tasks.
If you're doing more than just scanning an occasional paper document to attach to an e-mail, remember that all-in-one printers generally have fewer features than stand-alone scanners, copiers, and fax machines.
And speaking of scanning, look for a printer model with a flatbed design instead of one that scans through the paper feed. This will allow you to copy not only paper documents but also book pages and photos with ease. A few all-in-one printers also have built-in duplexers to automatically print on both sides of the page.
Your printer can now be as connected as your other gadgets, communicating with devices across the room or even across the globe.
1. Share without cables. Most home printers allow for wireless printing through WiFi, so you can print from a laptop or phone without having to plug in cumbersome cables.
2. Print without a computer. Some models can print and download photos right from your camera's memory card. Using Wireless PictBridge, also known as WiFi Direct, you can print directly from a compatible camera over a WiFi network. 
Printer ink is wildly expensive. 
That's especially so when you consider that a lot of it never ends up on the page: Inkjet printers use up ink for routine maintenance that keeps your print heads unclogged. To get a better sense of how different models use this precious ink, check out the Maintenance Ink Use column of our printer ratings.
In those ratings charts, Consumer Reports also combines the up-front price of a printer with the cost of supplying it with ink or toner to calculate the overall cost of ownership for two to five years. To arrive at those numbers, we use the price of replacement cartridges, ink, or toner; data on how much consumers print from our member surveys; and measurements of ink consumption from our labs.
Tank printers dispense with the pricey replacement cartridges used in conventional inkjet printers in favor of refillable reservoirs replenished with a bottle of ink.
These tank models tend to cost more up front, often selling for $250 or more, but they can save you money over time.
A conventional inkjet printer can be bought for as little as $100, but you can easily end up spending as much as $70 per year on ink, while a tank printer's ink costs can be less than $10 per year. 
For a typical user (someone who prints 35 pages per month) a tank printer starts saving money after about two years of use. Indeed, after two-and-a-half years, tank printers, such as those in Canon's MegaTank and Epson's EcoTank lines, are cheaper to own and operate than almost every printer in our ratings (though black-and-white laser printers are close in cost of operation).
Canon and Epson earned favorable owner satisfaction scores in Consumer Reports' surveys. However, we're currently not recommending Canon's MegaTank printers because they received only a Fair predicted reliability rating.
Buying Guide Video
For more, watch our video below.
How to Save Money on Printer Ink
Thanks for sharing.
Oops, we messed up. Try again later
Recently Tested Printers
BEST TIME TO BUY:
February, August, November, December
Do you know when is the best time to buy Printers? Learn more
More From Consumer Reports