Best Printers of 2022
Top picks among inkjets and laser printers from Brother, Canon, and Epson
When you shop through retailer links on our site, we may earn affiliate commissions. 100% of the fees we collect are used to support our nonprofit mission. Learn more.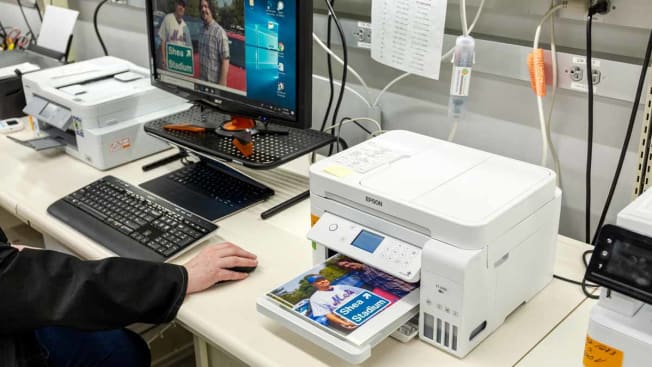 There's a lot to sort through when you're shopping for your next printer. Laser or inkjet? Regular or all-in-one? Should you invest in a printer that uses a reservoir tank?
No matter what you decide, don't run out and buy the cheapest model you can find. We've found that most bargain-priced printers burn through hundreds of dollars worth of ink as the years roll by, money you can save if you buy a more ink-efficient printer that fits your specific needs.
That's easier said than done if you only have marketing copy written on the side of the box to go by. But with Consumer Reports on your side, the process is a lot easier. CR members can consult our ratings for a detailed breakdown of close to 175 printers. Each model is purchased at retail and evaluated on more than 250 data points. We combine those test results with brand reliability and owner satisfaction ratings derived from our member surveys to arrive at an Overall Score that lets you compare every model on the same scale.
To make things even easier, we've combed through our ratings to bring you the best printers of the year, each selected to meet different needs. The models below print out text with dependable quality, many excel with graphics, and all but one of them will scan and copy, too.
If you want to make an even more informed purchase, consult our printer buying guide and our report on the high cost of wasted printer ink.
Tank printers hit the market a few years ago. These inkjets use a refillable ink reservoir instead of cartridges, which makes for rock-bottom ink costs. They used to be so expensive they only made sense for people who need to print all the time, but recently they've come down in price. The Epson EcoTank ET-2720 is the best recent example. It's still an investment, but you can often find it for under $250. That may sound like a lot, until you factor in ink prices. The average user should expect to use just $6 of ink per year. That's negligible compared to most inkjets.
This Epson is a solid performer, too. It pumps out text with decent quality at blazing speed. It doesn't excel at printing graphics like charts and graphics, but it does as well as any inkjet. (For professional quality graphics, you'll need to swing for a pricey color laser printer.) This model also does a great job printing photos, which is very unusual for a printer that's so frugal with ink.
There are a few caveats. For one, the ET-2720 doesn't do auto-duplexing, meaning it won't print on both sides of a page, and it doesn't have an automatic document feeder, so if you want to scan a stack of papers you have to do it one by one.
Don't need to print in color? A black-and-white laser printer will be much less expensive than a color laser printer, and over the long haul, laser printer toner will cost you less than inkjet cartridges. The most cost-effective black-and-white lasers don't come with scan or copy functions, but for people who need an all-in-one, the Brother MFC-L2690DW is one of the most appealing options in our ratings.
A monochrome laser is your best printer choice if you need crisp clean text, and this printer shines in that department. In fact, it aces every single one of our tests except for graphics quality, but that's a shortcoming for every printer in this category. Where it really shines stands out is value. It's a CR Best Buy, which means the sticker price is low by all-in-one laser printer standards, and yearly toner costs come to just $16.
This model gets also gets outstanding ratings for predicted brand reliability and owner satisfaction. Our analysis suggests that the best laser printers are more likely than inkjets to last a long time and meet consumer expectations.
Want a machine that's easy on your wallet? Look elsewhere, because that's not what color laser printers are for. These printers are built with professionals in mind—they're expensive and the toner isn't cheap. There's a reason people buy them, though. Color lasers are the graphics kings, blowing competitors out of the water with sharp, accurately saturated images. Most scan and copy with ease no matter how many stacks of paper you throw at them, and they'll pump out high-quality text documents at lightning speed. They usually come with fax capabilities, too.
The Brother MFC-L3770CDW is our top-rated model in this category. The only drawback is that its graphics quality is great but not exceptional. If graphics matter most, try a different Brother model, the MFC-L8900CDW—a machine that excels at graphics but doesn't do quite as well with text quality. Pick your priority.
If you're looking for a solid printer with a low price, the Canon Pixma MG3620 is one of the best printers you'll find in our ratings. But do a little bit of math before you buy it.
Cartridge prices have gone up a bit, so it's more important than ever to factor in yearly ink costs. You can buy this model for about $80, and annual ink costs are $56. That's not outrageous for a conventional inkjet, but compare it to the ink costs of the tank printer above, the Epson EcoTank ET-2720. It sells for about $250 right now, but yearly ink costs are just $6. As the years go by, you'll end up spending more on this Canon than you would if you invested in a tank model up front. That might make sense for you, though, especially if you really need a printer right now and can't afford to shell out hundreds of dollars—or if you don't plan to keep the printer for that long.
The Canon MG3620 does fairly well in our tests. Don't expect perfect printouts. You may see some fuzziness if you look up close, depending on what you're printing, but the quality should be just fine for printing out receipts, driving directions, recipes, and so on.
Here's something you may not have considered. It's tempting to buy a product that's decked out with as many features as possible. But is a scanner a necessity, and do you really need to print in color?
If you answered no to both of those questions, we've got a suggestion. Regular black-and-white laser printers are some of the best options out there. They're cheap up front, toner costs are low, and they get the best predicted reliability and owner satisfaction ratings out of any category of printer, by far. The Brother HL-L2370DW is one of the best printers in this category. It costs under $150, and most people will only use about $15 worth of toner a year. You won't find a better a deal than that with any other type of printer. Expect perfect pages of text as fast as you can hit Control + P.
This model isn't cheap, but the HP OfficeJet 250 Mobile is one of the smallest printers to earn a CR recommendation, and it's an appealing option if space and portability are your main concerns.
This printer is expensive, and our estimated yearly ink cost comes to $79. But the OfficeJet 250 performs well, earning a top rating for text printing speed and great scores for graphics, scanning, and copy quality. It gets just a so-so rating for text and photo quality, but that should satisfy most consumers printing documents for everyday use.
Features include automatic content recognition that converts scans into text documents, and the ability to print by emailing a document directly to the printer. You can also purchase an optional battery so you can operate the machine when an outlet isn't available.