Best Printers of 2021
Top picks among inkjets and laser printers from Brother, Canon, Epson, and HP
When you shop through retailer links on our site, we may earn affiliate commissions. 100% of the fees we collect are used to support our nonprofit mission. Learn more.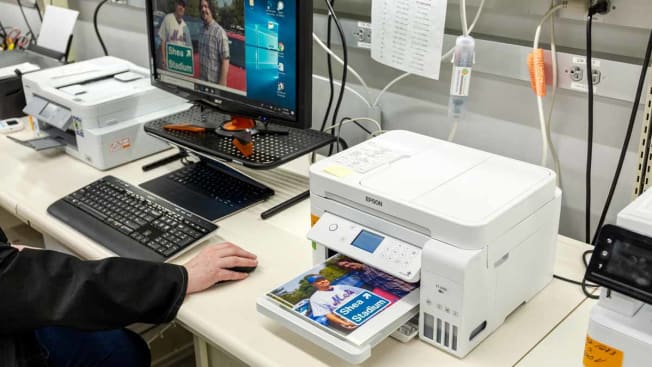 Finding the best printer for your purposes can be confusing. Laser or inkjet? Regular or all-in-one? Should you invest in a printer that uses a reservoir tank?
These aren't trivial decisions; pick the wrong model and you could find yourself wasting hundreds of dollars on ink costs as the years roll by. With Consumer Reports on your side, though, the choice is a lot easier.
CR members can consult our ratings for a detailed breakdown of close to 175 printers. Each model was purchased at retail and evaluated on more than 250 data points. We combined those test results with brand reliability and owner satisfaction ratings derived from our member surveys to arrive at an Overall Score, which lets you compare one model with the next.
To make things even easier, we've combed through our ratings to bring you the best printers of the year, each selected to meet different needs. The models below print out text with dependable quality, and all connect over WiFi.
Before you pick up your next printer, you may also want to consult our printer buying guide and our report on the high cost of wasted printer ink.
The models featured here are the best printers based on CR's latest tests. We update this article and our ratings throughout the year.
The Brother MFC-J895DW is a highly rated and affordable all-in-one inket. It earns Very Good scores for printed text, graphics, and scanning quality, and the photo quality is generally okay.

Estimated yearly ink costs come to $101, which is typical for an inkjet, but overall it's a bargain given the printer's relatively low retail price. As with other inkjets, you will you have to replace the entire color ink cartridge each time a single color runs out.

The printer also features faxing capabilities, WiFi connectivity, auto-duplexing—for printing on both sides of a page—and optical character recognition (OCR) software that automatically recognizes and converts text so that it can be edited in a word processor.

As a rule, inkjets earn lower brand reliability marks than laser printers, but Brother does as well as any other inkjet brand, with a Good rating.
Don't need to print in color? A black-and-white laser printer will be much less expensive than a color laser printer, and over the long haul laser printer toner will cost you less than inkjet cartridges. The most frugal black-and-white lasers don't come with scan or copy functions, but for those who need an all-in-one, the Canon ImageClass MF264dw is one of the best options in our ratings.
Like a lot of laser printers, it gets Excellent ratings for the quality and speed of black-and-white text; it also rates Excellent for copy and scan quality. But where it really shines is value. It's a CR Best Buy, which means the sticker price is low by all-in-one laser printer standards. And the savings continue when you get the model home. We estimate that the typical user's toner costs will come to just $51 per year.
This model gets Very Good ratings for predicted brand reliability and Excellent owner satisfaction results. Our analysis suggests that the best laser printers are more likely than inkjets to last a long time and meet consumer expectations.

Don't let the high price scare you off. For consumers shopping for an inkjet printer that's destined for heavy use—churning out memos, recipes, book reports, airline tickets, sports schedules, graphics-heavy school projects, and the like—the Epson EcoTank ET-2720 will provide significant savings in the long run.

Like other reservoir models, this printer does away with pricey replacement cartridges in favor of tanks that can be replenished from low-cost bottles of ink. The typical cost to keep this printer running is just $7 per year, a tiny fraction of the figure for conventional inkjets.
The ET-2727 lacks some useful features, including auto-duplexing (the ability to print on both sides of a page). But it earns an Excellent rating for photos and a Good for text and graphics. And if you print less than a few dozen pages per month, you could go years before needing to buy replacement ink.
If you need better text quality, consider the $330 Epson EcoTank ET-M2170. That one costs only $2 a year to run, according to our estimates.

The HP OfficeJet 250 Mobile is one of the smallest printers to earn CR's recommendation, and it's an appealing option if space and portability are your main concern.
This printer is expensive, and our estimated yearly ink cost comes to $97, which is typical for an inkjet. The OfficeJet 250 performs well, earning an Excellent rating for text printing speed and Very Good scores for graphics, scanning, and copy quality. It gets just a so-so rating for text and photo quality, but that should satisfy most consumers printing documents for everyday use.
Features include OCR software and the ability to print by emailing a document directly to the printer. You can also purchase an optional battery so you can operate the machine when an outlet isn't available.
If you're looking for a solid printer with a low price, the Canon Pixma MG3620 is one of the best options in our ratings.
We've seen this model sell for less than $50. Often a cheap sticker price on a printer means outrageous cartridge costs just over the horizon, but the MG3620's yearly ink cost of $108 is in line with some of the best printers in our ratings.
This model isn't a great option if you need ultra-crisp prints: It earns just a Fair rating for text quality and merely Good for graphics quality. That's not so good for printing resumes or business proposals, but it should be perfectly fine if you simply print receipts, driving directions, recipes, and so on. This printer also has copy and scan functions, making it a great value for lots of households.