13 Organization Pros on the Storage Items They Can't Live Without
Experts share the decluttering tools that have made the biggest difference at home If you're looking to declutter your home, consider the amount of built-in storage you have and your personal style preferences. Baskets, bins, and shelves are a few of the essentials typically used to tackle problem areas like the pantry or under the bed. And there are some one-off staples like spice racks and shower caddies that can help contain messes big and small from the kitchen to the bathroom and beyond. 
With all the organizational gadgets and contraptions available, it can be tricky to figure out which ones are must-haves vs. nice-to-haves. So what's worth the money? We interviewed professional organizers to learn about the storage items that have made the biggest impact in their homes. Here's what they had to say.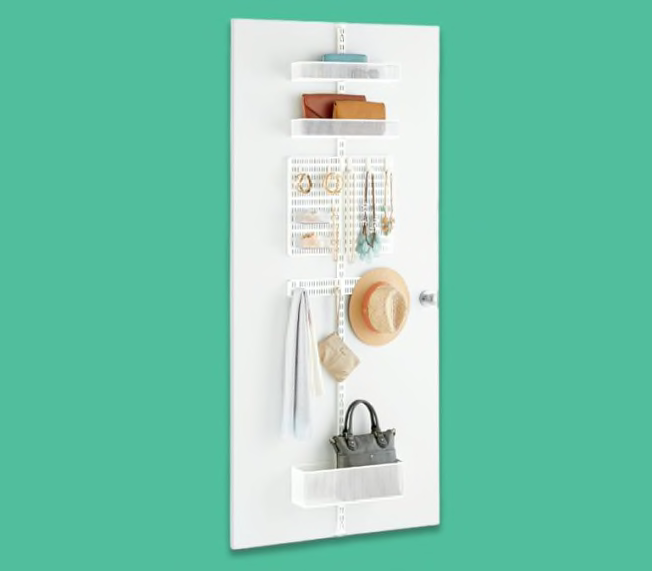 When your closet space is maxed out, look to its door as the next possible storage solution. Professional organizer Maria Sanchez is a major proponent of the concept and has this versatile contraption to thank for it. "I cannot live without the Elfa over-the-door rack storage system," Sanchez says. "It works in many different areas. We use ours in our hallway closet to store a variety of toiletries and reduce the clutter that can easily build up on the shelves of this space." The pro has also implemented the unit inside clients' pantries, kids' bedrooms, bathrooms, and garages. 
Where to buy the Elfa over-the-door rack: from $105 at the Container Store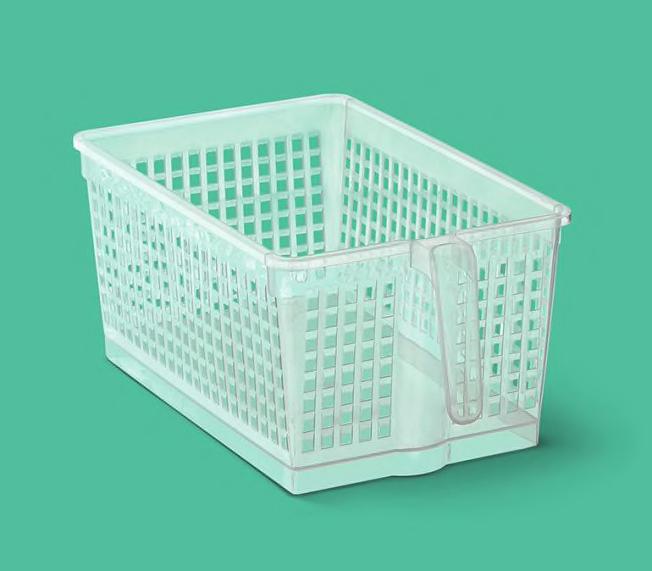 Handled baskets make organizing so much simpler, says professional organizer Pamela Bowers, who prefers them in a diverse range of sizes, depending on the task at hand. While they can be utilized for just about any area in the home, Bowers loves to put them to use in pantries, garages, and closets, and she even uses them for tackling messy craft areas. The bonus? "The handle allows for grabbing what you need from higher-level shelves," the pro says.
Where to buy handled baskets: from $5.49 at the Container Store; set of three for $18.98 at Walmart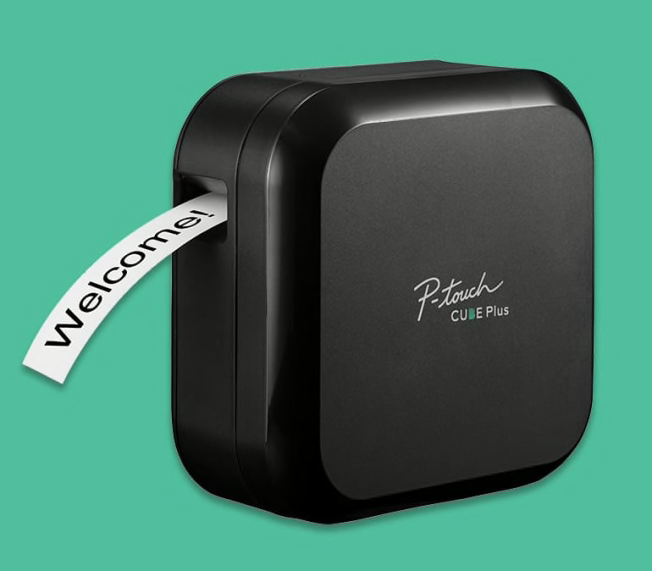 For professional organizer Joby Aranda, a label maker is an absolute need when it comes to any organizational project. "Having containers labeled is what keeps us all accountable," the expert says. "It's what tells you where to find your items and where it needs to go back." Aranda's go-to is this lightweight, portable version that operates using Bluetooth wireless technology to design and print custom labels.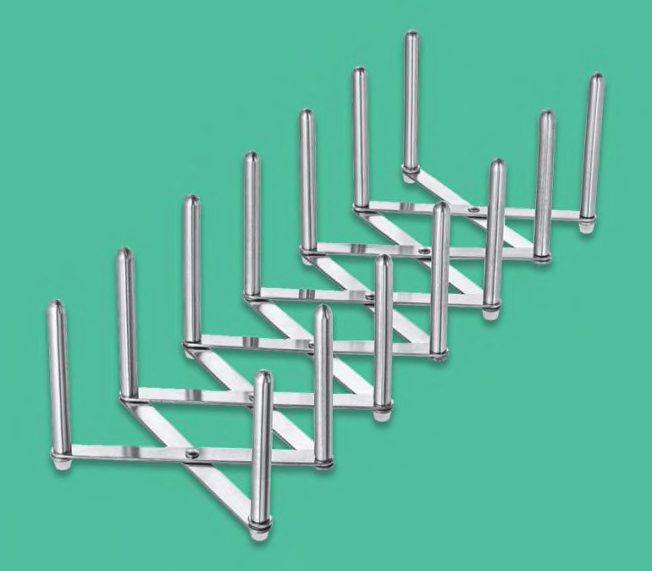 A major challenge in many kitchens, regardless of size, is finding creative ways to store cookware. While some pots and pans can be nested together, lids with protruding knobs are more of a challenge. For Aline Lau, founder of Tokimekie, a decluttering service, and a consultant for KonMari (a decluttering method developed by Marie Kondo), an expandable lid organizer keeps pot tops neatly in line and makes efficient use of cabinet space. "The lid organizer is the only way I'm able to keep my lids, baking trays, and frying pans organized," she says.
Where to buy lid organizers: $6.99 at Ikea; similar for $19.99 at Bed Bath and Beyond, or $38.39 at Amazon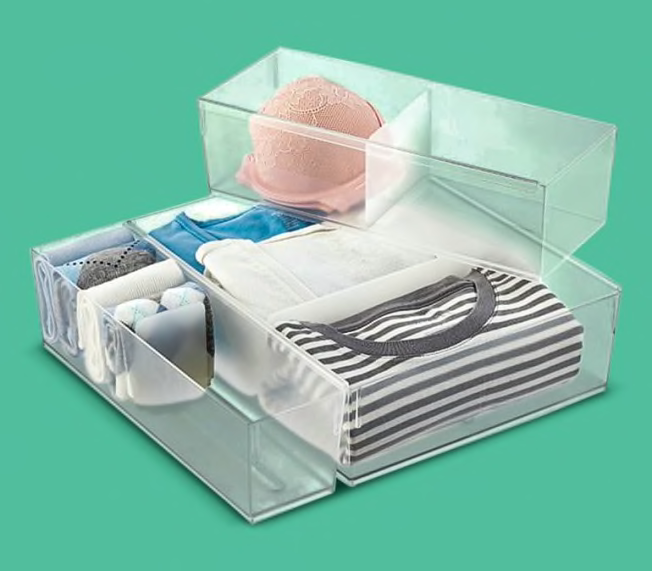 Adjustable Drawer Organizers
If you ask Caitlin Roberts, a professional organizer and founder of Minimize with Purpose, the secret to well-organized dressers could be adjustable drawer organizers. Each bin has a thin divider that can slide from side to side to provide a custom-sized section for whatever you'll be storing. This certified KonMari consultant uses the vertical fold method to keep garments in order while maximizing every square inch of storage space. "This tool allows you to customize the support within your drawer as needed," Roberts says. "So whether you just finished your laundry or are down to your last sock, your drawers will still look tidy and inviting."
Where to buy adjustable drawer organizers: from $7.99 at the Container Store; $14.18 at Amazon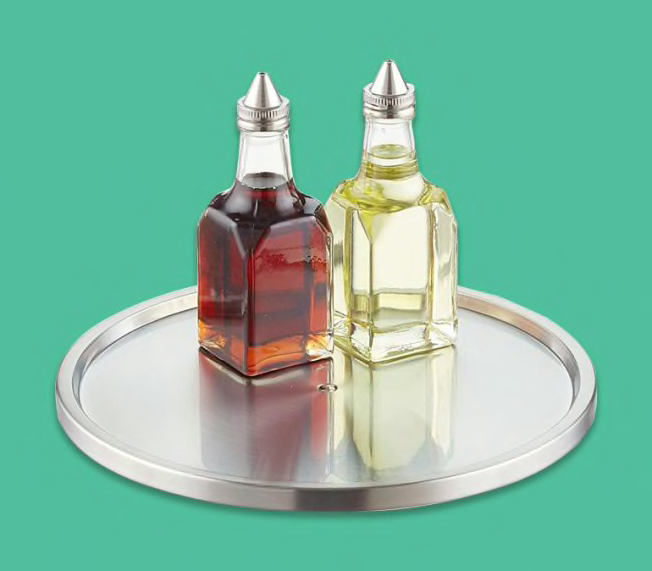 Professional organizer and interior designer Jeffrey Phillip uses turntables throughout his home and in his clients' homes to make the most of storage space in kitchen cabinets, bathrooms, craft spaces, and even refrigerators. "Lazy Susans have a big impact on the functionality of a space by allowing you to more easily access the items you frequently use," Phillip says. "They also prevent you from losing items to the back of a cabinet or a space that is out of reach."
Phillip's go-to is a stainless steel lazy Susan, which he prefers because of its low profile and style. He also recommends the Oxo Good Grips turntable as an alternative; it comes in multiple sizes. Getting 360-degree views of your spices or beauty products just got a whole lot easier.
Where to buy lazy Susans: stainless steel from $16.99 at Amazon; $19.99 at the Container Store. Oxo Good Grips turntable $14.99 at Amazon, Target.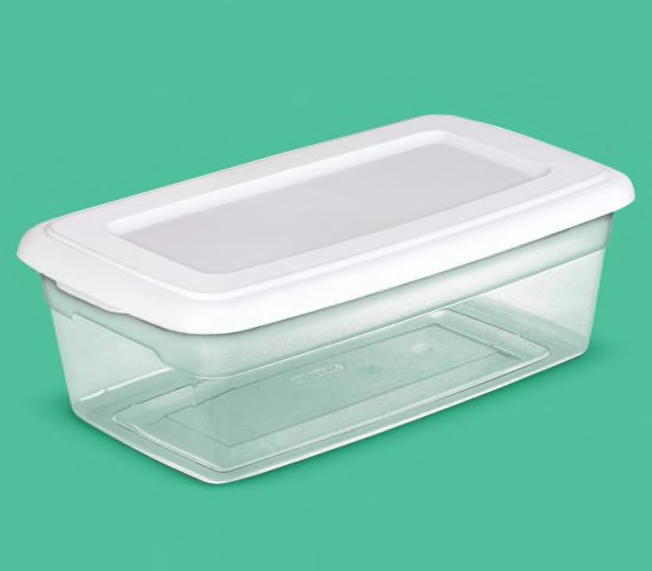 "I live for plastic shoeboxes," says Robyn Reynolds, owner and CEO of Organize2Harmonize. "They are great for everything—art supplies, crayons and markers, napkin rings, makeup, first-aid kits, and office supplies." These clear and lidded storage boxes are Reynolds' top pick. Budget-friendly and available in a variety of styles, they can be storage heroes for just about any spot at home and can be stacked for ease.
Where to buy plastic shoeboxes: $1.28 at Walmart
Certified professional organizer Janine Adams of Peace of Mind Organizing can't do without shallow drawer dividers. "I use these acrylic dividers in my kitchen in wide drawers to divide utensils into categories," she says. "That allows me to create and maintain order in drawers that can otherwise become unwieldy very easily."
Adams also incorporates them in dresser drawers to compartmentalize items such as tights and leggings. And what this version may lack in depth it makes up for with its modular form. You can customize your storage space by mixing and matching containers. Available in a variety of dimensions, it's easy to use several of them together to expand your available storage area. 
Where to buy drawer dividers: from $3.19 at Bed Bath & Beyond; $4.59 at Ace Hardware; $4.99 at the Container Store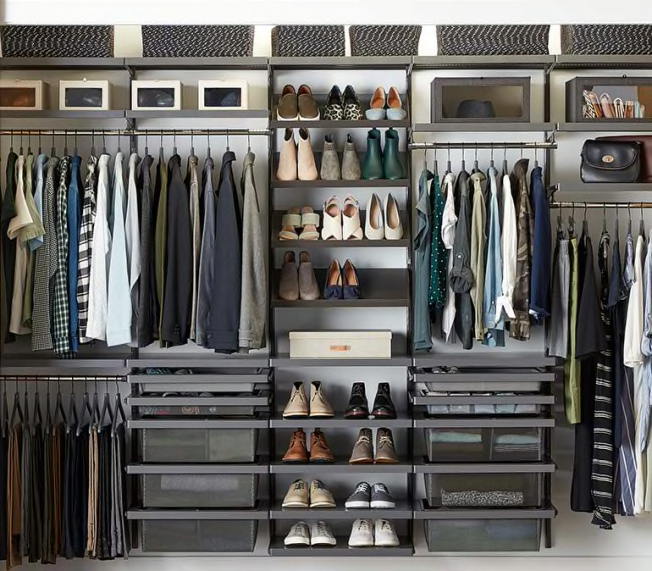 For those in search of more comprehensive and larger-scale storage, professional organizer Kay Patterson of The Organized Soprano suggests the Container Store's Elfa shelving system. A custom unit can give you greater visibility and use of vertical space. "I have installed Elfa in closets, in libraries, pantries—and I've moved my Elfa shelving from home to home with no issues," she says. "The wire shelving can be cut to fit the size of the space, and it's so fun to use and install." 
Where to buy the Elfa shelving system: Prices vary at the Container Store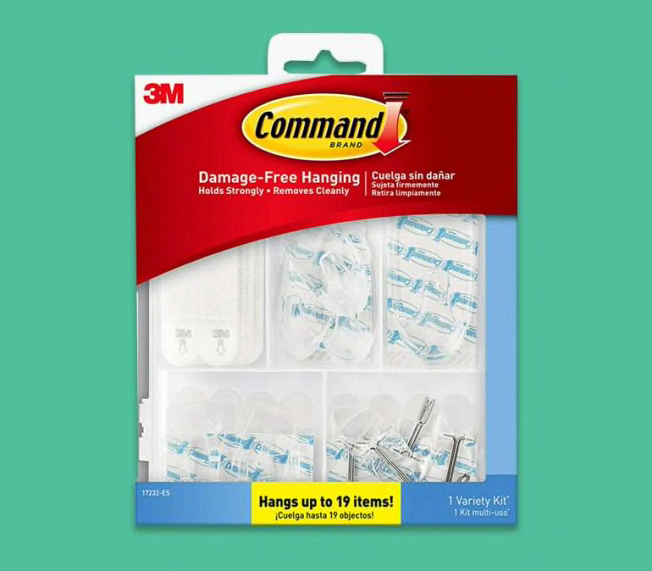 Command hooks are the unsung heroes of organization, and according to Sharon Lowenheim, founder of Organizing Goddess, they come with an abundant array of uses. From hanging pans on a kitchen wall and inside a cabinet door to using them for cord controls in a home office or living room, these hooks are versatile and easily reusable. Just keep the hooks and grab more adhesive strips if you want to move them around.
Where to buy Command hooks: $21.99 at Bed Bath and Beyond; $22.34 at Amazon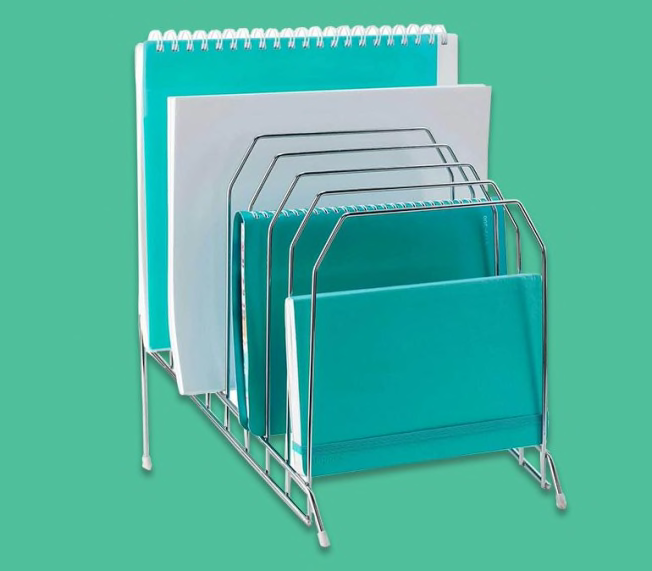 If you can't afford to use up floor space for a filing cabinet in a home office, Rashelle Isip, a professional organizer and founder of The Order Expert, suggests downsizing with a desktop version instead. The compartmentalized piece can conveniently fit on a tabletop to store mail and other documents. "I like using the Mindspace multistep file organizer because the staggered layout allows for easy identification of file names," Isip says.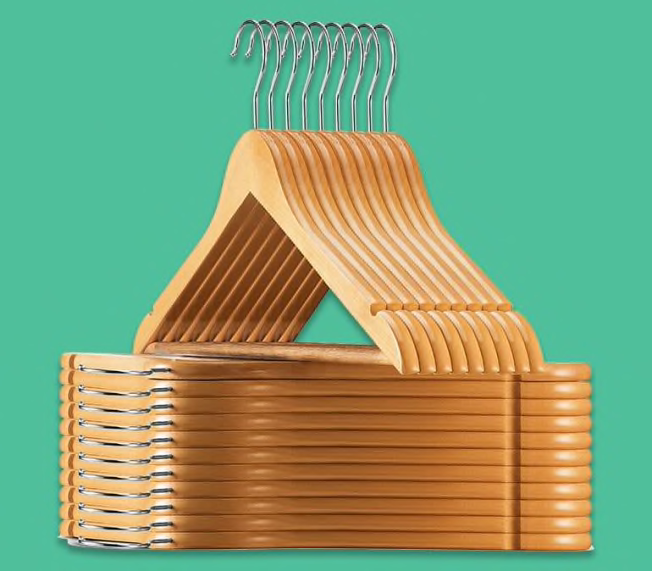 While there's nothing wrong with having mismatched hangers in a closet, it's important to ensure that you're not hanging on to overly dated or damaged ones. Wire hangers can rust and potentially stain clothing, while those that have lost their form won't do a very good job of keeping clothes neatly in place. Karin Socci, an organization expert and founder of The Serene Home, is partial to matching wooden hangers and credits them with making the biggest impact in her home both functionally and aesthetically.
"Get rid of old wire and broken plastic hangers," Socci says. "I really love wooden hangers; they instantly transform a closet and will make getting dressed a far more pleasant experience." If you're tight on square footage, consider switching over to slim velvet hangers. They're thinner, may make your closet look less cluttered, and can maximize the amount of storage space you have to work with.
Where to buy matching hangers: set of 10 for $11 at Bed Bath & Beyond; set of 20 for $34.99 at Amazon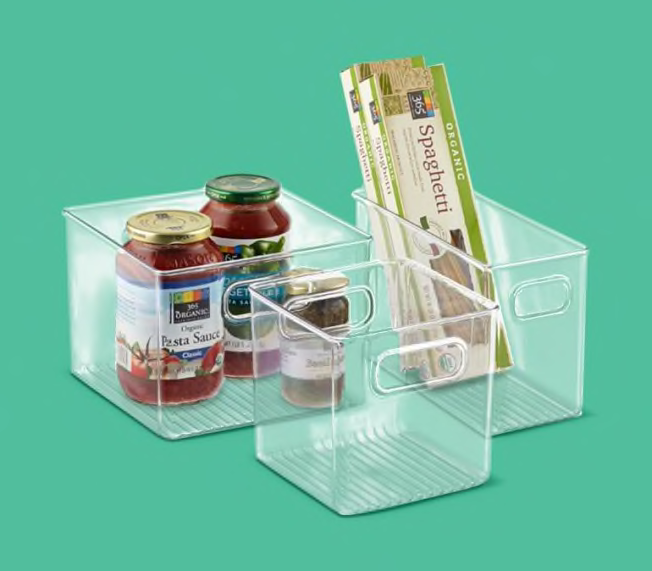 Rachel Rosenthal, organizing expert and owner of Rachel and Company, swears by clear pantry bins and prefers to use them beyond the kitchen, including in the linen closet and even the bathroom. "While the name says "pantry,' it does so much more!" she says. "I love that they allow you to easily create categories, see what is inside, and can be adapted to just about any space." Rosenthal's favorites are the iDesign Linus Pantry Bins, which come in a multitude of shapes and sizes for optimal versatility.
Where to buy pantry bins: from $10.76 at Amazon, $14.99 at the Container Store; $19.99 at Bed Bath and Beyond
When you shop through retailer links on our site, we may earn affiliate commissions. 100% of the fees we collect are used to support our nonprofit mission. Learn more.