At-Home Review: Arlo Pro 3 Floodlight Camera
Unlike its competitors, this camera can run on a rechargeable battery, allowing you to place it just about anywhere When you take one look at the Arlo Pro 3 Floodlight Camera ($250), it's immediately apparent that it doesn't look like a floodlight—or any other floodlight camera—on the market.
Rather than two individual bulbs on either side of the camera, the Arlo floodlight is an oblong LED light panel with the camera centered in it.
The design feels sleek and futuristic, and the look befits the tech inside. Unlike traditional floodlights, the Arlo can run on a power cord (sold separately for $50) or rechargeable battery.
The company says the Arlo records 2K video with high dynamic range (HDR) and offers a wide 160-degree viewing angle. With a recurring Arlo Secure subscription for video storage, it also uses AI to alert you when it detects people, animals, vehicles, and packages.
Other features include voice control via every major digital assistant, two-way audio, and color night vision.
But its futuristic aesthetic might look out of place on homes that aren't that modern in style. Of course, looks matter when you're somewhat permanently affixing the thing to your home. But what really matters? How well the camera works.
To find out, I purchased the Arlo Pro 3 Floodlight Camera and tried it out at my own home, along with floodlight cameras from Ring and Eufy, to see which one is the best driveway security guard. Read on for my experience with the camera's installation and setup, video quality, and smart features.
If you're interested in purchasing the Arlo Pro 3 Floodlight Camera, you can find it for sale at Amazon, Arlo, Best Buy, Lowe's, and Target in both white and black finishes.
Because the Arlo floodlight isn't hardwired into an electrical box, installation should be a breeze. Attach the mount to an exterior wall or an eave, charge up the camera, connect it to the mount, and you're done.
The setup process wasn't smooth sailing for me, though.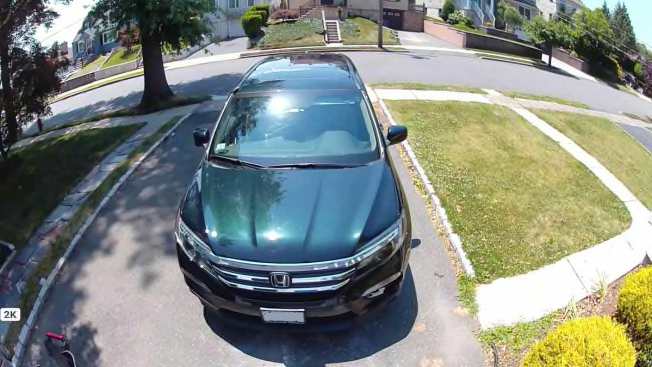 Arlo says the floodlight camera records 2K video in high dynamic range (HDR), and its recordings look quite good. The video doesn't appear to actually be at a 2K resolution, but that's not surprising. We've yet to find a wireless security camera that meets its quality claims in our lab tests.
Despite that technicality, the footage is crisp and clear, with colors that don't look overly saturated or washed out. Thanks to its HDR, you can still see plenty of detail in shadows, too. Footage recorded at night looks a bit hazy, but the floodlight allows for color night vision, which makes colors surprisingly vivid and objects and people pretty easy to see.
Voice control: This floodlight camera is the most flexible of the models I tried. It works with Amazon Alexa, Apple HomeKit/Siri, Google Assistant, and Samsung SmartThings, so you can control the camera with your voice or alongside your other smart home devices all in one app. I used it with Amazon Echo Show 10 and Google Nest Hub smart displays, which were able to pull up live video quickly but don't allow you to use two-way audio to speak with visitors. I was also able to pull up the camera feed in the SmartThings app, but it took a long time to load, which isn't ideal if you're trying to catch a person or animal in the act. As for controlling the floodlight itself, only the Google Assistant offered that functionality. What about Apple HomeKit? I wasn't able to try it out because that functionality requires an Arlo Pro Smart Hub, $100, sold separately.
Features That Require a Subscription
Compared with the Eufy and Ring floodlight cameras I tried out, the Arlo offers the widest range of features, but most of them require a monthly fee.
Through an Arlo Secure subscription, you get 30 days of video storage as well as monitoring zones; person, package, vehicle, and animal detection; and the ability to request help from emergency services. The plans cost $3 per month for one camera, $10 per month for unlimited cameras, or $15 per month for unlimited cameras with emergency response.
Arlo provides a three-month trial of the base subscription plan, so you can try out these features and see if they're worth the money. Here's how each paid feature works, along with my thoughts on how they worked:
Monitoring zones: This feature, which Arlo calls activity zones, allows you to highlight certain areas that the camera "sees" to receive motion alerts from movement in those areas. It made it very easy for me to highlight my driveway and front yard and only receive alerts in those areas while avoiding unnecessary alerts from my street and sidewalk.
AI-based alerts: Many cameras, including this Arlo model, use algorithms and artificial intelligence to identify if certain types of objects caused the motion "seen" by the camera. If a specific object is detected, the camera will send you an alert. Arlo offers specific alerts for people, vehicles, animals, and packages. The first three worked fairly well, providing a nice bit of context before I actually saw the footage. For example, the vehicle alerts were a helpful little indicator that my wife got home from work. But I found that the camera wasn't always correct in identifying what it saw. (In one instance, it identified a rabbit as a person!) As for the package alerts, I couldn't get them to work at all. (I reached out to Arlo about this problem and was told that a rep was going to help troubleshoot it. I'll update this article once that's done.) Because these alerts are software-based, I hope Arlo will improve them over time as it makes software updates.
Emergency response: With the Arlo Secure Plus plan, you can request police, fire, or medical assistance just by pressing a button in the Arlo app. Once activated, you can call or text an Arlo emergency response agent, who will relay information about the emergency to first responders. This new feature replaces Arlo's e911 feature, which allowed you to call the 911 dispatcher for your home address regardless of your physical location. (911 dispatchers differ by town and region.) Because I didn't want to call first responders to my home without a real emergency, I didn't try it.
Should You Buy the Arlo Pro 3 Floodlight Camera?
It's an all-around great choice, thanks to a wide array of features and flexible power options. That said, if you're looking to replace a hardwired floodlight, you should probably consider other options, such as the Eufy Floodlight Camera, $180, and Ring Floodlight Cam Wired Pro, $250. They offer comparable performance, even if they aren't as feature-rich.
Don't forget that you will need to pay a monthly fee to get the most out of the Arlo Pro 3 Floodlight Camera. But if you want helpful AI-based alerts for different types of motion, or a versatile solution that works with all of the major smart home systems on the market, the Arlo is the way to go.
When you shop through retailer links on our site, we may earn affiliate commissions. 100% of the fees we collect are used to support our nonprofit mission. Learn more.