At-Home Review: Ring Floodlight Cam Wired Pro
The company's upgraded floodlight camera packs radar-based motion detection, color night vision, and a louder 110-dB siren Ring was one of the first security camera manufacturers to launch a floodlight camera, in 2017. Since then, many competitors have hit the market, including Arlo and Eufy, among others.
But Ring released a new-and-improved version of its floodlight camera in May called the Ring Floodlight Cam Wired Pro, $250.
So what sets it apart from the original?
The new Wired Pro model features Ring's radar-equipped 3D Motion Detection, Bird's Eye View maps showing where visitors traversed your property, high dynamic range (HDR) video with color night vision, improved WiFi connectivity, higher-quality two-way audio that Ring calls Audio+, and a slightly louder 110-decibel siren.
Many of these features—3D Motion Detection, Bird's Eye View, Audio+—first launched on the recently released Ring Video Doorbell Pro 2.
The installation process was very straightforward. The installation itself took about 45 minutes and involved shutting off the power to the light, unscrewing the old floodlight from the electrical box, disconnecting the power wires from the old light, and wiring in and mounting the new Ring floodlight.
Ring makes the process as easy as possible by including a variety of different-sized screws for the electrical box (other models include a single set of screws that might not fit the holes of your electrical box) as well as both printed instructions and in-app instructions with animated GIFs to show you each step.
The setup process was equally easy and straightforward. Because I already own Ring cameras and have a Ring account, the app remembered my WiFi password and connected the floodlight to my network quickly.
The floodlight itself also played audible messages to alert me about its progress, saying things like, "Now connected to the Ring app," and "Connecting to WiFi, just a moment."
If you choose to use the camera's new 3D Motion Detection, the setup process has you pinpoint the camera's location and the direction it's facing on a satellite map of your home. You also have to angle the camera between 45 and 60 degrees off the wall and input its approximate height off the ground.
Of course, you might not be comfortable with giving Ring such detailed information about your home. When I reviewed the Ring Video Doorbell Pro 2, which first had this feature, Ring told me it will not share that information with law enforcement unless it is "obligated to comply with a valid and binding legal request." The feature is optional.
Once it's set up, 3D Motion Detection uses a radar sensor and the camera's location to tell where a person is in three-dimensional space in front of the camera, yielding motion detection that is supposedly more accurate than a regular motion sensor. For more info, see our "Free Smart Features" section below.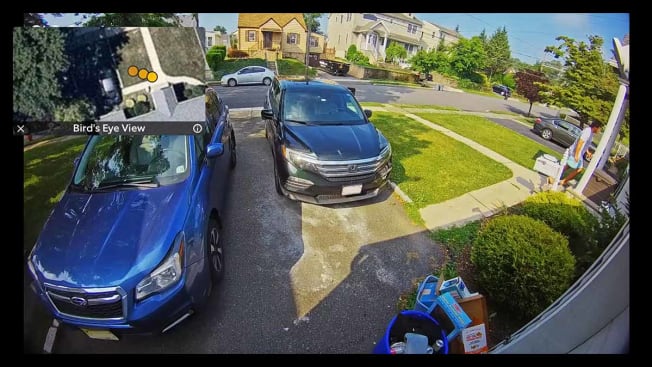 Ring claims the Floodlight Cam Wired Pro records in full 1080p HD with high dynamic range, and I must say it yields a clear, vivid picture that doesn't wash out details in shadows or bright clouds.
My only criticism is that, similar to my experience with the Ring Video Doorbell Pro 2, the colors that the camera captures during the daytime are a bit oversaturated and look unnatural (for example, in the above screenshot, my front yard looks much greener than it actually is).
The Ring floodlight's nighttime footage is terrific, though. Its 2,000-lumen floodlight, which turns on when it detects motion, makes for superb color night vision with crystal clear video and rich colors—I could see the grass, shrubs, and blue recycling can in my yard.
When it comes to smart features, the Ring Floodlight Cam Wired Pro falls in the middle of the pack: It has fewer useful features than the Arlo Pro 3 Floodlight Camera I tried out but plenty more than the Eufy Floodlight Camera. Here's how each free feature works, along with my thoughts.
3D Motion Detection: As I mentioned earlier, 3D Motion Detection uses a radar sensor to precisely tell where motion is coming from in three-dimensional space in front of the camera. Ring claims this makes the motion detection more accurate, and based on my experience, those claims seem to be true. The camera does a great job of detecting motion, and I haven't received any false positives, which sometimes happens with my older Ring floodlights.
Bird's Eye View maps: Because 3D Motion Detection requires the precise location of your floodlight, the camera is able to create a satellite map of your property with a digital breadcrumb trail showing wherever people walk in time with the video recording (for Harry Potter fans, it's similar to the Marauder's Map). The feature works surprisingly well, making it easy to see exactly where visitors moved around outside your home, but I question how useful it really is because you can also just watch the recording to see where visitors walked.
Monitoring zones: This feature, which Ring calls Motion Zones, allows you to highlight certain areas that the camera "sees" to receive motion alerts from movement only in those areas. This is a very common feature among security cameras, and Ring's version works quite well. They're very easy to customize and can be morphed into just about any shape you need, allowing you to choose how much of your property within the camera's range you want to monitor. For example, I was able to easily cover my whole driveway and front yard, which blocked out unnecessary alerts from cars and pedestrians on my busy street and sidewalk.
Voice control: Ring is owned by Amazon, which means this floodlight camera works with Amazon Alexa for voice control but not rival assistants such as Google Assistant or Apple Siri. I tried the feature on my Amazon Echo Show 10 smart display, and Alexa was able to pull up a live feed from the camera very quickly. Unlike with competing models, you can also use the Ring floodlight camera's two-way audio via Alexa to speak with visitors. But you can't use Alexa to turn the floodlight on and off.
Features That Require a Subscription
With a Ring Protect Plan, you'll get a rolling 60 days of motion-triggered video clips, as well as a few more smart features: photo snapshots between recordings and person detection. The plans cost $3 per month (or $30 per year) for one camera and $10 per month (or $100 per year) for unlimited cameras. Ring includes a one-month trial of the Ring Protect Plus plan, so you can try out these features before you commit to another monthly fee. Here's the paid features work, along with my thoughts on each.
Person detection: This feature uses algorithms to determine whether motion is being caused by a person and alert you if that's the case. In my time using the camera, the person detection feature seemed pretty accurate, and I didn't see any false positive alerts. Interestingly, Ring updated this feature during the course of my testing. Ring used to call it People Only Mode, and as the name suggests, the camera would record only if it detected a person. But Ring has now rebranded the feature as Smart Alerts and changed the way it works. You can now choose whether to receive Person alerts and Other Motion alerts (a catch-all for everything else the camera detects), as well as whether the camera records when it detects people and "other motion." This increased choice is nice, but it would be even better if the camera could tell whether that "other motion" is coming from an animal or a vehicle.
Photo snapshots: This feature allows the camera to take a picture every 3 minutes, 1 minute, or 30 seconds to fill in the gaps between video recordings. You can then view the pictures as a sort of time-lapse video. It's a great alternative to 24/7 recordings, which take a lot of space to store and would be likely to require higher storage fees.
Should You Buy the Ring Floodlight Cam Wired Pro?
The Ring Floodlight Cam Wired Pro feels like a polished, premium product, thanks to its easy installation and setup process, good video quality, and precise motion detection. The only drawbacks are that it requires a monthly fee for video storage, doesn't work with digital assistants that aren't owned by Amazon (Google Assistant and Apple Siri), and lacks artificial intelligence-based alerts for things like vehicles and animals.
The competing Arlo Pro 3 Floodlight Camera and Eufy Floodlight Camera have many of these features, so they might be better options for some consumers.
After using Ring's new floodlight camera, I don't feel compelled to upgrade from my two original Ring Floodlight Cams.
The Bird's Eye View maps are a nice addition, but they feel more gimmicky than useful. My current floodlight cameras do a perfectly good job of detecting motion without a radar sensor, and the quality of my video recordings looks about the same.
That said, if you're buying your first floodlight camera, or looking to expand on other Amazon or Ring security devices you already own, this camera is a nice option.
When you shop through retailer links on our site, we may earn affiliate commissions. 100% of the fees we collect are used to support our nonprofit mission. Learn more.