When you shop through retailer links on our site, we may earn affiliate commissions. 100% of the fees we collect are used to support our nonprofit mission.
Learn more.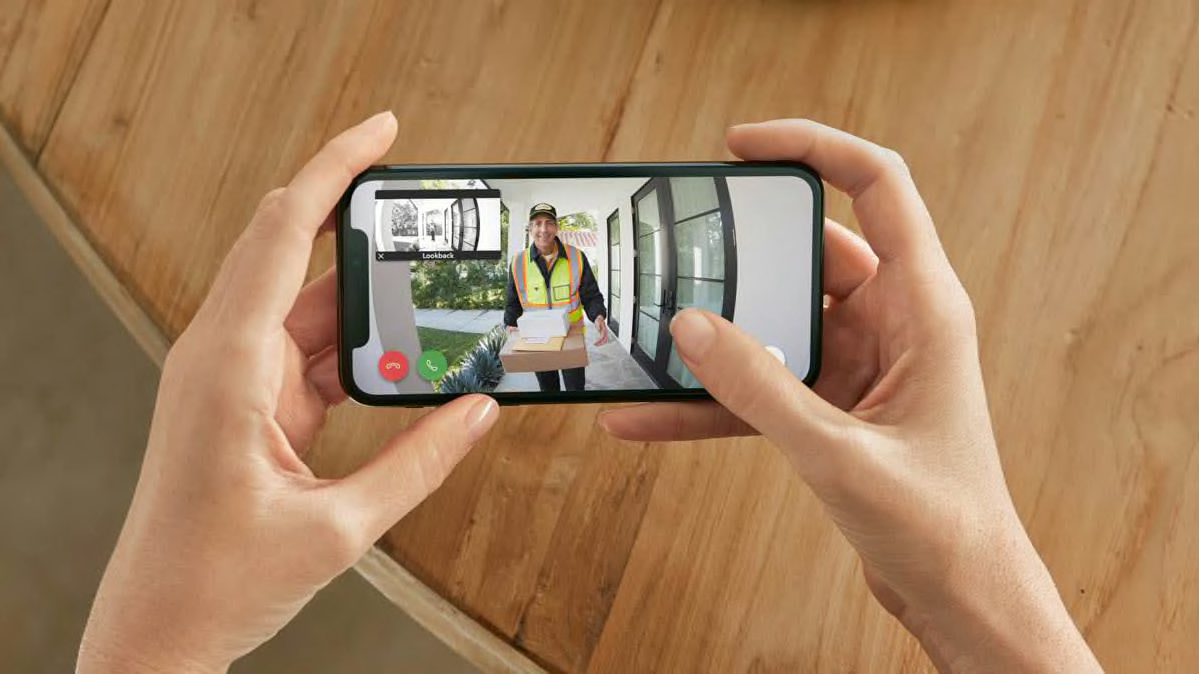 As more Americans install video doorbells, police departments are increasingly asking for homeowners' videos. For some, such requests are not a problem, because the video doorbell itself is marketed as a surveillance tool to prevent crime. But for others, the requests for video can raise some uncomfortable questions.

According to a nationally representative Consumer Reports survey (PDF) of 2,223 U.S. adults in January 2021, 10 percent of video doorbell owners said that they've shared footage with law enforcement. An additional 12 percent of owners said they haven't shared footage but have had a reason to do so.
The debate becomes more complicated as neighbors and law enforcement share videos with each other in a kind of neighborhood-watch social network. One of the biggest platforms for this kind of exchange is Neighbors by Ring, which is operated by Amazon-owned Ring and had 10 million active monthly users as of September 2020. Ring is also one of the largest providers of video doorbells in the U.S.
More on Ring and Video Doorbells
The law enforcement side of the service, called the Neighbors Public Safety Service, allows police and fire departments to view videos that users post and to send requests for videos to camera owners to help with active investigations.
As of late March, Ring has partnered with over 1,700 local law enforcement agencies and 300 fire departments. And during the fourth quarter of last year, Ring's partner agencies sent over 5,700 video requests.
Digital rights groups such as Fight for the Future have joined with social justice groups such as Color of Change to challenge the law enforcement program as unfairly targeting communities of color and have asked media outlets, including Consumer Reports, CNET, and Wirecutter, to rescind their recommendations of Ring products.
In response, Ring told CR that Neighbors is used in diverse communities and that all Neighbors users must agree to community guidelines before using the service. The guidelines include rules against racial profiling, discrimination, hate speech, and referencing individuals based solely on race or other personal attributes.
For consumers who want to opt out of video requests from law enforcement or disable Ring's Neighbors feature entirely, this article shows how to adjust settings in the Ring app.
Meanwhile, here's an FAQ for homeowners with Ring or other video doorbell devices that explains their rights and obligations if the police request their video.
How do police and fire departments send video requests to Ring owners?
When law enforcement agencies want to gather footage from Ring device owners, they send requests to Ring itself through the Neighbors Public Safety Service. Ring then sends out an email to device owners in the area asking for footage.
What do those video request emails look like?
The email will detail the police department's name, the officer's name, and the date and time period that the officer is interested in, and may also include a brief message from the officer. You can see what the emails look like by clicking here.
What are your options when you receive a request?
You have four options: 1. You can share all recordings you have for that time period. 2. You can review your recordings for that time period and select the recordings you'd like to share. 3. You can simply ignore the request. 4. You can ignore the request and opt out of all future video requests.
What happens if you provide footage?
If you choose to share video, Ring will provide law enforcement with your email address and physical home address. Ring gives police access to the footage for 30 days, but as long as they download it within that time frame, they can keep it for as long as is allowed under public safety procedures and applicable law.
What happens if you ignore the request?
Nothing. Ring won't provide law enforcement with access to your cameras, your videos, or any of your personal information.
Can law enforcement agencies view live video feeds from your Ring cameras?
According to Ring, law enforcement never has access to your cameras or devices, regardless of whether you share video with them.
How can you find out whether your local police and fire departments have partnered with Ring?
To find out whether your local law enforcement agencies use the Neighbors Public Safety Service, view Ring's Active Agency Map.
Can you opt out of video requests before you receive one?
Yes, you can opt out of video requests from the Control Center settings dashboard in the Ring mobile app. For instructions, see our guide to using the Ring Control Center to improve your privacy and security.
Can you opt out of the Neighbors by Ring social network?
Yes, you can disable the Neighbors by Ring social network feed to stop receiving posts from law enforcement and other Ring users. You also won't be able to create posts anymore. For instructions, see our guide to the Ring Control Center.
Are there other ways that law enforcement can get your camera footage?
Yes. No matter who makes your security camera or video doorbell—whether it's Ring, Google Nest, Arlo, etc.—police can still knock on your door and ask for footage. Of course, at that point, you can still decline to provide them with footage. But if they really want that footage, they could try to get it with a warrant or subpoena.
Can law enforcement bypass you and get your footage from the camera manufacturer?
Yes, if the video is stored in the cloud on the manufacturer's servers and law enforcement has a binding legal order, such as a warrant or subpoena. If the footage is stored locally on the camera (in the camera's internal memory or on an SD card), police may have to go to you to try to get it.
Will Ring's end-to-end encryption prevent law enforcement from receiving your videos?
Yes, Ring can't decrypt end-to-end encrypted videos for law enforcement. To enable end-to-end encryption on compatible Ring cameras, see our guide to the Ring Control Center.
Will the manufacturer comply with warrants and subpoenas?
Consumer Reports reached out to a number of major camera and doorbell manufacturers to find out how they handle warrants and subpoenas. Eleven brands—Amazon Cloud Cam, Arlo, August, Blink, Blue by ADT, Canary, D-Link, Eufy, Google Nest, Ring, and SimpliSafe—responded to our request. Most of these brands' representatives said they object to overly broad requests and provide data only when legally required to do so. Of note, Arlo says it will provide video only in a criminal case and only under a legally binding order supported by probable cause. Ring also says that it will hand over footage only if it receives a warrant.
Will the manufacturer notify me when it provides footage?
Of the eleven brands we heard from, all but three will notify you when they have to disclose footage due to a request, as long as they are not legally barred from doing so. The exceptions are Arlo, Blue by ADT, and SimpliSafe. Arlo and SimpliSafe will not notify users; Blue by ADT did not specify either way.