Ring Limits the Way Police Can Ask for Your Home Security Camera Recordings
The Amazon subsidiary will allow only public messages asking for help rather than private emails to individual users Ring is putting stricter limits on how police and fire departments request videos from Ring camera and doorbell owners. The move comes after some advocacy groups argued that public safety agencies had too much access to neighborhood video footage.
Starting next week, Ring's partner agencies will be able to post only public "Request for Assistance" messages on the Neighbors by Ring network, asking users to share footage. That will replace Ring's previous practice of sending private emails to users on behalf of law enforcement. Ring said it was making the change to give more transparency to the process.
Neighbors by Ring is a kind of neighborhood-watch network where Ring users and partner law enforcement agencies share videos as well as texts and photos about safety and security. As of September 2020, the network had 10 million active monthly users.
When agencies create Request for Assistance posts, Ring users within a certain distance of the incident are notified that law enforcement would like to receive footage from them. They can then choose to ignore it or provide footage by clicking a link in the post. If users choose to ignore the posts, law enforcement agencies will have no way of knowing whether they saw them. If users choose to share footage by clicking on the included link, the Ring app will have them select video clips that might be relevant to the case and share them with the agency.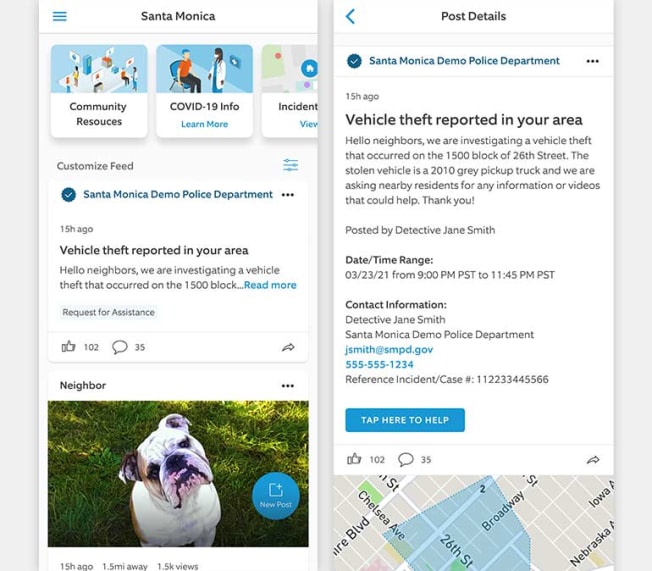 Similar to the previous email video requests, Ring users can opt-out of receiving notifications about these posts altogether in the Ring Control Center dashboard of the Ring app. See our step-by-step guide for more information on using the Control Center to improve your privacy and security.
Ring says it is also creating a number of requirements for how Request for Assistance posts are structured and how often agencies can post them for a given incident. The requirements include providing a valid case number for an active investigation, contact information for the case officer, and the time frame of the incident ranging from 15 minutes to 12 hours.
Additionally, these posts will be limited to the geographic location of the incident (ranging from 0.025 to 0.5 square miles) and two posts per investigation. The posts also can't be used to gather information about protests or other legal activities. Finally, all of these posts will be displayed on each agency's public profile on the Neighbors network.
While the way police request your footage is changing, other aspects of the process remain the same. For example, once you share the footage, law enforcement can download it and keep it for as long as is allowed under public safety procedures and applicable law. And when you provide footage, Ring still shares your email address and home address with law enforcement.
Ring's partner law enforcement agencies still can't access your Ring cameras or recordings, Ring says, unless you share them either with the agency or on the public Neighbors network. Agencies also can continue to get access to your camera recordings with warrants. For more information, see CR's guide on what to do if police ask for your footage.
Editors' Note: This story has been updated with comments from digital rights and social justice groups.