Google Announces New Nest Cameras and Doorbell
The revamped lineup includes the company's first floodlight camera and battery-powered video doorbell When Google discontinued its high-end Nest Cam IQ cameras earlier this year, the company teased that a new camera lineup was in the works. Today, the company has taken the wraps off the new lineup, which features four models:
Google Nest Doorbell, $180

Google Nest Cam (battery), $180

Google Nest Cam with Floodlight, $280

Google Nest Cam (wired), $100
The Nest Doorbell is the company's first battery-powered model, just as the Nest Cam (battery) is Google's first battery-powered indoor/outdoor camera. The Nest Cam with Floodlight is—you guessed it—Google's first floodlight camera.
The new Nest Cam (wired) can only be used indoors. If you aren't a fan of battery-powered cameras though, fear not: The battery-powered camera offers plug-in power adapters (sold separately), while the doorbell can be hardwired or plugged into an outlet (a plug-in adapter is sold separately).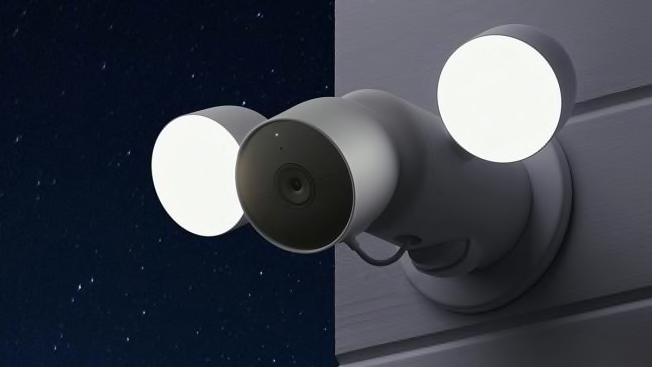 At this time, the cameras don't work with Amazon Alexa or Samsung SmartThings, and Google wouldn't comment on whether those features are in the works.
These missing features are present in earlier Nest cameras, but those earlier models also required a Nest Aware subscription for object recognition of people, packages, etc. The new cameras don't require a subscription for their object recognition to work.
Most competing camera brands, such as Arlo and Ring, offer that type of AI by analyzing your videos in the cloud and lumping the cost of that functionality in with their cloud video storage plans. And while Arlo offers the same types of AI alerts, Ring cameras and doorbells can only detect people.
Google has also built in a feature to keep these cameras recording in the event of a power or internet outage called "local storage fallback." It allows the cameras to record and save up to an hour of video (or roughly one week of motion-triggered clips) and upload it once power and internet access are restored.
The feature will work during a power or internet outage for all but the Nest Cam (wired), which can use the feature only during an internet outage because it lacks a battery.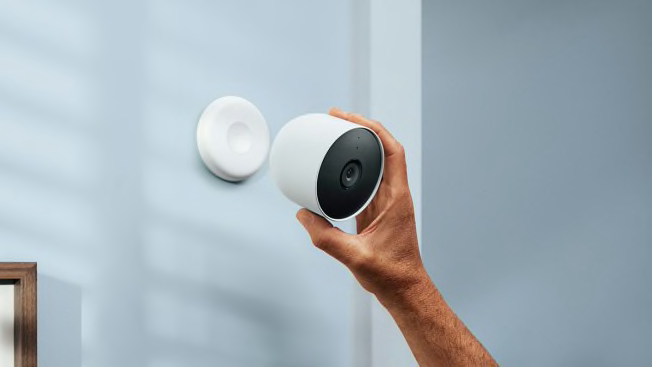 The decision to incorporate this feature might make you wonder why Google doesn't just rely on local storage entirely. Lesser-known competitors like Eufy and Netatmo store all of their footage on the camera itself, usually on a microSD card. Instead, Google uses cloud video storage to store all footage from its cameras.
All of the new models feature a rolling 3 hours of free cloud video storage for motion-triggered clips. That's an improvement over current Nest cameras, which only have free storage for 3 hours of photo snapshots, and an advantage over many competing brands. For example, Arlo and Ring don't offer any free video storage aside from a limited free trial of their subscription plans.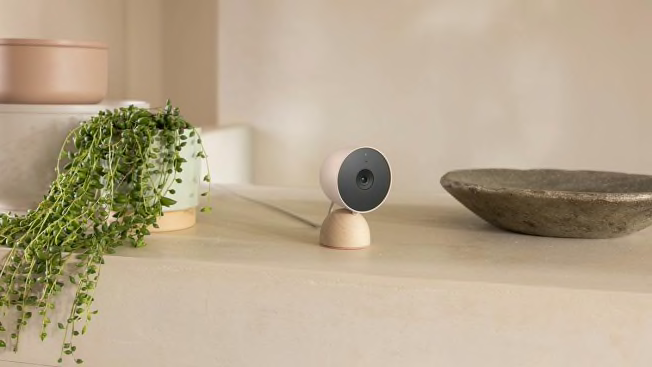 With a Nest Aware subscription, these cameras gain additional motion-triggered cloud video storage; face recognition (this also happens on device like the object recognition); and e911, which allows you to call your home's local 911 dispatcher directly from the Google Home app. The base Nest Aware plan costs $6 per month (or $60 per year) and includes 30 days of motion-triggered storage.
The Nest Aware Plus plan costs $12 per month (or $120 per year) and offers 60 days of motion-triggered storage, plus 10 days of 24/7 video storage for wired Nest cameras.
Of course, we'll have to get these new cameras in our labs to see how they perform in our tests, as well as how they compare with competing models in our home security camera ratings.
In the past we've tested the Nest Cam Indoor, the discontinued Nest Cam IQ Indoor, and the discontinued Nest Cam IQ Outdoor. All three cameras received high marks for video quality, response time, data security, and their smart feature sets. Their only real flaw is that they offer middling data privacy, but that's common among most security cameras in our ratings.