Ring Announces New Alarm Pro Security System, Virtual Security Guard Service, and More
The Amazon-owned company is also raising the price of its professional monitoring service Today, Ring announced a number of new products, services, and software features at Amazon's annual fall product event. The laundry list of announcements includes a new Ring Alarm Pro home security system; a more expensive tier of the Ring Protect subscription service; a new Virtual Security Guard service; object-recognition software for Ring cameras and doorbells; and availability by invitation of the Ring Always Home Cam flying drone security camera, $250.
Below, we'll break down each of the announcements in further detail.
Ring Alarm Pro Security System
The biggest announcement is the Ring Alarm Pro security system, $250. It functions as a DIY home security system, a mesh WiFi router (made by Amazon's Eero router company), and a hub for Ring cameras and various smart home devices. It uses the same sensors as the Ring Alarm (2nd gen) system, which Ring will continue to offer, but can now connect to other Eero mesh WiFi routers so you can create a mesh WiFi network throughout your home.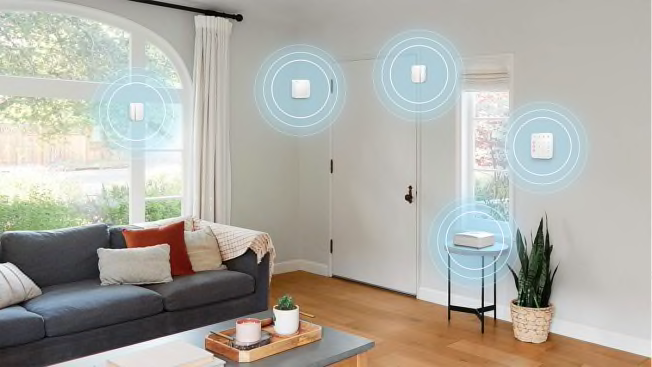 Still, on paper, the Ring Alarm Pro looks like it surpasses its predecessor in virtually every way. We've tested that predecessor, the Ring Alarm (2nd gen), which lacks many of the Alarm Pro system's features, and it's one of the top-rated options in our home security system ratings.
"While these new features sound compelling, our testing focuses on what makes a security system work well, such as the types of sensors that can be added," says Bernie Deitrick, Consumer Reports' test engineer for home security systems. "Since both Ring systems have so much in common, they will likely perform similarly in our tests, but we'll have to get the Alarm Pro into our labs to know for certain."
Ring Protect Pro Subscription and Price Increases
Ring is creating a new tier of its optional Ring Protect subscription service for the Ring Alarm Pro called Ring Protect Pro. The new plan costs $20 per month and provides 60 days of cloud video storage for Ring cameras and doorbells, professional monitoring, 24/7 backup internet service for your home's Eero WiFi network, an Eero Secure subscription, and an Alexa Guard Plus subscription.
Eero Secure is a set of internet security features that, on its own, costs $3 per month. Alexa Guard Plus is a set of home security features for Amazon Echo smart speakers that includes a hands-free emergency helpline you can call by saying, "Alexa, call for help." By itself, Alexa Guard Plus costs $5 per month.
As of today, Ring is also removing professional monitoring, cellular backup for the alarm system, and Alexa Guard Plus from its $10-per-month Ring Protect Plus plan. New Ring Alarm customers, regardless of whether they purchase the Ring Alarm (2nd gen) or Ring Alarm Pro, will have to subscribe to the $20-per-month Ring Protect Pro plan to get those features.
If you're a current subscriber to Ring Protect Plus (1st gen), as Ring calls it, you will continue to receive professional monitoring, cellular backup, and Alexa Guard Plus until 2025. You will then be automatically upgraded to Ring Protect Pro at your renewal date. In addition, current Ring Alarm owners who aren't subscribed to Ring Protect Plus (1st gen) will have until January 30, 2022, to subscribe to the plan and lock in the lower rate.
Virtual Security Guard Service
Ring is also launching a service called Virtual Security Guard, which will provide monitoring of outdoor Ring cameras by trained agents of third-party professional monitoring companies. It works by alerting the monitoring company when motion is detected by Ring cameras and your Ring Alarm system is armed in home or away mode. When those requirements are met, the monitoring agents can view the camera's live feed to determine whether motion was caused by a person and respond by talking to the person via two-way audio, triggering the camera's siren, or dispatching emergency services.
Ring notes that these agents cannot download, save, or share videos from your cameras.
Ring's first monitoring company partner is Rapid Response, which will charge $99 per month for the service. Ring says more partners will be announced in the future. A Ring Alarm system and Ring Protect plan are required to use the service. If you'd like to request an invitation to use the service, you can do so here.
Better Alerts for Ring Cameras
Ring is also improving the motion alerts of its cameras and doorbells with new custom motion alerts and package alerts (that will tell you when packages are left outside your home). The package alert feature has been available with competing doorbells from Arlo and Google Nest for a few years now, but Ring hasn't offered it until now.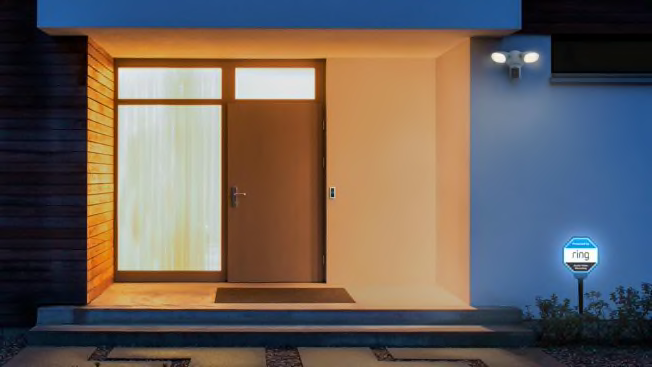 Custom motion alerts allow you to "train" the camera to detect when something changes in a specific area of the camera's view, such as whether a car is in your driveway, or your garage door is open or closed.
At first, package alerts will be available for Ring Video Doorbell (2020) and Ring Video Doorbell Pro 2, while custom motion alerts will be available for Ring Spotlight Cam Battery. Ring says it will add these new alerts to more models in the future. In order to use these features, you will have to subscribe to a Ring Protect plan.
At Consumer Reports, we regularly test security cameras, video doorbells, and home security systems. Check out our home security camera ratings and home security system ratings to see the latest test results on all three. Some Ring models earn high marks in our tests, but there are a number of competitors that also perform well and might be worth considering. And of course, be sure to check back for our lab test results of the Ring Alarm Pro in the future.