Amazon Launches Big Screen Smart Speaker—and Mobile Robot
The new product lineup also includes a fitness tracker, smart thermostat, and a smart speaker that lets kids chat and play games with relatives and friends
Amazon introduced a broad range of devices and services at its fall product launch, including a big-screen smart speaker that acts as a digital bulletin board and a mobile robot that monitors your house while you're away.
The smart speaker, called the Amazon Echo Show 15, features a 15.6-inch HD touchscreen that can be mounted on a wall (in either portrait or landscape mode) or positioned on a flat surface.
The company is pitching the $249 device as a family organizer, the digital equivalent of tacking papers and sticky notes to a corkboard or a refrigerator door.
The Show 15 features a new user interface that employs Alexa Widget apps to allow family members to share and update a common calendar or send messages to one another.
Amazon also introduced Astro, a small $999 mobile robot designed to monitor your house or apartment when you're not at home.
Imagine a Roomba outfitted with a pivoting tablet that can send live video as it roams around. Astro features a camera on a periscope that can extend to capture video well above floor-level, for example, to show you if a kitchen burner was left on.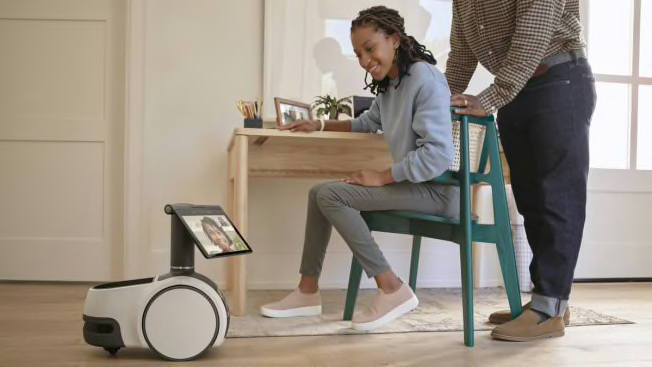 The device, which can reach speeds of 1 meter per second, can check on pets or keep watch for burglars while you're away. The device allows users to set Out of Bounds zones that put a bedroom, bathroom, and other areas off-limits. A Do Not Disturb mode limits Astro's patrol times.
The robot will eventually sell for $1,499, but Amazon is offering an introductory price of $999, which includes a 1-year subscription to Ring Home Protect Pro home security service. Amazon is now taking requests for invitations to buy the device, which is set for delivery by the end of the year.
The Family That Plays Together
Amazon also introduced Glow, a video-calling and interactive device aimed at kids. The $249 brick-like gadget has an eight-inch video display that works a bit like a small smart screen and lets kids make video calls with friends and relatives.
There's also a 19-inch touch-sensitive projection space in front of the device where both parties can draw, play interactive games, or read animated storybooks together, accessing content from Disney, Mattel, Nickelodeon, and Sesame Workshop. Other family members don't have to have a Glow of their own to join in the fun. They can use an Android or IOS tablet to access the Glow app.
Privacy features on the device include a visible shutter that allows parents to disable the camera and the ability to restrict calls to a list of pre-approved contacts.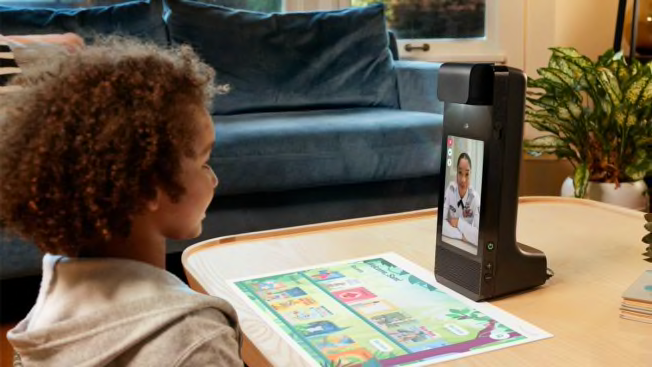 The company also added to its Halo line of fitness trackers. Unlike the Halo Band, introduced last year with a controversial body scanning feature, the $79 Halo View is a more conventional device. While the original Halo didn't have a display, the View features an AMOLED color display and tracks activity, generates sleep scores, and measures blood oxygen levels.
The tracker comes with a choice of bands in black, sage, and lavender, as well as a variety of optional straps. It looks more than a bit like Fitbit's recently introduced Charge 5.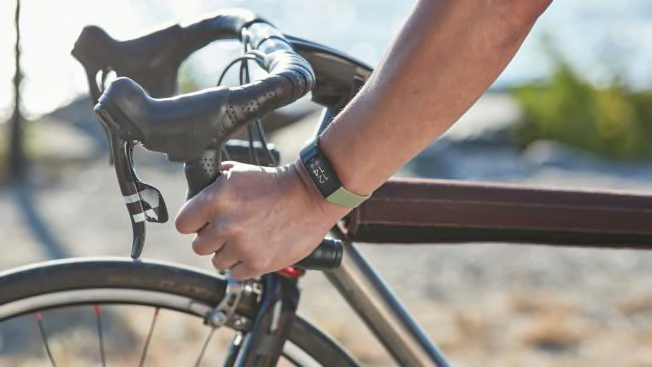 The device is swim-proof and, according to Amazon, has a battery life of up to seven days and can be fully charged in 90 minutes. The View comes with a one-year membership to Halo's suite of fitness and wellness content. That includes a new Halo Nutrition feature, which delivers recipes, devises meal plans, and adds ingredients to an Alexa shopping list.
Amazon also enhanced its smart speaker-based services for older individuals with Alexa Together. Building on last year's Care Alerts, Alexa Together allows multiple caregivers—more than one sibling, for example, or several friends and a neighbor—to check on someone by video call. The service also allows remote caregivers to set up reminders, add people to a contact list, or find music or video content. Care Alerts has a 24/7 urgent response feature that enables it to call for emergency services. It also features support for fall detection from third-party wearable devices.
Amazon announced an Alexa-controlled smart thermostat, too. The main selling point of the device, which was designed by Honeywell, is the $59 price, which is roughly half that of the average smart thermostat sold on Amazon, according to the company.