When you shop through retailer links on our site, we may earn affiliate commissions. 100% of the fees we collect are used to support our nonprofit mission.
Learn more.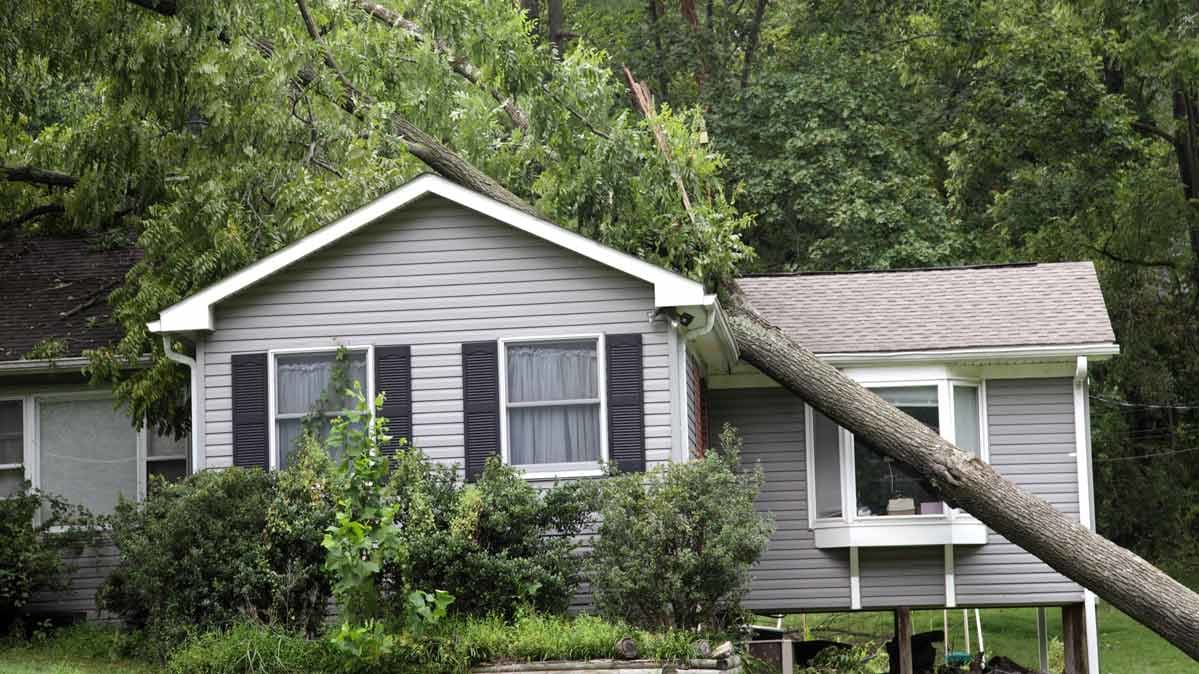 When an oak topples in the forest and no one's around to hear it, who cares? But when your neighbor's tree falls on your roof, you'll care—and want to know whose homeowners insurance will pay.
The short answer: Tap your own coverage. Make a claim through your insurer for tree damages to your property, even if the tree was rooted in your neighbor's yard.
Why? "If the neighbor's tree falls on your house, it's your problem," says Gary Blackwell, an independent insurance agent based in Corinth, Maine. Your insurer may reimburse you for repairs to damaged structures, such as your home and a detached garage, and for removing debris—minus the deductible. (Your neighbor isn't legally responsible for reimbursing your deductible; you could sue to recover that amount, but it's not a sure bet.)
Insurers generally limit what they'll pay to remove the tree to $500 or $1,000, says the Insurance Information Institute (III), an industry organization. But if the downed tree caused no damage to any structure on your property, you'll have to pay for removal and debris cleanup yourself.
"Technically, there would be no damage to file a claim," says Jason Hargraves, managing editor at insuranceQuotes.com, which is based in Austin, Texas. (Your insurer might make an exception if, say, the tree is blocking a driveway or access to a ramp for a disabled person.)
It's possible that your carrier might try to get reimbursed by the neighbor's homeowners policy, a process called subrogation. If your insurer is successful, you may get your deductible back.
What If Your Tree Does Damage Next Door?
In the opposite case—a tree from your yard causes damage to the property next door—it's up to your neighbor to put in a claim with his or her insurer.
Could the situation get thornier, so to speak, if the tree was visibly unhealthy or diseased before falling? Could you be responsible for paying for damages because of your neglect in maintaining it?
John Bailly, a personal injury attorney at the firm of Bailly and McMillan, based in White Plains, N.Y., says no. You're still covered.
"The homeowner's carrier cannot disclaim for neglect," Bailly says. That is, it must pay your neighbor regardless of your neglect.
That said, situations involving trees usually don't get to the point where a homeowner attempts to get damages paid by a neighbor's insurer, says Derek Chaiken, an attorney with Merlin Law Group in Los Angeles, an insurance litigation firm.
That's because it's costly and time-consuming, he says. Your neighbor could make a claim against your own insurance company, which would investigate the claim. If your insurance denies your neighbor's claim, your neighbor might then file a lawsuit against you. If you have liability insurance, your own insurance company can defend you in that lawsuit.
"If you insurer determines that you're liable, they'll make a settlement offer to your neighbors and have them sign a release so they can't sue you anymore," Chaiken says. Your insurer would cover you up to the limits of your homeowners liability insurance.
Your neighbor's insurer also would pay if, say, you were cutting down your tree and it accidentally fell on your neighbor's shed. But if it could be proved that you cut the tree down intending to harm your neighbor's property, you could be liable. "They do not have to indemnify for intentional acts," Bailly says.
Is Damaged Landscaping Covered?
What if your trees, shrubs, or other landscaping plants are damaged by your neighbor's tree but no structures were harmed?
While you'll have to pay to remove the debris, your homeowners insurance policy could pay up to a specified dollar limit to replace each damaged plant—but only if the damage was caused by certain "named perils." Those could include natural disasters—such as windstorms, lightning, or wildfires—as well as damage created by people outside your household, including vandalism or a car crash.
Typically, the total payment to restore landscape damage maxes out at 5 percent of the amount for which the home is insured, the III says.
How Can You Proactively Prevent Problems?
To keep tree issues from developing, have an arborist fell or trim potential hazards above and below ground. "Once it hits your property line, you can lop it off," Blackwell says.
For do-it-yourself pointers, read our archived article on pruning trees.
And note that USAA policyholders in Arizona, California, Colorado, New Mexico, Oregon, Texas, and Utah get a break on their premiums for cutting back trees and dry brush around dwellings and outbuildings. The mitigation is intended to prevent the spread of wildfires. Eligible homeowners must live in a community that participates in the FireWise USA program. (USAA was among the highest-rated homeowners insurance companies in our recent survey.)
How Costly Is a Tree Claim?
Claims related to fallen trees were examined in a recent homeowners insurance survey of Consumer Reports members. The median amount paid by insurance companies for settled tree claims was $4,110. Seven percent of all settled claims were caused by a fallen tree.
Compare that with the most costly type of claims, those for fire, which have a median settlement of $18,438. Other costly claims, by median amount: hail ($12,629), roof damage ($6,688), and water damage not related to weather, such as a pipe bursting inside a house ($6,537).
(In our survey of more than 81,000 CR members, 5,248 had filed and settled homeowners insurance claims and reported a single cause of damage that we asked about. Survey respondents who experienced claims also gave their opinions on 14 companies for our Consumer Reports homeowners insurance ratings.)