The all-new Honda Clarity, built to compete against some hybrid market heavyweights, is actually a family of cars with a variety of electric propulsion systems.
One version is a hydrogen-powered fuel-cell car, one is pure electric (EV), and the third is a plug-in hybrid (gas and electric).
As you'd expect, the fuel-cell version is not practical for anyone not living near a rare hydrogen filling station. The EV has a claimed range of only 89 miles—puny by current standards. (For comparison's sake, our tested Chevrolet Bolt returned a 250-mile range.)
That leaves the plug-in hybrid as the viable option for most people. And that is the version we recently bought to test.
As a plug-in, the Clarity competes with the Chevrolet Volt and Toyota Prius Prime. Because it is scaled much like the Accord, this four-door sedan has an interior room advantage over those plug-in rivals. For some, the Clarity's unusual looks might be a deal breaker, but because beauty is in the eye of the beholder, we leave that judgment to you.
What we bought: 2018 Honda Clarity Plug-In Hybrid (PHEV)
Drivetrain: 1.5-liter Four plus electric drive
Combined output: 212 hp
Battery capacity: 17 kilowatt-hours
MSRP: $33,400 (before federal tax rebate and state incentives)
Destination fee: $890
Options: None
Total cost: $34,290
How It Drives
We've been observing about 40 miles of electric-only driving so far, giving the Clarity among the longest ranges for plug-in hybrids that we've seen. Even so, the performance is short of the 47 miles Honda says it should be able to travel.
Our experience was partly affected by the cold weather. (Colder weather reduces EV range.) Still, the all-electric range might be the perfect choice for consumers with an average commute, allowing them to operate on electricity most days.
The Clarity let us climb hills, merge, and use a heavy foot when needed while remaining in electric mode. Only when we gave the gas pedal a heavy push, past what Honda calls the click point, did the gas engine kick in to harness its full power.
We found the transition to gas operation seamless. But at low speeds the engine noise is noticeable, particularly during a period of silent electric cruising. What's more, the engine noise was not always proportional to how far our foot was pressing down on the gas pedal.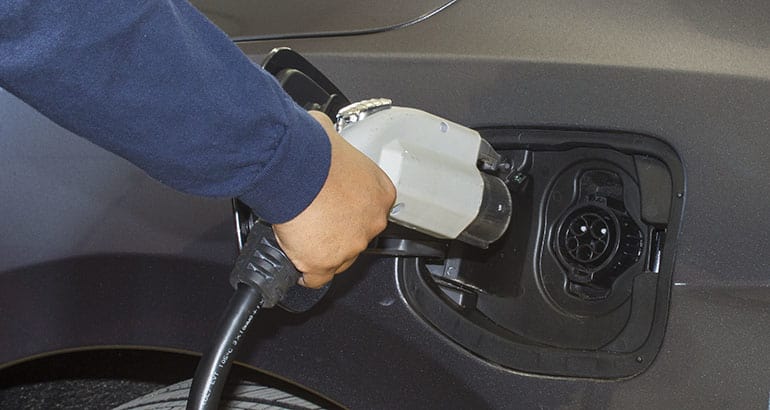 Once the electric propulsion is finished and the gas engine takes over, the Clarity gets an EPA-rated 42 mpg combined. A small 7-gallon gas tank ensures an additional 300 miles or so of range when the battery is depleted, essentially eliminating range anxiety. Drivers can choose to recharge a low battery on the go by pressing a button, letting the battery system harness engine power.
It takes almost 2.5 hours to recharge the Clarity on typical 240-volt connector. Charging on a 120-volt connection takes about 12 hours, so it can be done overnight without owners having to invest in a 240-volt connector.
We found the handling to be responsive but mundane, making the Clarity unexciting when we drove it through corners. Ride comfort, on the other hand, is a strong suit. The suspension absorbs ruts and bumps with hardly a murmur. The cabin is quiet and almost silent on electric power. The engine groan, when running, is the only notable buzz.
Inside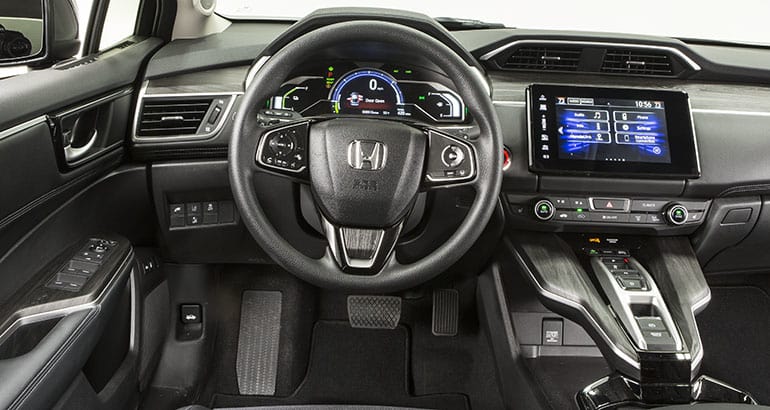 The cabin is nicely finished with wood-grained trim and tight-fitting panels. Automatic climate control and heated seats are standard. For an additional $3,200, the Touring version adds power-operated leather seats and a navigation system. We found the base version's driver's seat to be rather floppy, overly squishy, and without lumbar support adjustment. The seat also has a small bottom cushion that doesn't come with a tilt adjustment. Even if you spring for the Touring trim, there's still no lumbar adjustment. The rear seat has plenty of room and can accommodate three passengers. The trunk is decent, and there's no intrusion from the battery, but the opening is on the small side.
Controls
An 8-inch touch-screen infotainment system is standard, but it is based on an older Honda system that's slow to respond and fussy, and it lacks any knobs or hard buttons. The Clarity is also saddled with Honda's frustrating gear selector; it has a row of push-and-pull buttons that are cumbersome to use, particularly at night. Working the onboard computer through steering wheel controls is overly complex because it's hard to differentiate the audio controls from the multi-info display.
Safety
The Clarity comes standard with Honda Sensing, which consists of forward-collision warning, automatic emergency braking, lane-departure warning, and lane-keeping assist. Blind-spot warning is not available, however. Instead, you get what Honda calls LaneWatch, a video feed showing a rearward view along the passenger side of the car that is turned on when the driver flicks the turn-signal stalk to the right. It is not only distracting (and it takes over the whole infotainment screen) but also no substitute for a true blind-spot detection system that covers both sides. At least drivers can turn it off.
Bottom Line
The Clarity Plug-In is a pleasant car that can work for many people as an electric vehicle most of the time and not leave them with much range anxiety. Some flaws such as the not-so-terrific seats and frustrating controls gave us pause. But for green-car buyers in this price bracket, only the Chevrolet Volt manages a longer EV-only range.
We'll see how it stacks up against other hybrids when we're done with our testing.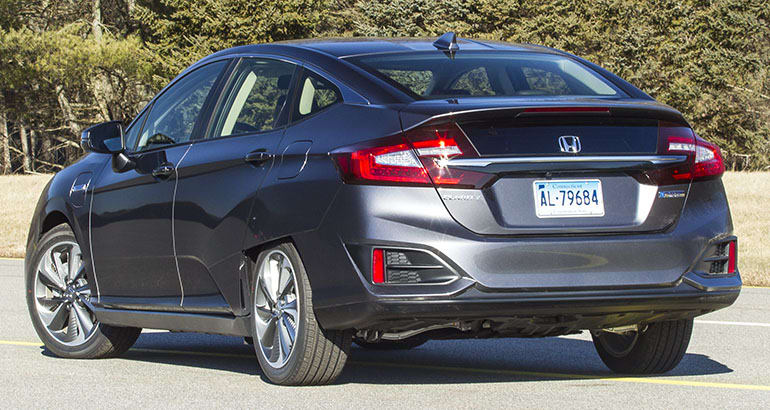 Consumer Reports is an independent, non-profit organization dedicated to helping consumers. We make it easy to buy the right product from a variety of retailers. Clicking a retailer link will take you to that retailer's website to shop. When you shop through retailer links on our site, we may earn an affiliate commission – 100% of the fees we collect are used to support our mission.
Learn more.
Our service is unbiased: retailers can't influence placement. All prices are subject to change.