When you shop through retailer links on our site, we may earn affiliate commissions. 100% of the fees we collect are used to support our nonprofit mission.
Learn more.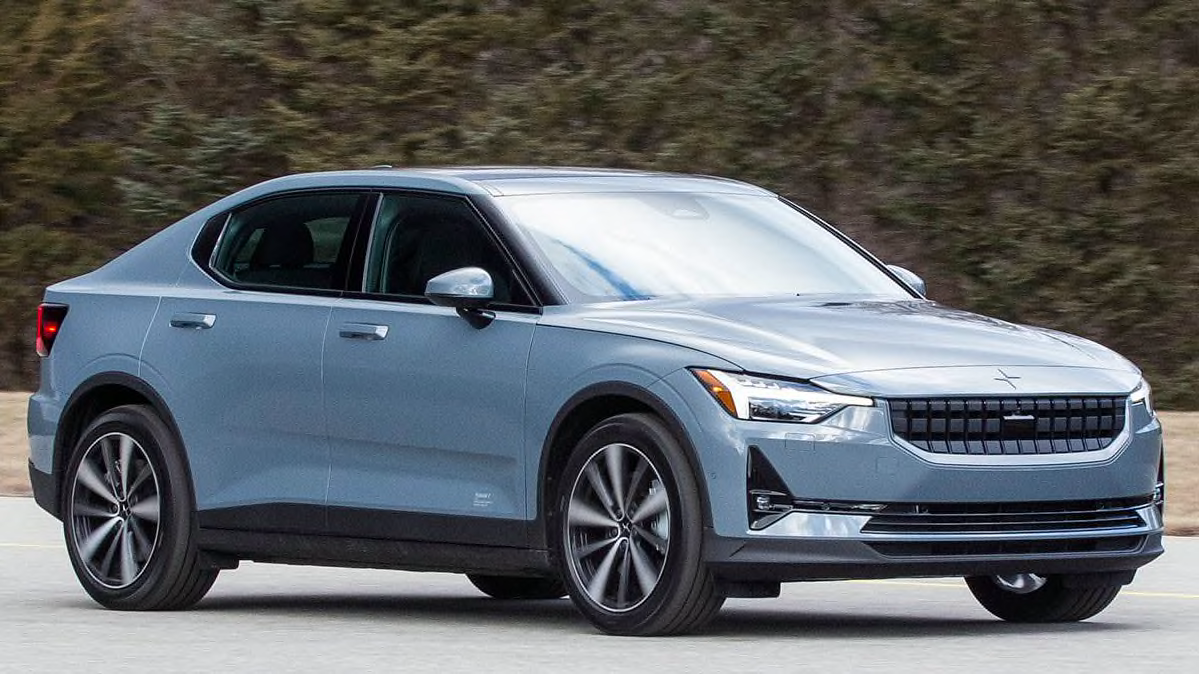 Before we share our initial thoughts about the Polestar 2 we just bought for Consumer Reports' car testing program, it might be helpful to answer a simple question: What, exactly, is a Polestar? It's a new car brand from Geely, the parent company of Volvo, Lotus, and a few other brands that aren't sold in the U.S. The Polestar 2 is the company's first all-electric offering, and it went on sale in the U.S. earlier this year.
The Polestar name comes from a Swedish racing team that started customizing sporty trim levels on Volvo vehicles. It became part of Volvo in 2015. Geely spun off Polestar as a stand-alone all-electric brand in 2017. Its first car—the very limited-edition Polestar 1—was a handsome plug-in hybrid coupe with a six-figure price.
The brand shares engineering and design with Volvo but sells cars through its own dealer network. At the same time, Volvo also offers multiple hybrids and its own all-electric vehicle, the XC40 Recharge. Polestar versions of existing gas and hybrid Volvo vehicles are still sold at mainstream Volvo dealers (kind of like how you can get a high-performance AMG version of a Mercedes-Benz vehicle). Confused yet?
Well, the Polestar 2 was designed in Sweden by Volvo engineers but built in China, where Geely is based. Polestars may be purchased online but can be serviced only by specific Volvo dealerships. (Read "Who Owns Which Car Brands?")
The whole enterprise seems like an attempt to emulate the look and feel of Tesla—down to the unique sales model and over-the-air updates that add new features to existing vehicles—all while remaining under the well-funded wings of a major automaker. But how does this startup-that's-not-a-startup stack up in the eyes of our testers? We purchased our own Polestar 2 to find out.
We're currently in the process of adding break-in miles before we put it through our rigorous standardized tests. Our full report will be available soon. In the meantime, CR members can read our initial thoughts about this unique vehicle.
If you haven't signed up yet, click below and become a member to access this full article and all of our exclusive ratings and reviews for each vehicle we buy and test. Joining also gives you full access to exclusive ratings for the other products our experts evaluate in several categories, including electronics and home appliances.
Sign up for CR's Cars email newsletter to be notified when we post our latest road-test results.
What we bought: 2021 Polestar 2
Powertrain: 408 hp combined from two electric motors; 1-speed direct drive; all-wheel drive
MSRP: $59,900
Options: $1,200 metallic paint
Destination fee: $1,300
Total cost: $62,400
CR's Take
With less range than EVs that cost tens of thousands less, an interior reminiscent of an economy car, and some truly inexcusable shortcomings, the Polestar 2 feels like yesterday's car of the future. The new brand's connection to Volvo is only visible through a few shared interior parts, including vents and steering-wheel controls, some of which don't function as well as they would in a Volvo. Perhaps the Polestar 2 will reveal as yet unknown charms during our testing. But with so many truly competitive EVs on the market, it already feels hard to justify the existence of this vehicle—let alone a whole new brand—even after just a few weeks of ownership.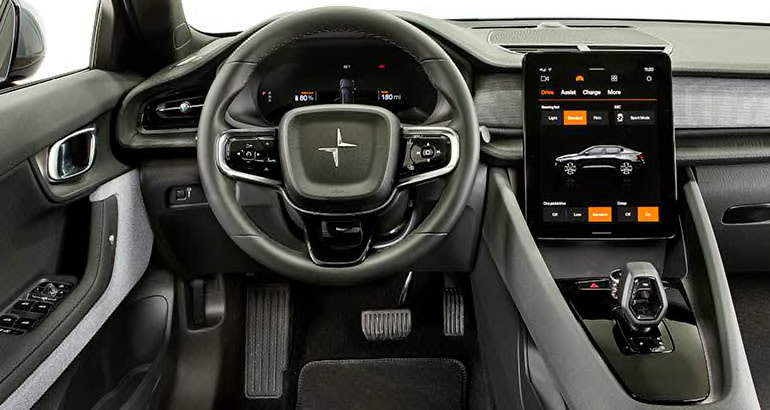 What We Like So Far
Handling: The Polestar 2 can hustle, although its steering feel is a bit artificial and disconnected regardless of what variable setting it's put on. Body roll is well-controlled, and it feels agile in corners.
Power delivery: Although initial acceleration seems a bit tepid, a healthy prod of the accelerator unleashes a strong punch and allows the car to gather speed quickly.
Noise: Like many EVs, the Polestar 2 is quiet. We noticed some wind noise on the highway, but the rumble of road noise was minimal.
What We Don't Like
Controls: At first glance, the Polestar 2's controls look a lot like the controls in a modern Volvo. But different software makes for a totally different experience—and not a better one. The large touch screen has small fonts and icons, and puts different apps in different categories in a way that will surely lead to clutter. Despite its size, there is no split screen view, and it's hard to switch between tasks. And the way selections are classified is confusing. Bluetooth audio setup is considered an app, for instance.
Physical controls are a problem, too. It's easy to hit the gear selector or hazard button when trying to reach the bottom part of the touch screen, and the defroster and defogger buttons are hidden behind the gear selector. The physical volume knob is a nice touch, but it's too easy to hit the touch screen's "home" button when adjusting it. And the steering-wheel controls double up some features on a single rocker while wasting space on a left-arrow key. On a Volvo vehicle with the same controls, the left arrow toggles among adaptive cruise control modes. On the Polestar, the left arrow is usable only when the speed limiter function is enacted.
Climate controls: Even temperature and heated seat controls are hidden within menus on the touch screen, requiring drivers to take their eyes off the road to make changes. And even then, temperatures can be adjusted only in 2-degree increments. The center vents are aimed at the ceiling, leaving only the side vents to blow directly at passengers.
The ride: Volvos tend to have firm rides, but the Polestar 2 is jumpier and choppier than any Volvo we've driven lately. It transmits bumps, expansion joints, and other road imperfections straight into occupants' bodies. Our Polestar was not equipped with the optional Performance Pack, which includes adjustable front struts and rear shock absorbers.
Android: The Polestar 2 is the first vehicle to run entirely on Google's Android operating system. There's nothing about the system that makes the Google partnership stand out, except for the fact that users must log into a Google account to download new apps, which means one more device to manage in terms of privacy and security settings. For instance, playing music with Spotify requires downloading the app to the car from the Google Play Store. Certain popular apps—such as Waze—aren't available.
Visibility: Thick, sloping pillars, a high hood, and a low, angled windshield hinder front views for drivers of all heights. The rear three-quarter view is even worse, with only a tiny portion of the rear glass visible in the rear-view mirror. The backup camera doesn't help much, either, because it displays only on a small portion of the large center touch screen.
Driving position: It's a tightly hemmed-in space all around, with a wide center console, cramped headroom even for average-sized drivers, and a tight footwell. It's hard to reach controls but easy to rub up against sharp plastic edges. Even the massive glass roof doesn't make the car feel less claustrophobic. It starts so far behind the driver that it might as well not even be there.
Fit and finish: Polestar promises a "minimal masterpiece." All we saw was evidence of minimal expense, with the kind of drab fabric and plastic you'd expect from an entry-level subcompact—not a $62,000 EV. The plastic surrounding the center console had sharp edges. The seat covers are made from a cheap-looking cloth, and even the black plastic key lacks heft. It's straight out of the Volvo parts bin but lacks finishing trim that distinguishes its features, and it feels less enjoyable to push. Look at some newer Hyundais, Kias, or even the new Nissan Sentra for examples of how good design can make an affordable car's interior look special, and you'll see just how far behind the pricey Polestar lags.
Storage: There's only one dedicated cup holder; a second is hidden inside the center console, where you might want to store other items. The "frunk"—storage space under the hood that's made possible by the lack of a gas engine up front—can fit only a purse or small backpack. While a hatchback design maximizes space, it's still cramped. And the cargo cover can be difficult to install and remove depending on your size. A taller tester had no problem, but one of our testers is a woman of average height, and she had to crawl all the way into the trunk just to reach it.
Owner's manual: Aside from a 35-page "supplement" that covered some basics, there was no owner's manual in the car. To find out how to install a car seat for a child, for example, drivers would have to consult an online version of the owner's manual. An electronic version is supposed to be built into the touch screen but requires a software update that's not yet available.
Installing car seats: The integrated rear-seat headrests make it difficult—if not impossible—to route a car seat's top tether through the small crevice in the seat. As a result, one of our testers had to put her son's car seat in the center seat, making it impossible for her to carry both her car-seat-using kids at once. We'll perform a full evaluation of the ease of car seat installation as part of our coming tests of the Polestar 2.
The turn signals: Yeah, it's a highly specific complaint—but everyone who drove the car remarked on the odd sound the Polestar 2's turn signal makes inside the cabin when it's engaged. "Like a speaker full of water," "like static," "like rain hitting the windshield," and "like a relay gone bad" were some of the ways they described the odd, tinny, popping noise. Let's hope this can change in an over-the-air update.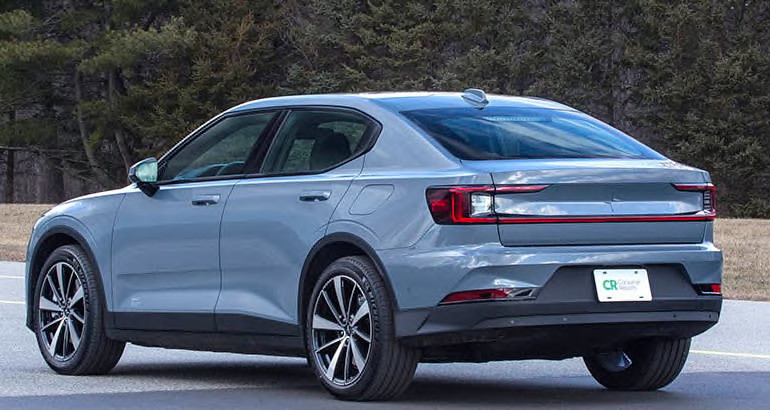 What We'll Keep Our Eyes On
Range: The Polestar has a rated range of 233 miles from its 78 kWh battery. It arrived at our test track during a New England winter. It's true that cold temperatures tend to hurt the range of an electric car, but the Polestar's range predictions dropped precipitously during use. Over the course of one 90 mile trip, the vehicle's range dropped 130 miles instead of 90 miles. Sometimes the built-in navigation system was unaware of public charging facilities and would alert us that we wouldn't make it to our destination, which made for stressful journeys.
Lack of a "Start" button: Our testers are divided by this choice—and not just based on their age, experience, or taste. A car that comes to life when you step on the brake pedal and shuts off after you put it into Park and open the door seems intuitive to some, but others found it hard to get used to. As with all vehicles, our engineers will evaluate if there is any risk of the Polestar 2 inadvertently rolling away when parked.
The "dealership" experience: So far, there are only four Polestar retailers (Polestar calls them "spaces") in the U.S. They're in Manhattan, Los Angeles, San Jose, and Marin. If you don't live in the Bay Area, LA, or near New York City, you won't be able to see a Polestar in person—but you can still order one online. (Polestar says more dealerships are coming soon.) Orders are fulfilled through existing Volvo dealers. For example, although we ordered our Polestar 2 online through Polestar Manhattan, the delivery and purchase process was handled by Manhattan Motorcars, a large dealer group that owns a Volvo franchise. We haven't had to deal with getting our Polestar serviced yet.
Upgrades: The lack of an owner's manual isn't the only software update we're waiting for. Currently, the Polestar doesn't allow for use of Apple CarPlay or satellite radio, although a company representative told us that a software update would be released soon to add CarPlay compatibility.
Regenerative brakes: As is the case with many EVs, the Polestar 2 can be set to use its regenerative brakes to slow the car as soon as the driver lays off the accelerator. This recharges the battery and also allows for "one pedal" driving. Some of our testers liked this feature, while others found the onset of braking too abrupt and turned the setting off.
Advanced safety and convenience: The Polestar uses a version of Volvo's Pilot Assist advanced driver assistance system, which can automate certain steering, braking, and acceleration features. We already dislike that the system adjusts in 5 mph increments unless you press and hold the buttons. We plan to evaluate it in greater detail.
Talking Cars #294: 2021 Polestar 2
Correction: This article, originally published Feb. 17, 2021, incorrectly stated that the Polestar 2 did not have dual-zone climate control and that the cruise control adjusts only in 5 mph increments.