Preview: 2021 Toyota Mirai Hydrogen Fuel Cell Vehicle
Toyota gives hydrogen another try with the redesigned sedan It's rare that a car's own merits are overshadowed by the fuel that powers it, but that's the case with the 2021 Toyota Mirai. Yes, it's an attractive rear-wheel-drive sedan with impressive interior comforts and high-tech options, but what matters more is that the new-generation Mirai is one of the only hydrogen-powered vehicles on the market, along with the Hyundai Nexo and the fuel-cell version of the Honda Clarity. Hydrogen-powered vehicles use an onboard fuel cell to generate electricity using ambient oxygen and compressed hydrogen stored in a vehicle's built-in tanks. The electricity powers the vehicle, and clean water drips from beneath the car as a byproduct of the chemical reaction.
Hydrogen, the joke goes, is the fuel of the future—and it always will be. Despite promises of zero tailpipe emissions and rapid refueling, the infrastructure necessary for hydrogen's widespread adoption as a fuel for passenger cars doesn't exist outside of a handful of filling stations. For decades, Americans have been promised "hydrogen highways" across the U.S., but only a few stations exist today. And even if more did, there are concerns about the energy it takes to refine and transport hydrogen, and its efficiency as a fuel for passenger vehicles.
What it competes with: Honda Clarity FCV and Hyundai Nexo
What it looks like: An Avalon with custom coachwork.
Powertrains: 182-hp electric motor; single-speed transmission; rear-wheel drive
Price: $49,500 to $67,545
On-sale date: December 2020 (in California only)
In a press release for the Mirai, Toyota said that hydrogen powertrains will be as common someday as hybrids are today. Honda and Hyundai have also made big bets on hydrogen, as have some chemical companies and governments. But there's no guarantee those bets will pay off, and Toyota is also hard at work on battery-powered electric cars—cars that, unlike the Mirai, can be recharged at home. So if you happen to see a Mirai on the road, take a picture. It might end up a relic of a future that never was. And if you see one on the roads of New England, wave. It's probably one of our test drivers.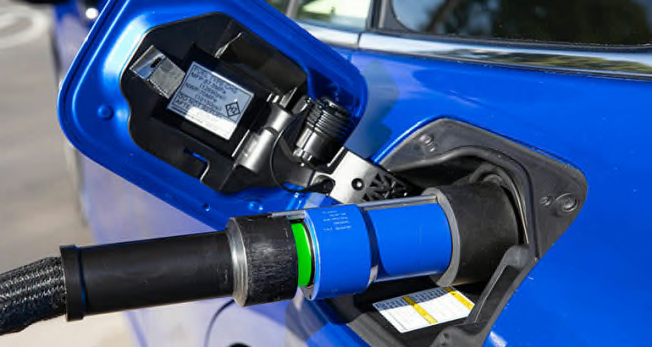 The Mirai, a low-slung sedan with a long front overhang, is built on the same underpinnings as the Lexus LS luxury sedan, and it looks like a designer's early rendering of the current Avalon. Overall, it's an attractive design that hints at how special the car is without drawing too much attention, and it's a major step forward from the shorter, narrower outgoing model, which looked too much like a pedestrian Prius. A deep color called Hydro Blue, which we saw on a prototype Mirai at the 2019 Los Angeles Auto Show, is finished with multiple layers of paint. It's available only on the higher-end Limited trim.
Toyota says the narrow, sweeping headlights are a "new lighting signature" for the brand. We wouldn't be surprised to see a similar look on future Corolla, Camry, and Avalon sedans.
We worry only about two potential missteps: The protruding edge of the hood and recessed grille give it a pronounced underbite, and the unadorned sheetmetal at the edges of the front doors draw attention to how their stark right angles stand in juxtaposition to the rest of the car's curvature.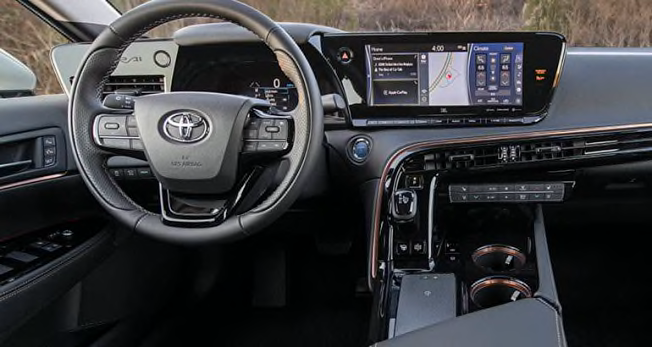 The interior is also reminiscent of the current Avalon but with a Prius-like shifter and Lexus-like soft-touch surfaces. There's a conspicuously large spot for wireless charging between the two front seats and two rows of actual buttons beneath the touch screen, but no knob for changing the volume.
The Limited trim offers climate and audio controls for rear passengers, as well as heated and ventilated front and rear seats, a panoramic sunroof, and ambient lighting.
The new Mirai's powerplant is smaller than its predecessor's, which gives it more room for cargo and passengers—and it seats five instead of four. Still, it has only 9.6 cubic feet of trunk space—about 60 percent smaller than what the Toyota Avalon or Lexus LS offer.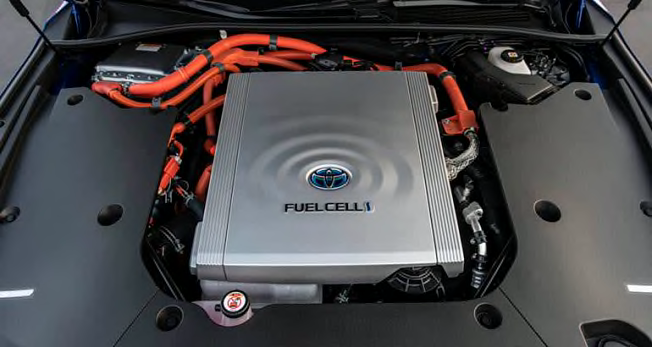 The Mirai gets a fuel-cell system that's 20 percent smaller and half as heavy as the setup in the outgoing model, so it fits under the hood instead of beneath the passenger compartment. A lithium-ion battery that stores energy for heavy acceleration is also smaller and lighter than the previous Mirai's battery. Three carbon-fiber-reinforced high-pressure tanks hold a total of 5.6 kg of hydrogen—hydrogen sells for $13 to $17 per kg—enough to give the Mirai a range of up to 400 miles between refueling. Similar to filling a car with gas, it takes about 5 minutes to fill the Mirai with hydrogen. The automaker estimates fuel economy at 74 MPGe for the XLE trim and 65 MPGe for the Limited trim, putting the XLE at the head of the pack for efficiency among its hydrogen-powered competitors. (MPGe stands for "miles per gallon equivalent" and is analogous to how far a car could travel on a gallon of gasoline. Hydrogen is sold by the kg.)
The fuel cell and battery send power to a rear-mounted electric motor. Toyota says the powertrain is good for 182 hp and 221 lb.-ft. of torque—that's a slight horsepower increase over the prior model but a bit of a drop in torque. Acceleration is a languid 9.2 seconds from 0 to 60 mph.
Like a hybrid, the Mirai uses battery power for low-speed driving and initial acceleration, calling on the fuel cell to power the vehicle's electric drivetrain when necessary. Regenerative braking and excess energy from the fuel cell will recharge the battery. We'll be interested to see just how smoothly it accelerates, considering that some hybrids tend to shudder and start feeling lethargic when their gas engines come to life.
Aside from the fuel cell, the Mirai boasts a 50/50 (front and rear) weight distribution for predictable handling, and a multilink suspension that Toyota says will give the car a sporty feel. We'll let you know more when we drive one.
Safety and Driver Assist Systems
Every Mirai comes standard with automatic emergency braking (AEB) with pedestrian and cyclist detection, blind spot warning (BSW), lane departure warning, rear cross traffic warning (RCTW), lane keeping assist (LKA), and dynamic cruise control. The standard XLE offers an optional surround-view camera and rear AEB—both of which are standard on the higher-trim Limited. A parking assist feature is available only on the Limited.