Ford F-150 Lightning EV Has a 320-Mile Range and Could Power Your Home
This best-selling pickup is transformed into a powerful work-ready electric vehicle Ford is reinventing the Lightning moniker for the 21st century as an all-electric truck, building on its performance heritage and modern workhorse capabilities. It's clear that the age of electric trucks is fast approaching, and it may take a market giant like Ford and its best-selling F-150 series to help popularize the concept.
The original Lightning was introduced as a 1993 F-150 stuffed with a big V8 engine, graced with a sporty appearance, and granted a firmer suspension. It was cool at the time, emerging when "sport trucks" were gaining enthusiasts who loved to lower and customize their rides. By today's standards, its 240 hp seems quaint. Ford followed this up with a much more energetic next-generation Lightning for 1999, with a supercharged V8 cranking out 360 hp. This standard cab, short-bed truck was a wild ride.
What it competes with: Rivian R1T, Tesla Cybertruck
What it looks like: Smoothed-out, next-gen F-150
Powertrains: 452- and 580-hp two-motor; direct drive transmission; four-wheel drive
Price: $39,974-$90,874
Destination: $1,795
On sale: Spring 2022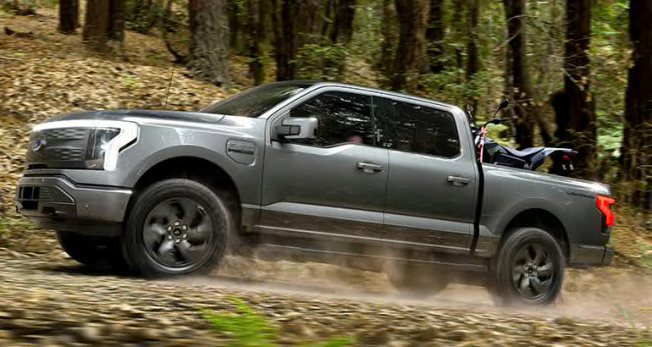 The stakes are high for the F-150 Lightning, not only for Ford but also for the environmental movement. If Ford could transition even a small number of its many F-150 customers a year into electric vehicles, the collective fuel savings would be significant. 
Based on CR's tests, a crew-cab 4WD with the 2.7-liter V6 gets 19 mpg overall. In a year, a typical owner drives 12,000 miles, and their truck consumes 645 gallons. Now multiply that by 400,000 trucks—roughly half as many F-Series trucks as Ford sells in a good year—and you get 258 million gallons of gasoline saved. The fuel-economy benefits of moving the F-150 from gas to electric far outshine changes to any other single model on the market because of its massive sales volume and relatively modest fuel economy (compared with cars and most SUVs).
This long-expected move puts Ford on the board as other EV players race to introduce their trucks, such as the GMC Hummer EV truck, Rivian R1T, and Tesla Cybertruck. And there are other companies lurking around the periphery struggling to bring their models to market, such as Canoo and Lordstown. All will have to face the engineering and manufacturing might behind the Ford Motor Company and its massive dealership network. The competition in the electric truck arena is about to become fierce, and consumers are poised to be the real winners.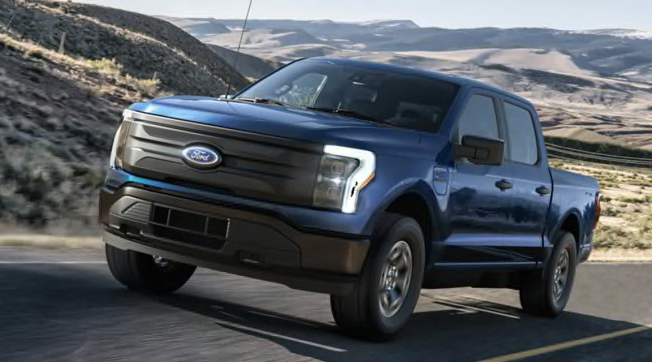 The Lightning is strictly a crew-cab truck with a 5.5-foot bed, the most common configuration for full-sized trucks today. The body is more aerodynamic than the regular truck's, giving it a smoother, more futuristic look. Changes can be seen in the hood, running boards, and three available grilles. The real telltale for top trims is the horizontal LED lighting that stretches across the top of the grille. The Lightning Pro shown above is the lower-priced work truck.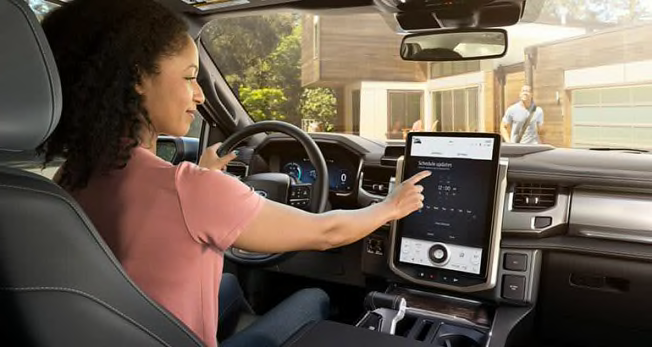 Front trunks, otherwise known as "frunks," are one of the common benefits of EVs, creating a second storage space. Being a large, wide vehicle to begin with, the F-150 Lightning has a massive frunk that can hold two golf bags. It opens up much like a car trunk, bringing the grille and hood with it. (Otherwise, it would be a challenge to lift luggage over that tall grille.) The power opening/closing frunk is weather-resistant and features four electric outlets and two USB charging ports. Plus, the floor is drainable and can double as a cooler. 
The interior benefits from innovations on the regular F-150s, such as a foldaway gear selector to create a flat work surface, and deeply reclining seats for napping. And the Lightning can be had with a massive 15.5-inch vertical screen (12-inch in other F-150s) for the Sync 4 infotainment system. 
The F-150 Lightning further adds notifications related to range and power usage, as well as guidance on finding public charging along your route. The range calculations factor in weather, traffic, payload, towing weights, and more.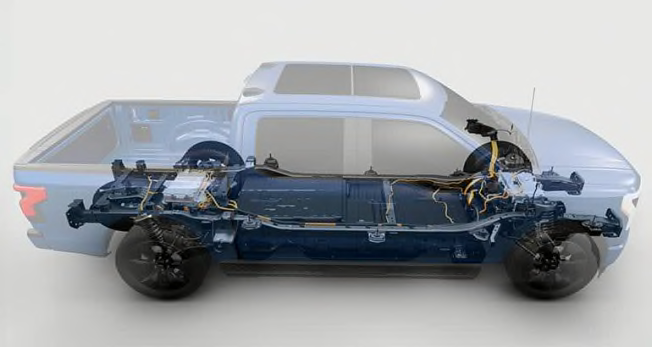 All Lightning trucks use a dual motor, four-wheel-drive setup. The base configuration has 452 hp with 775 lb.-ft. of torque—more than any previous F-150. The standard-range lithium-ion battery provides a 230-mile range. This is a multiple of what most people use in a typical day, though it's less than half the range we measured in a 2.7-liter F-150 on a full tank of gas. 
The top version has 580 hp and the same torque. When equipped with the extended-range battery, Ford claims this version can zap from 0 to 60 mph in the mid-4-second range—far quicker than the previous Lightning trucks—and it has a 320-mile Environmental Protection Agency-estimated range. On a 150-kilowatt DC fast charger, the extended-range F-150 Lightning is projected to gain 54 miles of range in 10 minutes and charge from 15 to 80 percent in about 41 minutes. More common 240-volt charging will take at least 10 hours.
Like the F-150 Hybrid, the Lightning has outlets in the bed that can power tools and camping gear. The base trim can supply 2.4 kilowatts of power with the option for more, while Lariat and Platinum series come standard with a total of 9.6 kW of power, split between the frunk and bed. This is even more than the 7.2-kW system available on the F-150 hybrid.
The F-150 Lightning introduces the Ford Intelligent Backup Power system that allows the truck to serve as an energy source that can supply 9.6 kW of electricity during an outage. Ford says that based on an average 30-kilowatt-hour draw for a house, the F-150 Lightning with the extended-range battery could provide full household power for up to three days—and stretch that to 10 days of emergency power. Ford is working with the Sunrun solar company to offer an 80-amp Ford Charge Station Pro and home integration system, allowing the truck to be readily recharged at home with solar power. This system also provides automatic switching between powering a home during an outage and back to charging when the power is restored. 
Where the original Lightning trucks were intended to be street machines, the third-generation Lightning will be four-wheel drive only. It uses a driver's selectable mode system to adjust the powertrain to specific needs, including Normal, Sport, Off Road, and Tow/Haul. Further, it boasts a 2,235-pound payload capacity (standard range) and 10,000-pound tow capacity (extended range). 
Significantly, for the first time, this F-150 is equipped with an independent rear suspension, which may help its handling and ride comfort. 
The electric powertrain is warrantied for eight years or 100,000 miles.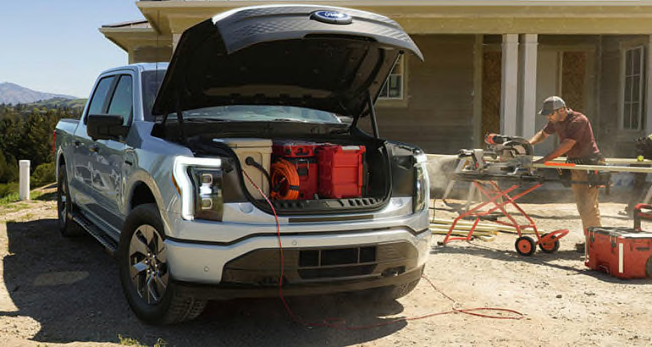 Safety and Driver Assistance Systems
The Ford Co-Pilot 360 2.0 suite is standard, with forward collision warning, automatic emergency braking with pedestrian detection, blind spot warning, lane keeping assistance, parking obstruction warning, and rear automatic braking. 
The Lariat trim adds adaptive cruise control, lane centering assist, and speed limit sign recognition. The BlueCruise driving assist system, which allows limited hands-off highway driving, is available on the Lariat and standard on the Platinum. 
Other available tech features include over-the-air software updates, phone as key, and onboard scales, which allow the truck to weigh the payload and indicate how full it is through the taillights.