Smokin' Fast 2022 Ford F-150 Lightning Ushers in a New Era of EV Pickup Trucks
The nation's best-selling truck has been transformed into a shockingly quick and capable EV It was like a meeting of the old and the new, of yesterday and tomorrow. I pulled the all-electric Ford F-150 Lightning up next to my CR colleague Erik, who was idling in his heavy-duty pickup. We rolled down our windows to talk, but I couldn't hear a word he was saying over the clatter from his truck's big diesel engine. So I raised my window back up, stomped hard on the throttle pedal, and felt the thrilling rush of the 775 lb.-ft. of torque from the Lightning's dual electric motors unleashed all at once. I left Erik and his "oil-burner" behind in the dust as I rocketed away.
With its prodigious power, swift acceleration, and strong towing capacity, and the added benefit of sipping electrons rather than gasoline, the F-150 Lightning is a truck for a new, greener era. With the Lightning, the age of credible EV trucks and their quiet power has officially arrived. 
After a few days spent in an F-150 Lightning Lariat, rented from Ford, we came away impressed. It accelerates with serious force and rides better than any F-150 before it. Yet it's utterly quiet inside and out, and the majority of the cabin feels very much like that of a "regular" pickup. 
All Lightning models use a dual-electric-motor setup that gives it standard four-wheel drive. The standard-range version is good for 452 horsepower, 775 lb.-ft. of torque, and a targeted EPA-estimated 240-mile driving range, according to Ford. Models with the extended-range battery have 580 hp, the same torque figure, and a longer 320-mile driving range.
What we rented: 2022 Ford F-150 Lightning Lariat with extended-range battery
Powertrain: 580-hp, dual electric motors; 1-speed direct-drive; four-wheel drive
MSRP: $85,974
Destination fee: $1,795
Total cost: $87,769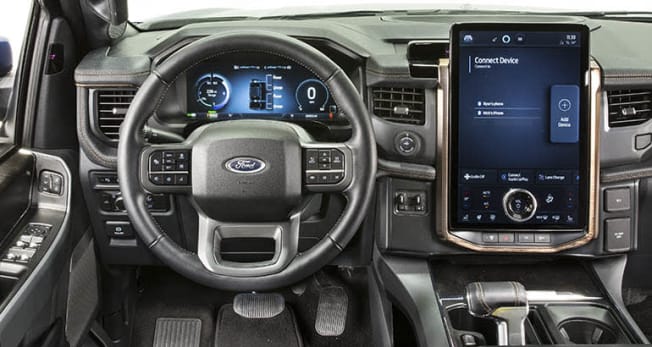 Become a member to read the full article and get access to digital ratings.
We investigate, research, and test so you can choose with confidence.