Preview: 2022 Kia EV6 Launches the Brand's Electric Revolution
All-new electric hatchback promises high-tech features and thrilling performance
Kia counts down to the early 2022 launch of its first pure electric vehicle designed as an EV from the ground up. It's based on the company's new Electric-Global Modular Platform (E-GMP) that also serves the upcoming Hyundai Ioniq 5. By contrast, current models, such as the Niro EV, use underpinnings shared with gasoline-powered models. Kia says the EV6 will be the first in a series of new EV models, setting the tone for the brand going forward.

What it competes with: Ford Mustang Mach-E, Nissan Ariya, Volkswagen ID.4
What it looks like: A sleek, aerodynamic hatchback
Powertrains/battery size: 167 to 576 hp; 58- or 77.4-kilowatt-hour battery; rear- or all-wheel drive
Price: $45,000 to $55,000 (estimated)
On sale: Early 2022
Kia has been easing into the electric waters with low-volume EVs based on existing models and platforms. With the EV6, the automaker is declaring that it is all in with the electric revolution.
The range of performance introduced speaks well of a model that can appeal to mainstream buyers and run with the sportiest versions of its primary competitors. Likewise, the cabin has styling that distinguishes it from today's Kia models, with a rather tasteful screen arrangement that reminds us of the latest premium vehicles.
Like all cars, it comes down to livability. We look forward to learning more about this promising model and eventually buying one to test.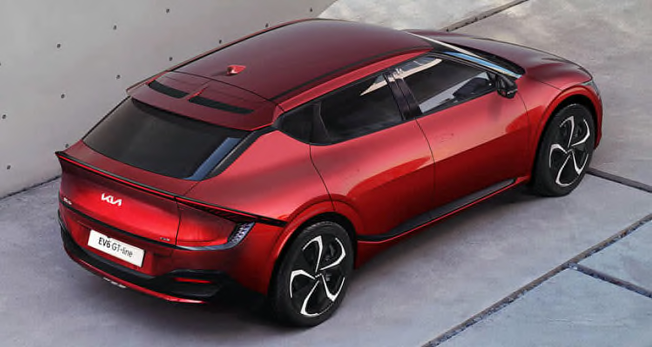 The EV6 is a genre-bending design that draws from SUVs and sports cars, effectively making it much like the Ford Mustang Mach-E in concept. The EV6 rides on a 114.2-inch wheelbase, like the Telluride SUV. It is a hint smaller than the Tesla Model Y, another crossover EV whose performance spans from mild to wild.
Kia says the design language introduced on the EV6 will be applied to future models, and it appears to have a slight resemblance at the rear corner to the Chevrolet Blazer.
There are interesting touches throughout, such as the lighting that frames the rear lines, retractable door handles, sharply raked windshield, muscular sloped hood, and turbine-looking wheels.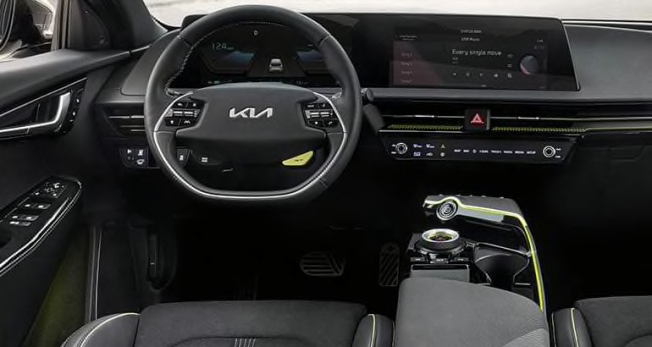 Having an EV-exclusive platform allows for a flat floor, and it opens up storage space under the hood. Further, the automaker claims the interior spaces rival those of many midsized SUVs, despite tidy exterior dimensions.
The cabin has a clean, modern appearance, with illuminated highlights that give it a sci-fi flair. There are two 12-inch, curved screens that work together to create the feeling that a single screen is presented around the driver. The latest infotainment system is dubbed "Kia Connect," replacing the Uvo system found in today's models. Among its features is the ability to receive over-the-air updates and seek EV charging stations. Many physical controls, including a volume knob, remain.
Further information is shown with a head-up display that employs augmented reality to feature speed and navigation instructions.
A 14-speaker Meridian stereo is available with surround sound.
The sustainability theme carries through to the interior materials, which includes fabrics made from recycled plastics—the equivalent of 111 plastic water bottles—and "vegan leather" surfaces on some trims.

The EV6 will be offered in a number of configurations, with rear- and all-wheel-drive versions, and several motor combinations. This grants the EV6 the ability to span from a mainstream model to a sporty iteration, much like its rivals the Mustang Mach-E and Model Y. Different configurations are rated at 167, 218, 313, and 576 horsepower, depending on drive configuration and battery pack. The EV6 uses a nickel-cobalt-manganese battery in 58- and 77.4-kWh sizes.
We estimate that the range for the 58-kWh versions will hover around 200 miles.
The long-range 77.4-kWh battery is said to provide around 300 miles of range with two-wheel-drive models. The dual motors in the all-wheel-drive, long-range EV6 can run 0 to 60 mph in 5.2 seconds.
Then there is the higher-performance EV6 GT that brings 0-to-60-mph times down to 3.5 seconds. Peak power output is equivalent to 576 hp. This sporty model will not be available until late 2022.
The EV6 is compatible with 400- and 800-volt charging, enabling the car to go from a 10 percent to an 80 percent charge in 18 minutes for all versions. To be clear, that pertains only to DC fast-charging in public places. The much more common Level 2 charging will take at least 8 hours to charge from empty.
A neat feature: The EV6 is capable of powering other equipment or serving as an emergency power source for your home. Kia provided the example of supplying both a 55-inch television and an air conditioner simultaneously. It could also be used to charge another EV or light up a campsite.

Safety and Driver Assistance Systems
Kia states that the EV6 will have a comprehensive suite of active safety features, including forward collision warning, automatic emergency braking with pedestrian detection, blind spot warning, rear cross traffic warning, lane keeping assistance, and a driver attention monitor.
The automaker has said that the EV6 will offer its safe exit assist feature, as seen on other Kia and Hyundai models, which alerts occupants when traffic is approaching as a passenger attempts to exit the vehicle. It will also offer lane centering, an advanced version of adaptive cruise control, and remote parking, allowing the car to enter or exit a parking spot with the driver outside the vehicle.