Preview: High-Tech 2023 Mercedes-Benz EQS SUV Electric Flagship
German automaker's EV line expands with this premium, three-row coach Mercedes-Benz continues to spawn electric versions of just about its entire portfolio with the unveiling of the EQS SUV.
Based off the platform shared with the EQS sedan, it effectively becomes the flagship vehicle for the brand, marrying S-Class opulence, family-friendly SUV packaging, and pure electric power. And as luxury SUVs have eaten away at sales of luxury sedans, it makes business sense that the EQS has an SUV version.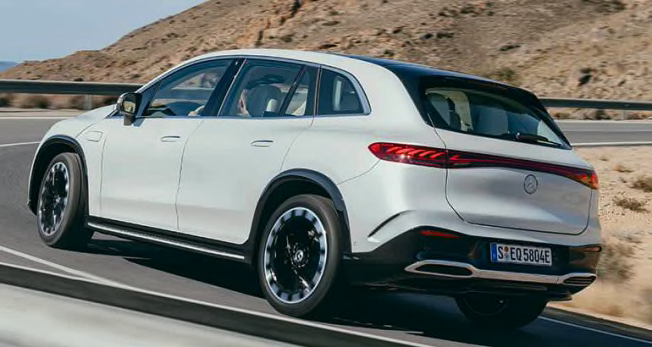 The EQS SUV takes all the opulence and engineering marvel long associated with the Mercedes-Benz S-Class sedan and applies that concept to a large, three-row electric SUV. Furthering the brand's expansion into the electric world, it is intriguing to see the ongoing innovation and unique two-pronged approach of offering gas and electric versions of core models that are otherwise similar. 
It is crafted to be a family vehicle for well-heeled, environmentally conscious buyers, with many features that will no doubt impress in the showroom. 
The timing is great for Mercedes, entering this market as the Tesla Model X starts to look old and staid, and yet staking out its territory before BMW makes a similar move (the iX is smaller and seats only five) and is eventually joined by Lucid Motors, which has pledged that an electric SUV will follow the Lucid Air sedan. 
Of course, the success of the EQS SUV from a testing standpoint boils down to how it performs and how challenging (or overwhelming) the MBUX system is. Given how polished Mercedes models tend to be, and that this is the second generation of MBUX, we're optimistic that this will be a highly desirable luxury coach.
The EQS SUV shares a 126.4-inch wheelbase with the EQS. But its roof stands almost 8 inches taller, and it measures 5 inches shorter bumper to bumper. This puts it right on a par with the BMW X7 and Land Rover Range Rover for length, but 3 to 6 inches shorter in height. As is becoming the norm with EVs, the packaging efficiencies afforded by the electric powertrain allow for stretched proportions with a focus on increasing interior space.
All told, this is a large luxury cruiser, although its soft lines lack the creases and elegance often seen at this price range. At least part of the styling is attributable to aerodynamics, with Mercedes seeking to reduce wind resistance both with the body and underneath. Even the door handles retract, like on some competing EVs, to smooth airflow.
The key tip-off to fellow motorists that this is an EV is the large, flat grille surface. With no engine underhood to cool, the front of the EQS SUV is quite smooth. Behind that black panel lurks radar, ultrasonic sensors, and a camera, all to aid various active safety and parking features. 
A panoramic roof is standard, and it should make the interior feel more spacious.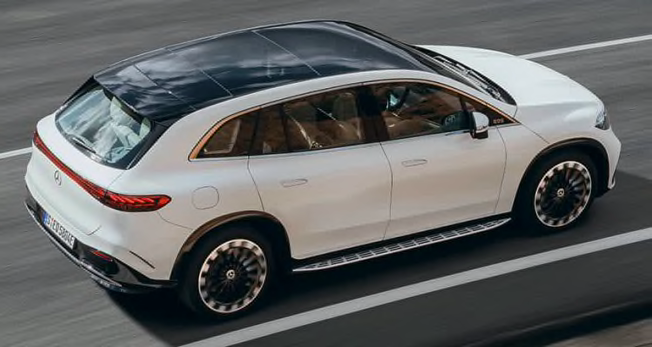 The story of the interior centers around the MBUX Hyperscreen (optional on base, standard on 580 4Matic). This places three screens below a shared glass cover that spans almost the width of the vehicle. There is a massive 17.7-inch central screen for the infotainment system and a 12.3-inch screen just for the passenger. (In other markets, this right-side screen can be used for viewing entertainment when the SUV is in motion.)
And if that isn't enough information for the driver, two head-up displays are offered. The larger of the two has a 77-inch color display area, where augmented reality overlays data and navigational guidance over the view of the road ahead. The screens adjust brightness automatically, based on ambient conditions. 
The infotainment system uses the second-generation MBUX (Mercedes-Benz User Experience) software. The unique promise for MBUX is how it can adapt to the driver, making personalized suggestions for entertainment, comfort, and vehicle functions. Mercedes claims the system prioritizes critical functions and the suggestions it learns over time, placing them at surface level to avoid having to dig through menus. And for those who prefer using voice controls, the updated system is better at responding to plain-language voice commands. Buying and testing our own EQS SUV will let us see how personalized and intuitive the new MBUX can really be over time.
The audio is augmented with Dolby Atmos surround sound, and the system can be upgraded to an audiophile-grade, 15-speaker Burmester stereo. 
Second-row passengers can interact with the system, even input destinations for the navigation system, using available touch screens on the back of the front-row head restraints.
The EQS SUV holds up to seven people, with three sitting across the power-adjustable second row and two spots in the third row. That third-row seat folds flat to expand the rear cargo floor. And, of course, rear heated seats are available.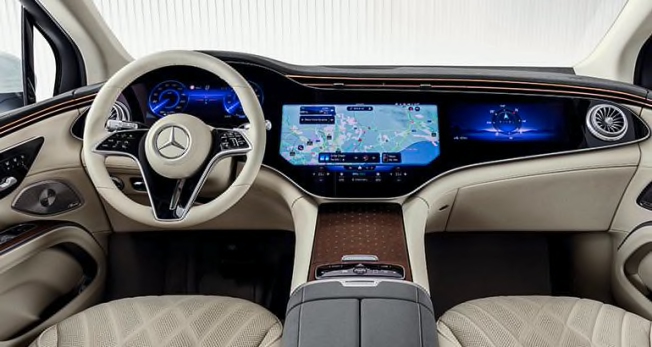 The cabin is swathed in synthetic leather upholstery, accented with detailed stitching, and wood trim, in a choice of finishes. 
Keeping the air fresh is a giant, three-stage HEPA filter (23x16 inches). Of note, Mercedes claims that when new, it can trap 86 percent of viruses (and 80 percent as it ages). If somehow an unpleasant smell still disrupts the cabin's tranquility, the available Air-Balance package sprays a specially formulated fragrance. 
For further relaxation, there are programs that take the concept of an ambient sleep machine to the next level. The Sounds of the Sea, for example, combines music soundscapes with surf and seagulls, along with synchronized air puffs from the climate system to mimic breezes. Other environments include Forest Glade, with birdsong and rustling leaves, and Summer Rain. 
Taken to the extreme, there is a Power Nap mode that creates a coddling environment for catching some quick zzz's, while parked, complete with gentle seat massage, closed blinds, circulating air, and, of course, an appropriate fragrance.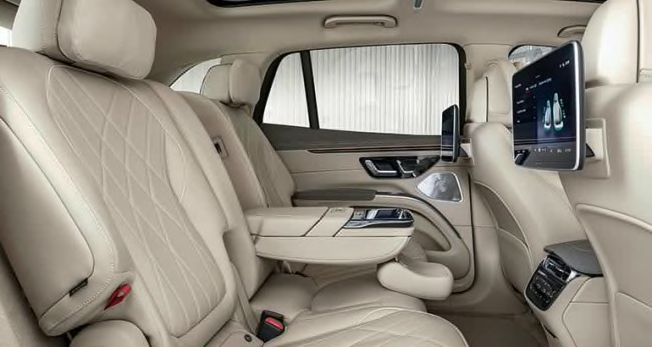 The power figures are greater for the EQS SUV than the EQS sedan. The EQS SUV 450+ is rear-wheel drive, and it uses a 355-hp electric motor. The EQS SUV 580 4Matic is all-wheel drive, and it boasts 536 hp and two motors.
Both configurations have a 9.6-kW onboard charger, which is not a standout. They are also compatible with maximum DC charging output of 200 kW. As such, the car can be replenished from 10 percent to 80 percent state of charge in 31 minutes in public DC-Fast charging places, according to Mercedes-Benz. 
The lithium-ion battery has a  107.8-kWh capacity. Mercedes has not released range figures yet, but its preliminary numbers based on a European test cycle point it being upward of 340 miles. 
To help manage range expectations, the car predicts the range based on usage and compares the route with potential charge stations, and it monitors whether the SUV has enough energy to make it back home.
Safety and Driver Assistance Systems
As one would expect with a top-tier Mercedes model, the EQS SUV boasts a full complement of active safety features, with many touting added sophistication above the norm. For example, automatic emergency braking is combined with front cross traffic warning, and it can mitigate a collision from opposing or perpendicular traffic. Active steering assist can help with avoiding obstacles, including pedestrians and bicyclists. And lane centering assist compensates for unmarked, rural roads. Active parking assistance uses the surround-view cameras and parking sensors to maneuver the EQS SUV into tight spaces, managing acceleration, braking, steering, gear selection, and turn signals. Plus it benefits from the added trick of using rear-axle steering to squeeze into narrow spots.