Preview: All-New 2023 Toyota bZ4X EV Is Primed to Challenge Ford and Tesla
This electric SUV promises up to a 250-mile range Toyota pulled the cover off its U.S.-spec bZ4X electric SUV this week, revealing the companion EV to the Subaru Solterra. These SUVs were jointly developed by the two automakers using a common platform, dubbed e-TNGA. Think Toyota electric components plus Subaru's rich history with all-wheel-drive systems, and you get the picture. 
While it has been a hybrid pioneer, Toyota has been reluctant to embrace electric vehicles until now. The bZ4X aims to change that, striking at the heart of the burgeoning electric market. It's a popular size: a few inches longer than the RAV4 and a couple of inches shorter than the Venza.
Much of its appeal will come down to price. The Ford Mustang Mach-E and Tesla Model Y offer versions with much more power and over 300 miles of range. But these modest figures (about 200 hp and up to 250 miles) may be more than enough for Toyota shoppers drawn to the brand by its impressive reliability track record, especially if the price undercuts those premium-skewed rivals.
It's hard to get past the name, especially typing it repeatedly for this article. bZ4X sounds like it should belong to one of Elon Musk's children. As more bZ models roll out, it's easy to imagine that shoppers could confuse one name for another. Whatever happened to words like Matrix?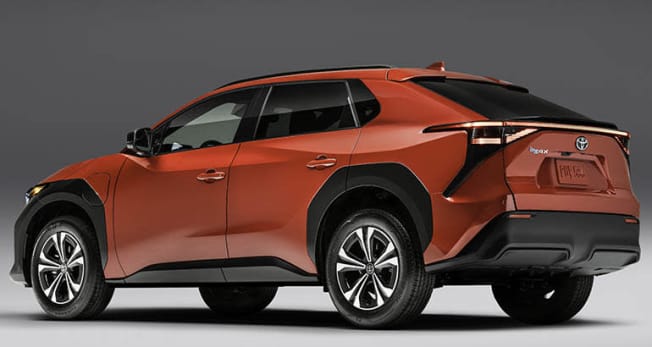 The bZ4X profile looks very familiar, with lines and cues that connect to several Toyota models, namely the RAV4. But if you look closer, there are some sharp creases that give the bodywork a bit more definition than current cars. And most notable, it has abundant black trim, as if designers looked at the Subaru Outback Wilderness for inspiration when visiting their partners. 
Despite being similar in overall size to the RAV4, the bZ4X's wheelbase is over 6 inches longer. Toyota hasn't released interior volume specifications, but we suspect this will help enable a larger interior space compared with the more conventional RAV4.
Massive sculpted air ducts at the front corners look prime for scooping up woodland critters crossing the road, while the center front grille area looks smooth and clean, and somewhat reminiscent of the Lexus spindle grille, just without the insert. (In red, it looks like a Star Wars imperial guard.) It's a striking look that may be polarizing to some buyers or pure visual magic that announces that this is more than just another compact crossover.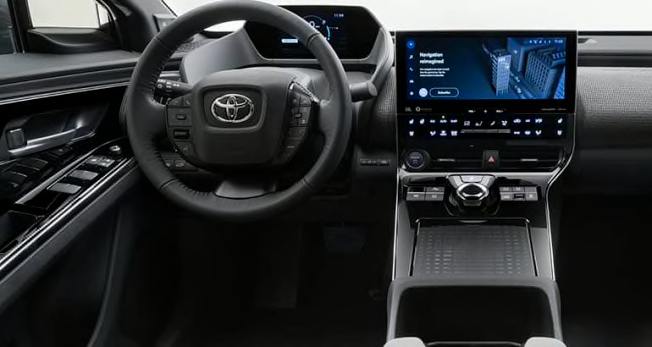 The futuristic, quirky dash is as unusual as the one found in the Prius. The instrument display is at least straight in front of the driver rather than off to the side. Being recessed away from the driver would create a feeling of open space. 
The bZ4X bound for the U.S. will be sold with a conventional round steering wheel as opposed to the steering yoke that will be offered in some other markets.
The large center screen houses the latest Toyota infotainment system. As we experienced recently in the Lexus NX, the next-gen graphics seem far more contemporary than the system in other current Toyota models. It's a touch screen, and it can also be operated by voice. The climate controls underneath the screen are flush rather than physical buttons, which might make them a bit tricky to use by touch when driving. The gear selector looks decidedly nonconventional in photos. We'll be interested to see how that functions. 
Toyota underscores that the EV platform, with its flat floor, helps maximize interior space, promising more passenger room than a traditional gas-powered model of the same dimensions would offer, like the similarly sized Venza. A panoramic roof adds to the spacious feeling.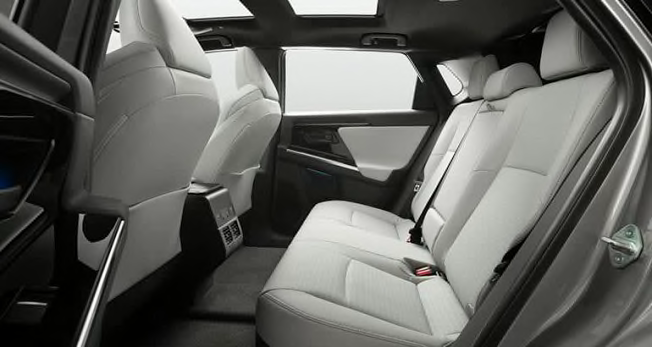 The bZ4X comes in two powertrain configurations. The front-drive version uses a single 201-hp motor with a 71.4-kWh lithium-ion battery. Toyota said a front-drive XLE-trim bZ4X has an estimated 250-mile range.
The all-wheel-drive version uses two motors, with a combined 215-hp output and a 72.8-kWh battery. As with other EVs, having the large battery pack under the floor lowers the center of gravity and should aid the overall vehicle dynamics.
To mitigate the loss of range due to cabin heat in cold weather, there's a heat pump system for both heating and air conditioning functions (heat pumps are becoming more common in EVs due to their efficiency); seat and steering wheel heaters; and a radiant foot and leg heater for the front row.
Toyota says it engineered the bZ4X to retain 90 percent of its peak charge ability after 10 years. It's rare that an automaker even addresses that elephant in the garage, as all EVs lose battery capacity over the years, just like rechargeable power tools and smart phones.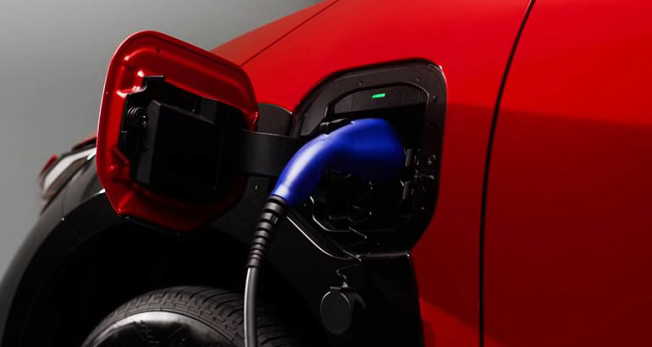 Safety and Driver Assistance Systems
The bZ4X will be the first Toyota to feature the Toyota Safety Sense 3.0. The TSS 2.5 rolling out on current models includes forward collision warning, automatic emergency braking with pedestrian and cyclist detection, lane departure warning, lane center assist, adaptive cruise control, automatic high beams, and a rear-seat reminder to avoid leaving a small child or pet behind. Expect the bZ4X to also include blind spot warning and rear cross traffic warning. 
TSS 3.0 boasts improved radar and camera ability, and expands on the existing driver assistance features. For example, AEB gains motorcyclist, guard rail, and low-light cyclist detection.