When you shop through retailer links on our site, we may earn affiliate commissions. 100% of the fees we collect are used to support our nonprofit mission.
Learn more.
For well over a decade, no car has truly rivaled the Toyota Prius for its combination of fuel economy and practicality. Hyundai finally answers the green car call with their Ioniq, the first car to be offered with three stages of electrification: hybrid, plug-in hybrid, and full electric.
Those three powerplants allow the Ioniq buyer to choose the car that best suits their commuting style. Based on a mostly-unique Elantra-sized platform, no "normal" gasoline-only Ioniq is available. Most will opt for the conventional hybrid, which uses a 1.6-liter four-cylinder with 104 hp along with an electric motor (making 139 hp combined) and a 1.56 kWh lithium-ion polymer battery. That relatively large battery can be leveraged for more acceleration assist and battery-only capability.
Helped by a very aerodynamic body and automatic-closing shutters in the grille that reduce drag, Hyundai claims that the hybrid Ioniq will be the most fuel-efficient car that you don't plug in. EPA fuel economy estimates are not available yet, as final development continues, but that means it needs to beat 56 mpg combined for the 2016 Prius Eco, a lofty goal.
Opting for the plug-in brings an 8.9 kWh battery, good for a claimed all-electric range of over 25 miles. If that boast holds up, it will beat the Toyota Prius Prime's 22 mile claim. Topping the electrification ladder, the Ioniq Electric has a 28 kWh battery, good for approximately 110 miles of range. That's no Tesla, but it is on the upper end of the range among current less-expensive electric cars, like uplevel versions of the Nissan Leaf.
---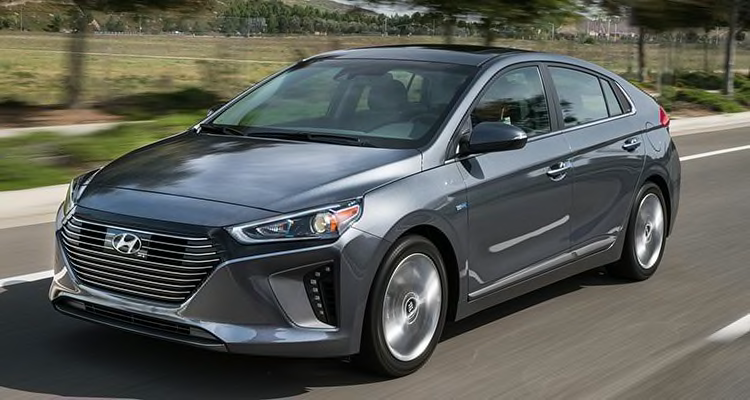 One of Hyundai's mantras seems to be a corporate hatred towards continuously-variable transmissions (CVT). Despite efficiency gains over conventional automatics, CVTs tend to suffer from non-linear power delivery and pronounced engine noise. Most hybrids, including Toyotas, use CVTs; luckily the hybrid's electric torque masks some of the transmission's untowards characteristics. Hyundai skips CVTs all together, using instead a six-speed dual-clutch automatic. More efficient than normal automatics, the dual-clutch design aims to deliver a more natural driving feel.
While an embargo on driving impressions limits what we can say about the Ioniq prototype we rented from Hyundai, we can say that their hybrid system has improved markedly from earlier attempts. Our tests found that the previous generation Hyundai Sonata hybrid offered so-so efficiency and unrefined power delivery. By contrast, the current Sonata hybrid shows that Hyundai is paying attention to the details, rivaling Toyota for hybrid efficiency and smoothness.
Maybe where the Ioniq follows a different road is in how normal and unassuming it tries to be, not shouting "Look at this green car!" to the world. By now, there's nothing revolutionary about the Ioniq's aerodynamic shape. Its rounded hatchback profile, terminating in a split rear window, has become familiar from the Prius and Chevrolet Volt. While the latest Volt aims to be sleek and sporty, and the latest Prius channels crisply-folded origami, the more-conservative Ioniq blends in.
The same goes for the Hyundai's interior. Sitting in the Ioniq hybrid feels, well, decidedly normal. Conventional knobs and buttons make the controls simple, and other than some hybrid-specific displays, the instruments look familiar. Driving a Prius requires adjusting to some idiosyncrasies, like an unusual stubby shifter and odd Stormtrooper-white plastic adorning the center console. Instead the Ioniq is more upscale, offering features the Prius lacks, like real leather seats and memory for the power driver's seat adjustments.
Like the Prius, the Ioniq is decidedly practical. A spacious rear seat comfortably fits adults, and there is plenty of cargo room under the hatchback. Rear visibility is better than the Prius or Volt, although it still falls short of being great. Advanced safety gear, including forward-collision warning with automatic emergency braking, is optional on the top two trim lines.
There's no question that the Ioniq faces an uphill battle. Currently-low fuel prices make efficient cars a hard sell. But Hyundai is playing the long game, facing global demands for reduced greenhouse gasses and tightening fuel economy standards here. Maybe the bigger question is if Hyundai can win over Prius buyers. After all, over more than a decade, the Prius has built an enviable reputation for being cheap to own and very reliable. We'll see if the Ioniq lives up to its lofty efficiency claims in one of the most eagerly awaited shootouts of the year.
How Accurate Are Fuel Economy Estimates?
How accurate are the gas mileage estimates that come with new cars? On the 'Consumer 101' TV show, Consumer Reports' expert Ryan Pszczolkowski explains how CR confirms the amount of fuel an engine is using—and offers tips for maximizing your mpgs.