When you shop through retailer links on our site, we may earn affiliate commissions. 100% of the fees we collect are used to support our nonprofit mission.
Learn more.
When someone mentions "Subaru," most people think of the Forester small SUV or Outback wagon. Car nuts might conjure up the BRZ sports car or the turbocharged WRX. Only current owners and trivia masters are likely to remember Subaru's Impreza compact car. After all, rivals like the Chevrolet Cruze, Honda Civic, and Hyundai Elantra easily outsell this comparative wallflower. But it's important to pay attention to the quiet ones.
The redesigned-for-2017 Impreza does nothing less than predict the future of the Subaru brand. Of more immediate importance, it replaces a rather well-rounded car that competes well within the contested compact car segment.
This Impreza introduces an entirely new platform, forming the structure that will underpin basically all upcoming Subarus, including a next-gen Crosstrek, revised Forester, and a long-awaited re-entry into the midsized three-row SUV market. Priorities emphasized in the Impreza harbinger how those future Subarus perform.
Practicality and safety have long been Subaru strengths. Subaru claims the new Impreza's structure is 1.4 times stronger than before—impressive given that the last car aced crash tests. This improvement aims to future-proof the car against increasingly tougher safety standards.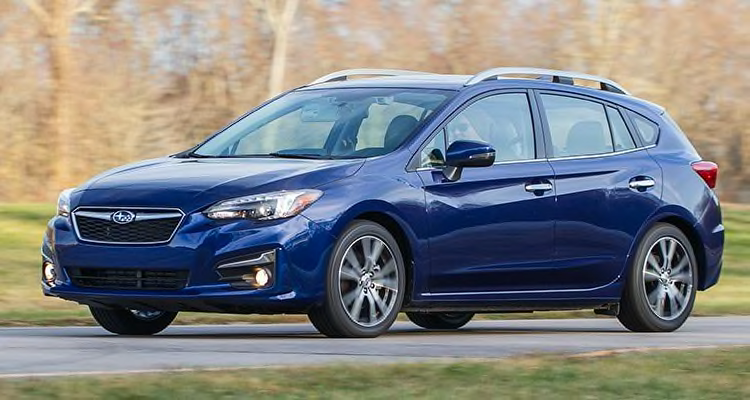 The EyeSight safety suite, including forward-collision warning and automatic emergency braking, becomes available on all but the most basic Impreza trimline, as part of a $1,395 package including blind-spot monitoring. (Too bad it's not standard, like on the Toyota Corolla.) Basics like driver visibility aren't forgotten, with good-sized windows, relatively thin roof pillars, and a standard backup camera.
But Subaru realizes that buyers want more than the automotive equivalent of dry whole-grain toast, healthy though it may be. Proof is in the Impreza's improved style, refinement, and polish. Exterior styling is considerably less slab-sided than before. Probably more important to more buyers is the upgraded interior, dressed with more soft-touch materials and more stitched accents. The seats feel more supportive (although no Impreza has adjustable lumbar support), and the rear seat easily fits adults. Overall the interior catches up to the competition, losing the previous car's bare-bones feel.
Imprezas have long ranked among the best-riding compact cars, and the 2017 redesign doesn't break that winning streak. Road bumps don't cause bruises; instead, the suspension effectively swallows up broken pavement impacts.
Though the ride didn't need improvement, cabin quietness definitely did. Subaru addressed this perennial problem by sealing noise passageways into the cabin and fitting thicker glass. Reduced road and wind noise were the result, placing the car among quiet competitors like the Chevrolet Cruze, Ford Focus, and Volkswagen Golf. Combine the Impreza's calm cabin with the platform's newfound feeling of solidness, which helps the suspension better do its job, and you wind up with a car that masks highway speed surprisingly well.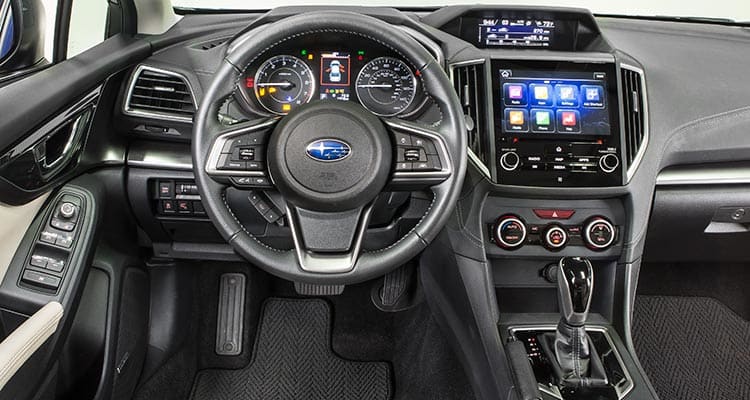 Not that the 2.0-liter four-cylinder engine creates a speed demon. Updated with new components to reduce weight, the engine makes 152 hp, about par for this class. We had few complaints about power, helped by a retuned continuously variable transmission (CVT) that diminishes engine noise and improves response. At low speeds, you don't notice the CVT's continual changing of gear ratios as the car easily putts along. Step deeper into the throttle and the transmission simulates a traditional automatic, "shifting" with discrete steps to reduce engine noise when revs get raucously high. A manual transmission is optional, an increasingly rare offering in this segment.
Over the years, Subaru has gone through various definitions of "Sport." Previous Impreza generations have included faux-SUV Outback Sport or Sport hatchback models featuring two-tone paint and slightly elevated ground clearance. Those differences have been whittled away, leaving only a confusing model lineup. Ultimately, the 2013 introduction of the highly popular Crosstrek made the variations redundant.
The Crosstrek will move to this new design next year, as the Impreza Sport takes a different tack. Rather than being a tool for outdoor sports, the new Sport aims to be sporty in appearance and demeanor. Red stitching inside, black-trimmed wheels, and a garish spoiler on the sedan make it stand out.
We rented a Sport sedan and top-trim Impreza Limited hatchback from Subaru for early impressions. Because the Sport has no power bump over other Imprezas, we noticed little driving difference between the two. That's a good thing, as both cars proved satisfying overall to drive. Steering is more responsive than before but lacks the driver engagement of a Mazda3 or VW Golf. Base 2.0i models come with 16-inch steel wheels, and the Premium upgrades those to alloys. The Sport has 18-inch alloy wheels, and the Limited has more modest 17-inch rolling stock.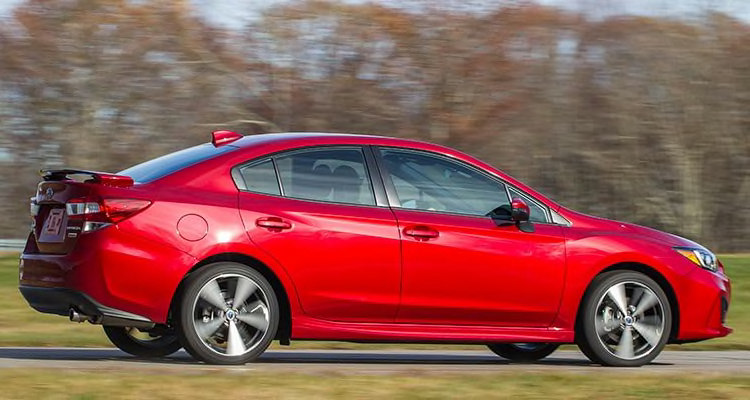 The upper-trim Sport and Limited trims also come with a fancier stereo. A 2016 update finally brought contemporary levels of connectivity to the Impreza, but the 2017 stereo proves to be a big step ahead. Standard is an easy-to-reach 6.5-inch touch screen; a big 8-inch screen comes on Sport and Limited trims. This higher-level system has big onscreen buttons, simple logic, and standard Android Auto and Apple CarPlay.
We've intentionally gone this far without mentioning the Impreza's most unique standard feature: all-wheel drive (AWD). That's because Subarus aim to appeal to buyers beyond the snowy Northeast, Northwest, and mountain states. To dramatically increase sales means Subarus have to sell in places where the brand's hallmark of added slippery-road grip has little traction.
To this end, Subaru claims that the Impreza suffers no sacrifice for its AWD. One typical detriment is fuel economy, because of the added component weight and extra friction driving all four wheels. EPA-claimed fuel economy for the CVT-equipped sedan is 32 mpg overall, matching the class-leading Mazda3 2.0i but falling behind the 34 mpg of the Honda Civic LX. We saw 30 to 32 mpg in mixed driving; we'll wait for instrumented fuel economy testing to render a verdict in this battle.
That said, we can definitely weigh in on price. Despite the added cost of all-wheel drive, the Impreza remains a competitive value. A base 2.0i sedan with the CVT automatic stickers for $20,215. That compares well with a Honda Civic LX automatic at $20,375, or a comparably equipped Hyundai Elantra SE for $19,785. The majority of Imprezas sold are hatchbacks; adding the fifth door adds, appropriately, $500. (It also brings a bit more road noise from the open cargo bay, compared with the sedan.)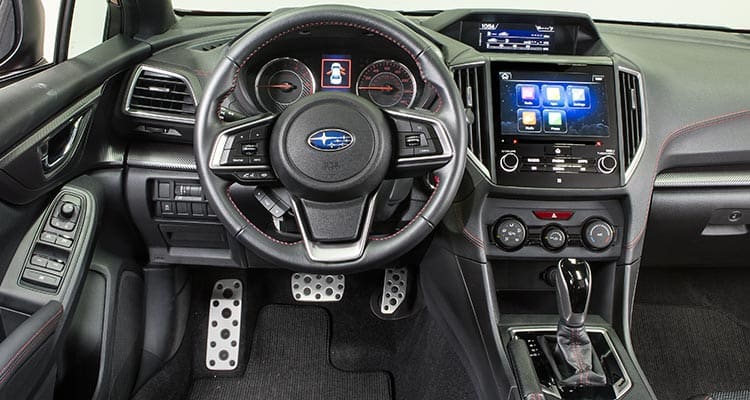 Most buyers will step up to the mid-grade Impreza Premium, which adds alloy wheels and heated front seats. A Premium sedan starts at $22,015. We would add the $1,395 option package with blind-spot monitoring and the EyeSight safety gear for a $23,410 total. The Sport trim adds the go-faster-looking bits, plus the bigger touch screen, push-button start, and a full-color information center. It starts at $23,410 for a Sport sedan with the CVT automatic.
The top-trim Impreza Limited adds some new features, including a power driver's seat. (Some competitors, like the Chevrolet Cruze, make this handy comfort feature available at much lower prices.) Other features exclusive to the Limited include leather, automatic climate control, and automatic headlights. Prices start at $24,915 for the Limited sedan. They max out at $29,260 for a loaded Limited hatchback, once you add features like EyeSight, automatic emergency braking when reversing, a moonroof, navigation, and the Harmon Kardon stereo. That last number might make your eyes bleed, but price a loaded Mazda3 Grand Touring or VW Golf SEL with all of the safety and convenience options, and it's right in line.
All told, the Impreza bodes well for the future of Subaru. It made the Impreza more desirable and appealing without losing track of the virtues that have brought Subaru success. Well-rounded and satisfying to drive, the Impreza provides a Goldilocks moment for compact car buyers shopping for room, features, and refinement.