When you shop through retailer links on our site, we may earn affiliate commissions. 100% of the fees we collect are used to support our nonprofit mission.
Learn more.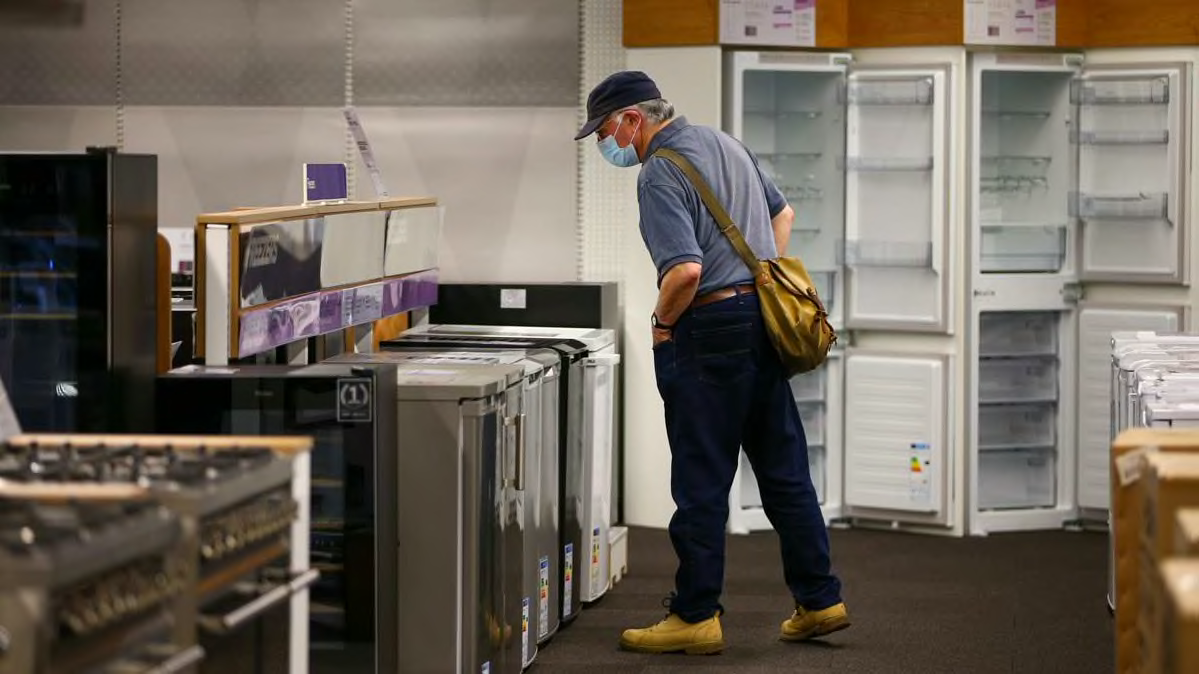 If you're looking to buy a new appliance, checking out models can be trickier during the coronavirus pandemic. For safety reasons, you may be hesitant to go to a store to see just how the controls work on washing machines, what the inside storage looks like in refrigerators, or if the racks in various dishwashers can hold your large serving platter.
To address consumers' worries, some retailers are offering new ways for customers to "experience" products. Nebraska Furniture Mart in Omaha, for instance, can demonstrate appliance features via video. But if you do have to enter a store, there are a number of precautions you can take to stay safe. Here's what to do.
Go when traffic is low. Do a Google search for the retailer to see whether you get a chart showing the times when the store is less busy. If you're older or in a vulnerable population, shop during any special hours reserved for you. (You may have to call to ask.) Keep a distance from store staff and other shoppers.
More on Appliance Shopping
Make an appointment. Set a specific time to meet with a salesperson, if possible, so you don't have to wait around in the store. Prepare questions ahead of time.
If you can't make an appointment, don't be shy about telling the salesperson that you want to expedite the shopping process. (So, no, you don't want to hear the pitch for an extended warranty. CR usually doesn't recommend them anyway.)
Plan for contactless payment. You can download a mobile app such, as Apple Pay or Google Pay, to check out simply by waving your smartphone above the card reader. Or pay with a credit card with radio-frequency identification (RFID) technology, which lets you do the same thing without having to swipe the card or sign anything.
Wear a mask, take sanitizer, skip gloves. As with any public outing, remember to wear a mask. Take hand sanitizer that's at least 60 percent alcohol to use after touching appliances and when you leave the store. Don't wear gloves, because they can give you a false sense of security—you could touch a surface with gloved hands, then inadvertently touch your face. Wash your hands with soap when you get home.
Prepare for the delivery. Whether you shop in a store or online, when the company contacts you before your appliance arrives, ask that the people delivering it follow safety protocols, including wearing masks, using hand sanitizer, and maintaining a social distance of at least 6 feet when they're in your house. Keep windows open before and after delivery to circulate air, which helps reduce airborne virus particles. If possible, stay out of the room during installation. Afterward, use soap and water to clean the appliance—and surrounding countertops—and wash your hands.
Editor's Note: This article also appeared in the December 2020 issue of Consumer Reports magazine.