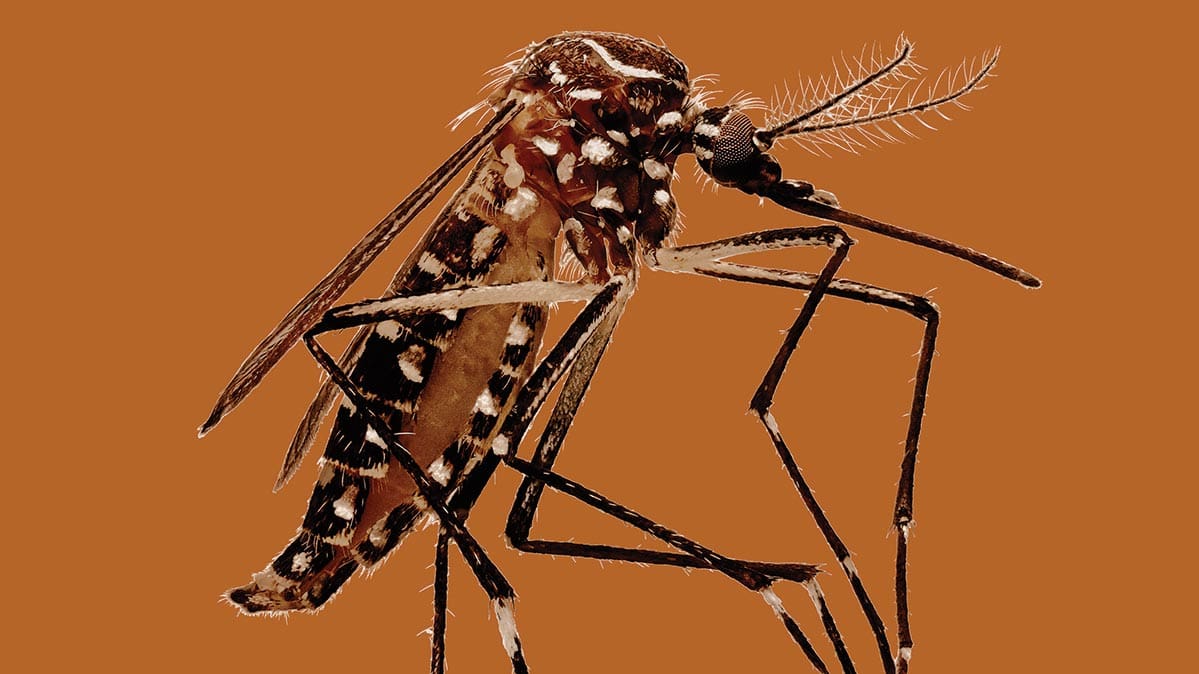 Photo: Jamie Chung/Trunk Archive
The number of insect-borne diseases is increasing, according to the Centers for Disease Control and Prevention. And the number of places they're spreading to is also on the rise. A new report this past spring showed that reported cases of tick- and mosquito-borne diseases more than tripled between 2004 and 2016.
This includes familiar diseases like the mosquito-borne West Nile virus and tick-borne Lyme disease, as well as some lesser-known ones such as the Powassan virus and Tularemia, which are both spread by tick bites. And there's always the possibility that previously obscure diseases, like Zika, could re-emerge as widespread threats.
"We need to continue growing our arsenal for controlling mosquitoes and ticks at the community level," says Benjamin Haynes, a CDC spokesman. "And personal protection will always be most important."
A key component of personal protection is insect repellents. The good news is that there are a lot of insect repellent formats to choose from, such as sprays, lotions, and wipes, and they contain a range of active ingredients—that is, the ingredients that make the repellents work.
But these products are not equally effective. And as the list of choices expands, it can be tough to know what to pay attention to. Do wipes work as well as sprays? Are store brands as good as brand names? Is the active ingredient the most important factor in deciding how safe or effective a product is?
More on Dealing With Insects
"There's a mind-boggling number of choices that you have to make," says Joe Conlon, a former Navy entomologist and technical adviser to the American Mosquito Control Association. "And it's actually very important to pick the right product because it will be your best defense against some very serious diseases."
That's where Consumer Reports comes in. We've added several new products to our ratings this year—including our first-ever tests of repellent wipes—to give you the clearest possible sense of what matters most when you're buying an insect repellent for you and your family.
What Our Tests Found
Our ratings are primarily based on how long a product protected test subjects against mosquitoes. We also test for how well the product resisted causing damage to materials that repellents are likely to come into contact with, like fabric, paint, and nail polish. Our highest-rated ones protected for 6.5 hours or longer; our lowest-rated ones lasted 2 hours or less. We currently test repellents only against mosquitoes, but in past years of testing we've found that repellents that worked well against mosquitoes also worked well against ticks.
Overall, we found that the type and concentration of active ingredient were the common denominators in the products that worked best as well as in those that did poorly.
For example, among the 14 products that earned our recommended status, there are only three active ingredients: deet, picaridin, and oil of lemon eucalyptus (OLE). Most "natural" products we've tested, including several containing citronella oil, peppermint oil, soybean oil, or others, have done poorly.
Our testing suggests that when it comes to effectiveness, what matters most isn't the brand name or whether it's a lotion, spray, or wipe, but rather the type and concentration of active ingredient in the repellent. For example, two wipes (Repel Insect Repellent Mosquito Wipes 30% Deet and Off Deep Woods Insect Repellent Towelettes), a store-brand spray (Total Home Woodland Scent, made by CVS), and a lotion (Sawyer Ultra 30 Insect Repellent), have all made our recommended list. All contain deet.
There's one pattern that emerged in our testing that's key for you to note. While we found some insect repellent sprays using the active ingredients picaridin or OLE that performed well, among the lotions and wipes, only those containing deet were found to be highly effective.
"We expect that differences in formulation, and how the active ingredient is incorporated into a repellent, can make a large difference in how effectively it repels insects," says Joan Muratore, test project leader of insect repellents for CR. "However, among the products we've tested, we have found deet, at levels of 15 to 30 percent, to afford the most reliable protection against mosquitoes and ticks." (Insect repellents with deet should not be used on children younger than 2 months, however.)
Same Ingredients, Different Levels of Protection
We found two instances in which a product containing 20 percent picaridin scored as well as a spray but not in another form, like a wipe or lotion.
The Natrapel 8-Hour Wipes we tested, which contain 20 percent picaridin, didn't perform nearly as well in our testing as the Natrapel Tick & Insect Repellent spray, which earned a high rating from Consumer Reports last year and continues to be recommended. The Natrapel picaridin spray provided around 5 or 6 hours of protection, but protection from the Natrapel picaridin wipe wore off in less than 2 hours.
We reached out to the Tender Corp., the manufacturer of Natrapel products. It suggested that our testing—in which volunteers place an arm with a measured dose of repellent inside a cageful of disease-free mosquitoes—achieved a result that was different from that of the company's internal testing because Tender's open-air field test environment reflected one closer to what it views as more real-life use of the repellents.
"Tender fully stands by our products and the efficacy statements that appear on the packaging," said Aaron Baumgarten, product director for the Tender Corp. "We believe that with proper application [of wipes], a user will be safe from ticks and mosquitos for the full 12 hours of protection."
(Natrapel is updating the label on its wipes to advertise protection for 12 hours rather than 8.)
Consumer Reports tests all insect repellents by applying the same amount of each product to our test subjects, and subjecting each to the same test inside a cage of mosquitoes, to ensure a fair playing field for comparison. "We control as many variables as possible and do our utmost to treat all the products equally when testing," Muratore says. CR's testers put repellents into beakers—rather than spray, squirt, or wipe repellents directly onto skin—and apply the same amount for all we test.
The story is similar for Sawyer Picaridin Insect Repellent lotion, which also contains 20 percent picaridin. When we tested it last year, it didn't perform as well as the Sawyer Premium Insect Repellent 20 Percent Picaridin spray, a recommended product.
Sawyer suggested last year that this discrepancy stems from the amount of repellent we used in our testing. The company said that people naturally apply about one and a half times as much lotion as we applied to our test subjects, and at that higher dose, picaridin lotion is actually one of the longest-lasting products on the market.
"Sawyer stands by the effectiveness and longevity claims on our product," a Sawyer spokesman, Travis Avery, said last year when we contacted the company for comment. "Picaridin insect repellent has been used worldwide since 1998 and is one of the best-selling active ingredients."
The Environmental Protection Agency doesn't require companies that make repellents to tell consumers exactly how much to apply—and Sawyer's label doesn't give specific application instructions (nor do any other repellent products we tested).
But Conlon and other experts on repellents we spoke with say that consumers shouldn't have to use more of any one product than another. "You should use just enough to cover your skin," Conlon says. "That amount should be enough for any product to work as advertised."
How to Apply Insect Repellent Properly
For best results, follow the directions on the label and these five tips:
1. Apply a thin coat to all exposed skin, but avoid eyes and mouth, and use sparingly around your ears. Do not apply under clothing.
2. Adults should spray repellent on their hands to apply to children. Don't spray on kids or apply to their hands to avoid it getting into their eyes or mouth.
3. Frequent reapplication isn't necessary. Wash hands after applying and wash off repellent at the end of the day.
4. Never spray directly onto the face. Spray on palms, then apply to the face.
5. When using towelettes, be sure to use enough of them to cover all exposed skin with repellent.
Consumer Reports is an independent, non-profit organization dedicated to helping consumers. We make it easy to buy the right product from a variety of retailers. Clicking a retailer link will take you to that retailer's website to shop. When you shop through retailer links on our site, we may earn an affiliate commission – 100% of the fees we collect are used to support our mission.
Learn more.
Our service is unbiased: retailers can't influence placement. All prices are subject to change.