At-Home Review: Amazon Key In-Garage Delivery
This $30 gadget will smarten up your garage door to safeguard Amazon packages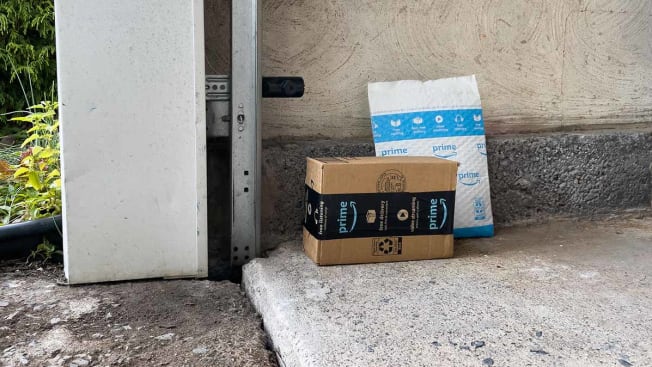 With the holidays approaching, there are few things that will rob you of your seasonal cheer faster than discovering the packages delivered to your door have disappeared. In fact, 11 percent of Americans have had at least one package stolen from their home in the past year, according to a September 2021 Consumer Reports nationally representative survey (PDF) of 2,341 adults. And with supply chain issues continuing to impact the availability of some products, getting a replacement for a stolen item just might require a Christmas miracle.
Those Americans who had a package stolen in the past year reported that the most common step they took to prevent future theft (at 21 percent) was to install a video doorbell. But while video doorbells are a great way to catch porch pirates in the act, they can't stop thieves from running off with packages.
To thwart threshold thefts, Amazon, in 2017, created its Amazon Key service (recently re-branded from Key by Amazon) that allowed its couriers to place packages inside your home. The service, only available to Amazon Prime members, grew over time to offer delivery not only inside homes, but in garages, car trunks, and behind motorized gates. But at the start of the pandemic, Amazon indefinitely halted delivery in homes and cars, leaving garage and gate delivery as the only options.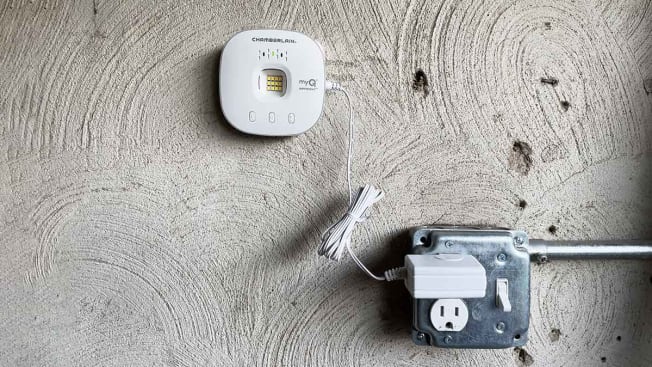 Since most people don't have motorized gates (myself included), I focused on the in-garage delivery. While I do have a smart garage-door opener, you don't need one to use Key. The Chamberlain MyQ Smart Garage Control it uses should work with any garage door motor as long as it was made in 1993 or later and has photo eyes (those little sensors on either side of the door that tell if it's obstructed). At $30, it's also affordable—and Amazon also gives you a $30 store credit to use on your first delivery, essentially making the hardware free.
Alternatively, you can use the service with Chamberlain and LiftMaster-branded MyQ smart garage door openers—which have the control built in—if you already own one or are looking to upgrade.
Installing the Chamberlain MyQ Smart Garage Control
The installation and setup process for the Chamberlain MyQ Smart Garage Control took about 20 minutes and was very straightforward, with the MyQ app walking me through every step in detail. The app quickly found the device via Bluetooth and connected it to my home WiFi. You then mount the included wireless door sensor (it tells whether the door is open or closed) and pair it with the MyQ device.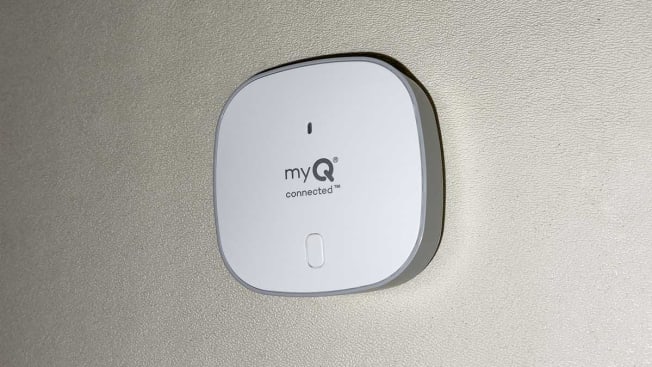 Next, you have to pair the MyQ device with your garage door opener (the same way you would pair a new garage door remote). Chamberlain warns that this step can take multiple attempts, and sure enough it took four attempts to pair for me, with each attempt lasting a few minutes. It seemed like this was happening because the MyQ device was trying a different wireless signal each time to connect to the garage door opener.
Chamberlain tells you to mount the MyQ device to the wall of your garage. I skipped this step and used double-sided tape instead, since I'm only using the device temporarily (I also saved myself 5 to 10 minutes by not using screws and a drill).
With installation complete, the MyQ app prompted me to set up Amazon Key by connecting my Amazon account and choosing my address and MyQ-connected garage door for Key Delivery. I was able to do it all in about two minutes flat.
One note here: Once you've set up Key, Amazon will automatically try to deliver items into your garage whenever you choose that address at checkout. The same goes for grocery orders from Amazon Fresh and Whole Foods. However, you can still have deliveries left at your front door by choosing Prime Delivery under delivery options during checkout.
At this point, Key is ready to use, but neither Amazon nor Chamberlain tell you that you can do even more by downloading the Amazon Key app. From this app, I was able to easily connect my Ring account and choose my driveway floodlight camera to pair with my Key system, as well as fine-tune my delivery settings. These settings include the ability to leave delivery instructions and attach a photo of the exterior of your garage.
Out of curiosity, I opened the Ring app to see if these connections bore any changes in that app. The Ring app has a Key Delivery menu option, but clicking on it brought me to a setup screen (as if I hadn't spent the last 30 minutes setting everything up). From there, I had to go through the same setup steps of choosing an address and MyQ-connected garage door. There were even the same settings to customize as those in the Amazon Key app, making the whole process feel redundant. The only perk I received for this repeated work was a new Garage page in the Ring app where I could see the door's open/close status, as well as a Key Delivery page where I could see a history of my in-garage deliveries. Unless you've always dreamed of monitoring your garage door and deliveries from the Ring app, I don't think these bits of extra functionality are worth setting up.
My In-Garage Delivery Experience
To try out in-garage delivery, I placed four Amazon orders over the course of about three weeks. Each delivery was flawless, with both the Amazon Key and Ring apps alerting me when the driver was two stops away and when they were making the delivery. The driver would then open my garage door from their smartphone, place the package inside, and promptly close the door and leave. The whole process was simple and speedy, taking place in just a couple of minutes.
When the delivery was complete, both the Amazon Key and Ring apps alerted me that the delivery was a success. I could then retrieve my package at any time. Best of all, I didn't have to worry about it sitting out in the open on my front porch.
Should You Sign Up for Amazon Key?
It can seem a bit concerning to give a giant tech company access to your garage door. After all, most garages have doors into the rest of the house. To be honest, the only reason I wasn't concerned is because my garage does not have a door into my home. Of course, you could always just put a lock on that door and keep it locked when you're expecting a delivery. But Amazon has designed the system to make it as safe as possible.
The Amazon Key app lists a number of Key Safeguards, including that drivers undergo annual background checks and can only access your home once for your specific package. You can also refuse access to your garage ahead of the delivery if you change your mind.
If you're an Amazon Prime member and frequent Amazon shopper, I think Amazon Key in-garage delivery and the Chamberlain MyQ Smart Garage Control are a no-brainer. The system is easy to set up, works well, and is essentially free to buy. You don't have to worry about packages being stolen, nor do you have to get a neighbor or relative to collect packages when you're out of town.
The MyQ Smart Garage Control also brings its own benefits, including the ability to remotely open and close your door, see its open/close status, and even schedule your door to automatically close for the night if it's left open.
The obvious drawback of Amazon Key is that this system only works for Amazon or Whole Foods deliveries. There's simply no way to give access to USPS, FedEx, or UPS so they can place deliveries from other retailers in your garage. Would it be great if Amazon opened this system up to those delivery companies? Yep. Is that likely to happen? I doubt it.
For other deliveries, you're just going to have to rely on a video doorbell or package delivery box, at least until a rival retailer or startup creates their own version of in-garage delivery.
When you shop through retailer links on our site, we may earn affiliate commissions. 100% of the fees we collect are used to support our nonprofit mission. Learn more.