When you shop through retailer links on our site, we may earn affiliate commissions. 100% of the fees we collect are used to support our nonprofit mission.
Learn more.
Since black stainless steel appliances debuted several years ago, they've been touted as a warmer alternative to the industrial look of regular stainless. But that's not the only difference.
Manufacturers say that their black stainless steel appliances resist smudges and fingerprints and that cleaning is easier: "Black stainless doesn't require any special polishes to keep it looking good," says Nancy Bock, senior vice president of education for the American Cleaning Institute, a trade group. "Cleaning is generally simple and can be accomplished using warm water and a soft cloth."
Most regular stainless steel refrigerators we've tested do not have a fingerprint-resistant finish. "So you'll see smudges, fingerprints, water spots, and streaks," says Joe Pacella, the engineer who runs CR's refrigerator testing. In other words, keeping stainless refrigerators, dishwashers, and ranges shiny takes some effort, and you will see scratches eventually. Check "How to Clean Stainless Steel Appliances" for tips.
To see for ourselves, we headed to the lab and cleaned the doors of several refrigerators, using a damp cloth followed by a soft towel. "The coated stainless and black stainless steel looked fine after cleaning," Pacella says. "But the uncoated stainless needed more work—a stainless cleaner would help."
A recent Houzz kitchen trends study found that among people who are replacing appliances during a kitchen renovation, 8 percent are choosing black stainless steel models, just behind white appliances. "Stainless steel still remains most popular, at 73 percent," says Nino Sitchinava, principal economist at Houzz.
You might be able to mix and match regular stainless appliances from several manufacturers, but each manufacturer offers its own take on black stainless, making it trickier to mix brands. So we asked each manufacturer about its black stainless appliances. Here's what they have to say.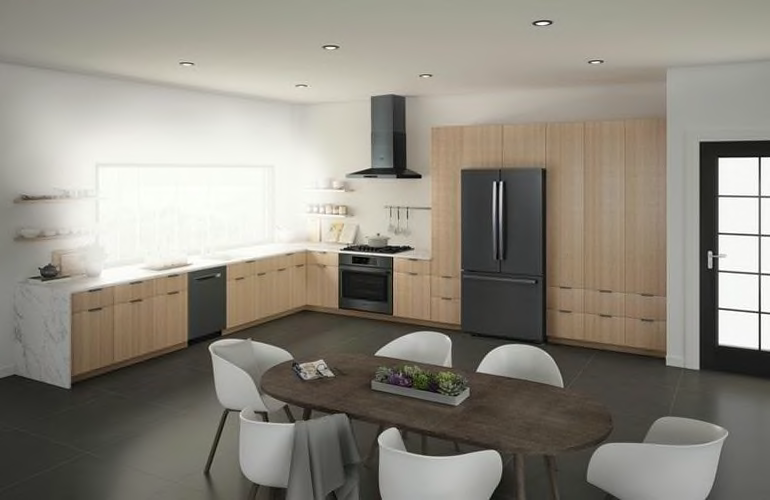 Bosch
Bosch just introduced its first black stainless kitchen suite, shown in the photo above, which comprises nine appliances in total. The Bosch SHPM78W54N dishwasher, $1,000, is in stores now. We tested the same model in a different finish: the Bosch SHPM78W55N. The other black stainless appliances in this suite will roll out this quarter and next.
Described as: A unique black-graphite tone, says Anja Prescher, director of brand marketing for Bosch. "While black tones traditionally absorb light in areas like the kitchen, Bosch black stainless reflects light back into the space, creating a spacious and inviting feeling."
What it is: "A special stainless steel material that helps guard against scratches and fingerprints," Prescher says.
How to clean it: A soft, dry towel does the job, and warm water diluted with a nonabrasive, mild cleansing soap can also be used. Do not use stainless cleaner.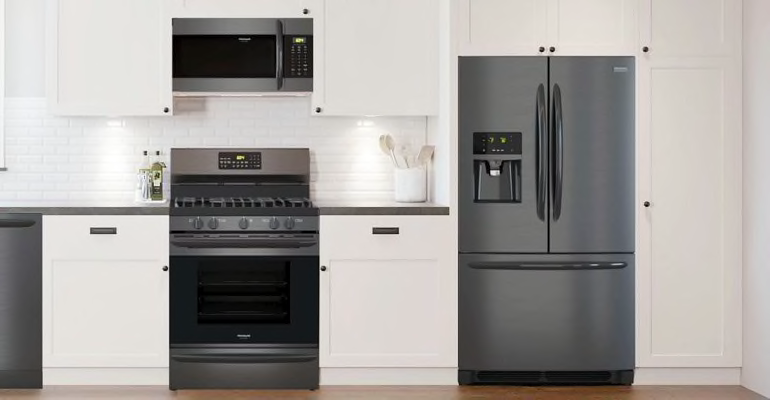 Frigidaire
"One of the biggest kitchen design trends is white-on-black—white cabinets and décor with black appliances," says Brett Townsend, a Frigidaire spokesman. "However, consumers aren't thrilled with the traditional black appliances because they look old and cheap."
Described as: Black stainless offers a modern design and is easy to clean—the best of both black and stainless steel appliances, according to Frigidaire.
What it is: Stainless with a protective coating of polymer that creates a black finish, and resists fingerprints and smudges, says Marguerite Deutsch, a senior product line manager. "It's very durable, but just like coatings on a car, it can scratch."
How to clean it: Use a damp cloth. That's it.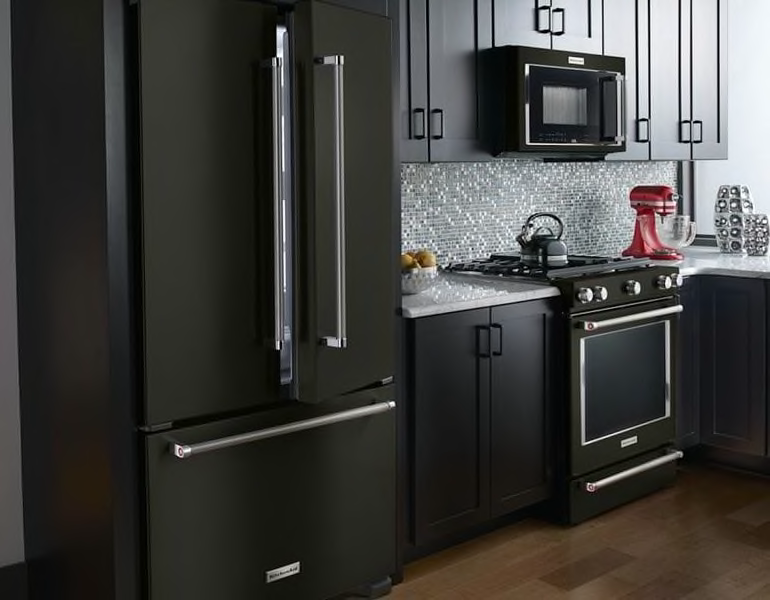 KitchenAid
This black stainless finish complements any kitchen design, says Laura Schlageter, a spokeswoman for KitchenAid. "Black stainless significantly reduces the appearance of smudges and fingerprints, compared to noncoated stainless," she adds.
Described as: "A rich metallic black in a soft, brushed, matte finish, allowing for a neutral canvas when homeowners are renovating the kitchen," Schlageter says. "Appliances with matte finishes integrate more seamlessly with today's trends in home cabinetry, which are often painted with a matte or satin finish."
What it is: A tinted coating over steel.
How to clean it: Wipe the surface with a clean sponge or soft, damp cloth and a mild detergent—that's all that's needed in most cases. If using a stainless cleaner, wipe the surface in the direction of the grain, then wipe with a soft, dry cloth. You can buy touch-up paint to repair scratches from Repair Clinic.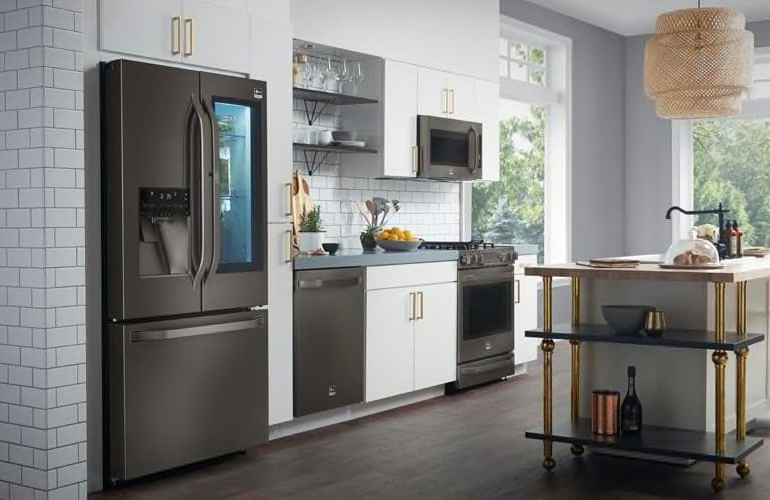 LG
"As a mom with two kids under the age of 6, I used to wipe down my stainless steel refrigerator daily," says Taryn Brucia, director of public relations for LG. "With the LG black stainless steel, I only wipe it down when I'm doing a full kitchen cleaning—and the occasional finger-paint mishap."
Described as: Satin smooth, warm, sophisticated, pairing beautifully with any style or color of surrounding cabinetry, according to LG.
What it is: Stainless coated with a special material, making it fingerprint- and smudge-resistant, LG says. The manufacturer recently added a matte finish to its black stainless lineup.
How to clean it: Wipe clean with a soft, dry microfiber cloth. For difficult messes and built-up grease, use a small amount of warm soapy water and wipe in the direction of the metal's grain.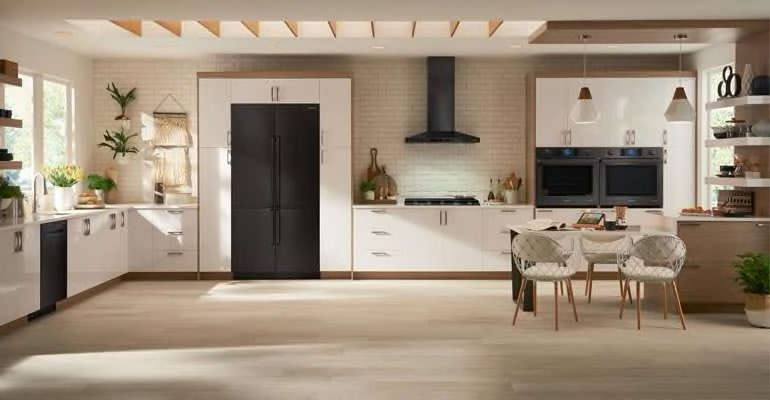 Samsung
"Consumers have been looking for a new premium-looking finish that is simultaneously practical," says a Samsung spokesperson. "Black stainless has addressed these needs."
Described as: Sleek, sophisticated, and stylish, black stainless works well in the modern kitchen, according to Samsung.
What it is: Stainless with an acrylic coating. "There are two coating layers," Samsung says. "The first layer is for color, and the second is for resisting fingerprints and smudges." That makes it easier to maintain than regular stainless, but scratches can be seen more easily because of the dark color, the manufacturer says. The transparent coating can protect the scratch, but if it's very deep, the stainless underneath will show through. Touch-up paint may be used. However, because the color coating is semitransparent, exact color recovery is difficult.
How to clean it: A wet dish towel does the trick. Samsung says you can also use a cleaning product such as abrasive-free mineral oil or window cleaner.
Shopping for Appliances?
You've come to the right place. We buy and test major appliances across brands and in a range of prices. See our ratings and brand reliability information for dishwashers, refrigerators, ranges, and wall ovens. And check our buying guides for each product category, too—they offer useful information during the decision-making process.