When you shop through retailer links on our site, we may earn affiliate commissions. 100% of the fees we collect are used to support our nonprofit mission.
Learn more.
Known as The Pioneer Woman, Ree Drummond oversees a thoroughly modern media empire as a Food Network star, lifestyle blogger, and self-described desperate ranch wife who's obsessed with butter and Ethel Merman. She has lent her name to a number of products, including the Pioneer Woman Vintage Speckle Nonstick 10-piece cookware set, sold exclusively at that little general store down the road, Walmart. It's designed to look like something you might use over a campfire. But how about in your kitchen? Consumer Reports put the pots and pans to the test.
We bought a set of the Pioneer Woman cookware in turquoise at Walmart for $99. It's made of porcelain-enameled aluminum, and the 10-piece set includes four glass lids, 1- and 2.5-quart saucepans, a 4-quart sauté pan, a 5.5-quart stockpot, a 9.5-inch skillet, and an 8-inch cast iron skillet. The pots and pans also come in red, black, and linen.
The flat-bottomed cookware makes good contact for cooking on an electric smoothtop range or cooktop, but won't work with an electric induction cooktop because it lacks the magnetic material needed.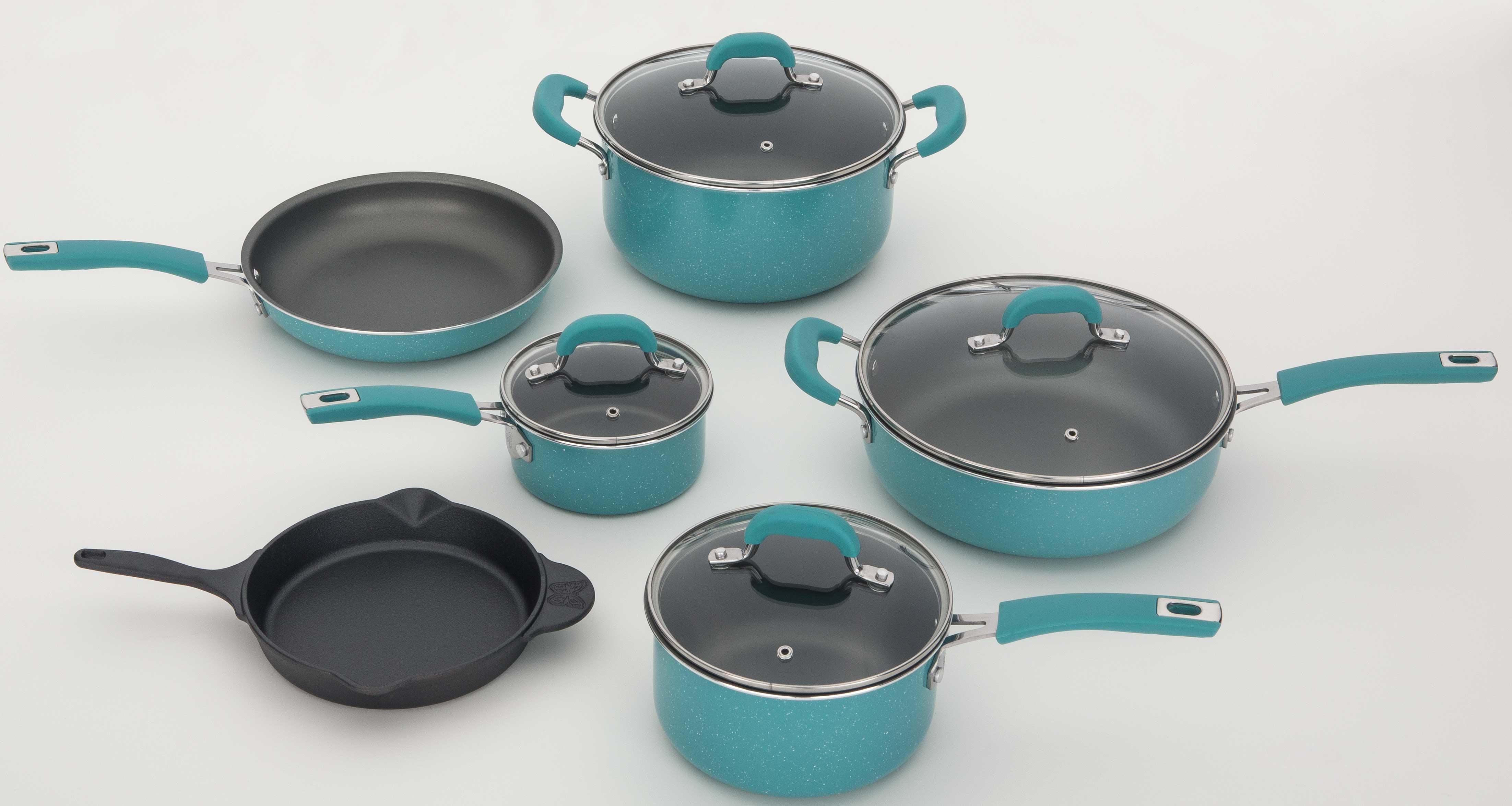 Our Test Results
In our tests, water quickly came to a near-boil in the stockpot, and of the 14 nonstick cookware sets we tested, the Pioneer Woman cookware set was the only one to score excellent in both cooking evenness and nonstick durability. In our durability tests, in which we rub steel wool over the surface 2,000 times, the nonstick surface withstood the punishment. Some scratches resulted, but the nonstick coating was largely intact.
Pancakes cooked evenly, nicely browned all around. And in our food-release tests, four fried eggs, one after another, slid out of the skillet with some nudging once the coating was scratched. Less nudging was needed when the pan was new and the coating unscratched. So how you use and clean your cookware makes a difference.
This $99 set is lightweight, and whether that's a plus or minus is your call. One ding is that the handles aren't very sturdy, though the handles stayed cool to the touch in our tests. Cookware can be expensive, and the three sets that scored higher than the Pioneer Woman cost exponentially more. Even then, only the top-rated Swiss Diamond Reinforced 10-piece set, which costs $600, made our recommended list.
Caring for Your Cookware
Follow the manufacturer's instructions on proper use and, if recommended, season your pan. Here's what else to consider when caring for your cookware:
Protect the nonstick surface by using a plastic spatula and plastic or nylon scrubbers on burnt-on food—no metal spatulas, knives, or steel-wool pads.
Wash pots and pans by hand with hot water, soft sponge, and dishwashing liquid. It's easier on the nonstick surface, even when the manufacturer claims the cookware can be cleaned in the dishwasher.

Do not place empty nonstick pans over very high heat because it can cause the coating to deteriorate. Low or medium cooking heat is recommended.

Properly dispose of pans as soon as the coating begins to flake, so your food doesn't start sticking.
Email your cookware questions to me at kjaneway@consumer.org.