When you shop through retailer links on our site, we may earn affiliate commissions. 100% of the fees we collect are used to support our nonprofit mission.
Learn more.
The modern Buick showroom has become an international clearinghouse. Crossovers from China (Envision) and South Korea (Encore) sit next to European-inspired sports sedans (Regal) and a German-made convertible (Cascada), with a hefty three-row SUV (Enclave) mixed in for good measure. Amid this crazy quilt of products sits the redesigned Buick LaCrosse, the final holdout to the traditional definition of Buick—big sedans for mature drivers for whom Cadillacs are too flashy.
Outdated, floaty, road-going couches have been banished from the Buick lineup as GM seeks to redefine the brand. The previous-generation LaCrosse added some panache to the tranquility. Although the car's ride comfort and quietness appealed to Buick's traditionally older circle of buyers, GM also managed to sneak in contemporary driving dynamics.
The latest LaCrosse, which we rented from GM (we'll buy one for a formal road test), keeps that trend alive with the same hushed cabin, ample power, and sound handling. By definition, large sedans are meant to be easygoing road-trip companions, focused on quiet, room, and comfort, all without taxing you with the premium price of an elite luxury brand.
The 2017 Buick LaCrosse is longer, wider, and lower than the outgoing model—a trifecta commonly associated with redesigns. But that lower stance makes the 2017 LaCrosse harder to get into and out of, especially compared with chair-height crossovers that have been stealing sales from sedans. Then again, the LaCrosse smartly matches SUVs by offering all-wheel drive, making it one of the few large affordable sedans available (along with the Chrysler 300, Dodge Charger, and Ford Taurus) with that Snow Belt–friendly feature. Big-sedan heavy hitters such as the Chevrolet Impala and Toyota Avalon are strictly front-wheel drive.
GM fits its latest 3.6-liter, V6 engine in the LaCrosse, mated to an eight-speed automatic transmission. Power is plentiful, with enough reserve power for stress-free merging. One noteworthy observation is the "vroom" on startup, which might raise an eyebrow for a Buick.
The ride of the LaCrosse we rented is mostly agreeable, but comfort depends on the options you choose. The AWD Premium trim we drove has 20-inch wheels and a continuously damping suspension. It struggles to compete with road impact; some harshness sneaks through in a very un-Buick way. We expect cars with the 18-inch wheels to ride better.
Buick promotes librarylike quiet as a brand cornerstone, and despite its diversity, most of the lineup lives up to the boast. The LaCrosse is equipped with a list of acoustic improvements, including active noise cancellation and laminated glass.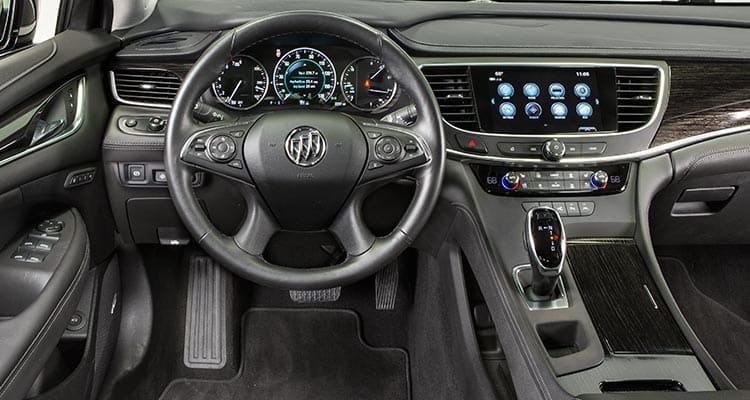 The LaCrosse interior isn't flashy. For some, that may be a good thing because the older LaCrosse had too much going on, including too many buttons. The new uncluttered dash is easy to read. In fact, the entire interior is simplified. GM's current infotainment system is one of the best in the industry and has standard Android Auto and Apple CarPlay compatibility.
Our biggest gripe about the controls is the new electronic gear selector. Drivers used to a traditional PRNDL configuration—in other words, those drivers who kept the lights on for Buick for many years—will be puzzled, if not angered. Beyond that, the design could prevent the driver from finding the desired gear quickly at a critical time, which could be potentially dangerous.
Why did Buick use this design? It's intended to increase usable storage space, but it adds only a small cubby below the center console. Having to relearn how to shift an automatic transmission isn't worth that added storage.
Big sedans come with the promise of plenty of space, and the LaCrosse delivers, with generously proportioned seats in front and back. Visibility was horrible in the previous LaCrosse because of billboard-sized windshield pillars becoming blinders in corners. The redesign has thinner—but not supermodel thin—roof pillars. Rear visibility still isn't great thanks to a high package shelf.
Safetywise, forward-collision warning and emergency braking should be more widely available. (We want both to be standard on all cars.) FCW is standard on top Premium trim but not available on the more mainstream Essence trimline. At least the Essence has the option of blind-spot warning with lane-change alert and rear cross-traffic alert.
Buick has been able to attract a new—and possibly even younger—crowd to the marque with crossovers like the Encore and Enclave. In redesigning the brand's most traditional product, they hope to have the same effect with the LaCrosse yet remain faithful to the traditionalists. But we're not sure that a newfangled shifter and a lower stance will satisfy either crowd.
Look for our full road test after we purchase our own LaCrosse.