Best 2-in-1 Laptops
These versatile computers could make you forget all about needing a dedicated tablet
When you shop through retailer links on our site, we may earn affiliate commissions. 100% of the fees we collect are used to support our nonprofit mission. Learn more.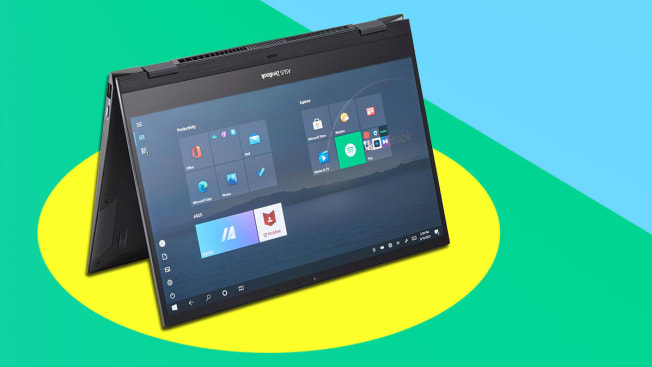 Why buy two devices when one will do the job?
That's the allure of a 2-in-1 laptop, a clever innovation that's one part traditional notebook and one part touch-screen tablet. With a 2-in-1, you can put the finishing touches on an Excel spreadsheet at your kitchen table and moments later be lying in bed watching Netflix.
"The primary appeal of a 2-in-1 is the flexibility," says Antonette Asedillo, who oversees computer testing for Consumer Reports. "If you don't need the keyboard, you can tuck it away, change the configuration so it functions as a stand, or possibly detach it altogether."
There are two approaches to 2-in-1 design.
In the case of detachables, the keyboard can be completely disconnected from the display. With convertibles, the keyboard swings 360 degrees on hinges and folds flat against the back of the display.
"Detachables are good when you want to be more mobile, maybe to play a game or browse the web using just the screen," Asedillo says. "Convertibles are good for presentations, times when you need to quickly show videos and slideshows. It gets the keyboard out of the way and holds the display upright."
The touch screen, Asedillo says, comes in really handy for pausing a movie or scrolling through slides with simple taps and swipes.
Of the nearly 90 laptops in our ratings, roughly one-third are of the 2-in-1 variety (most of which are clustered in the 12- to 14-inch size range), which shows how much consumers have warmed to the idea of these hybrids. CR members can see a list of recommended models organized by increasing screen size, below.

Released late in 2019, the 12.3-inch Surface Pro 7 is the latest in a long line of Microsoft detachables. And like the older models, it performs quite well in our tests.
The model we evaluated has a previous-generation Intel Core i5 processor, 8 gigabytes of memory, and 128GB of solid-state storage, a technology that's faster and more reliable than traditional hard drives. Our testers noted strong performance for everything from browsing the web to editing office documents to watching high-resolution streaming video.
If there's one "but" here, it's that the battery life of the Surface Pro 7 is nothing special, coming in between 6 and 11 hours per charge, depending how hard you push it. Lighter tasks, such as browsing the web, will sip battery; watching 4K videos will deplete it roughly twice as fast.
Microsoft also makes an even smaller detachable, the 10.5-inch Surface Go 2. It's less powerful than the Surface Pro 7 but also weighs less (1.7 pounds vs. this model's 2.4 pounds). It's less expensive, too.

Here's another 13.3-inch convertible with high-end specs, including a latest-generation Intel Core i7 processor, 16GB of memory, and 1 terabyte of solid-state storage. That means you should be covered whether you spend your days managing Office documents or sitting in Zoom meetings. The high-res OLED display is a nice touch, too.
Our testers also appreciate the portability of this model. The light weight (2.7 pounds) and comfortable battery life (nearly 16 hours) allow you to slip it into a bag and make the rounds without much fuss. The model also supports WiFi 6.
Our testers note, however, that the keyboard is smaller than those found on other laptops this size, so if you have large hands, you may want to look elsewhere.
This 14-inch convertible offers a bit more wiggle room than those 13.3-inch models in terms of both display size and keyboard size.
As far as specs go, it's another top performer, with a latest-generation Intel Core i7, 16GB of memory, and 1 terabyte of solid-state storage. The display produces bright and accurate images and the built-in webcam has a physical shutter to block the camera when you want absolute privacy. There's also support for WiFi 6.
The increase in size does add a little weight, but at 3.2 pounds with a battery that lasts some 12 hours, the laptop is still fairly easy to carry around town, across campus, or merely from the living room to the bedroom.
There aren't many 2-in-1s north of 15 inches, but this one comes in at 15.6 and costs less than most others. And since the options in our ratings all perform roughly the same, you might as well save a few dollars.
In this case, you're looking at a latest-generation Intel Core i5 processor, 8GB of memory, and 256GB of solid-state storage. That's a step down from the other models in this roundup but still more than enough muscle to handle the likes of Microsoft Office, Zoom, and other everyday productivity apps. And yes, the laptop supports WiFi 6, too.
The portability takes a slight knock here, though, with the model weighing 4.2 pounds and the battery lasting 11 hours. But that may be a small price to pay for the extra screen space, especially if you spend your days combing through spreadsheets.