When you shop through retailer links on our site, we may earn affiliate commissions. 100% of the fees we collect are used to support our nonprofit mission.
Learn more.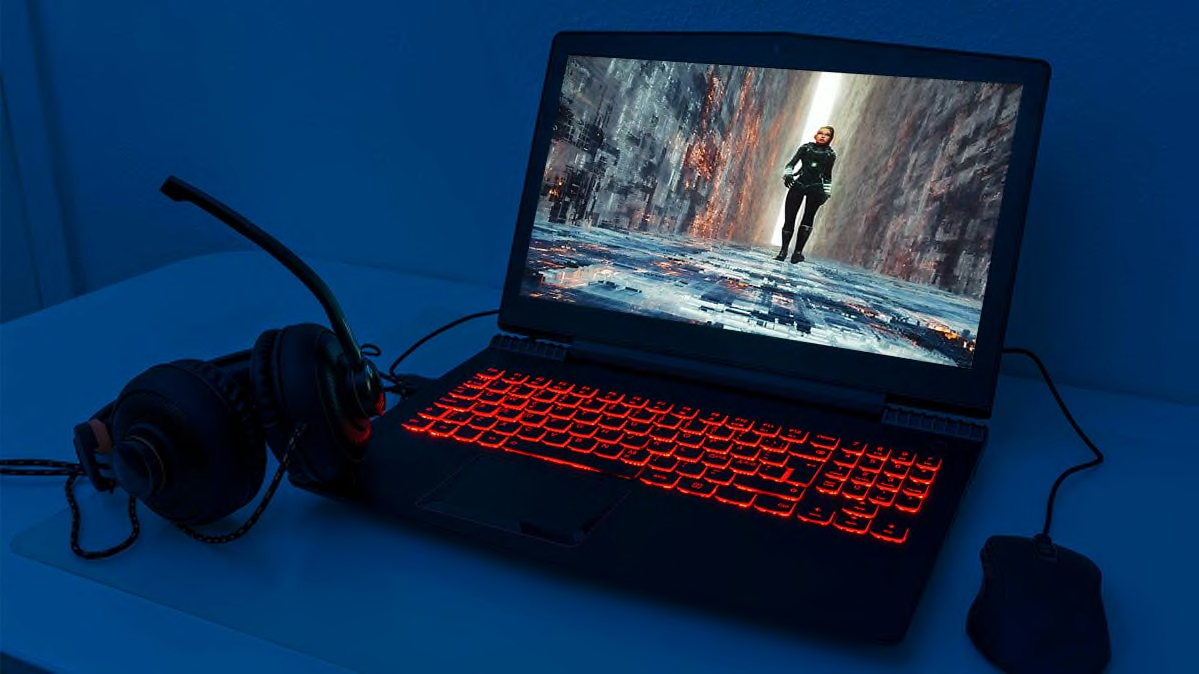 The words "gaming laptop" often conjure up images of boxy, high-priced devices decked out in flashing lights. But these products have evolved in recent years.
Today's options are thinner, lighter, and yes, available with more subdued stylings. Prices have also come down. While it's still possible to spend $2,000 on a high-end model, you can find gaming laptops that perform well for less than $1,000.

You'll lose some "nice to haves" available on more expensive models—you'll have to settle for a 1080p display instead of a 4K one, for example. But you'll still be able to play high-end games, including Cyberpunk 2077 and Red Dead Redemption 2, at high settings, often exceeding what's possible on consoles like the Sony PlayStation 4 and Microsoft Xbox One.
What about the new PS5 and Xbox Series X? Those consoles may outperform these budget laptops. That is, if you can find one in stores.
And unlike a console, a gaming laptop can also perform double-duty as a productivity device, letting you do everything from browse the web to edit high-res video.
As with all products we test in our labs, Consumer Reports buys laptops at retail stores to ensure that manufacturers don't try to skew our results with hand-picked models. CR testers examine battery life, display quality, and performance in a variety of tasks to help you pick the right model without spending a ton of money.
Below you'll find our current budget gaming laptop picks, listed from least to most expensive.

HP Pavilion Gaming 16
With this 16.1-inch notebook you can tick all the right boxes for a budget gaming laptop featuring an Intel Core i5 processor, 8GB of memory, 512GB of solid-state storage, and a dedicated Nvidia graphics card.
As you'd expect with a gaming laptop, the model scored well in our performance evaluations. Our testers liked the display, too, noting that it's bright and color accurate, and provides a wide viewing angle, which is good if your awesome gaming skills tend to draw a crowd. Everyone behind you can clearly see what's happening on the screen.
Like other gaming laptops, this one is a little on the heavy side compared with nongaming models, coming in at nearly 5 pounds, and the battery lasted around 5 hours in our tests. You may want to keep the power cord handy.
Other than that, this is a good example of a budget gaming laptop circa 2021: a relatively subdued design paired with enough horsepower to tackle the latest games.

Lenovo Legion 5
This 15.6-inch model also has the specs you'd expect to find in a gaming laptop in this price range: an Intel Core i7 processor, 8GB of memory, 512GB of solid-state storage, and a dedicated Nvidia graphics card.
What stands out is the halfway decent battery life. The laptop powered along for close to 9 hours in our tests, which is on the high end for a gaming laptop. At a little more than 5 pounds, it's still on the heavy side for anyone on the go, but you can at least consider leaving the power cord at home.

Acer Nitro 5
We've included the 15.6-inch Acer Nitro 5 on this list of budget laptops for more than a year now, and it's still a solid pick.
It's powered by an AMD Ryzen 5 processor, which is roughly equivalent to an Intel Core i5. That may have been a concern in the past, but in recent years consumers have grown to appreciate AMD's chips because they excel at higher-end tasks such as editing and rendering video. If you plan to do a lot of creative work, that may be a plus.
Beyond that, you're looking at 8GB of memory, 256GB of storage, and a dedicated graphics card from AMD (which is comparable to those produced by Nvidia). The model has the best battery life of the laptops featured here, lasting around 10 hours in our tests.