When you shop through retailer links on our site, we may earn affiliate commissions. 100% of the fees we collect are used to support our nonprofit mission.
Learn more.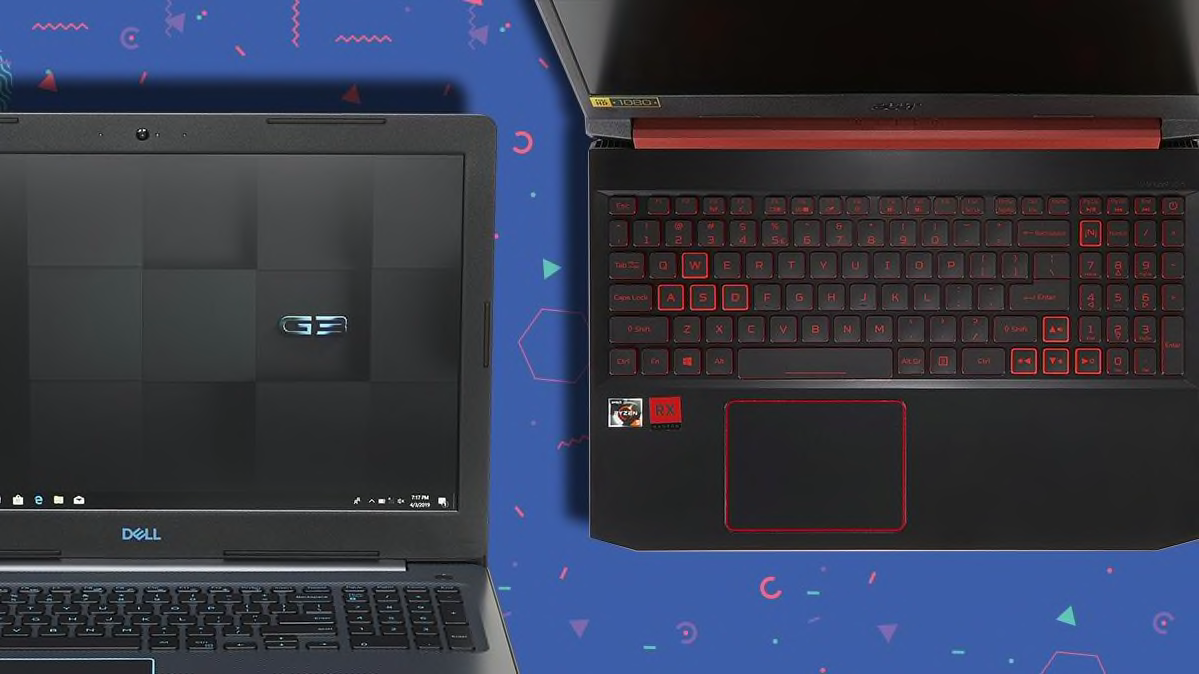 The words "gaming laptop" may conjure images of big and expensive devices decked out with flashing colored lights—and that's still accurate for plenty of models on store shelves. But gaming laptops have evolved quite a bit in recent years.
Many gaming laptops are thinner and lighter these days. And, perhaps more importantly, they've come down in price. Sure, it's still possible to spend upwards of $2,000 on a truly high-end model from a company such as MSI or Asus—we did that—but in the list below, you'll find compelling budget gaming laptops for well under $1,000, from mainstream manufacturers including Dell and HP.
These budget gaming laptops might not be able to run some of the latest games, such as Control, Gears 5, and Resident Evil 2, at their absolute highest settings, but they still pack enough raw power to play them at settings rivaling Microsoft's Xbox One, Nintendo's Switch, and Sony's PlayStation 4.
Plus, when it comes time to put the games down, a gaming laptop can also be used to get actual work done. Ultimately, gaming laptops are merely powerful laptops, so of course they can do everyday things—such as browse the web and edit office documents, with apps like Microsoft Word and Google Docs—without breaking a sweat. But they'll also be able to handle more ambitious tasks, like editing photos and hi-res video.
And because they are so powerful, investing in a gaming laptop today makes it less likely that you'll be complaining about your computer becoming slow and unresponsive in a year or two. That could happen if you decide to go with a less expensive laptop in the interest of saving money today.
As with all products, Consumer Reports buys laptops, including these budget gaming laptops, at retail stores to ensure that manufacturers don't attempt to skew our test results by seeding us with hand-picked models. Our tests examine a number of factors when it comes to laptops, measuring aspects that include their performance in a variety of tasks, as well as battery life and display quality.
Acer Nitro 5
This is a 15.6-inch notebook that's well-priced for a laptop of any sort, let alone one that can be used to play modern games at decent settings.
This notebook has an AMD Ryzen 5 processor (which is roughly similar in performance to an Intel Core i5), 8 gigabytes of memory, 256GB of solid state storage, and a dedicated AMD Radeon graphics card. Those are solid specs, and our testers note solid overall performance for everyday tasks, such as browsing the web and using office applications, plus good midrange gaming performance. However, you might have to dial down the graphics settings a little to get everything running smoothly.
Where this laptop doesn't do as well as many nongaming models is in battery life, which our testers measure at a little more than 6 hours under a heavy load. (Separately, we've identified a number of nongaming laptops with exceptional battery life.) You'll probably want to bring a power cord along if you're planning to use the Acer Nitro 5 at Starbucks or the library for more than a few hours.
Dell G3 15
This is another 15.6-inch notebook that's also well-priced for a gaming model and could be a compelling choice for consumers looking to work and play.
It has an Intel Core i5 processor, 8GB of memory, a 1-terabyte hard drive, and a dedicated (albeit lower-end) graphics card from Nvidia. Of these, perhaps only the 1TB hard drive is something of a letdown: It's a lot of space, sure, but hard drives are noticeably slower than solid state drives, as we've reported in the past. So while you'll be able to fit plenty of large videos, for example, and games on this laptop, you'll find load times to be on the slower side.
There are some caveats regarding portability here—the battery lasts just around 5 hours under a heavy load—so be sure to keep a power cord handy.
HP Pavilion Gaming
The HP Pavilion Gaming laptop is a 15.6-inch notebook—a size that appears to be the "sweet spot" for gaming laptops—and it's priced in the same ballpark as the above Dell and Acer models.
Here you'll find an Intel Core i5 processor, 8GB of memory, a 1TB hard drive, and a dedicated Nvidia graphics card (though it's a lower-end one). These are good enough for midrange gaming, and will of course be more than enough for typical work-related tasks, such as editing office documents, provided you can stop playing Apex Legends long enough to actually get some work done.
Beyond that, you'll similarly find just so-so battery life of a little less than 5 hours under a heavy load. This budget gaming laptop is also a little on the heavy side, even for a laptop of this size, at a hair heavier than 5 pounds.