When you shop through retailer links on our site, we may earn affiliate commissions. 100% of the fees we collect are used to support our nonprofit mission.
Learn more.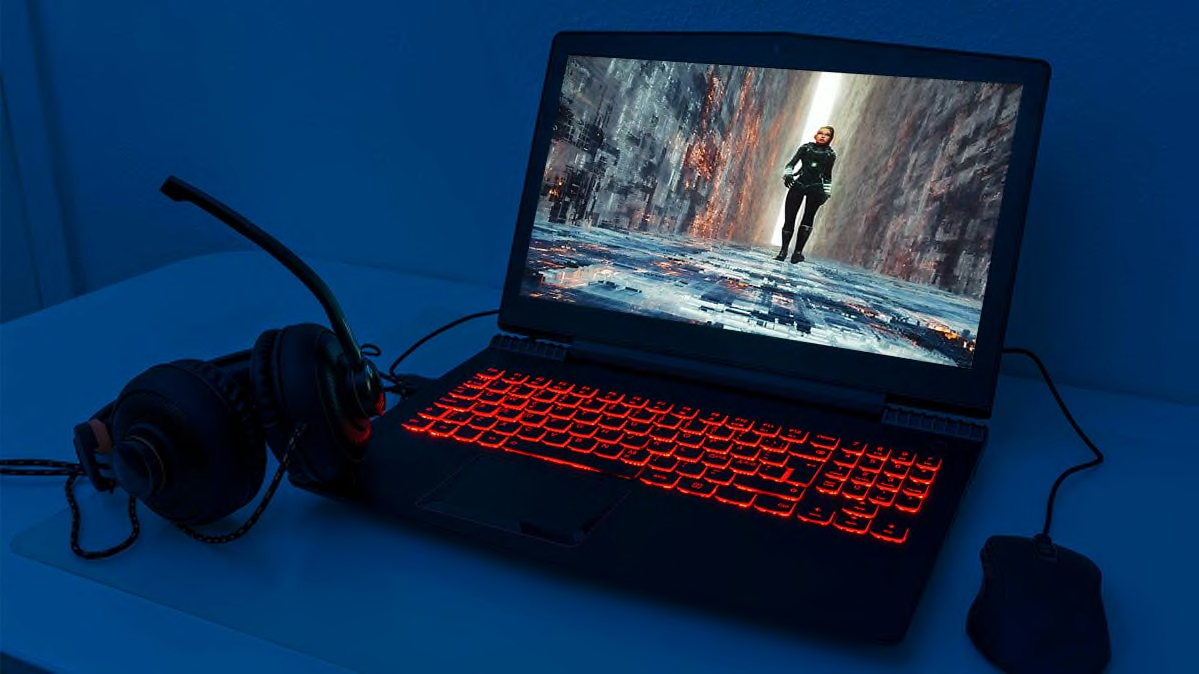 The words "gaming laptop" often conjure up images of boxy, high-priced computers decked out in flashing lights. But these products have evolved in recent years.
Today's options are thinner, lighter, and available with more subdued stylings. Prices have also come down. While it's still possible to spend more than $2,000 on a high-end model, you can now find gaming laptops that perform well for less than $1,000.

You'll lose some "nice to haves" available on more expensive models—you'll have to settle for a 1080p display instead of a 4K one, for example. But you'll still be able to play new high-end games, including Cyberpunk 2077 and Red Dead Redemption 2, at high settings.
And while a new PS5 or Xbox Series X may outperform these budget models, don't forget that a gaming laptop can perform double-duty as a productivity device, letting you do everything from browse the web to edit office documents.
As with all products tested in our labs, Consumer Reports buys laptops at retail stores to ensure that manufacturers don't try to skew our results with hand-picked models. CR testers examine battery life, display quality, and performance among other criteria to help you pick the right model for your budget.
Below you'll find our current budget gaming laptop picks.

HP Pavilion Gaming 16
With this 16.1-inch notebook you can tick all the right boxes for a budget gaming laptop featuring a previous-generation Intel Core i5 processor, 8GB of memory, 512GB of solid-state storage, and a dedicated Nvidia graphics card.
As you'd expect with a gaming laptop, the model scored well in our performance evaluations. Our testers liked the display, too, noting that it's bright and color accurate, and provides a wide viewing angle, which is good if your awesome gaming skills tend to draw a crowd. Everyone behind you can clearly see what's happening on the screen. There's a built-in webcam for quick and convenient Zoom calls.

Like other gaming laptops, this one is a little on the heavy side compared with nongaming models, coming in at nearly 5 pounds, and the battery lasted around 5 hours in our tests.
Asus ROG Strix
This 15.6-inch model has a previous-generation Intel Core i7 processor, 8GB of memory, 512GB of solid-state storage, and a dedicated Nvidia graphics card. Those are solid specs for all but the most-demanding games.
Our performance tests bear this out, revealing that this is one of the fastest models in our ratings regardless of price. The 1080p display did a good job of reproducing accurate colors (which is key for those who enjoy watching Netflix and HBO Max). You'll also find an array of built-in ports for connecting external devices.
One device worth considering: an external webcam. That's right, this is one of the rare laptops that doesn't have a built-in webcam. If you're OK with that and the so-so battery life (as little as 5 hours per charge), then this is a smart pick.

MSI Modern 14
This 14-inch laptop hails from MSI's Modern series, which tamps down the "gamer" aesthetic for something a little more refined. It's got a previous-generation Intel Core i7 processor, 8GB of memory, 512GB of solid-state storage, and a dedicated Nvidia graphics card.
The model performed well in our labs, but what's more interesting is that it scored well in tests you wouldn't expect a gaming laptop to ace. It delivered nearly 10 hours' worth of battery life and is very lightweight for its size (2.7 pounds). It has one of the better displays we've seen of late, too, with a wide viewing angle and accurate colors. There's even a built-in webcam, which as we've seen is not a given when it comes to budget gaming laptops.