When you shop through retailer links on our site, we may earn affiliate commissions. 100% of the fees we collect are used to support our nonprofit mission.
Learn more.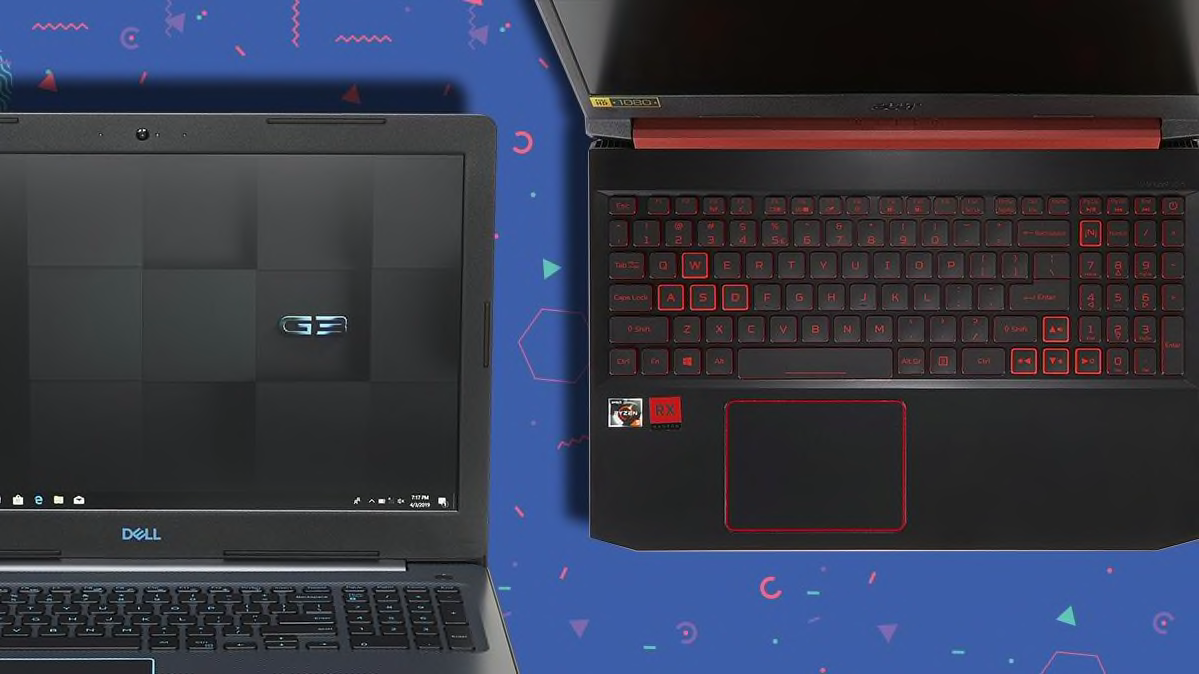 The words "gaming laptop" often conjure images of boxy, high-priced devices decked out in flashing lights—and that's still accurate for many models on store shelves. But the product category has evolved in recent years.
Today's options are thinner and lighter. They've also come down in price. While it's still possible to spend $2,000 on a high-end model, you can find budget gaming laptops that perform well for less than $1,000.

They might not have the muscle to run the latest games at the highest settings. (Microsoft Flight Simulator and Red Dead Redemption 2 can strain even the most powerful PCs.) But they pack enough power to deliver an experience rivaling the one you'd get with an Xbox One or PlayStation 4.

Plus, unlike an Xbox or a PlayStation, a gaming laptop lets you tackle many other computer chores, everything from monitoring email to browsing the web to editing high-res photos and video. And because a gaming laptop has power to spare, you're less likely to complain in a year or two that your computer is slow or unresponsive.
As with all products we test, the laptops in Consumer Reports' labs are purchased at retail stores to ensure that manufacturers don't try to skew our results with hand-picked models. CR testers examine battery life, display quality, and performance in a variety of tasks to help you pick the right model without spending a lot.

Acer Nitro 5
This 15.6-inch notebook is well-priced for a laptop of any sort, let alone one that can be used to play modern games at decent settings.
It has an AMD Ryzen 5 processor (roughly similar in performance to an Intel Core i5), 8 gigabytes of memory, 256GB of solid-state storage, and a dedicated AMD Radeon graphics card. Those are solid specs, producing solid overall performance for tasks such as browsing the web and using office applications, plus good midrange gaming performance.
But you may have to dial down the graphics settings a little to get everything running smoothly, which isn't uncommon for a budget gaming laptop. You'll probably have to limit the number of games that you have installed, too, given the size of some current titles (Flight Simulator alone clocks in at roughly 150GB.)
The one area where this laptop trails nongaming models is in battery life, which our testers measured at a little more than 6 hours under a heavy load. So bring a power cord if you're planning to use the Acer Nitro 5 at a Starbucks.
Acer also makes a 17-inch Nitro with different components (an Intel processor and Nvidia graphics card, for example) but similar attributes, threading the needle between power and price.

Dell G7 15
This 15.6-inch notebook has an Intel Core i7 processor, 8GB of memory, a 256GB solid-state drive, and a dedicated Nvidia graphics card. That gives it the power to handle modern games, though maybe not at the highest settings.
As with the Acer Nitro 5, the 256GB of solid-state storage is a little low given how large games have become.
There are also some portability concerns here. The laptop weighs nearly 6 pounds, and the battery lasts just about 5 hours under a heavy load, so be sure to keep a power cord handy.
If you're looking for something slightly larger but similar in price and performance, Dell makes a 17-inch version, too.

MSI Modern
This 15.6-inch notebook is from a manufacturer that specializes in gaming products—monitors, motherboards, mice, and keyboards—so it's no surprise it has solid specs.
In addition to an Intel Core i7 processor, 8GB of memory, and a dedicated Nvidia graphics card, the model features 512GB of solid-state storage. That gives you ample space to download the latest editions of Microsoft Flight Simulator (150GB) and Call of Duty (200GB), which means you can spend more time gaming and less time freeing up space on your computer.
And in a welcome twist for a gaming laptop, you don't have to sacrifice much in terms of portability. The machine weighs a svelte 3.4 pounds and provides more than 7 hours of battery life under a heavy load.
MSI makes a 14-inch version of this laptop with similar specs at a slightly lower price.