When you shop through retailer links on our site, we may earn affiliate commissions. 100% of the fees we collect are used to support our nonprofit mission.
Learn more.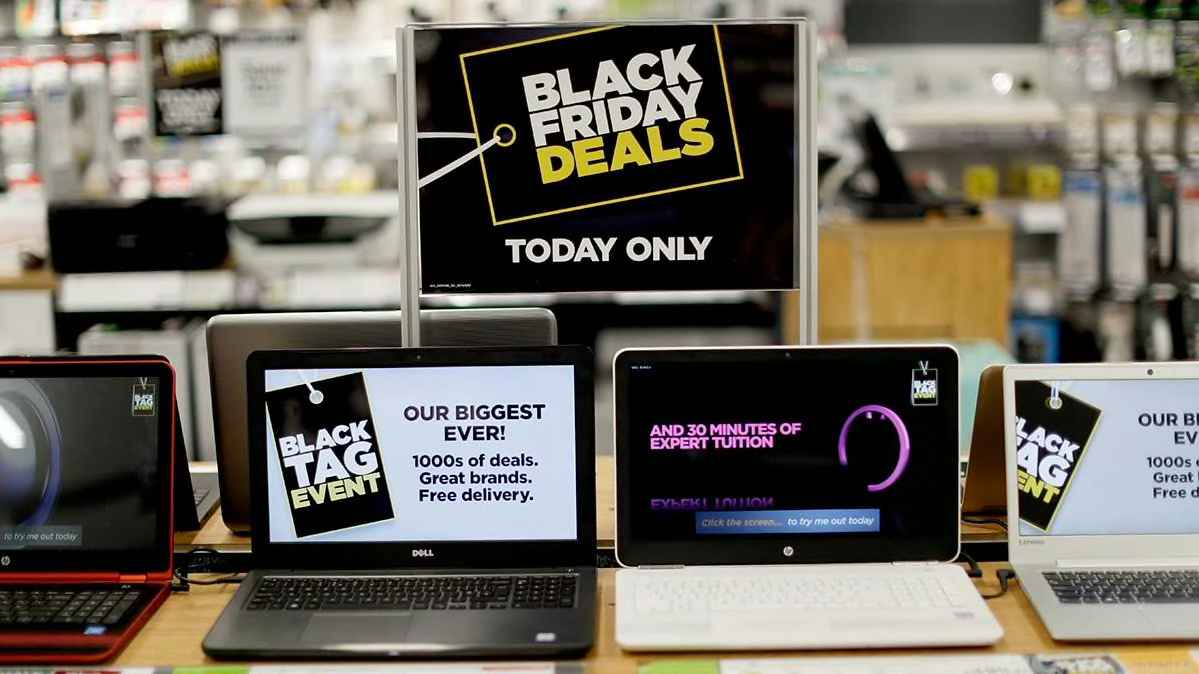 With Black Friday and Cyber Monday approaching, we now have a much better idea of the deals you'll see in stores and online. As it turns out, much of the advice offered below, first published on Oct. 25, holds true: There are plenty of deals on low-end to midtier laptops, and comparatively fewer deals at the higher-end of the market.
HP and Dell, for example, are well-represented, with retailers and the companies themselves offering an assortment of deals on laptops intended for the mainstream shopper. These include deals on laptops like the the HP Envy x360 15t, $600, down from $900, and HP Laptop 15z, $300, down from $500 (details here), and the Dell Inspiron 11 3000, $120, down from $200, and Dell Inspiron 14 3000, $130, down from $230 (details here).
Your options are more limited when it comes to higher-end laptops. For example, HP itself has the HP Spectre x360 for $850, down from $1,000—so not a deep discount, but that was expected. Dell's XPS 15 is available from the company itself for $1,400, down from $1,700. Again, that's a discount you're unlikely to see otherwise, but it's not a huge percentage off compared to deals on the lower-end.
We're also beginning to see a small number of Apple deals, including laptops, something we expected and something we'll expand upon in an upcoming article. Best Buy, for example, will have the older MacBook Air for $800, down from $1,000. No, it's not the brand-new MacBook Air, which starts at $1,200, but it's still a compelling computer. Best Buy also claims that it will have the MacBook Pro on sale for up to "$250 off," but hasn't said which models are included.
The bottom line is that laptops deals are widespread this year, especially if you're looking for a lower- to mid-range model. These models may not attract the same level of media attention or hype, but they're perfectly suited for everyday family or student use.
More on Laptops & Holiday Deals
According to Dustin Downs, an analyst at market research firm Gap Intelligence, Black Friday laptop offers are not confined to traditional electronics retailers such as Amazon, Best Buy, and Walmart. Office supply stores have been including models in their sales.

So, too, have members-only stores such as BJ's, Costco, and Sam's Club. Specialty retailers like Micro Center and Newegg are also worth watching. They offer discounts on select bundles—think laptops with software packages—throughout the year.
Here's a closer look at what we think you'll see during the Black Friday and Cyber Monday shopping periods.
Low-End to Midtier Laptops
This includes laptops such as the Acer Spin, Dell Inspiron, and HP 15, which are aimed at mainstream consumers. They're more than capable of executing tasks with the help of Microsoft Word and Excel, but they may struggle when it comes to rendering high-resolution video or playing 3D games.
They also lack some nice-to-have features found in higher-end laptops: They may forgo an aluminum shell in favor of a plastic one, for example, and skip the backlighting on the keyboard.

So what sorts of deals can you expect? Let's start with Acer. Its popular Spin line of laptops does well in our ratings, is squarely aimed at everyday consumers, and currently retails for around $600 to $700, depending on the model. In 2017, one model started showing up in stores around February priced at roughly $650 and was selling for as low as $550 come Black Friday, according to data from Gap Intelligence. That's about a 15 percent reduction. If that holds true this year, you'll be able to find 2018 Spin laptops on sale for around $500 to $600.
Moving on to Dell: An entry-level 15-inch Inspiron debuted in October 2016 for around $600 and was on sale at some retailers during Black Friday sales in 2017 for as low as $400. That's roughly a 30 percent price cut. (It didn't go on sale for Black Friday in 2016 because it was still brand-new.) So given that current Dell Inspirons can be found anywhere from $700 to $900, it wouldn't be surprising to see models dip to $400 to $600 this year.
What about HP? The 2017 HP 15 debuted in retail stores in mid-2017 for around $500 and could be found at around $300 come Black Friday, representing a generous 40 percent price reduction. Today's HP 15 models also retail for about $500, so prices as low as $300 are entirely possible in just a few weeks.
High-End Laptops
According to Gap Intelligence, consumers should be on the lookout for more deals on higher-end laptops this year, though don't expect the markdowns to be as steep as those on the models above.
The list of potential options includes models such as the HP Spectre and LG Gram—laptops that have prices that easily shoot past $1,000, feature premium components such as the latest Intel Core processors and speedy solid-state drives, and score very well in our ratings.
Take the 2018 LG Gram 13. This 13-inch laptop debuted at retailers in early March for $1,200 and topped our ratings until September, when it was dethroned by the new MacBook Pro. Last year's edition arrived in stores in February 2017 priced at $1,100 and dipped to around $1,000 on Black Friday. Considering that this year's model has already approached the $1,000 mark during the August back-to-school shopping season, it's reasonable to think it will once again hit that price in a couple of weeks.
The most recent edition of the HP Spectre 13 debuted in October 2017 for $1,250 and held fast at that price until the back-to-school season, when it, too, dropped briefly by $100. So don't be surprised to see it once again around the $1,100 mark—if not lower, given that it's already a year old—this Black Friday. The previous-generation HP Spectre 13 stayed at its November 2016 launch price of $1,170 through the end of 2017, though.
Apple Laptops
Apple doesn't generally discount its laptops on Black Friday, but that doesn't mean you can't find deals elsewhere. If you're prepared to shop around, you can find retailers that knock a couple hundred dollars off the regular price.
Consider the entry-level 2017 MacBook Air. It debuted at retail stores in June 2017 for $1,000 but fell to as low as $800 at Best Buy during the Black Friday sales; other retailers had it priced between $900 and $950.
It's a similar story with the 12-inch MacBook. The entry-level model debuted at retailers in June 2017 for $1,300 but was on sale at retailers such as Amazon and Best Buy for $150 to $200 off.
And the MacBook Pro? The entry-level 15-inch MacBook with Touch Bar arrived at retailers in June 2017 at $2,400 but could be found for as low as $2,150 on Black Friday.