Best 2-in-1 Laptops
These versatile computers could make you forget all about needing a dedicated tablet
When you shop through retailer links on our site, we may earn affiliate commissions. 100% of the fees we collect are used to support our nonprofit mission. Learn more.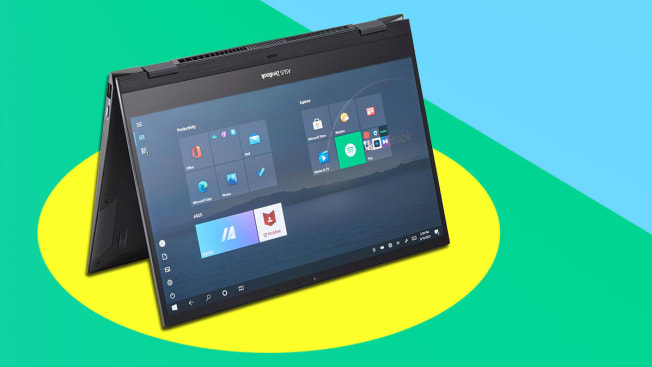 Why buy two devices when one will do the job?
That's the allure of a 2-in-1 laptop, a clever innovation that's one part traditional notebook and one part touch-screen tablet. With a 2-in-1, you can wrap up an Excel spreadsheet at your kitchen table and moments later be lying in bed with your favorite streaming service like Netflix, Disney+, or YouTube.
"The primary appeal of a 2-in-1 is the flexibility," says Antonette Asedillo, who oversees computer testing for Consumer Reports. "If you don't need the keyboard, you can tuck it away, change the configuration so it functions as a stand, or possibly detach it altogether."
There are two approaches to 2-in-1 design.
In the case of detachables, the keyboard can be completely disconnected from the display. With convertibles, the keyboard swings 360 degrees on hinges and folds flat against the back of the display. You can also use a convertible in a kind of "tent mode," in which you bend the keyboard back about halfway and flip the whole thing over, making it easy to share your screen with people nearby.
"Detachables are good when you want to be more mobile, maybe to play a game or browse the web using just the screen," Asedillo says. "Convertibles are good for presentations, times when you need to quickly show videos and slideshows. It gets the keyboard out of the way and holds the display upright."
The touch screen, Asedillo says, comes in really handy for pausing a movie or scrolling through slides with simple taps and swipes.
Of the 125 laptops currently in our ratings, more than a quarter are 2-in-1 models. That gives you some idea of how much consumers appreciate these hybrids. CR members can see a list of recommended models, organized by increasing screen size, below.
This is a high-end 13.3-inch convertible with an Intel Core i7 processor, 16GB of memory, and 512GB of solid-state storage, which is much faster than a traditional hard drive. With those specs, you shouldn't have any problem tackling most tasks. Our testers did note, however, that this isn't the best choice for gaming because it lacks a dedicated graphics card. (If you are interested in gaming, check out the best budget gaming laptops.)
The real star of the show here, however, is the AMOLED display, which our testers said produced bright and accurate colors and didn't wash out when viewed at an angle. If you're going to cozy up on the couch with a convertible, it helps to have a display that's ready to do its part.
And with more than 20 hours of battery life for web browsing (or about half as much for watching hi-res video), you won't have to worry a great deal about carrying the power cord with you every time you go to Starbucks.
Here's another 13.3-inch convertible with high-end specs, including an Intel Core i7 processor, 16GB of memory, and 1 terabyte of solid-state storage. That means you should be covered whether you spend your days managing Office documents or sitting in Zoom meetings. The high-res OLED display is a nice touch, too.
Our testers also appreciate the portability of this model. The light weight (2.7 pounds) and comfortable battery life (nearly 16 hours) allow you to slip it into a bag and make the rounds without much fuss.
Our testers note, however, that the keyboard is smaller than those found on other laptops this size, so if you have large hands, you may want to look elsewhere.
The Surface Pro 7? Didn't the Surface Pro 8 come out? That's true, but while we complete our testing of that new model, let's not forget that the slightly older Surface Pro 7 is readily available on store shelves—and for several hundred less than the newer model.
And what was true about the 13-inch Surface Pro 7 last year holds true today: This is a solid 2-in-1 detachable that combines decent mid-tier specs (an Intel Core i5 processor, 8GB of memory, and 128GB of solid-state storage) with a bright and accurate display.
The battery life, which tops out at 11 hours per charge for web browsing and 6 hours per charge for watching high-res video, is nothing to write home about, but it should still get you through the workday.
Most of the LG Gram models in our ratings are traditional notebooks, but this one is a 16-inch 2-in-1 convertible. And nothing about the appeal of the LG Gram notebooks, from top specs to ease of portability, is lost in translation.
Here we've got an Intel Core i7 processor, 16GB of memory, and 1 terabyte of solid-state storage. With those sorts of specs, the only thing out of reach is playing high-end games, but that's par for the course when it comes to Grams.
Add nearly a 20-hour battery life for web browsing and a 3.2-pound weight (light for a 16-inch model) and you've got a convertible as capable as any.