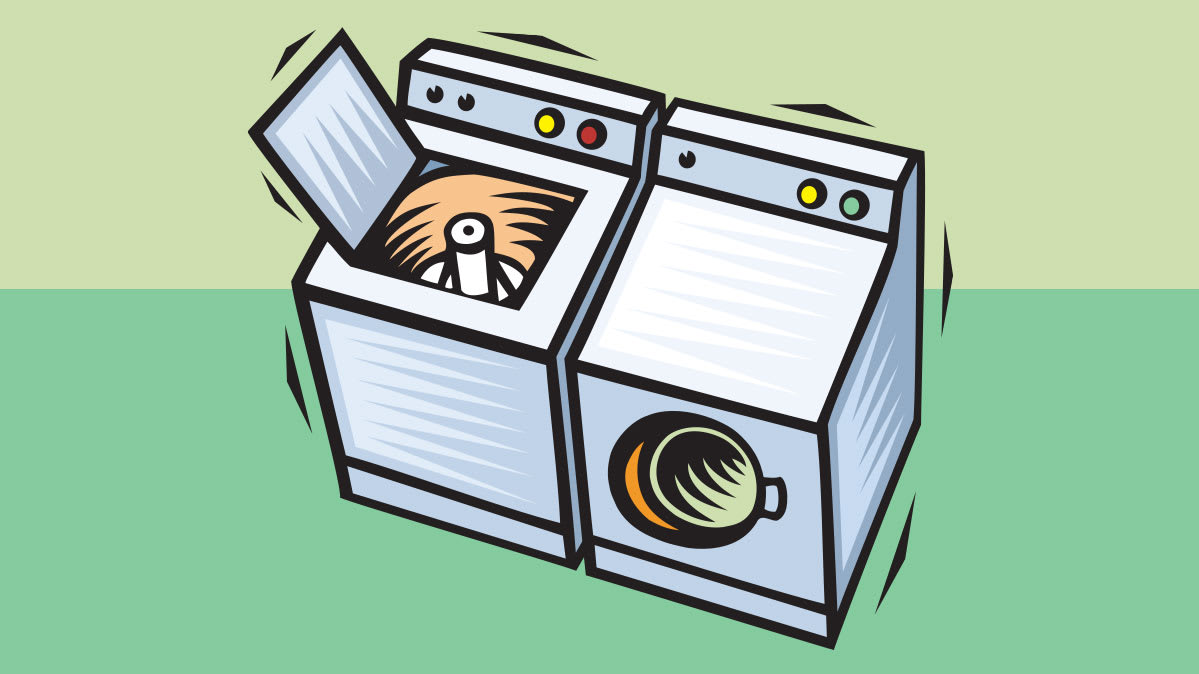 How long do you expect your washer and dryer to last? Some CR readers are frustrated, reporting that their machine needed repair within the first three years, while others are thrilled that their washer is still going strong after 28 years, or longer.
"After reading so many horror stories with the new machines, I'm OK keeping my 20-plus year-old Frigidaire set that I have had serviced 2x times," wrote one reader recently on our washing machine buying guide."We will expire together."
If only life were so neat and tidy.
CR members expect a washer and dryer to last about 10 years, according to our survey. But 26 percent of all newly purchased washers are likely to have problems or break within the first five years, says Simon Slater, manager of survey research at CR. Dryers are less complicated machines. Even so, 17 percent are likely to have problems or break within the first five years.
More on Washers and Dryers
So what can you do to reach the 10-year-mark?
For starters, if you're buying a washer or dryer, choose a reliable brand. LG, for example, is the most reliable front-loading washer brand, and Speed Queen is the most reliable agitator brand (based on our survey of CR members' experiences with 71,038 washers purchased between 2008 and 2018).
"Following the manual's advice is crucial, especially when it comes to installation, maintenance, and load size," says Richard Handel, CR's lead tester for laundry appliances. "It's also important to use the right detergent and the proper amount. A surplus of suds can make the washer work harder, and can trigger extra rinse cycles, which extends wash time."
As for the dryer, clear the vent before your new dryer is installed. Clean the lint trap after every load, and periodically clean the vent duct (see How to Prevent Dryer Fires for more).
We asked nine manufacturers of major brands of laundry appliances for advice on how to get the most from their machines—along with how long consumers can expect their washers and dryers to last.
Manufacturers stress following the instructions in the owner's manual, too, including loading your machine without stuffing it. We've heard from readers that mold is a problem, particularly with front-loaders. Check your manual for best practices, say manufacturers, such as using the proper amount of detergent to reduce film residue, and keeping the washer door open after a cycle to allow it time to air-dry. Regularly cleaning the washer tub, detergent dispenser, door, and gasket are also recommended.
Here's what else manufacturers (listed in alphabetical order) recommend.

Electrolux and Frigidaire
"Our washers and dryers are designed to last a minimum of 10 years under normal use and care, which we validate through rigorous life-cycle testing," says Flavio Bernardino, Electrolux's director of research and development. (Electrolux makes Frigidaire as well.) Here are the manufacturer's tips:
• Run the washer's cleaning cycle periodically. The machine will display a reminder after every 50 cycles.
• Clean the detergent dispenser drawer regularly to prevent any residual buildup. It's easy to disassemble and can be cleaned in the dishwasher.

GE
When asked how long you should expect GE washers and dryers to last, the manufacturer directed us to the Association of Home Appliance Manufacturers. Their data shows that laundry appliances last 11 to 12 years, according to Jill Notini, a spokeswoman. Your owner's manual will guide you on how to make the most of GE appliances.

Kenmore
Washers and dryers last 10 to 13 years if they are well maintained, says Larry Costello, a spokesman for Kenmore. Here's what the folks at Kenmore recommend:
• Prevent excessive vibrations by making sure your washer sits level and the feet rest firmly on the floor.
• Remove the dispenser drawer and rinse with warm water on a routine basis. Use a soft brush or rag to remove soap, softener, and soil buildup.
• Run your washer's self-clean cycle at the frequency recommended in the owner's manual. If your washer doesn't have this feature, run the machine—without any laundry in it—adding 2 cups of distilled white vinegar to a cycle using hot water.
• Inspect the water-fill hoses and replace any that are cracked or brittle (replace every five years).
• Inspect the drain hose for kinks or cracks, and straighten or replace if needed.
• Improve dryer airflow with a straight (not twisted) vent duct, one that's metal, ideally, and not plastic. Note that the shorter the run, the better.
• Remove the lint filter and clean fabric softener buildup from the screen, using warm water and a soft bristle brush. Dry completely before reinstalling.

LG
"The life cycle of an LG washer or dryer is around 10 to 15 years," says Taryn Brucia, director of public relations for LG. "And both its day-to-day performance and overall longevity can be impacted by user habits. For instance, we see better performance when users perform simple maintenance steps and avoid overloading their washers or adding too much of the wrong type of detergent."
Here are LG's tips:
• Clean your wash drum monthly, or every 30 cycles, using the tub-clean cycle. You can add a tablet or solution meant to clean the tub.
• Remove residue from the detergent dispenser once a month to ensure that the right amount of detergent is dispensed at the right time.
• Make a monthly habit of emptying the drain filter—where loose change, buttons, and other items can become trapped and restrict water flow.
• Empty the lint filter after every load to ensure proper air flow, and clean your dryer ducts annually to help maximize performance.

Maytag and Whirlpool
"Washers and dryers are designed and life tested to last 10 years, but can vary depending on a customer's usage habits," says Jon Gable, director of laundry-product marketing for the Whirlpool Corporation, which manufactures Maytag products as well. He reiterates that the manual offers the best practices for that particular machine. Here's what else the company recommends:
• Clean the inside of your washer once a month, or every 30 loads.
• Remove the lint from the dryer's lint screen, ideally after every load.
Samsung
"Under normal household use and if maintained properly, our laundry appliances should last about 10 years," says a company spokesperson. "To keep the washer running at peak performance, we recommend that owners run the self-clean cycle regularly, and follow the maintenance guidelines found in the user manual."
Speed Queen
"Our machines are tested to last 10,400 cycles, which translates into roughly 25 years of use in the average home," says Jay McDonald, Speed Queen's vice president of North American Home Laundry Sales.
The company offers some of the longest warranties in the industry—3 years on parts and in-home labor for their basic washers and dryers, 5 years for mid-price models, and 7 years for machines with the most features, such as the Speed Queen TR7 agitator top-loader. Here's what Speed Queen recommends:
• Clean the tub and detergent dispensers regularly.
• Check that the machines are level, from time to time.
• Replace hoses every 5 years.

An Easier Way to Choose Your Next Washer and Dryer
A washer and dryer that do an impressive job isn't enough. You want appliances that last. That's why we factor in lab test results, predicted reliability, and owner satisfaction into an Overall Score for each model, as you'll see in our washing machine ratings and clothes dryer ratings.
The predicted reliability rating estimates the likelihood that newly purchased models from a given brand will have problems or break within the first five years. And our owner satisfaction rating reflects the percentage of CR members who are extremely likely to recommend the washer or dryer they bought to friends and family. In other words, they're happy with their appliance.
The Problem of Pet Hair
You can't imagine life without your furry friend, but how do you deal with all that pet hair? CR expert, Emilio Gonzalez, shows 'Consumer 101' TV show host, Jack Rico, how to remove the hair—and save your washing machine in the process.
Consumer Reports is an independent, non-profit organization dedicated to helping consumers. We make it easy to buy the right product from a variety of retailers. Clicking a retailer link will take you to that retailer's website to shop. When you shop through retailer links on our site, we may earn an affiliate commission – 100% of the fees we collect are used to support our mission.
Learn more.
Our service is unbiased: retailers can't influence placement. All prices are subject to change.