Lawn Mower Face-Off: Ego Battery-Powered Electric Mower vs. Honda Gas Mower
According to Consumer Reports' tests, battery mowers have come a long way
When you shop through retailer links on our site, we may earn affiliate commissions. 100% of the fees we collect are used to support our nonprofit mission. Learn more.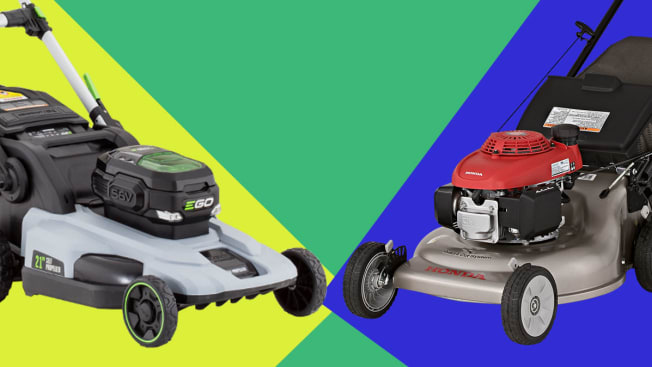 Battery-powered lawn mowers have been around for more than a decade, but it was only in 2017 that Consumer Reports' tests revealed battery models worth recommending. Now our lawn mower ratings have a whole category dedicated to battery-powered mowers, with a record nine recommended models this year in that category alone.
But performance aside, there are still trade-offs to consider when choosing between a battery-powered mower and a gas mower.
"Battery mowers are typically easier to use," says Frank Spinelli, CR's test engineer for lawn mowers. "They're easier to start, store, maneuver, and maintain."
Electric vs. Gas Considerations
Maintenance. Battery-powered electric mowers require far less maintenance than gas mowers. There are no tune-ups or oil changes. Both types of mowers will need occasional blade sharpening.
Yard size. The last thing you want? Your battery mower to die before you finish the job. For yards smaller than ⅓ acre, battery mowers tend to work well. But if your yard is larger, you might be better served by a gas mower. The best battery mowers last an hour or more on a single charge, so if it takes longer to mow your lawn, you would have to either stop and recharge or have a second charged battery waiting in the garage.
Emissions. Battery mowers run cleaner than gas mowers and produce no exhaust emissions. If a lower carbon footprint is the goal, go with battery over gas.
Both the Ego LM2102SP and the Honda HRR216VKA are self-propelled mowers, meaning some power is diverted to the wheels to propel the mower forward.
Both have a 21-inch cutting deck, which is typical of walk-behind mowers. Both are also rear-wheel-drive, meaning the engine spins only the rear wheels, which is better for hills and maneuvering under the heavy weight of bagged clippings.
These mowers also come with a swing-up handle bar that collapses, so they take up less space when stored. That's where the similarities end.
The Ego has an electric motor powered by a 56-volt, 8-amp rechargeable battery. The mower comes with a five-year warranty, and the battery has a three-year warranty. In addition to its swing-up handlebar, the Ego features single-lever deck-height adjustment. You can store this mower upright—a major plus if you're tight on storage space.
The Honda has a 160 cubic centimeter gasoline engine, also made by Honda, and comes with a three-year warranty. Unlike the Ego, its feature set is pretty bare-bones, with no extras beyond the swing-up handlebar. It also uses individual wheel deck height adjustment instead of a single lever.
Neither model has a washout port, meaning you'll have to tip the mower on its side to clean the mower deck and blades.
Cutting and Handling Performance
Every winter at our test facility in Florida, CR test engineers cut 450,000 square feet of grass in three modes—mulching, bagging, and side-discharging—covering level turf, slopes, and ditches to get a feel for each model.
Become a member to read the full article and get access to digital ratings.
We investigate, research, and test so you can choose with confidence.