When you shop through retailer links on our site, we may earn affiliate commissions. 100% of the fees we collect are used to support our nonprofit mission.
Learn more.
As we step into the new year, a few major developments are shaping up in the TV world. In 2020, television shoppers can expect to see more jumbo-sized sets in stores, more companies offering 8K TVs—not that consumers are asking for them—and even some new brands entering the U.S. market.
We also expect at least one more major TV brand to offer its first OLED TV sometime next year.
For consumers, perhaps the most important trend is that TVs will keep getting bigger.
How big is big? Last year we saw 65-inch TVs become a major screen size, and in 2020 analysts expect that a rising number of 75- to 85-inch models will be offered, at prices that might be within reach for many shoppers willing to splurge. These have been pretty unusual until now.
We expect to get more details about these ultralarge sets, and how much they'll cost, at CES 2020, the massive Consumer Electronics Show that takes place each January in Las Vegas.
You'll also start to hear more about improvements to existing TV technologies this year, including HDR, local dimming, and other factors that can make the picture more vibrant and lifelike.
Additionally, even many lower-priced sets will get voice-enabled digital assistants, especially Amazon Alexa and Google Assistant, as part of their smart DNA. These sets will allow a new level of voice control and interaction with other smart products.
That will result in more data collection by huge tech companies and their myriad partners. We'll be covering what that means for the advertising you'll see in 2020.
In summation, while we're not expecting any knock-your-socks-off developments that will revolutionize consumer choices next year—or make buying a leftover 2019 model a bad decision—there will be enough that's new to make 2020 another interesting year for TV shoppers.
TV Screens Get Bigger—and Cheaper
Remember when a 42-inch TV seemed gigantic? TVs with 65-inch screens are now commonplace. In 2020, industry experts expect these larger sets to take a bigger share of the TV-buying market and for prices to shrink.
"We will definitely see continued growth in larger screen sizes, and it's having a negative effect on sales of TVs under 55 inches," says Paul Gagnon, executive director of research and analysis for the technology, media, and telecom group at the market research firm IHS Markit. The company expects 60- to 69-inch TVs—mainly 65-inch sets—to account for 19 percent of sales in 2020, up from just 12 percent in 2018.
The company projects that the share of even bigger TVs, 70 inches and larger, will nearly double, to 7 percent.
It has lot to do with manufacturing plants, especially new "gen-10.5 LCD fabs," Gagnon says. That's industry slang for factories optimized for making very large LCD sheets, called motherglass, from which TV display panels are cut. The new manufacturing facilities "have been the big driver for price drops in 65- and 75-inch TVs," Gagnon says.
Shoppers are already seeing more big sets in stores.
Deirdre Kennedy, business director at the retail market research firm Gap Intelligence, says that last year 65-inch TVs supplanted 55-inch models as the single most prevalent screen size on the sales floor. She expects to see more retailers showing 70- and 75-inch sets in 2020.
HDR Gets Better and Brighter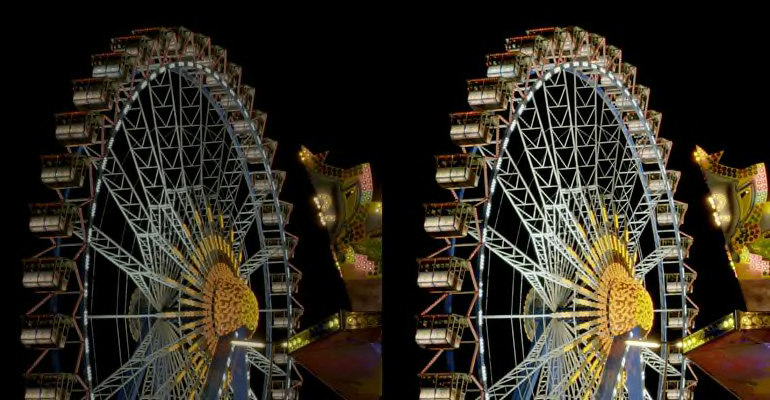 High dynamic range (HDR) was a hot TV topic in 2019, and it will be again in the new year. While many manufacturers tout HDR capability in their 4K TVs, there's no way to tell how well a set will handle HDR just by looking at it in the store.
Many sets don't have the brightness, black levels, or video processing ability to really show off HDR programs to their full effect.
Last year Consumer Reports testers found that it was mainly pricier TVs that were able to deliver an effective HDR experience, though there were a few exceptions. In 2020, says Claudio Ciacci, who heads TV testing at CR, "we're hoping that more 4K TVs will be able to reproduce the enhanced brightness range and nuanced shadow detail that the best HDR content requires."
Several manufacturers are likely to promote TVs with peak brightness levels significantly higher than the 1,000 nits typically required for top HDR performance.
But numbers don't tell the whole story. Consumer Reports has created special HDR test patterns and video content that can help reveal how well a TV really performs when playing HDR movies and TV shows.
CR's TV ratings, available to members, have a separate HDR column, so you can see at a glance how well a model does with this new feature. And we describe HDR effectiveness more fully in the detailed test results for each model.
We're looking forward to seeing whether more 2020 sets will be able to deliver on the promise of HDR.
More 8K TVs
While 8K TVs made their debut at CES 2019, 2020 is shaping up to be the coming-out party for these new sets. These television displays have an astonishing 33 million pixels, compared with 8 million in a 4K set.
Only a few manufacturers, including LG and Samsung, offered 8K sets in 2019, and only one or two models each. We expect to see more 8K sets in 2020 from these and other brands.
All those millions of extra pixels promise sharper, more detailed images than what you can currently get with 4K UHD TVs. But that doesn't mean you should buy an 8K set—we think it's far too early for most people to do that.
Not many people will notice the difference between 8K and 4K on a living room television, for one thing. In addition, you won't find any native 8K content to watch on one of these sets, at least for a while.
A handful of movies have been shot in 8K, and some high-profile events, such as the coming Summer Olympics in Tokyo, will be shot in 8K—but the 8K material won't be getting to your television, no matter which model you buy. Even 4K is a problem for broadcasters. In fact, while 4K content is available via streaming services and on 4K Ultra HD Blu-ray discs, broadcasters haven't moved beyond old-fashioned, 1080p high-definition video. They are still struggling with the bandwidth requirements.
The technology has its defenders, but with a lot of caveats. "8K is just the natural progression of the market," says Stephen Baker, vice president at the research firm NPD Group Baker. He acknowledges that consumers aren't clamoring for it and that there won't be any native 8K content for a few years, but "that doesn't mean it shouldn't be offered or made available."
And Gagnon expects 8K TVs to remain "a very small niche category, with premium price points," forecasting that just 87,000 sets will be sold in North America in 2020. Growth, he says, will be slower than what we've seen with 4K because he expects 8K sets to be available only in larger screen sizes.
So much for the 33-million-pixel television.
Two other developments we expect to hear more about next year are higher frame rates and a new version of HDMI called HDMI 2.1. Both technologies are interesting, but they won't really become important for consumers until further down the road.
Let's take frame rates first. Most TV shows are delivered at 60 frames per second. We expect a few brands to talk about TVs that display video at 120 fps instead. Sports networks are especially interested in this technology—doubling the number of frames displayed each second can help reduce motion blur during fast-moving action.
Consumers will also start to see some TVs with new HDMI 2.1 connectors, which provide greater bandwidth. This latest version of HDMI can support 8K video resolution as well as faster frame rates with 4K content. While some premium TVs in 2020 will come with HDMI 2.1 inputs, many mainstream sets will still have HDMI 2.0 connectors. We don't think there's any reason for most consumers to stay away from televisions with the older version of the technology.
LCD Sets Keep Improving
OLED TVs from LG and Sony have topped our ratings for the past few years, but LED/LCD sets make up the bulk of TVs in homes. And this technology is getting better every year.
Some of the biggest gains have come in LCD TV backlight technology. In an LCD set, the backlights are always on, and the pixels in front of them open and close to let through the right amount of light for each scene. In dark scenes, some light always manages to leak through. This can make black tones look gray or create halos around light objects that appear against a dark background.
OLEDs don't have that problem because there's no backlight. Individual pixels emit their own light and can be turned off completely, so dark areas of the picture can be truly black.
More TVs in 2020 will use full-array LED backlights, which can help narrow the gap with OLEDs. With full-array backlighting, LEDs are arranged across the entire back of the panel rather than just on the edges as in many TVs. Full-array backlights can offer effective local dimming, where the LEDs are divided into zones that can be separately illuminated or darkened. The dark areas can look darker, and you're less likely to see halos.
In 2020, shoppers will see TVs with even more zones that can be individually lit or dimmed.
Another development: TVs that use "mini LEDs" in the backlight. The basic idea is that you take the LEDs in a backlight, shrink them down, and then use more of them. These, too, are divided into dimmable zones. In theory, this, too, can help improve black levels and reduce halos.
In 2019, we tested the first TV to use mini LEDS, the TCL 75Q825, and it did well in our ratings. We're curious to see whether other TV brands adopt this technology in 2020.
One LED technology with the potential to truly match OLED performance lies a bit further into the future. It's called MicroLED, and it's being championed mainly by Samsung. With MicroLED sets, there's no longer a need for a separate backlight; every pixel is made up of tiny LED sub-pixels that give off their own light. That means each pixel can be turned on or off, just like in an OLED set.
The technology hasn't been perfected yet. Many analysts, including Baker and Gagnon, say the MicroLED technology isn't ready as a consumer product. As a result, you may hear about MicroLED displays in 2020, but you're not likely to see them in any consumer televisions this year.
New TV Brands
Over the past decade, we've seen once-prominent TV brands, such as Mitsubishi, Panasonic, and Pioneer, exit the U.S. market. In 2020 we expect to witness the opposite trend, with the arrival of several TV brands that will be new to most consumers.
Late in 2019 we tested the first TVs being sold under the Onn brand, Walmart's new house brand for electronics, including TVs, sound bars, laptops, monitors, and accessories. (Members can find out how well a few Onn TVs did in our TV ratings.) We expect to see, and test, more Onn TVs in the coming year.
In 2020, a large Chinese company called Konka—reportedly China's fifth-largest TV brand—will start selling TVs here in the U.S. While details are still sketchy, the company says it plans to offer a line of 4K UHD and smart products starting in the spring.
We'll be meeting with Konka executives during CES to get more information on its TV lineup, which we expect to consist of sets priced below similarly sized and featured models from the major TV brands.
Another company saying it will enter the market is OnePlus, a Chinese company best known for its smartphones, which have done very well in Consumer Reports' smartphone ratings. The company hasn't said much so far, but it already sells a line of Android QLED TVs in India that utilize quantum dots to produce a wide range of colors. The TVs have a unique sliding sound bar system that lowers down from the bottom of the TV, then retreats back into the panel when not in use.
We're hoping to learn more about OnePlus' plans at CES 2020.
Television Terminology
When it comes to buying a new TV, it's not easy keeping track of the sometimes confusing terminology. From 4K to OLED, Consumer Reports expert Jim Willcox explains to "Consumer 101" TV show host Jack Rico what consumers need to know.