When you shop through retailer links on our site, we may earn affiliate commissions. 100% of the fees we collect are used to support our nonprofit mission.
Learn more.
As we step into the new year, a few major developments are shaping up in the TV world. In 2019, television shoppers can expect to see more jumbo-sized sets in stores, along with more enhancements to display performance and increasingly sophisticated voice control.
How big is big? Analysts expect to see more 65- to 80-inch models being shown at CES 2019, the massive Consumer Electronics Show that takes place each January in Las Vegas. And because prices are coming down, televisions that big will be within reach for many shoppers.
There's little evidence that consumers are asking for them, but 2019 will also see the first 8K sets from several brands, and they will be super-large and super-expensive. And these higher-resolution sets won't really be meaningful for most of us for at least a few years.
2019 is also going to be the year that even mainstream sets get voice-enabled digital assistants, especially Amazon Alexa and Google Assistant, as part of their smart DNA.
These sets will allow a new level of voice control and interaction with other smart products.
So while we're not expecting any knock-your-socks-off developments that will revolutionize consumer choices next year—or make buying a leftover 2018 model a bad decision—there will be enough that's new to make 2019 another interesting year for TVs shoppers.
Here are more details on the top TV trends for 2019.
TV Screens Get Bigger—and Cheaper
Remember when a 42-inch TV seemed gigantic? TVs with 55- or even 65-inch screens are now commonplace. In 2019, industry experts expect these larger sets to take a bigger share of the TV-buying market, especially as prices for jumbo-sized sets continue to shrink.
"We will definitely see continued growth in screen size," says Paul Gagnon, executive director of research and analysis for the technology, media, and telecom group at the market research firm IHS Markit. "Total shipments of 60-inch and larger TVs will grow from 18 percent in 2018 to 24 percent in 2019, the biggest share increase for the size category yet," he says.
Fueling that growth, he adds, "are new gen-10.5 LCD fabs," which is industry slang for new panel manufacturing plants that are optimized for TVs 65 inches or larger.
These new facilities can produce very large LCD sheets, called motherglass, from which TV display panels are cut. As a result, bigger TV panels can be produced with less waste, helping to drive down costs and consumer prices.
IHS forecasts that the average price of a 65-inch 4K LCD TV in 2019 will fall to $913 in North America, dropping below $1,000 for the first time.
Shoppers are already seeing more big sets in stores. Deirdre Kennedy, business director at the retail market research firm Gap Intelligence, says 65-inch TVs recently became the single most popular screen size on the sales floor, narrowly edging out 55-inch sets for the first time.
And there are more 70-inch sets being displayed. "That's a trend we expect to continue in 2019," she says.
HDR Gets Better and Brighter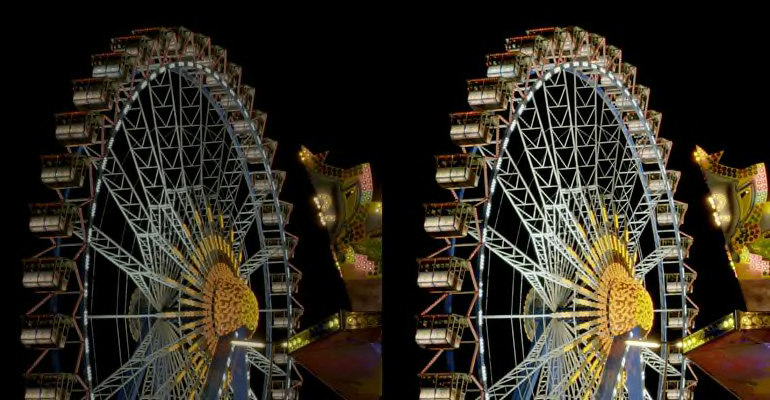 Another TV trend from last year, high dynamic range (HDR), will again be a hot TV topic in 2019, both for consumers and the people trying to sell them televisions.
One continuing concern for consumers is that while many 4Ks tout HDR capability, most people will have no idea what level of HDR experience their new TV can deliver until they take it home.
That's because many less-expensive sets don't have the brightness, black levels, or video processing ability to really show off HDR programs to their full effect.
Last year Consumer Reports testers found that it was mainly pricier TVs that were able to deliver an effective HDR experience, though there were a few exceptions. In 2019, says Claudio Ciacci, who heads TV testing at CR, "we're hoping that more 4K TVs will be able to reproduce the enhanced brightness range and nuanced shadow detail that the best HDR content requires."
Several manufacturers are likely to promote TVs with peak brightness levels significantly higher than the 1,000 nits typically required for top HDR performance.
But numbers don't tell the whole story.
That's why Consumer Reports has created special HDR test patterns and video content that can help reveal how well a TV really performs when playing HDR movies and TV shows.
CR's TV ratings have a separate HDR column, so you can see at a glance how well a model does with this new feature. And we also describe HDR effectiveness more fully in the detailed test results for each model.
We're looking forward to testing many of the new 2019 sets to see whether more are able to deliver on the promise of HDR.
Voice Interaction: Say It, Play It
Many TVs now have some level of voice interaction, with the user speaking into a microphone embedded in the remote control.
Generally, you can change channels and adjust the volume, and sometimes you can even search for content using voice commands. This year experts across the TV industry say more companies will take things up a notch by integrating more expansive digital voice assistants, such as Amazon Alexa and Google Assistant, into their smart TV platforms.
Even companies with their own artificial intelligence (AI) platforms, such as LG with ThinQ and Samsung with Bixby, are including compatibility with Alexa and Google Assistant for certain functions and operations. Many of the new crop of TVs can be used to control compatible smart products, everything from speakers to thermostats and even major home appliances.
We also expect to see more TVs, typically from secondary brands, that use Roku's smart TV system. These Roku TVs are easy to use, let you search through multiple streaming services for shows and movies, and offer access to a ton of content. Roku TVs are now available from close to a dozen brands, including Element, Hisense, Hitachi, Insignia, JVC, Magnavox, Philips, RCA, Sanyo, Sharp, and TCL. We expect more brands to join the fold in 2019.
Last year a few brands, notably Insignia and Toshiba, adopted Amazon's Fire TV system as their smart TV offering. As you'd expect, these "Fire TV Edition" sets have Amazon Alexa built in, so you can use voice commands from an included voice remote if it comes with one or by using a smartphone loaded with a Fire TV app. We'll be looking to see whether the Amazon Fire TV system expands to any new brands.
We'll also be on the lookout at CES 2019 for more TV brands to announce that they're adopting the Google Android TV system. Sony has been the biggest brand backing Android TV so far, and Vizio's SmartCast TVs use Chromecast, a subset of Android TV.
8K TVs Arrive in 2019
CES 2019 is shaping up to be the coming-out party for 8K TVs. That's right: Even though 4K TVs are really just now becoming mainstream, manufacturers at CES will be showing off TVs with four times the resolution.
What's the big deal supposed to be? Thanks to even more pixels—33 million, compared with 8 million in a 4K set—these sets promise even sharper, more detailed images than what you can currently get with 4K UHD TVs.
Samsung has already been selling a $15,000 8K TV in the U.S., and LG promises to have an 8K OLED TV in 2019. But most industry watchers think that 8K TVs are still several years away from being a meaningful option for most people.
Consumers with an 8K TV here in the U.S. won't have any native 8K content to watch, at least for a while. A handful of movies have been shot in 8K, and some high-profile events, such as the coming Olympics, will be shot in 8K, but right now there's no way for consumers to watch it in 8K. While 4K content is available via streaming services and on 4K Ultra HD Blu-ray discs, broadcasters are still struggling with the amount of bandwidth needed to transmit 4K content.
"8K is just the natural progression of the market," says Stephen Baker, vice president at the research firm NPD Group Baker. He acknowledges that consumers aren't clamoring for it and that there won't be any native 8K content for years, but "that doesn't mean it shouldn't be offered or made available," he says. "Samsung has made the point that with new processors, compression, AI, and upscaling, these TVs can offer a lot of picture quality value even at resolutions below 8K."
Still, Gagnon expects 8K TVs to remain "a very small niche category, with ultra-premium price points," forecasting that just 43,000 sets will be sold in North America next year. Growth, he says, will be slower than what we've seen with 4K, because he expects 8K sets to be available only in larger screen sizes.
Two other developments we expect to hear more about next year are higher frame rates and a new version of HDMI called HDMI 2.1—though both technologies will really become important further down the road.
Let's take frame rates first. We expect a few brands to talk about TVs that display video at 120 frames per second rather than the current 60 frames per second. Sports networks are especially interested in this technology; doubling the number of frames displayed each second can help reduce motion blur during fast-moving action.
Consumers will also start to see some TVs with new HDMI 2.1 connectors, which offer greater bandwidth. This latest version of HDMI can support higher 8K video resolutions as well as faster frame rates with 4K content. Some premium TVs in 2019 will come with HDMI 2.1 inputs, but most mainstream sets will still have HDMI 2.0 connectors.
New TV Technologies Get a Showcase
While the introduction of new 8K TVs will steal a lot of the TV spotlight at CES, there will also be news about other notable advances in TV technology.
Though OLED TVs from LG and Sony have topped our ratings for the past few years, companies are continuing to improve the LED/LCD sets that make up the bulk of TVs in homes.
One example is a number of improvements to LCD TV backlight technology. Because those backlights are always on, a TV tries to block the light during dark scenes, but some light invariably manages to leak through. This can make black tones look gray or create halos around lighter images shown against dark backgrounds.
OLEDs don't have that problem because there's no backlight. Individual pixels emit their own light and can be turned off completely, so that dark areas of the picture can be truly black.
Using full-array LED backlights, where the LEDs are arranged across the entire back of the panel rather than just on the edges, is one way LCD TVs can come closer to OLED performance. Full-array backlights offer more effective local dimming, where the LEDs are divided into zones that can be separately illuminated or darkened.
When done well, that can help black areas of the screen stay darker, with fewer noticeable halos around bright spots.
"I am expecting to see more full-array local dimming LED backlights this year as a way to enhance the performance of LCD against OLED," Gagnon says.
"Given enough zones, they can do a pretty good job of competing with OLED, but at much higher brightness," he says. "It is expensive, though, to use hundreds of LEDs, so these TVs will remain ultra-premium sets."
Another LED technology with the potential to match OLED performance is farther in the future. It's called MicroLED, and it's being championed by Samsung as an alternative to OLED TVs. With MicroLED sets, there's no longer a need for a separate backlight; every pixel is made up of tiny LED sub-pixels that give off their own light. That means each pixel can be turned on or off, just like in an OLED set.
But the technology isn't perfected yet. Both Baker and Gagnon say that while the MicroLED technology is intriguing, it's not yet ready as a consumer product. "We're not sure if manufacturing costs can be brought down to consumer-acceptable levels," Gagnon says. "MicroLED hasn't yet been advertised as being an affordable consumer-level product, and I doubt that happens in the next year," Baker adds.
As a result, it appears that MicroLED will at least in the near-term be more of a commercial product, though it could trickle down to consumer TVs at some point.
Chinese Brands Gain Momentum
Chinese TV manufacturers have been on the rise globally for several years now. According to IHS Markit, Hisense and TCL are now among the world's top 10 LCD TV brands.
Of the two, Hisense, which also controls the Sharp TV brand in the U.S., has been the more aggressive from a technology standpoint, using quantum dots in its flagship "ULED" TVs.
But TCL, an early adopter and a strong proponent of Roku TVs, has been more successful in terms of sales, which is why you may see more of them in stores—or in your friends' homes.
"Both companies have become much more aggressive in the U.S. market over the past year," Kennedy says. "Both have continued to build a retail presence throughout 2018, particularly at five of the most active TV-selling stores." (That's Best Buy, Costco, Sam's Club, Target, and Walmart.)
TCL, she says, increased the number of products available in these stores by 70 percent, and Hisense had a 21 percent increase. "However, Hisense continues to add new models to stores even as the year is drawing to a close."
Baker says there's a strong demand "for tier-two brands at the right price and in the right screen sizes." These companies, he adds, have been very good at delivering quality and value to retailers and consumers. "And they are winning share because of it."
Our testing shows that Hisense and TCL have been improving in quality in recent years, and our ratings include a few recommended models from both brands.
Kennedy says that many consumers are put off by the high price of premium TVs, which can cost $2,000 or even more, because they don't really know what they're paying extra for.
"TCL and Hisense have been able to capitalize on the majority of consumers who want a 4K smart TV with HDR at a price that makes sense to them," she says. "This combination of desirable specs and affordable price points is how they're winning the retail shelf."
Both companies have major press conferences at CES this year, so we're looking forward to hearing their plans for 2019. Even better, we'll be testing new sets from them and other brands this year to see how well they perform.
Television Terminology
When it comes to buying a new TV, it's not easy keeping track of the sometimes confusing terminology. From 4k to OLED, Consumer Reports' expert, Jim Willcox, explains to 'Consumer 101' TV show host, Jack Rico, what consumers need to know.