As we head into the new year, a few major developments are shaping up in the TV world. In 2018, television shoppers can expect to see more jumbo-size sets in the store, along with more enhancements to display performance and increasingly sophisticated voice control.
All that should add up to a set of evolutionary changes, but no dramatic changes from the technology that consumers saw in 2017.
How big is big? We expect to see more 65- to 75-inch models being shown at CES 2018, the massive Consumer Electronics Show that takes place each January in Las Vegas. And since prices are coming down, televisions that big will be within reach for many shoppers.
As for display performance, technologies such as quantum dots and new backlight developments are helping to bring LCD TVs closer to OLED TVs, which have topped our recent TV ratings. More on that below.
Beyond size and performance, 2018 promises to be the year that voice-enabled digital assistants—yes, Alexa, we're talking about you—make the leap from speakers to TVs, enabling a new level of voice control and interaction with other smart products. That means we'll likely see more TVs that incorporate familiar voice-enabled digital assistants, such as Amazon Alexa and Google Assistant, as part of their smart DNA.
So while we're not expecting any knock-your-socks-off developments that will revolutionize consumers' choices—or make buying a leftover 2017 model a bad decision—there will be enough new developments to make 2018 another interesting year for TVs shoppers.
Here are the top TV trends for 2018.
1. TV Screens Get Even Bigger
Remember when a 42-inch TV seemed gigantic? TVs with 55- or even 65-inch screens are now commonplace. In 2018, industry experts expect these larger-sized sets to take a bigger share of the TV-buying market, especially if prices for jumbo-sized sets continue to shrink.
"The market for 65-inch and larger TVs will grow 37 percent in North America in 2018," predicts Paul Gagnon, executive director, research and analysis for the Technology, Media & Telecom group at market research firm IHS Markit.
Deirdre Kennedy, senior analyst at retail market research firm Gap Intelligence, concurs, saying that for the first time, the retail presence of 65-inch and larger TVs matched that of 55- and 60-inch sets.
"A lot of this growth is driven by the rise of 4K TVs, which are primarily offered in 55- and 65-inch sizes where the benefits of higher resolution can be seen most strongly," she explains. "As more brands have entered the 4K market over the past couple of years, the overall number of retail placements for 65-inch and larger TVs at major retailers has grown 33 percent."
Kennedy notes that several of the major TV brands, such as Samsung, Sony, LG, and Vizio, have set up "store-in-store" shops at large electronics stores such as Best Buy. "Often these branded displays feature the larger screen sizes in order to present the most impressive exhibit possible."
"Consumers want bigger screens because the biggest, best screen in the house—the TV—is where communal watching happens, where you watch sports, or movies or Netflix with your wife or your kids," says Stephen Baker, VP of industry analysis at research firm NPD Group. Baker notes that smaller screen sizes are taking a hit due to more people watching video on other devices, such as tablets and smartphones.
"People are willing to spend the money on biggest TV they can for the main room in the house, and then use the [other devices] for content away from the main TV room."

But if you're looking for a really big TV, it may pay to wait a year if you can, says IHS's Gagnon, as new "fabs"—the manufacturing facilities that make large LCD panels—come on line.
"These new 'gen 10.5' LCD fabs are optimized for 65- and 75-inch TVs," he says. That means they're able to more efficiently cut larger LCD panels from huge LCD sheets, called motherglass. Because these new fabs can produce larger sheets of motherglass there's less waste, which helps drive down costs and therefore TV prices. "One of these fabs opens next year in February, while three others start production in 2019," Gagnon says.
2. More TVs to Have HDR, Done Better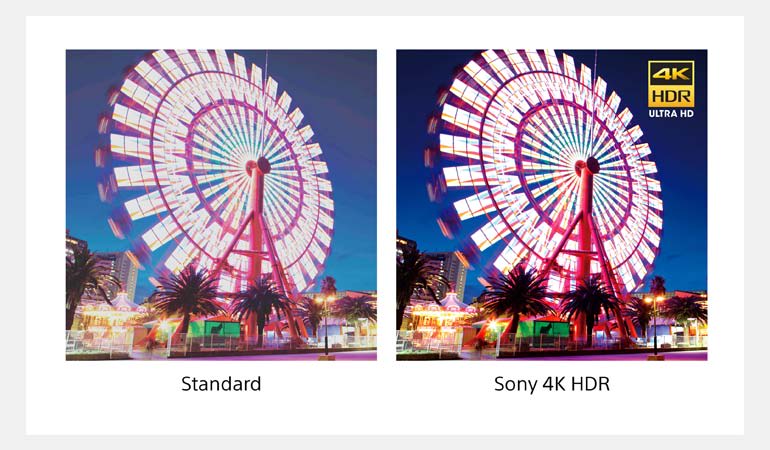 Another TV trend from last year, high dynamic range (HDR), will again be among the hottest TV topics this year, both for consumers and the people trying to sell them televisions.
One continuing issue for consumers is that while many 4Ks tout HDR capability, most consumers will have no idea what level of HDR experience their TV can deliver until they take it home.
That's because many less-expensive sets don't have the brightness, black levels, or video processing to really show off HDR programs to their full effect. (It's also the reason our TV ratings now provide a description of HDR effectiveness in the detailed test results.)
Last year, only pricier TVs were able to deliver an effective HDR experience. But this year, says Claudio Ciacci, who heads TV testing at Consumer Reports, "we're hoping that more 4K TVs will be able to reproduce the enhanced brightness range and nuanced shadow detail that the best HDR content requires.
"We're also hoping that manufacturers will better optimize the TV's default picture settings when playing HDR content, so consumers don't have to manually make those adjustments," Ciacci says.
3. Voice Interaction Takes a Leap Forward
Many TVs from the major brands have some level of voice interaction, usually by speaking into the microphone embedded in the remote control. Generally you can change channels, adjust the volume, and sometimes even search for content using voice commands. But this year, experts across the TV industry say a number of companies will take things up a notch by integrating digital voice assistants, such as Amazon Alexa and Google Assistant, into their smart TV platforms.
In 2017, we saw a few TVs from secondary brands such as Element and Westinghouse use the Amazon Fire TV system—which includes Alexa—as their smart TV platform. And Google Assistant recently made its way to TVs using the Android TV smart TV platform.
But in 2018 you can expect to see a wider adoption of both Alexa—if not the whole Fire TV platform—and Google Assistant in smart TV systems, even from a few major brands.
These TVs will not only let you use these voice assistants to search for and access content, but also interact with and control other compatible smart home devices, such as lighting, thermostats, and speakers.
4. New TV Technologies Get a Showcase
Perhaps the most interesting TV technology we expect to hear about at CES and in 2018 is the "self-illuminating" LED, which can make an LCD TV more OLED-like. A few companies, including Samsung and Sony, have been working to develop this technology, in which LEDs generate their own light—eliminating the need for a backlight.
"What you're referring to something that we called 'micro LED'," says IHS' Gagnon, who says that while the technology offers a lot of advantages, it's still extremely expensive.
"Currently, we only see micro LED being used in commercial application; it could possibly trickle down to consumer TVs, but not until a few years from now," he says.
What will have a big impact this year, he says, are improvements to LCD TV backlight technologies. Because LCD TV backlights are always on, the TV tries to block the light during dark scenes—but some light always manages to leak through. This can make blacks look gray, or create halos around lighter images shown against dark backgrounds.
Full-array LED backlights, where the LEDs are arrayed across the entire bask of the panel rather than just on the edges, is one way LCD TVs can improve their performance.
"I am expecting to see more full-array local dimming LED backlights this year as a way to enhance the performance of LCD against OLED," Gagnon explains. "Samsung had drifted away from full-array local dimming last year to emphasize the thinner form factor, but I think that was to their detriment. With its Z9 series last year, which uses a full-array backlight with local dimming, Sony demonstrated that LCD performance can be just about on par with OLED in many instances."
5. 8K and a New Version of HDMI
Even though 4K TVs are really just now becoming mainstream, at CES there will be talk about—and demonstrations of—even higher-resolution 8K displays, or TVs with four times the resolution of 4K sets.
Most industry watchers believe that 8K TVs are still several years away from being a real option for consumers, but 8K broadcast trials are already under way in Japan, and some high-profile events, such as the upcoming Olympics, will be shot in 8K. But it's helpful to remember that broadcasters are still struggling with the amount of bandwidth required for 4K transmissions. Our take here at CR: 8K won't have a meaningful effect on the consumer TV market for at least another five or six years, and only in the very largest screen sizes.
We also expect to hear more about faster frame rates this year, though it too is unlikely to have any impact on TVs sold in 2018. This refers to content shot at 120 frames per second, rather than the current 60 frames per second. Sports networks are especially interested in this technology, which doubles the number of frames displayed each second on a TV, which can help reduce motion blur during fast-moving scenes.
But to handle these new technologies, which require greater bandwidth, you'll need a new version of HDMI, which has just been finalized. HDMI 2.1, as it's being called, supports higher video resolutions—up to 10K—as well as 120Hz frame rates with 4K content. There will also be new, ultra high speed HDMI cables that can support the new features.
We don't think that HDMI 2.1 will have much impact this year.
"I do think it's a bit late to see HDMI 2.1 in 2018 products, and probably not needed just yet," agrees IHS's Gagnon. "I mainly see it as being necessary for 8K TVs rather than 4K TVs."
NPD's Baker is even more blunt: "No one cares about HDMI 2.1, nor should they. It's certainly not a reason to buy, or not buy, a TV. And by 2020 all TVs will have it."
6. Chinese Brands Gain Momentum
Chinese TV manufacturers have been on the rise globally for several years now. According to IHS Markit, both Hisense and TCL are now among the world's top 10 LCD TV brands.
Of the two, Hisense, which also controls the Sharp TV brand in the U.S., has been the more aggressive from a technology standpoint, utilizing quantum dots in its flagship "ULED" TVs.
But TCL, an early adopter and strong proponent of Roku TVs, has been more successful in terms of sales, which is why you may see more of them in stores—or in your friends' homes.
"Both companies have become much more aggressive in the U.S. market over the past year," Gap's Kennedy says. "But TCL in particular has been able to greatly increase its presence at large national retailers in 2017, in large part due to its arrival in Best Buy stores for the first time, and doubling its presence at Target and Walmart."
Hisense, she adds, has also significantly increased its retail placements over the past two years, though not as much as TCL.
Both companies tend to have middle-of-the-pack scores in CR's ratings. But we have seen some of the better sets from each brand rise in our ratings over the past two years.
"But it's not just about placement. TCL has done well with consumers by adding the popular Roku smart TV operating system to its TVs and expanding its 4K assortment, with several tiers to choose from," she says. "Hisense lags behind TCL in terms of retail placements and TV features, but has slick branding and marketing plans, coupled with low prices, that appeal to consumers."
Both companies have major press conferences at CES this year, so we're looking forward to hearing their plans for 2018. Even better, we'll be testing new sets from these, and other brands, this year to see how well they perform.
Consumer Reports is an independent, non-profit organization dedicated to helping consumers. We make it easy to buy the right product from a variety of retailers. Clicking a retailer link will take you to that retailer's website to shop. When you shop through retailer links on our site, we may earn an affiliate commission – 100% of the fees we collect are used to support our mission.
Learn more.
Our service is unbiased: retailers can't influence placement. All prices are subject to change.