When you shop through retailer links on our site, we may earn affiliate commissions. 100% of the fees we collect are used to support our nonprofit mission.
Learn more.
What do you get for $25 more? That's the question we asked ourselves when we bought the Toro Ultra Plus 51621 corded-electric leaf blower, $100, to test. It costs $25 more than the similar Toro Ultra Blower Vac 51609, which offers the same metal impeller and variable-speed blowing. But you may want to think twice about the extras you get for the extra $25.

Both of these Toro leaf blowers use metal rather than plastic for the impeller, which is better for vacuuming leaves with less risk of chipping from the inevitable sticks and other hard debris. The variable speed, adjusted with a dial on top, stays in place so you don't need to hold down a trigger. Both these models top our tests for corded-electric blowers, rivaling gas-powered handheld blowers at moving leaves along. But like gas models, these Toro leaf blowers warrant hearing protection when operated at their top speed. We liked other features, too, such as the quick switching between blowing and vacuuming.
What You Get for $25 More
• A removable oscillating nozzle that, Toro says, "saves time by providing wider clearing power on hardscapes." The intention is for you to move your wrist less and thus clear leaves more quickly.
• A serrated ring within the base of the vacuum tube, called the Shredz-All shred ring, is claimed to "pulverize vacuumed materials into a fine mulch, reducing the number of bags for disposal."
• There's also a cord hook near the controls, a common feature with corded power tools, that keeps the extension cord secure during operation.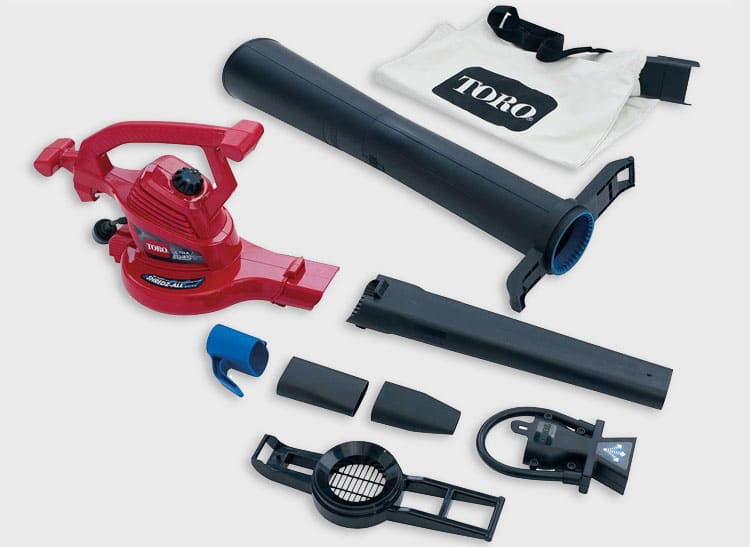 Test Results of Toro Leaf Blowers
Our sweeping and loosening tests of the newer Toro Ultra Plus 51621 found that we could move and dislodge leaves a bit better without the oscillating nozzle, which dispersed air over a wider angle than needed for quick leaf work.

In our vacuum tests, the addition of the Shredz-All shred ring reduced leaves only slightly more than the metal impeller alone. With the Toro Ultra Blower Vac 51609 we were able to vacuum and shred leaves down at about a 2:1 ratio, roughly fitting a bagful of clippings into half a bag. With the Toro Ultra Plus 51621, it was closer to 3:1. Both are space-saving, but keep in mind that this is tedious work. Running over the leaves with your mower in bagging mode is the quickest method of all.

And while cord hooks are convenient, wrapping the extension cord once around the handle of either blower with a loose overhand knot (like the first part of typing shoelaces) before plugging it in keeps the cord from unplugging. It's also far quicker than pushing either a 12- or 14-gauge extension cord, the thick cords Toro specifies for the Toro Ultra Plus 51621, over the cord hook.

You won't go wrong with either of these Toro leaf blowers if you want lots of power for blowing and vacuuming in a maintenance-free machine. If you are undecided about gas versus electric—or are considering a backpack model or a wheeled model—take a look at our leaf blower buying guide before checking our leaf blower Ratings.