When you shop through retailer links on our site, we may earn affiliate commissions. 100% of the fees we collect are used to support our nonprofit mission.
Learn more.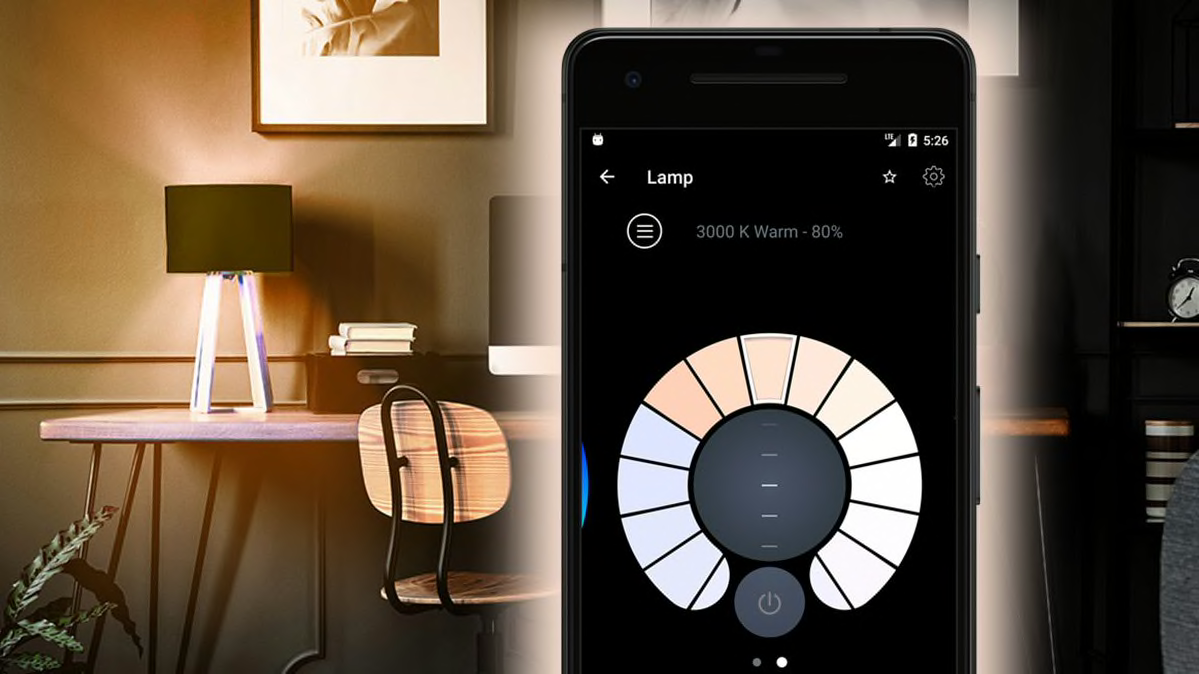 Smart lighting products, such as smart lightbulbs and smart light switches, are some of the most popular smart home devices on the market. According to an April 2019 market research report from TraQLine, 16 percent of consumers in the U.S. own smart lightbulbs, which is only 3 percentage points behind top-selling smart speakers—Amazon's Echo and the like.
These products connect to the internet via WiFi, Bluetooth, or a hub or bridge that usually comes in the box, so you can control them remotely via an app on your smartphone or a digital assistant such as Amazon Alexa or Google Assistant. You can also integrate them with other smart home devices to make them work together. For example, you can set all the lights in your home to automatically turn off when you arm your security system as you leave the house.
More on Smart Home Products
Smart lighting allows you to do a lot more than program your lights to switch on and off. You can check from work whether your kids left the lights on (again!), and remotely turn them off to save energy. Or set the mood in a room by customizing color and brightness.
But is it really worth the trouble and expense of upgrading? After all, one smart bulb can cost $7 to $79 compared with about $5 for a typical LED bulb. And while making the switch can be as simple as screwing in a smart lightbulb, some products can be more involved.
If, for instance, you want to put in a smart switch to control a chandelier and your switch box lacks the required neutral wire, you'll need to pay an electrician to put one in. "The cost to add the proper neutral for a switch location varies greatly from job to job," says Ben Kolo, owner of he electrical contractor Mr. Electric of Central Iowa. "Typically, the range we see can be anywhere from $250 to $800."
CR doesn't currently test smart lighting products, but whether they're worth the extra expense largely depends on your needs. A growing list of companies large and small now offer them. Some of the names you'll see in stores are C by GE, Philips Hue, Lutron, LIFX, and Sylvania. Here, we've laid out four levels of commitment to upgrading to smart lighting. For each scenario we highlight the types of products available, the costs involved, and what to know about installation.
Get Your Feet Wet
What to buy: Smart lightbulbs, smart plugs
Cost: $7 to $200 per device
It's doesn't take a big investment to try out smart lighting. You can get started with a few smart lightbulbs or smart plugs. Smart bulbs generate light from LEDs and are made in almost every bulb type and socket size: a typical bulb (A19), a floodlight bulb (BR30), a candelabra bulb (E12), and many more. Smart plugs work in existing outlets, and then you plug in your lamps with regular bulbs or other small electric appliances, such as fans or space heaters. Some smart bulbs and smart plugs are also water and temperature resistant, so you can use them outside.
With smart bulbs, just swap out the regular bulbs in any lamp or fixture you want, download the corresponding smartphone app to set up and control them, and off you go. Both smart bulbs and plugs let you turn lights on and off as well as set schedules. Smart bulbs also allow you to dim the lights, change their color temperature, and change their color.
You can buy individual bulbs starting at $7 each, or opt for a starter kit, such as the Philips Hue White and Color Ambiance, $200, which comes with four smart bulbs and a hub to connect them to the internet. The Hue kit allows you to change your lighting to one of 16 million colors and connect them to a variety of other smart home devices. As for smart plugs, expect to spend around $25 each. The Amazon Smart Plug and Wemo Smart Plug are popular models to try.

Convert an Entire Room
What to buy: Smart light switches or outlets
Cost: $25 to $100 per device
To make all of the lighting in a given room "smart," choose smart light switches/dimmers for light fixtures and smart outlets for any lamps you have plugged into outlets. Smart light switches and dimmers come in both toggle and paddle designs, and work with just about anything that's wired to them, including lights with regular bulbs. Smart outlets replace existing wall outlets, letting you add smarts to regular lamps. Like smart plugs, smart outlets work with almost any plug-in appliance, such as fans and coffee makers.
While in-wall outlets and switches are more difficult to install (and may require an electrician), they can save you money if you have multiple light fixtures in a room, because one switch or outlet controlling all of your regular lighting is much more affordable than buying a half-dozen (or more) smart bulbs to replace regular bulbs. But smart switches often require an additional neutral wire in the receptacle, which is sometimes missing in older homes.
"The vast majority of homes built pre-1970 in the United States do not contain neutrals in most switch boxes," says Kolo. "Occasionally, we run across homes with neutrals in them, but not often."
You need that neutral wire because smart switches need to receive constant power for them to stay connected. According to Kolo, neutral wires are more common in homes built between 1970 and 2010, but they didn't become a requirement until 2011. Given the cost of having an electrician install a neutral wire, it may make more sense in those cases to go with smart plugs.
Pricing varies significantly for smart switches and outlets. You can spend as little as $25 on a TP-Link Kasa Smart Light Switch to as much as $100 on a Lutron Caséta Smart Lighting Dimmer Switch Starter Kit or $90 on an iDevices Smart Wall Outlet.

Add Ambiance
What to buy: Smart lightbulbs, smart light switches, smart lightstrips
Cost: $25 to $90 per device
Smart lights are great for accent lighting because you can easily change the color and brightness. With a few taps on your smartphone, you can go from bright light for homework time to warm tones for a romantic dinner after the kids are in bed and cozy near-darkness for watching television. You can also program impressive multicolored party lighting for when you have friends over.
Smart bulbs, switches, and lightstrips can help you achieve the kind of lighting you want. Use smart dimmer switches, such as the Wemo Smart Dimmer, $60, to for chandeliers and wall sconces. Or get a few multicolor smart bulbs, such as the C by GE Full Color Smart Bulb, $30, and put them in lamps to add pops of color to the room. You can install smart lightstrips, such as the LIFX Z LED Strip, $90, to add a multicolored glow above kitchen cabinets, bookcases, china cabinets, or anywhere your imagination takes you. These strips can be cut to your desired length, and most can dim and display millions of colors.
Light Outdoor Areas
What to buy: Smart outdoor fixtures, smart light switches, weatherproof smart lightbulbs
Cost: $25 to $340 per device
Smart outdoor lighting can increase your home's nighttime curb appeal and discourage intruders. You can install smart bulbs into existing fixtures or add brand-new lighting, such as smart pathlights. The battery-powered Ring Smart Lighting Pathlight ($140 for a four-pack starter kit), for instance, will turn on when they detect motion. Replace regular switches for hardwired porch lights and floodlights with smart light switches, such as the Leviton Decora Smart Switch, $45, to automatically turn those fixtures on when the sun sets. You can even install accent lighting in your landscaping, such as the Philips Hue Lily Outdoor Spotlight, $340 for a three-pack (it requires an outdoor outlet), to wash your shrubs and trees in pleasing colors at night.