When you shop through retailer links on our site, we may earn affiliate commissions. 100% of the fees we collect are used to support our nonprofit mission.
Learn more.
They sure don't build luxury cars like they used to. Immortalized by mobster movies and Billy Joel lyrics, giant road-going couches like Cadillac DeVilles and Lincoln Continentals used to epitomize luxury, even if they swilled fuel and flopped around corners. But nowadays Cadillacs drive more like BMWs than real BMWs do, and Lincoln has gone years without a real flagship. The new Lincoln Continental finally puts some luster back into the brand, harkening back to the glory days of the cushy big sedan, all while remaining modern and relevant.
Broad-shouldered and imposing, the Continental certainly looks the part. Liberal use of chrome, including the eye-catching door handle loops that jut out of the window sill trim, and big wheels add bling to this massive machine. A sumptuous interior and enormous rear seat ensure that the top Lincoln sticks to the luxury-car script.
Yet the Continental maintains modern sensibilities. That means you won't see eight cylinders under the hood. Instead, three different V6 engines are available. We would skip the base 3.7-liter V6 and move directly to the optional 2.7-liter twin-turbo EcoBoost V6. At 335 hp, it makes just 30 more horses than the 3.7-liter, but it packs much more torque. It has no problem propelling the Continental. No surprise, as this powerplant also appears in the Ford F-150 pickup, where it can easily tow a 7,000-pound trailer. Consider this $2,250 option to be money well-spent. By comparison, the top-level 3.0-liter, 400-hp V6 seems superfluous.
Front-wheel drive is standard, with all-wheel drive available with all three engines. Given that big sedans from Buick, Cadillac, and Chrysler have all moved to eight-speed automatics, the six-speed in the Continental seems quaint.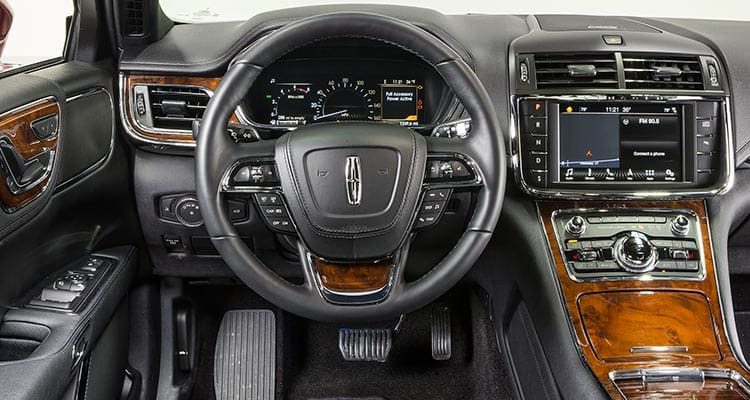 At least there's nothing out of date about how the Continental drives. On the surface, saying that the Continental is based on the mass-market Ford Fusion's platform would seem to be an insult. To the contrary: We mention it as a compliment. The Fusion's sophisticated dynamics contribute to the Continental's composure, albeit without a sporty edge. Steering is precise, and the car feels disciplined and unflappable. It's not as lithe of a dance partner as a Cadillac CT6, but it is more enjoyable to drive than a Lexus.
Most luxury-car buyers probably care more about serenity than sport, and the Continental doesn't disappoint. The continuously controlled damping suspension snubs out the bumps, and it is whisper-quiet inside. Even the digital gauge cluster can be configured to offer only the bare essentials, just like old land yacht dashboards that typically included only a giant speedometer and a (rapidly dropping) gas gauge.
Not that the interior isn't free from annoying quirks. We're very happy to see the intuitive Sync 3 touch-screen infotainment system, but the adjacent push-button shifter can be confused for a column of preset buttons next to the screen. Expensive-looking front seats have wing bolsters that project from the sides and bottom of the cushions; these wings make the seats feel overly narrow for bigger drivers. Four-way lumbar adjustment is reserved for the expensive optional multi-contour seats, which our car lacks.
Our biggest complaints are reserved for the car's technology. Electric buttons release the doors from inside, replacing normal door latches. However, finding the knee-height buttons on the door panel proves tricky. Expect to give passengers a pre-exit briefing.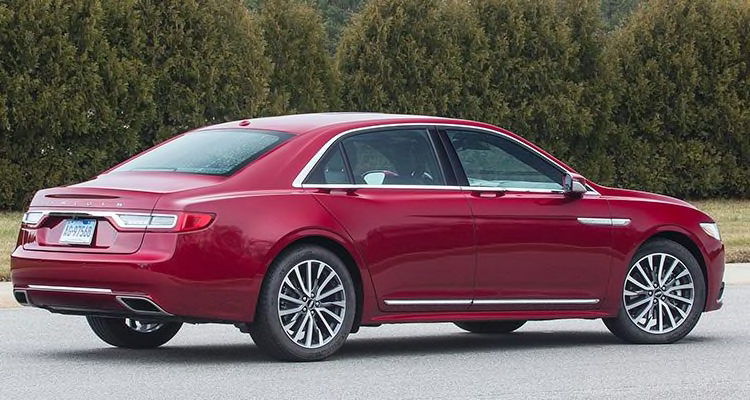 More important, advanced safety features like forward-collision warning and automatic emergency braking come only as part of an optional $3,105 technology package on the midtrim Select. These should come standard on Ford's flagship, just like they are on comparable sedans from Genesis and Lexus. (Cadillac includes them, as well as blind-spot monitoring, as standard on midlevel trims of the CT6.)
Our $55,590 Continental Select AWD looks like a bit of a bargain, but it lacks these options because we had a difficult time finding an early-build car with the 2.7-liter and the safety features. Add in a panoramic sunroof and the technology package, and a typically equipped Continental runs about $60,000. That's a few thousand dollars less than a comparable Cadillac CT6.
Turns out that yesteryear was not the peak for domestic luxury sedans, after all. Both Cadillac and Lincoln benefit from having international competition. Other than a few quibbles, the Continental has proved to be a satisfying car thus far, being impressive to look at, ride in, and pilot down the road. Lincoln has waited a long time for a contemporary flagship, and the Continental fills the bill.
We're busily logging break-in miles with this latest acquisition, as we look to transition it to formal testing in short order.