When you shop through retailer links on our site, we may earn affiliate commissions. 100% of the fees we collect are used to support our nonprofit mission.
Learn more.
For almost three decades, the Lexus LS large sedan flagship was defined by a whisper-quiet powertrain, silken ride, and rock-solid reliability.
But as the fifth-generation LS migrates toward ultra-luxury German rivals, the new model is shifting its personality and possibly compromising its unique market position.
The new 2018 Lexus LS 500 is a true technological tour de force, offering nearly every high-tech feature available. But even with that distinction, the 2018 version might not be able to retain its current owners, usually an unflagging fan base that re-ups year after year.
Consumer Reports recently rented a pre-production Lexus LS 500 from the automaker to sample it well ahead of the February on-sale date.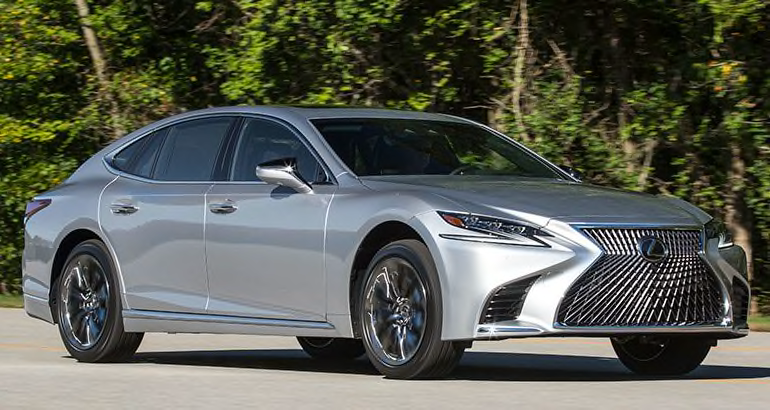 The new LS takes on new proportions, with a laid-back look meant to evoke the appearance of a coupe. The redesigned LS rides on a wheelbase that's 1.3 inches longer than its predecessor. It measures an inch longer bumper to bumper, stretches an inch wider, and sits more than a half-inch lower. The cumulative effect is a more dramatic presence, but it slightly hurts backseat room and makes getting in and out more difficult.
Slide inside, and the LS 500's Japanese stylings are immediately apparent. Numerous elements bring an artistic flair to the cabin, such as the "floating" door armrests, wavelike stitching, and flowing parallel lines throughout.
The driver's seat coddles its occupant, with near-infinite adjustments. Unfortunately, drivers can manipulate the seat heaters and ventilation only through the central screen, a highly tedious and distracting process. Using the touchpad (found in other current Lexus models) to perform routine audio and navigation tasks requires drivers to have a deft, video-game-honed level of skill.
It is a tease that there are so many settings available, such as massaging seats, and that they are so hard—and distracting—to access while driving. Competitors typically use rotary controllers that work in a more predictable fashion, without the off-putting Atari Pong-era tones to signal selections.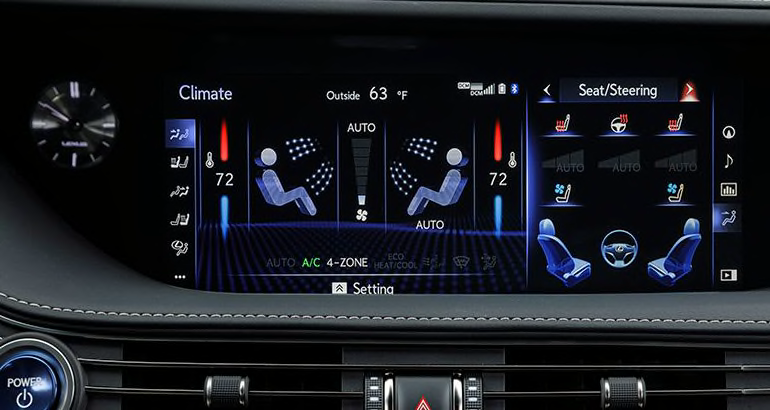 A 416-hp, 3.5-liter twin-turbo V6 engine replaces the previous silky-smooth V8; this transition follows a universal trend aimed at improving fuel economy without hurting driving performance.
Lexus boasts that the LS can rocket 0-60 mph in 4.6 seconds, but it doesn't feel as quick from a standstill as the version with the old V8. There's an initial hesitation and then surge, as the turbos spool to life. Passing maneuvers, however, are effortless—but again, it gives up on the lush feel of the old V8.
The engine is mated to a 10-speed automatic. Together, the powertrain is a sweetheart, swapping gears in a quick, direct, smooth manner and capable of catapulting this flagship to triple-digit speeds effortlessly. Fortunately, the speed can be easily monitored on the massive optional head-up display with large text.
Our model was fitted with an air suspension, which did a commendable job of keeping the LS' body steady even on a series of bumps, but on its 20-inch run-flat summer tires, the ride comfort was not as plush as one has come to expect from a Lexus LS. The LS once wowed the driver with its serenity, stemming from unmatched ride comfort and an eerily silent cabin.
To its credit, the LS has improved handling with less body roll than before, and the steering provides a quicker, more natural response. The LS showed on our track that it is quite capable for such a large sedan.
The driving modes include Comfort, Normal, Sport, and Sport Plus. Among other things, the two Sport modes make the throttle respond faster, altering the shifting, and making the exhaust emit a sportier sound.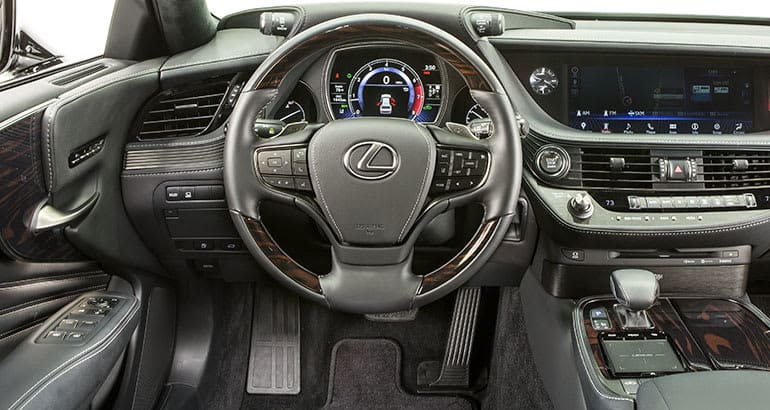 With Toyota making advanced safety systems standard across nearly its entire product line, it is not surprising to see the LS similarly equipped. All LS sedans feature forward-collision warning and automatic braking with pedestrian detection, lane-keep assist, lane-departure warning, and active cruise control.
An Advanced Package brings front cross-traffic alert, road sign assist, and CoDrive, which combines the all-speed active cruise control with the ability to follow the car ahead, without relying on lane lines for guidance.
The LS focuses a lot on pedestrian protection, which is reflected in the grille design. Among the optional safety gear is the ability of the LS to actively swerve to avoid a pedestrian, if the driver doesn't react in time and the car determines it is safe to do so.
Lexus has gone gadget crazy, compromising its former elegant simplicity to chase Silicon Valley wunderkinds and deep-pocketed early adopters. This shifts the LS away from a relaxing, first-class motoring experience that traditionally attracted Cadillac and Lincoln shoppers and gave the Mercedes-Benz S-Class a run for its money. Instead, it now seems to be targeting the segment-dominating Tesla and taking part in the technological arms race with German automakers. We can't help lamenting the move away from the tranquil virtues that have distinguished the LS since 1990.
We look forward to buying an LS when it goes on sale this winter, to more deeply evaluate its myriad systems and to see just how it stacks up against its peers in this exclusive segment.