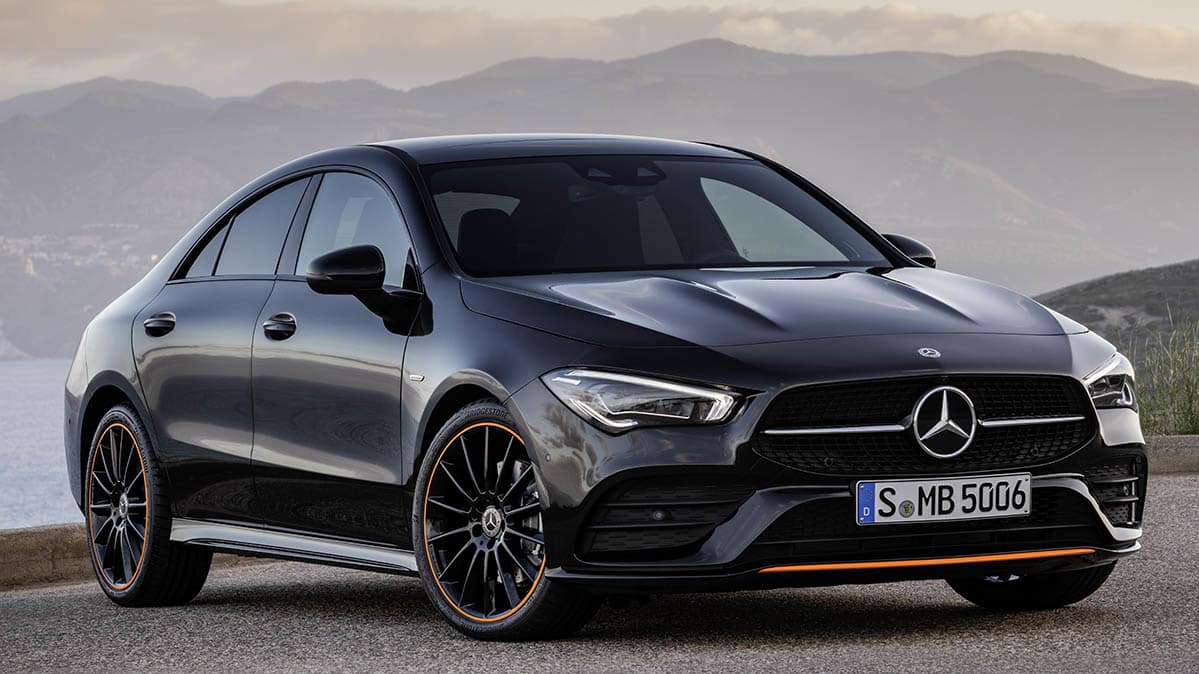 The all-new 2020 Mercedes-Benz CLA debuted this week at the Consumer Electronics Show in Las Vegas, and the automaker showcased several innovative infotainment features there. The new CLA looks much like its predecessor, but it is slightly longer and wider. The CLA fits above the newly introduced A-Class sedan.
The current CLA was the first compact front-wheel-drive Mercedes sold in the U.S. market. It effectively attracted younger buyers, who might be drawn by low starting prices, to the brand. However, the car itself was hurt by numerous compromises.
In our road test, we noted that the original CLA lacked the handling agility, ride comfort, and refinement that we expect for its price, particularly for a car from a prestige brand. Beyond that, it has a cramped interior, access is difficult, and visibility is wanting. Buyers were equally critical in CR's surveys, with owner satisfaction routinely scoring well below average.
With this updated model, Mercedes appears to have addressed some of those shortcomings as it also amps up the entertainment and safety technology, as it has with several other announced new models.
Starting price: $35,000 estimated
What it competes with: Audi A3, Acura ILX
What it looks like: The CLA looks similar to the current model, with an arched roof that traces a coupelike profile. It wears the new Mercedes face previously unveiled on other upcoming models.
Powertrains: 221-horsepower, 2.0-liter turbocharged four-cylinder paired with a dual-clutch seven-speed automatic transmission. Front-wheel or all-wheel drive.
On-sale date: Late 2019
Outside
Mercedes-Benz refers to the CLA as a coupe. This may be an acknowledgment that this four-door has a very snug rear seat, as its predecessor did.
The CLA grows two inches longer and two inches wider over the 2019 model, which we hope leads to more passenger space, although some interior dimensions suggest it doesn't. The trunk opening and depth have also been increased, Mercedes says.
The body shape is familiar, but the styling is smoother, with fewer character lines. This keeps the CLA in line with the styling updates on other upcoming Mercedes models, such as the A-Class and GLE. And it is evidence of the concerted effort the automaker has made to streamline the aerodynamics of its vehicles.
Mercedes explains that more attention was paid this time to optimize the body in a wind tunnel. In particular, its designers focused heavily on the grille, fog lamps, wheel arches, and rear bumper, as well as providing underbody paneling to smooth the air traveling past the engine and other components. Automakers often focus on aerodynamics as a means to improve fuel efficiency and reduce wind noise.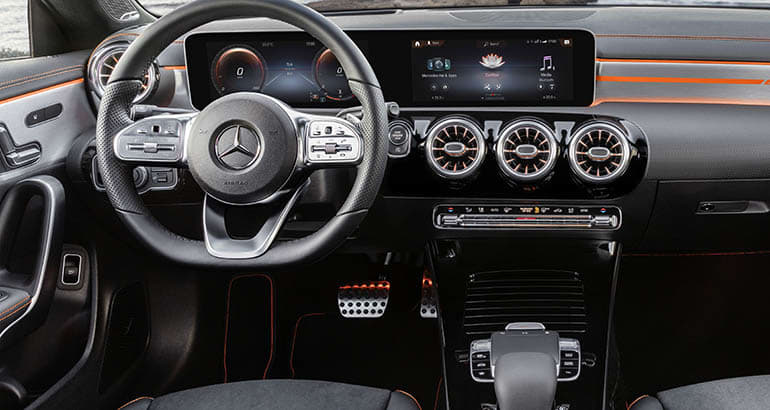 Inside
The company says it emphasized "youthful" and "high-tech" elements in the revamped CLA interior. The centerpiece for the cabin, and indeed the car as a whole, is the Mercedes-Benz User Experience (MBUX) infotainment system that was unveiled first in the Mercedes A-Class. The MBUX uses artificial intelligence to customize the driver's experience and can adapt to the user, Mercedes says. For example, if a driver switches to a particular radio station at the same time every day, the car will learn to suggest making that change at that time.
Mercedes says the system recognizes natural-language commands, such as selecting music or navigating home, and it can also be controlled through controls on the steering wheel, a touchpad, or the infotainment touch screen. "What's more, the voice assistance no longer gets confused by other passengers conversing," explains Sajjad Khan, member of the Divisional Board of Mercedes-Benz Cars for CASE and head of Digital Vehicle & Mobility, in a statement. "Instead it only responds to the commands of the person who last said 'Hey, Mercedes' to activate the system."
The optional Interior Assistant feature adds gesture controls, allowing the infotainment center to be operated by an occupant's motions alone, rather than by interaction with a control. It will sense when a hand is approaching the screen and will respond accordingly, even distinguishing between the driver and the front passenger, Mercedes says. Other functions can be activated with gestures contextually, like extending a hand toward the rearview mirror in the dark to activate reading lights.
What Drives It
A 2.0-liter turbo four-cylinder engine coupled to a seven-speed dual-clutch automatic transmission. The outgoing car also uses a 2.0-liter turbocharged four-cylinder; it returned 28 mpg overall in our tests. That engine was initially sluggish off the line, but it proved ultimately to be quick.
The new CLA will be offered in front- or all-wheel drive.
Safety & Driver-Assist Systems
Mercedes is offering several high-tech safety-related systems beyond the more common forward-collision warning and automatic emergency braking.
The optional Driver Assistance Package is meant to predictively adjust speed to address conditions beyond the line of sight, such as around a blind turn. The car will also offer lane-keeping assist and a rear-collision monitor that can firmly apply the brakes if an impact is imminent.
CR's Take
The outgoing Mercedes CLA was a disappointing car that trailed some mainstream sedans and did not live up to the brand's performance reputation. It not only earned an unimpressive road test score, but the owner satisfaction score has also been low because many owners told us they wouldn't buy the car again. The promised improvements throughout for the next-generation CLA may help; we'll see when we buy one to test.
Consumer Reports is an independent, non-profit organization dedicated to helping consumers. We make it easy to buy the right product from a variety of retailers. Clicking a retailer link will take you to that retailer's website to shop. When you shop through retailer links on our site, we may earn an affiliate commission – 100% of the fees we collect are used to support our mission.
Learn more.
Our service is unbiased: retailers can't influence placement. All prices are subject to change.