When you shop through retailer links on our site, we may earn affiliate commissions. 100% of the fees we collect are used to support our nonprofit mission.
Learn more.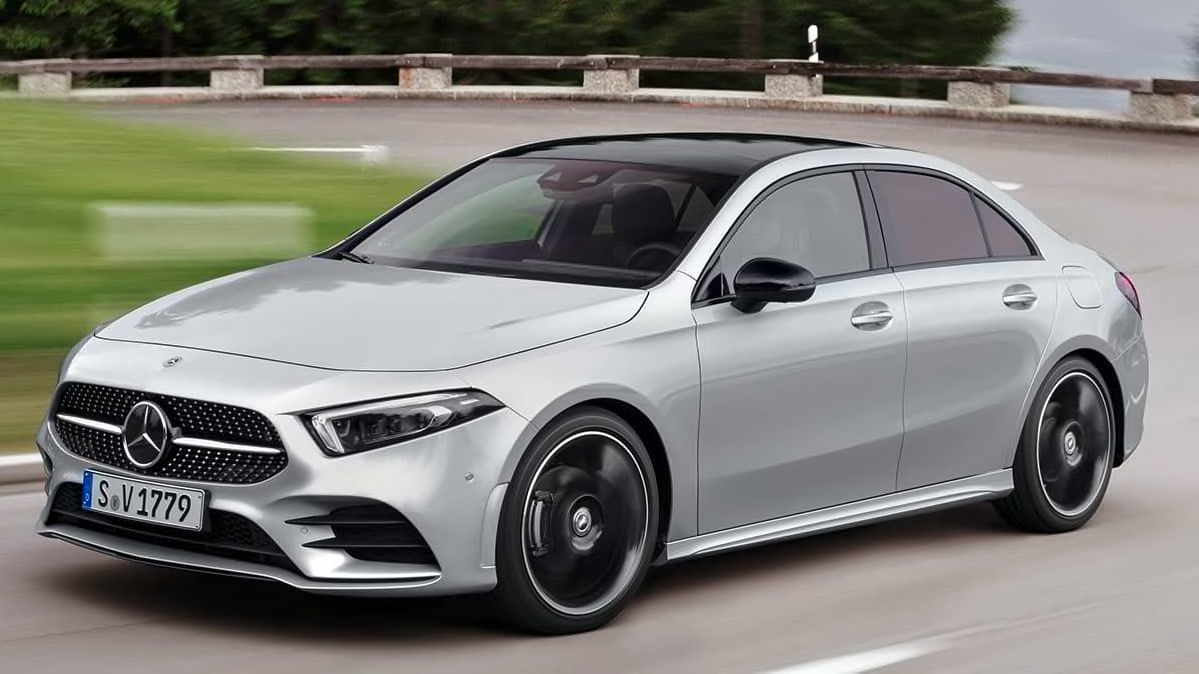 Mercedes-Benz brings the A-Class compact sedan to the U.S. as it offers a more affordable entry into the prestige brand's lineup. It slots below the CLA, a compact car that has been effective in bringing new, younger buyers to the brand. Mercedes is doubling down on that strategy by bringing the A-Class to these shores.
Despite its humble position in the brand's pecking order, the 2019 A-Class will offer significant cutting-edge technology, such as the automaker's latest infotainment system and advanced driver-assist features, all of which should appeal to upwardly mobile tech-savvy shoppers.
Built in Mexico, this car will arrive in the U.S. in early 2019. Previous A-Class models have been sold around the world since 1997.
2019 Mercedes-Benz A-Class
What it competes with: Acura ILX and Audi A3
What it looks like: A cross between a Mercedes-Benz CLA and a Toyota Corolla
Powertrains: 188-hp, 2.0-liter turbocharged four-cylinder engine with a seven-speed dual-clutch automatic transmission.
Base price: $32,500
On-sale date: Early 2019
Outside
The A-Class sedan has a stance much like the Toyota Corolla. And it's more upright than the lower-slung CLA. Mercedes claims the smooth shape enables the A-Class to be the most aerodynamic production car in the world. That would be no small feat.
The front is decidedly Mercedes, with a large grille that resembles an electric shaver and a prominent tri-star emblem in the center. The appearance is very much in line with the CLA except for slender headlights and a less-raked rear roof, which should make getting into the back easier.
The dimensions are similar to a typical compact sedan, and they are a match for the current Kia Forte, at 179 inches long and 57 inches tall. This puts the A-Class at 3 inches shorter, bumper to bumper, than the CLA, but it has a similar 71-inch width.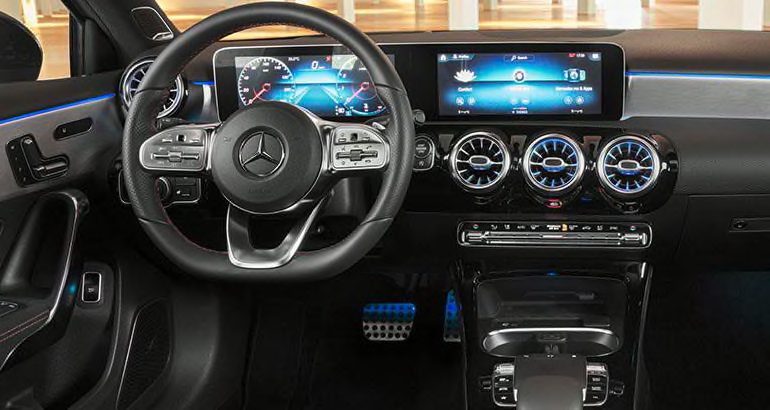 Inside
This car is most distinguished by its interior. Rather than use conventional analog gauges, the A-Class features two neighboring 7-inch displays. Larger 10-inch screens will be optional. They aren't integrated into the dash, but rather these colorful screens look like tablet computers leaning against it.
The A-Class is the first model to get the new Mercedes-Benz User Experience (MBUX) infotainment system. Beyond its visuals, the MBUX stands out for artificial intelligence that allows for customization that can reportedly adapt to the user. It recognizes natural language, and it can also be controlled through steering-wheel controls, a touchpad, or through the touch screen.
Circular "turbine-look" air vents are prominent in the center stack and at the edges of the dash.
What Drives It
Offered in front- and all-wheel drive, the A220 will be propelled by a 188-horsepower, 2.0-liter turbocharged four-cylinder. (This is 20 fewer horses than in the base CLA 250.) In either configuration, the sedan uses a seven-speed dual-clutch automatic transmission. The CLA is expected to be offered later in a higher-performance AMG-badged version.
Safety & Driver-Assist Systems
The A-Class will come standard with forward-collision warning with pedestrian detection and automatic emergency braking. Lane-keeping assist will be available to nudge the vehicle back into a lane, should it stray, at speeds from 37 mph to 125 mph. There is an active lane-change assist feature to help drivers move to one side.
Pre-Safe Plus can detect an imminent rear collision when the A-class is sitting still at a red light, for example, and a car approaches too quickly from the rear. Pre-Safe Plus also will apply the brakes to reduce the risk of the A-Class being pushed into traffic.
The company describes the car as being "able to drive semi-autonomously in certain conditions" by linking various safety and assist systems. These systems work through a combination of camera and radar systems, along with map and navigation data. For example, the car can predictively lower the speed when approaching turns and intersections while using adaptive cruise control, Mercedes says.
The A-Class features Vehicle-to-Vehicle communication—an emerging technology designed to allow cars to share data in real time, such as sending out an alert to nearby V2V-equipped cars that emergency braking is being used and equipped cars that are following might need to slow down.
CR's Take
Inviting new and younger buyers into the corporate fold sounds like a smart business plan. However, we suggest shoppers approach the A-Class with caution initially. The last car launched with this strategy was the CLA, and its execution fell well short of the marketing hype.
The CLA has among the lowest road-test scores for a luxury model. Even more striking is the very low owner satisfaction score in CR surveys. These buyers were seeking a classic Mercedes experience; they instead found that the CLA was rife with compromises. It is a cramped, noisy, front-wheel-drive compact with a stiff ride and impaired visibility, and is exceptionally difficult to get in or out of. It also lacks the handling finesse and refinement expected at its price.
Will a smaller, less expensive A-Class fare better? It may well depend on the buyer's expectations.