When you shop through retailer links on our site, we may earn affiliate commissions. 100% of the fees we collect are used to support our nonprofit mission.
Learn more.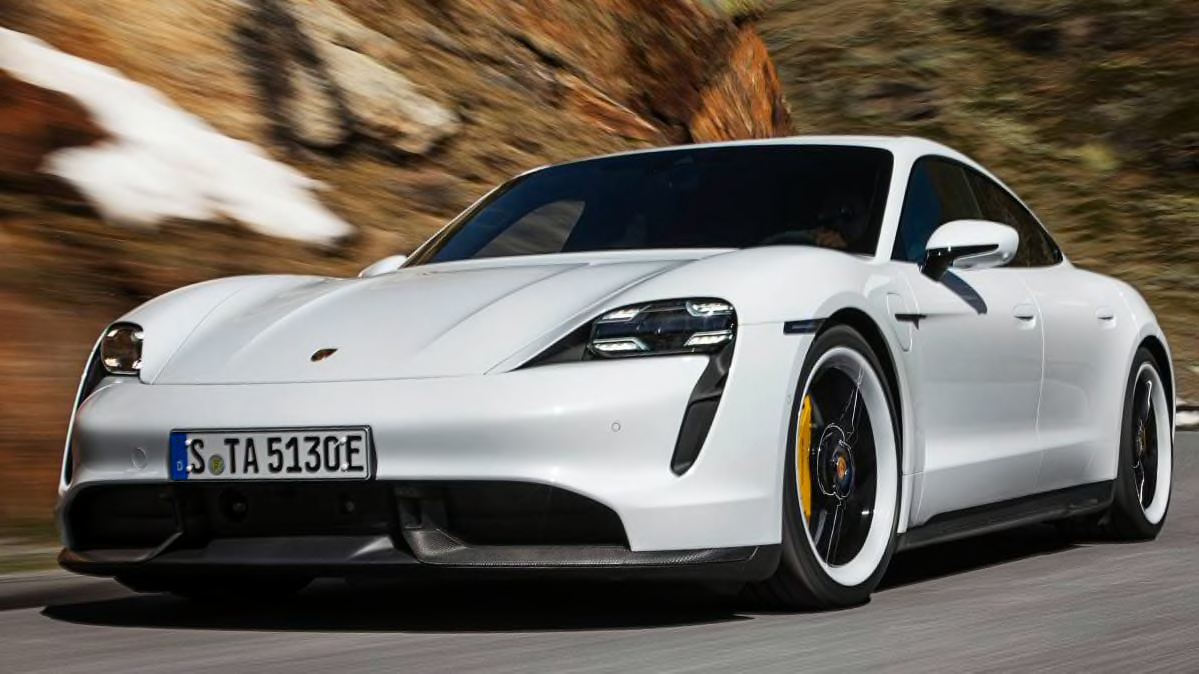 The all-new, all-electric 2020 Porsche Taycan was unveiled this week, offering a first look at the production sedan that promises the power, performance, and range to rival the Tesla Model S—or even beat it.
Long the choice of many well-heeled sports-car enthusiasts, Porsche is trying to recapture some of the market—even panache—it has lost as Tesla has risen. The Taycan is Porsche's first salvo in this battle, and it will be followed by the Taycan Cross Turismo crossover that's meant to compete with the Tesla Model X in late 2020.
The name Taycan (pronounced Tie-Kahn) means "lively young horse" in reference to the stallion at the center of the Porsche crest. This new sports sedan line will be positioned above the Panamera. It launches with the two top versions, dubbed Taycan Turbo and Taycan Turbo S. The $103,800 Taycan 4S follows in spring 2020.
These names align with high-performance versions of other Porsche models, although the "turbo" moniker is a bit superfluous on an electric car, since there's no engine to turbocharge. These will be followed by less powerful, and less expensive, Taycans in the future.
Porsche may be late joining this modern sales race, but the automaker has a long history of electrified cars. In fact, company founder Ferdinand Porsche partnered with Ludwig Lohner to introduce the world's first hybrid vehicle in 1900. And the car company has a long track record of producing hybrids in modern times, from the Cayenne S E-Hybrid to the 918 Spyder supercar. Now the company is going full speed with electric cars.
Along with new details about the model, the German automaker shared more details on its ultra-fast battery charging based on an 800-volt system. Here is what we know so far.
2020 Porsche Taycan
Price: $103,800-$185,000
What it competes with: Tesla Model S
What it looks like: A more muscular Panamera sedan with robotic eyes and wide, bulging fenders.
Powertrains: 522-hp, 563-hp, 670-hp and 750-hp; two motors; two-speed transmission; all-wheel drive
On-sale date: Late 2019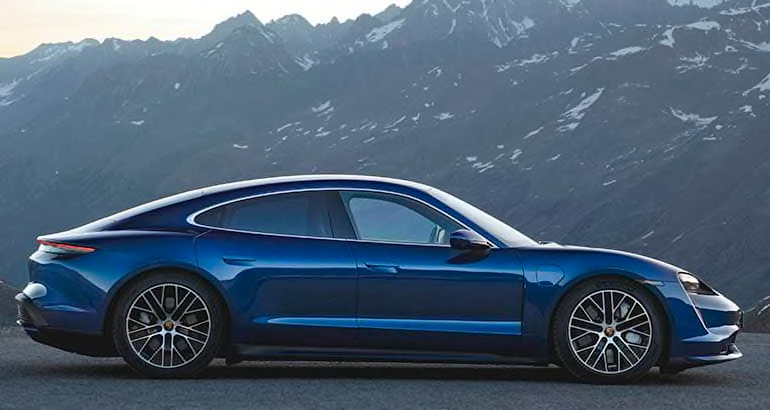 Outside
The Taycan is immediately recognizable as a Porsche, especially from the side, where the sheetmetal and glass shapes draw clear inspiration from the famous 911 and the Panamera. The front is rather unique, with square-shaped headlights that have four LEDs that surround a central bulb. Front air ducts open alongside the headlights, making the car look like a crying robot when viewed head on.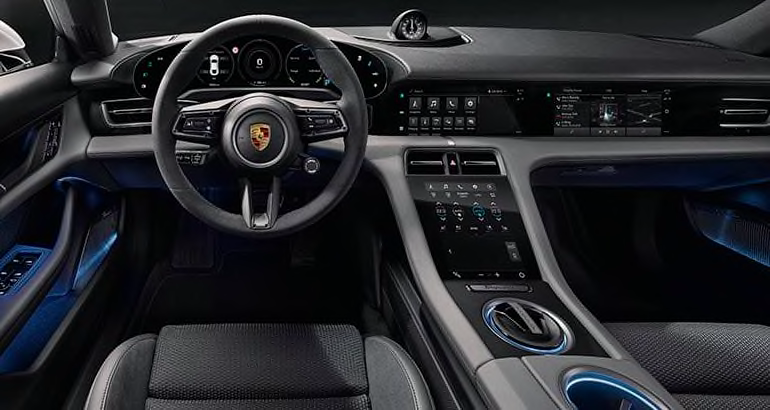 Inside
The interior is defined by dominating, sleek screens. There's a notable absence of buttons, knobs, and dials; drivers can control most functions by touch. The instrument panel is a display, rather than traditional analog gauges. The infotainment system uses a centrally positioned 10.9-inch screen, and there is an optional touch screen for the passenger to allow some functions to be handled by the co-pilot.
Like other EVs, the Taycan has a small storage compartment under the hood as well as cargo space in the rear.
What Drives It
The Taycan has two motors, a front one and a rear one, making it an AWD car. The rear motor is connected to a two-speed transmission to optimize acceleration from a standstill and consume less energy at high speeds.
Porsche said in a press release that the Taycan Turbo produces 616 hp in normal operation, but it can "overboost" to 670 hp for more aggressive acceleration. Porsche claims it can reach 60 mph from a stop in just three seconds. The Turbo S has a maximum output of 750 hp and a blistering-quick 2.6 second 0-60 mph time.
The Taycan has a large battery pack mounted to the floor to create a low center of gravity, a common approach in today's EVs. Thelithium-ion battery is shaped to create a well to help rear-seat legroom by opening space for feet. The range is said to be greater than 300 miles for the large 93.4 kWh battery, although the official estimate hasn't been announced.
The Taycan 4S comes with 522 horsepower and a 79-kWh battery. Porsche claims this less-expensive version zips 0-60 mph in 3.8 seconds and has a 155 hp top speed.
The charging times are said to be superfast. Porsche said that in 4 minutes, the Taycan could take on enough electricity to travel more than 60 miles, but that's on an industrial-grade fast charger. The charge time to go from 5 percent to 80 percent charge is 22.5 minutes, Porsche said.
The key to accomplishing this feat is a potent 800-volt electrical system. That is twice the 400 volts more commonly used in electric cars. Porsche is working on rolling out a nationwide network to support owners, the company said in its statement. Of course, getting access to an 800-volt-capable charger will remain a challenge for some time for most drivers.
Most owners will be charging at home on a 240-volt connection, which should take 10.5 hours, Porsche said.
Porsche plans to build out a charging network, starting at its almost 200 U.S. dealership locations, and then spread to popular travel corridors. The company expects to have at least 500 fast chargers available at dealership and highway locations across the U.S. by the end of 2019. Of course, there are thousands of lower-voltage (mostly 240-volt, but some DC Fast) charging stations already in place across the country.
Porsche said that Volkswagen, its parent company, will lead efforts to develop charging infrastructure in the U.S. VW has already committed to investing $2 billion in manufacturing, promoting, and building infrastructure for electric vehicles in the wake of its diesel emissions scandal through its Electrify America subsidiary. Further, Porsche said in its press release that it will have invested more than $6.6 billion in electric mobility by 2022, signaling that it is going full speed into the realm of plug-in cars.
Because these premium electric cars will have significant range, most owners will find that they don't need to charge the car very often for daily use. Supplemental, on-the-road charging would be needed just for long trips.
CR's Take
Porsche is coming at the electric vehicle market in a big way with its all-new flagship sedan. The promised performance is extreme, but look beyond that excitement, and there are significant engineering elements here that show the might that an established car company can bring to EVs. The new 800-volt system will give the Taycan added appeal to tech-savvy consumers, and it will likely inspire rivals to raise their game.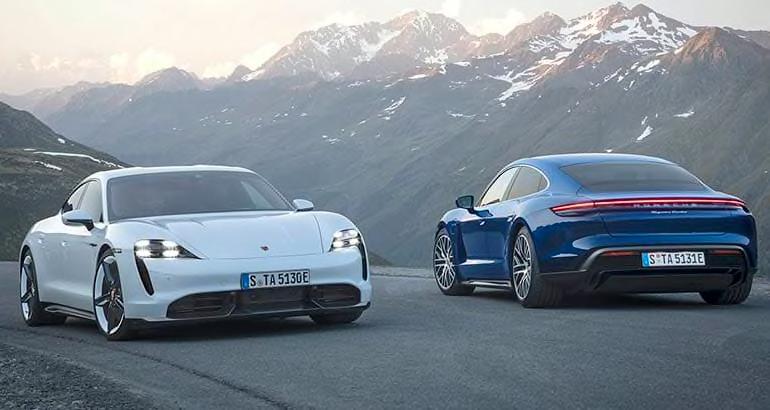 Electric Cars 101
Electric cars are bringing some of the biggest changes the auto industry has seen in years. On the "Consumer 101" TV show, Consumer Reports expert Jake Fisher explains to host Jack Rico why these vehicles might not be as newfangled as you think.