When you shop through retailer links on our site, we may earn affiliate commissions. 100% of the fees we collect are used to support our nonprofit mission.
Learn more.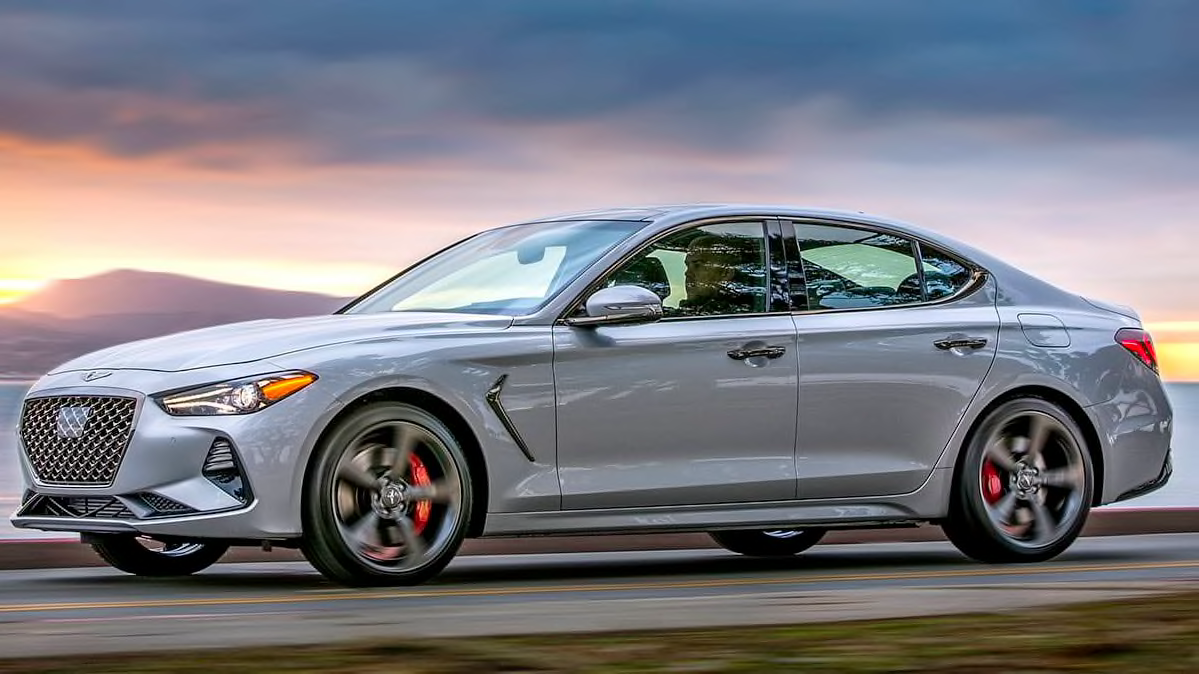 Update: Since this preview was originally published in September 2017, we have purchased and evaluated our own G70.
See the complete Genesis G70 road test.
Genesis unveiled its all-new G70 sport sedan to the U.S. market at the New York Auto Show, and it represents parent company Hyundai's attempt to take its premium brand into a realm firmly controlled by compact German luxury cars.
On paper at least, the G70 has the mechanical specifications to challenge its better-known rivals, thanks to its rear-wheel-drive layout and turbocharged drivetrains.
The G70 is based on the same platform as the Kia Stinger that CR has tested, and it shares the same engines. But these siblings aren't identical: The G70 uses a traditional sedan body style with a trunk vs. the Stinger's hatchback, and the G70 is available with a manual transmission—something the Stinger doesn't offer. The interiors also have distinctly different styling.
2019 Genesis G70

What it competes with: Acura TLX, Alfa Romeo Giulia, Audi A4, BMW 3 Series, Cadillac ATS, Infiniti Q50, Jaguar XE, Lexus IS, Mercedes-Benz C-Class, Volvo S60.

What it looks like: A chiseled, moderately peeved little Genesis G80.

Powertrains: 252-hp, 2.0-liter turbocharged four-cylinder engine, eight-speed automatic or six-speed manual; rear- or all-wheel drive (base). 365-hp, 3.3-liter turbocharged V6 engine; eight-speed automatic; rear- or all-wheel drive (optional).

On-sale date: July 2018.
Outside
Even though the G70 shares its platform and drivetrains with the Kia Stinger, the G70 is not a rebadged Kia. If anything, the G70 looks like a smaller, more chiseled Genesis G80 than it does the Stinger.
The G70's body is full of sharp lines and creases, angular headlights, good-looking multispoke wheels, and a distinctive grille.

From a distance, the Genesis logo reminds of the Bentley and Aston Martin winged logos, which is surely intentional.

The G70 is about 5 inches shorter overall and has about a 2-inch-shorter wheelbase than the Kia Stinger on which it's based. Between the G70's skimpier size and its aggressively sloping roofline, rear-seat headroom may be on the stingy side for taller occupants.
Inside
Hyundai interiors are known for their minimalist designs, with controls that are a model of efficiency and simplicity, and that continues with the Genesis G70.
Unlike many manufacturers, Genesis isn't shy about using knobs to control the audio and climate-control systems. An 8-inch infotainment screen dominates the center of the G70's dashboard and is compatible with Android Auto and Apple CarPlay.
Optional quilted leather seats, brushed aluminum trim, and stainless steel speaker grilles give the interior an upscale look and feel.

For music lovers, there's an available 15-speaker Lexicon audio system. In reviewing the Genesis G90, the brand's most expensive offering, we said the Lexicon stereo in that car was one of the best we'd ever experienced.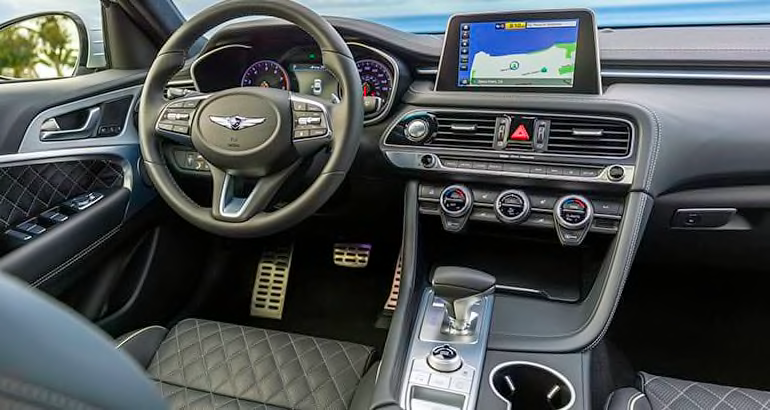 What Drives It
Available drivetrains for the G70 mimic the Stinger, with a 252-hp, 2.0-liter turbo four-cylinder and a 365-hp, 3.3-liter twin-turbo V6, both engines mated to an eight-speed automatic transmission with standard rear-wheel drive and optional all-wheel drive.
Unlike the Stinger (and to the delight of driving enthusiasts), the G70 will have a six-speed manual transmission option for rear-drive 2.0T models.
The turbo four-cylinder in the Stinger delivered good power with almost no turbo lag in our testing, and the automatic transmission was smooth and responsive. But we really loved our time spent in a rented Stinger that had the turbo V6; it's an absolute hoot to drive, with plenty of power and a pleasing growl.

Genesis estimates the rear-drive G70 2.0T will garner 22 mpg city and 30 mpg highway in Environmental Protection Agency tests, with the G70 3.3T AWD coming in at 18 mpg and 25 mpg, respectively. Our Kia Stinger 2.0T AWD averaged an unimpressive-for-the-class 23 mpg overall in our testing.

One of the things we loved about our Stinger was its nimble and playful handling, but with that came a stiff and unsettled ride, something we're hoping Genesis will improve upon with the G70.
The G70 3.3T Sport models add an electronically controlled suspension, and drivers will be able to personalize their car using one of five drive modes (depending on the car's configuration); these allow adjustments for powertrain response, steering weight, engine sound, all-wheel-drive torque distribution, and suspension firmness.
Safety & Driver-Assist Systems
Standard advanced safety and driver-assist systems will include forward-collision warning, automatic emergency braking with pedestrian detection, blind-spot warning, lane-keeping assist, and driver-attention warning, as part of Genesis Active Safety Control.
CR's Take
Based on the pricing of the Genesis G80 and G90 sedans, the G70 is expected to come with lots of standard equipment and a streamlined option structure. Pricing will be announced closer to the car's July 2018 on-sale date.

The G70 should be fun and sporty to drive, albeit with a fancier, more luxurious cabin than that of its corporate cousin, the Kia Stinger. The V6 turbo should be lusty, but we're intrigued by the six-speed manual transmission option for the rear-drive 2.0T model—it's bound to make this already decent engine into a more invigorating driving experience.
We're hoping Genesis will do a better job with the ride and handling than we found in our Stinger test car. The G80 and G90 are known for their more cosseting ride qualities. It's unlikely that the G70 2.0T's fuel economy will be able to improve much on the less-than-stellar 23 mpg overall that the Stinger managed in our testing.
Update: See the complete Genesis G70 road test.