Best Mattresses of 2022
Take your pick of the top adjustable air, innerspring, and foam mattresses from Consumer Reports' exhaustive lab tests
When you shop through retailer links on our site, we may earn affiliate commissions. 100% of the fees we collect are used to support our nonprofit mission. Learn more.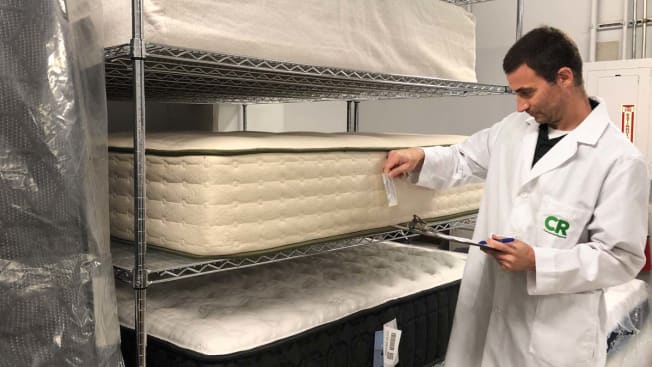 Most of us will spend roughly one-third of our lives in bed—assuming, of course, that you're getting a minimum of 7 hours of sleep a night. That's a good reason to make sure that the mattress you're logging those hours on is the most comfortable, supportive one you can find.
But it's easy to get bogged down in market-speak and technicalities when you're searching for a new mattress. That's where Consumer Reports' testing and surveys can clear the way. Our mattress testing team gauges firmness and calculates precisely how much support each model provides to people of different sizes, whether they sleep on their back or on their side. These are key measures of comfort.
This nuts-and-bolts information, combined with assessments of reliability and satisfaction from surveyed mattress owners (more on this below), will help you see through any hype you encounter and narrow down your choices. That way, mattress shopping is one and done.
Below, CR members can read ratings and reviews of top-rated picks from each of the three types of mattresses we test: adjustable air, innerspring, and foam. In our most recent round of tests, the top performers held strong. Among the models you'll see reviewed below, prices range from $750 up to $3,600. But spending more won't necessarily get you better support or a more comfortable night's sleep.
Best Adjustable Air Mattresses
You can inflate these mattresses to your desired firmness using a remote control or smartphone app. If you're sleeping with a partner, each of you can select a preferred firmness for your side of the bed.
Best Innerspring Mattresses
The most widely sold, these traditional mattresses are composed of steel coils in various configurations.
The most innovation is in the foam mattress category, and new mattresses-in-a-box continue to hit the market.
Tips for Buying a Mattress
Tossing and turning all night? Maybe it's time for a new mattress. On the "Consumer 101" TV show, CR expert Chris Regan shares tips on what to look for when shopping.