When you shop through retailer links on our site, we may earn affiliate commissions. 100% of the fees we collect are used to support our nonprofit mission.
Learn more.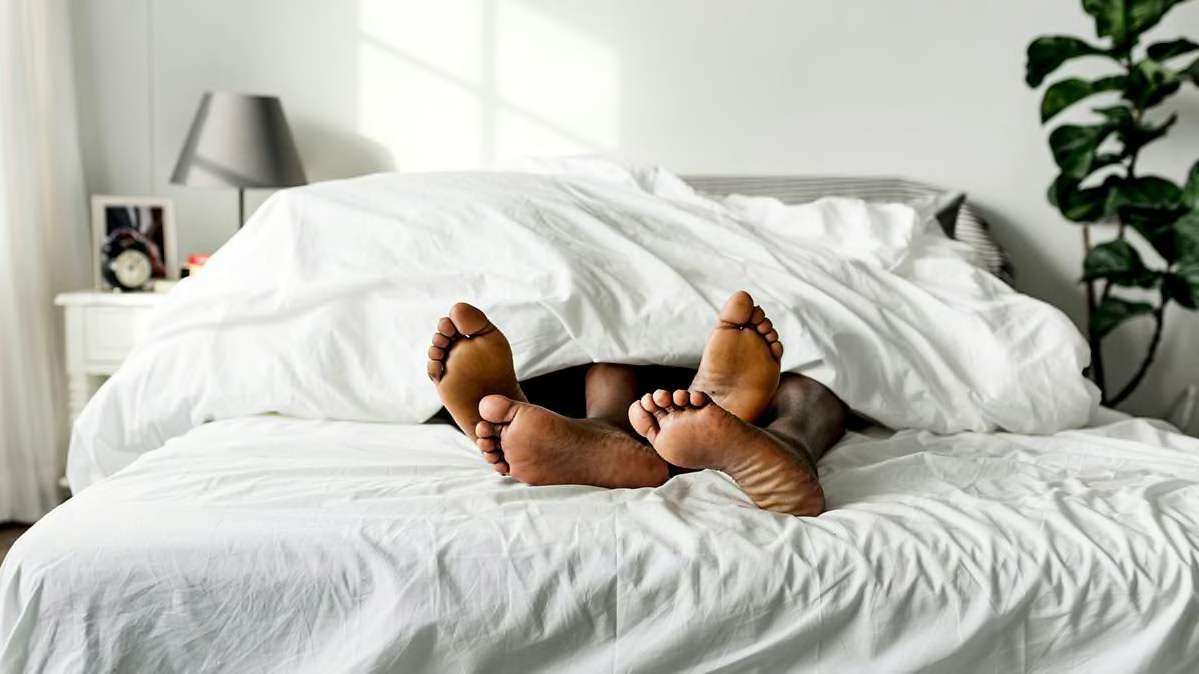 Healthy people shift positions 40 to 60 times per night. Two healthy people, shifting next to each other? Several times per hour? That can make for some sleep disruption.
That's why at Consumer Reports, we test stabilization for all of the mattresses we rate. With innerspring mattresses, this test—essentially a gauge of bounciness—is a good indicator of whether your movements will disturb your partner or vice versa. And with foam mattresses, which aren't generally bouncy but can be difficult to roll around on, our stabilization tests determine how easy it is to change position.
And, of course, a mattress works for a couple only when it offers support for both partners. In our labs we test and rate how well each mattress maintains support for sleepers of different statures and sleeping styles.
For side sleepers, we look to see how well a mattress can keep the alignment of the spine straight, and parallel to the floor. For back sleepers, we measure how well a mattress maintains the natural curvature of the spine in a prone position. All this data informs our extensive ratings, available to Consumer Reports members.
Our comfort and owner satisfaction ratings are based on data from recent surveys on CR members' experiences with more than 74,000 mattresses purchased within the past decade. We asked members to rate the comfort of their mattress and used the data to generate ratings by brand and type of mattress. Owner satisfaction is based on a member's overall judgment of such factors as firmness/softness, value, quality of sleep, and more.
"When shopping for a mattress with your partner, make sure you try out the bed while lying on it together," says Chris Regan, the project leader for CR's mattress testing. Move around and shift positions. Take turns so that one person can feel the effect of the other person's shifts. You want to determine whether movements are transmitted across the mattress to the point where they'd bother you (as captured in our stabilization rating).
CR members can read on for ratings and reviews of seven mattresses whose attributes make them particularly good for couples. All rate high in our tests for support and stabilization.
Best Innerspring Mattresses for Couples
These traditional mattresses use steel coils for support. They are the most widely sold type and tend to be more expensive than foam mattresses.

Best Foam Mattresses for Couples
Foam mattresses can include various spongy materials—such as latex and memory foam—that soften when you lie on them and soon mold to your body.
Best Adjustable Air Mattresses for Couples
Foam and innerspring not your thing? Try an adjustable air bed that allows you to change the mattress' firmness with the click of a button.
Tips for Buying a Mattress
Tossing and turning all night? Maybe it's time for a new mattress. On the "Consumer 101" TV show, CR expert Chris Regan shares tips on what to look for when mattress shopping.