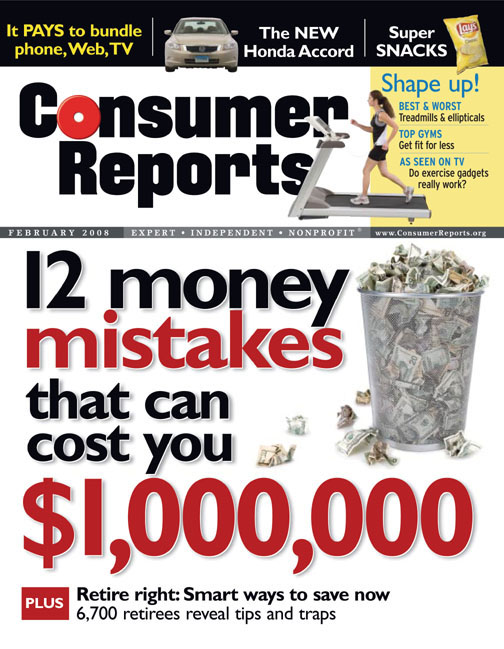 YONKERS, NY — The February issue of Consumer Reports takes a hard look at exercise machines sold through infomercials on TV and the Web. CR tested 10 exercise devices costing $50 to $300 and found that most product claims to chisel, tone, target, and lift were overblown, and that the same or better results could usually be achieved through simple exercises requiring little or no equipment.
The report is part of a fitness package that also provides ratings of more than 30 treadmills and elliptical machines, in addition to CR's first ever health club ratings with analysis of which health clubs to join and what to look for when signing up for a membership. Log on to www.consumerreports.org and click on the Health tab.
The testing took place at CR's fitness lab, where testers measured the calories burned and, where relevant, muscle activity as panelists used each device. CR also recruited at least nine staffers to try each machine on their own and report their impressions. One device did not hold up to the testing. The Bun & Thigh Doer, which focuses on small muscles of the inner, outer, and back thighs but can also work arm muscles, and costs $300, comes with a resistance band that snapped off during testing, thwacking CR's tester on the leg. CR confirmed the design flaw on two other units. As a result, CR recommends against using the product, which was recently discontinued (but may be available at some retailers, according to the manufacturer).
CR suggests the following tips for people choosing inexpensive fitness equipment sold on TV or online.

Read the fine print. Most of the amazing results shown in infomercials are footnoted as "not typical" or result from an overall "system" that includes a diet plan and, in many cases, additional exercise. CR notes that losing one pound of fat solely by exercising with the machines, using recommended workout guidelines, would take a 165-pound person anywhere from one to nine months.
Calculate the total cost. Unless the price includes shipping, consumers should expect to pay an additional $20 to $50 plus any sales tax.
Don't confuse toning with weight loss. While some of the products might help people strengthen certain areas, the only way to shed pounds (without surgery) is for a person to burn more calories than he/she takes in. The Urban Rebounder, a min-trampoline, burned calories at the highest rate of the machines tested.
Consider do-it-yourself options. Most of the machines mimic movements people can do on their own with far less-expensive equipment.
Be wary of trials. A "30-day money back guarantee" sounds good, but returning the product might not be easy, especially if it's bulky or heavy.
HOW THEY COMPARE:
CR notes that any piece of equipment that motivates people to exercise may hold some value. But the weight loss touted in testimonials is more likely due to the reduced-calorie diet plans that most manufacturers recommend rather than to the devices themselves. Here's a snapshot of the claims made by various manufacturers versus what CR found while testing the machines. The full report with longer length descriptions and photo illustrations is available online at www.consumerreports.org.
ABDOMINAL EXERCISERS

Ab Lounge XL, $210 (Mesh chair that mimics the motion of a jackknife sit-up)
The manufacturer claims that the Ab Lounge is an easy, scientific way to target abs, but CR's testing found that it's not a lot more useful than a floor mat.
Ab-Doer Xtreme, $150 (Chair with rotating handles for low-level torso resistance)
The manufacturer claims that people will lose 3 inches and 10 pounds in 30 days. CR's take is that people won't shed much weight in 30 days unless they follow the product's recommended strict diet.
The Bean, $50 (Inflatable exercise device)
The manufacturer claims the Bean will help people get lean, but CR found that the Bean alone won't do the trick.
Red Exerciser DX, $160 (Swivel chair with adjustable resistance)
The manufacturer claims people will lose 4 inches off the midsection in two weeks. CR notes those claimed 4 inches aren't going anywhere without a serious diet.
BUN & THIGH MACHINE

Leg Magic Professional, $180 (Upright machine w/ horizontal sliding track to work butt and inner thighs)
The manufacturer says the device will slim that hard-to-isolate inner-thigh area. CR notes it will strengthen inner thighs, but consumers shouldn't expect slimmer legs unless they cut their calorie intake, get more aerobic exercise, or both.
AEROBIC DEVICES

AirClimber, $140 (Free-standing stair-stepper atop two air bellows)
The manufacturer claims people will lose 10 inches and 10 pounds in 10 days. CR asserts that people who want to lose weight could do as well with a brisk daily walk and an exercise band for upper-body strengthening. And its 1,000-calorie-a-day weight-loss plan may not provide enough nutrients for some dieters.

Urban Rebounder, $150 (Mini-trampoline)
The manufacturer claims that in just 15 minutes three times a week, people can melt away the fat and transform the body like no other exercise. CR states that it's a good alternative to running, but people will need more than 15 minutes three times a week to burn lots of calories.
TOTAL BODY EXERCISERS

Easy Shaper Ultimate, $215 (Padded seat with moving back support)
The manufacturer claims it's the total-body makeover machine. CR notes that simple circuit training is apt to be more effective, more comfortable, and less expensive.
Fluidity Bar, $200 (Floor-standing ballet bar with attached mat)
The manufacturer claims that people will get the long, lean look of a dancer's body. CR notes that the device is a pricey but potentially enjoyable alternative to strength training, plus stretching, but people shouldn't expect to lose much weight from the workouts alone.