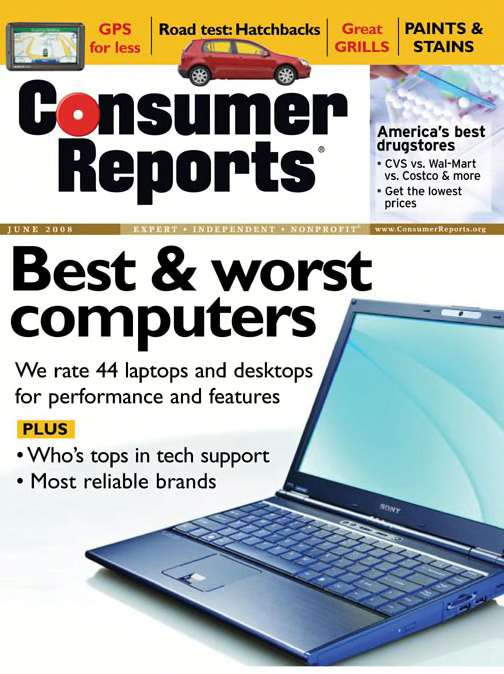 YONKERS, NY — The Volkswagen Rabbit emerged as Consumer Reports' top-rated affordable hatchback following tests of six vehicles for the June issue. The Rabbit outpointed CR's previously top-rated hatchback, the Mazda3.
"With agile handling and a versatile, well-finished interior, the Rabbit feels solid and is a pleasant car to drive," said David Champion, senior director of Consumer Reports' Auto Test Center in East Haddam, Connecticut. "The Rabbit has commendable fit and finish, a versatile interior, and agile handling."
The Rabbit was tested against five other versatile small sedans—the Subaru Impreza Outback Sport, Toyota Matrix, Saturn Astra, Mini Cooper Clubman, and the Scion xD. Prices ranged from $16,620 for the xD to $24,700 for the Clubman.
The Rabbit achieved an "Excellent" overall score in CR's tests, the only vehicle in the group to do so. The Impreza and Matrix were rated "Very Good" overall. The Astra and Mini Cooper scored lower, but still in the "Very Good" range. The xD was the lowest rated vehicle in the group, judged "Good" overall.
Separately, CR's engineers also tested the Toyota Prius with the Touring Package trim line—and ranked it second overall in the ranking of Affordable Hatchbacks, right behind the Rabbit and one point ahead of the Mazda3. The Prius' rating is covered in the "Up Front" section of the June issue.
With four doors, large tailgate openings, usable back seats and seating for up to five, the cars in this group do double duty as people and cargo haulers, according to CR's experts. Adding to their appeal, today's hatchbacks are much more refined and pleasant to live with than their forebears. Interior quality is often on par with larger, more expensive models. Hatchbacks often include comfort and convenience features like power windows and locks, climate control, good sound systems and cruise control.
"As gas prices continue to soar, hatchbacks make sense for anyone used to the utility of an SUV but ready for a smaller, more affordable and efficient alternative," Champion said.
Of the vehicles in this report, Consumer Reports is recommending only the Rabbit and Impreza Outback Sport. CR has no reliability data yet on the new Matrix, Astra, Mini Cooper Clubman and xD because they are new or redesigned models for 2008. Consumer Reports only recommends vehicles that have performed well in its tests, have at least average predicted reliability based on CR's Annual Car Reliability Survey of its more than seven million print and web subscribers, and performed at least adequately if crash-tested or included in a government rollover test.
Full tests and ratings of the test group appear in the June issue of Consumer Reports, which goes on sale May 6. The reports are also available to subscribers of www.consumerreports.org.
The Volkswagen Rabbit is well equipped and competitively priced. CR's engineers and editors found it thoroughly practical and enjoyable to drive. Other than the powertrain, it doesn't feel much different from the sporty GTI, which costs much more. The Rabbit S ($19,725 Manufacturer's Suggested Retail Price as tested) is equipped with a 170-hp, 2.5-liter five-cylinder engine and six-speed automatic that deliver responsive performance and quick and smooth shifts. But fuel economy is mediocre for a small car, at 24 mpg overall in CR's tests. Braking is excellent overall, with a firm pedal and short stops in both wet and dry conditions. The cargo area is roomy and well-finished, with a pass-through for carrying long items.
The Outback Sport is a better-appointed Impreza wagon. While the old Impreza was cramped and noisy and felt cheap inside, this redesigned model is noticeably improved. The comfortable ride is impressive. The Outback Sport ($21,640 MSRP as tested) is powered by a 170-hp, 2.5-liter four-cylinder engine. Performance from that engine is just adequate; the standard all-wheel-drive takes its toll on both acceleration and fuel economy, The four-speed automatic transmission is very good overall. The Outback Sport's brakes are excellent. The car's cargo area has a rubber tray to contain dirty items, and the flush sill makes loading easy.
A tall hatchback based on the Toyota Corolla sedan, the Matrix has added height that gives it more passenger and cargo space than most competitors and eases entry and exit. The Matrix also gets impressive fuel economy for its size and has good power. But it isn't as polished as some competitors, with an unsettled ride, a boomy engine, and an interior that feels cheap. The Matrix S ($21,180 MSRP as tested) was equipped with the optional 158-hp, 2.4-liter four-cylinder engine that makes the hatchback a little quicker than most competitors but still provides good fuel economy. The five-speed automatic transmission shifts smoothly. Braking is very good overall. Inside, the Matrix's front passenger seat folds flat to fit extra-long cargo. The back cargo area is lined in hard plastic, which can scratch easily.
Nearly identical to the Opel Astra built and sold in Europe, the Saturn Astra has a composed, fairly quiet ride, agile handling and relatively good fit and finish. But a lackluster engine, middling fuel economy, complex controls, and a tight backseat weigh against it. The Astra XE ($20,025 MSRP as tested) is powered by a 140-hp, 1.8-liter four-cylinder engine that can muster only leisurely acceleration and isn't as responsive as that of most cars in this class. The Astra's four-speed transmission and brakes are both very good overall. Cargo capacity and interior storage are limited.
The Clubman is a longer version of the Mini Cooper, with a larger backseat and more cargo space. A small rear-hinged door on the right side helps rear access. The Clubman is just as fun to drive as the standard Mini, with impressive steering, handling, and braking, but the improvement in utility is modest; the rear delivery-van-style doors hinder cargo access and rear vision. The Clubman ($24,700 MSRP as tested) is equipped with a smooth, 118-hp, 1.6-liter four-cylinder engine that delivers average performance but above-average fuel economy. The six-speed automatic transmission shifts quickly and smoothly. Braking is excellent.
The Scion xD is smaller and less expensive than the other vehicles in this group. It is a boxier version of the Toyota Yaris on which it is based, with impressive interior space and a roomy rear seat for such a small car. The xD ($16,620 MSRP as tested) is propelled by a 128-hp, 1.8-liter four-cylinder engine that delivers only adequate performance but is miserly with fuel. The four-speed automatic transmission shifts smoothly and responsively. The xD's brakes are very good overall. With the 60/40 rear seatbacks folded down, the xD will hold about 21 cubic feet of cargo, which is impressive for such a small car.
With more than 7,000,000 print and online subscribers, Consumer Reports is one of the most trusted sources for information and advice on consumer products and services. It conducts the most comprehensive auto-test program of any U.S. publication or Website; the magazine's auto experts have decades of experience in driving, testing, and reporting on cars. To become a subscriber, consumers can call 1-800-234-1645. Information and articles from the magazine can be accessed online at www.consumerreports.org.