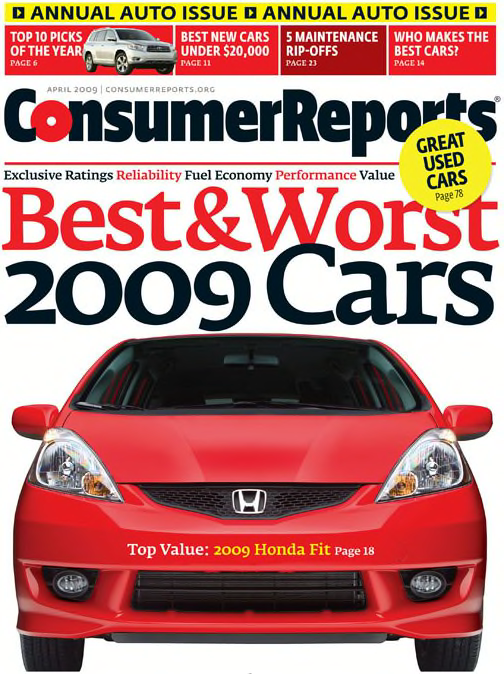 YONKERS, NY — Consumer Reports names the Toyota Prius Touring as the best overall value among 300 cars according to the 2009 Annual Auto Issue.
The Prius Touring provides the best overall value because of its comparatively low owner-cost estimate of $26,250 over five years—and a relatively high road-test score of 80 points out of 100. The Prius doesn't have the least expensive sticker price in its class, but its excellent fuel economy of 42 mpg overall and solid resale value help give it a low owner cost.
"A low price doesn't necessarily make a car a good value," said Rik Paul, automotive editor at Consumer Reports. "At a time when people need to make every dollar count, our best value list will help consumers understand the difference."
The full report on best car values as well as value lists, reliability data, and owner-cost estimates is in the Consumer Reports Annual Auto Issue on newsstands March 3 to May 4 or online at www.consumerreports.org.
To determine which cars are the best values, Consumer Reports looks at its overall road-test scores, five-year owner-cost estimates, and predicted reliability ratings for more than 300 recently tested vehicles. CR then divided each vehicle's five-year owner cost by its overall road-test score to get the cost of each test-score point —the lower the cost per point, the better the value. To ensure the vehicles named as best values were also models that held up well over time, choices were limited to those with above-average predicted reliability ratings. Consumer Reports' owner-cost estimates are based on six major elements: depreciation, fuel economy, insurance, interest on financing, maintenance and repair, and sales tax.

The Prius Touring received a cost-per-point of $325. Rounding out the top five models with the best overall value were the Mini Cooper ($330,) Volkswagen Rabbit ($330), Honda Civic EX ($340), and Honda Fit ($350). Five small cars, the Mazda Miata, and the Toyota Camry Hybrid follow with results ranging from $340 to $365 cost per test-score point. One of those cars, the redesigned Honda Fit had the best owner-cost estimate on CR's best value list, only $24,000 over five years.
The Toyota Prius base model, Mazda3 hatchback, and four-cylinder versions of the Toyota RAV4, Hyundai Sonata, and Honda Accord also had low cost-per-point estimates of under $400.
Five hybrids made the list, including the top three in the family car category. Of the 41 vehicles on the best values list, all but the Mini, VW, and Volvo C30 are from Asian manufacturers, with 17 built by Toyota, 10 built by Honda, four by Nissan, and three by Hyundai.
Consumer Reports found huge differences between cars that score among the best and worst values. The Hummer H2, for example, is a terrible deal, with a best value figure of $3,620 because of a high five-year owner cost of about $82,250 and a low test score of only 23.
Showing that a low price doesn't always mean a good value, at $15,355 The Smart ForTwo and at $16,470 Chevrolet Aveo5 had results of $895 and $870, respectively, which were the worst among all small and family cars.
Consumer Reports highlights the best new-car value vehicles in nine vehicle categories—small cars, family cars, upscale cars, hatchbacks/wagons, sporty cars, minivans, small SUVs, midsized SUVs, and pickup trucks. The complete best-value list and the cost-per-test-point results are available in the 2009 Annual Auto Issue. Here are some of the highlights:
Best Value Small Cars:
Honda Civic EX, Honda Fit (base), Hyundai Elantra SE, Toyota Corolla LE, and the Honda Civic Hybrid
Best Value Family Cars:
Toyota Prius Touring, Toyota Camry Hybrid, Toyota Prius (base), Hyundai Sonata (4-cyl.), and the Honda Accord (4-cyl.)
Best Value Hatchbacks/Wagons:
Volkswagen Rabbit, Mazda3 hatchback, Scion xB, Subaru Impreza Outback Sport, and the Toyota Matrix
Best Value Small SUVs:
Toyota RAV4 (4-cyl.), Toyota RAV4 (V6), Honda CR-V, Mitsubishi Outlander (4-cyl.), and the Nissan Rogue
Best Value Midsized SUVs:
Hyundai Santa Fe, Toyota Highlander, Toyota Highlander Hybrid, Nissan Murano, and the Honda Pilot