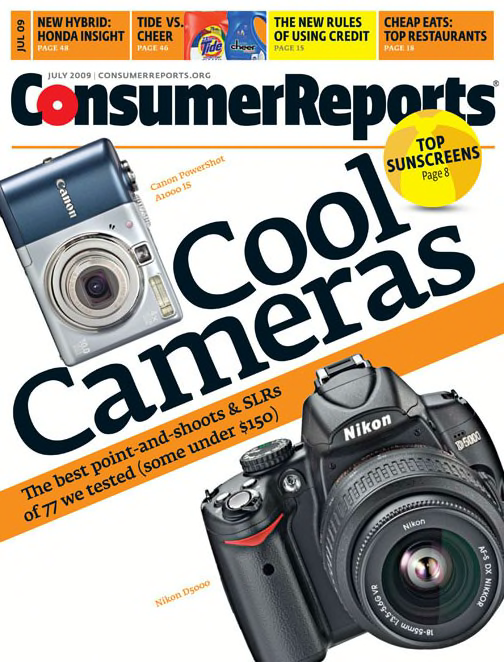 YONKERS, NY — The easiest way to save money on cooling this summer is to get the right cooling system for the space, whether using a central air system, a window unit, or a ceiling fan. The July issue of Consumer Reports features Ratings of window air conditioners, including six recommended units for $260 or less; new data on the most and least reliable central-air brands; and advice on getting the right cooling system for the space.
Consumer Reports tested 29 window A/Cs and all did an excellent job at cooling, but some were much noisier than others. Consumer Reports identified six recommended models for $260 or less. The Friedrich CP06E10 ($260), and Sharp AF-S60PX ($190) were among the quietest models in the small category (5,000 to 6,000 Btu/hr.). The Friedrich and Frigidaire FAA055P7A ($180) did better in brownout tests.
In the midsized category (7,000 to 8,200 Btu/hr.) the Kenmore 76081 ($200) and the Frigidaire FAA087S7A ($200) scored excellent in brownout tests and operated quietly on low. For large window units (9,800 to 12,500 Btu/hr) Consumer Reports named the Kenmore 75101 ($240), and the Kenmore 75121 ($300) CR Best Buys. They performed very well in brownout tests and were quiet on low settings.
Central Air
When it comes to central air conditioners, reliability is crucial because breakdowns are inconvenient and costly. Consumer Reports conducted a Product Reliability Survey of more than 32,000 readers who purchased central air systems (without heat pumps) between 2002 and 2008, and found that almost two-thirds of those who had a repair said their central air conditioning broke down for a day, and 31 percent reported a complete system failure. Forty-eight percent spent $150 or more to fix the problem.
Trane, the market leader, along with Rheem and Ruud were found to be reliable central-air brands and their systems were less likely to need repairs than those from Goodman and Heil, according to the survey. The survey also found that units installed by builders broke down more often than owner-installed ones.
Based on reports from more than 17,000 readers with heat-pump-based cooling systems, those from American Standard, Bryant, Carrier, Lennox, Rheem, and Trane were equally reliable.
New central air conditioning systems are 20 to 40 percent more efficient than those made 10 years ago, and now, the federal government is offering a tax credit of 30 percent, up to $1,500, for replacing or adding central-air-conditioning systems or split ductless units. The credit is only valid through 2010 and to qualify, the installed systems must have a seasonal energy-efficiency ratio (SEER) of 14 or higher for packaged systems, 16 for split and split ductless. The higher the SEER, the more efficient the model. The credit covers both parts and labor. Utility rebates are also available but can affect the tax credit.
Energy Star-qualified window air conditioners don't qualify for the federal tax credit, but some utilities are offering rebates of between $30 and $150.
Other Cooling Options: Split Ductless and Portable Units; Ceiling Fans
Split ductless systems are similar to central air, yet they require no ductwork, making them easier to add to homes without existing ducts. They have an outside condenser and one to four indoor units with blowers mounted high on the wall. Tubing connects the parts and circulates refrigerant. The tubing, along with electrical and drain lines, is run through a 3-inch hole hidden behind the indoor unit. Each indoor unit cools the room it's installed in and has its own remote control.
Consumer Reports tested the Sanyo KS-1271 ($1,090), the LG LS122CE ($1,000), and the Mitsubishi MS-A12WA ($1,200). All of the units were about 12,000 Btu/hr., enough to cool roughly 650 square feet, and did an excellent cooling job and were much quieter than window units. Though they are expensive and should be professionally installed, split ductless systems with a SEER of 16 or higher qualify for the federal tax credit of 30 percent, or up to $1,500 on parts and labor.
When it comes to portable air conditioners, Consumer Reports found these units did not cool as well as manufacturers claim, and that they are were pricey—ranging from $300 to $700. Dual-hose models like the Friedrich P12B ($650) and the DeLonghi PAC T110P ($680) did a slightly better job cooling than the single-hose models in Consumer Reports' tests; however their performance fell far short of similar-sized window units.
Though they don't remove humidity, ceiling fans can be an inexpensive alternative to window units, and they cost less to run. A 52-inch-diameter fan is ideal for rooms that are 225 to 400 square feet, while a 42- to 44-inch fan will cool a 144 to 225 square-foot room. The higher the cubic feet per minute, the more air movement. Ceiling fans with the most airflow were the noisiest in Consumer Reports' tests and fans with blades that have ridges, bumps, or other surface texture were often noisier on high than those with smooth blades.
Doing it Right
Getting the wrong size is the most common mistake people make, regardless of the type of cooling system. Purchasing a unit with too small a capacity could lead to inadequate cooling, while a unit that's too large could lead to a cold, damp space. Consumer Reports offers these tips for choosing the right cooling system:
Upgrading central air. Don't automatically buy the same-sized system. Changes that have improved energy efficiency, including new windows or added insulation can reduce cooling needs, while added rooms could increase needs. Contractors should do a load calculation as well as evaluate if ducts need to be resized, sealed and insulated, or replaced.
Adding central air. Adding a central system is relatively straightforward if the home already has ductwork for heating. Contractors should use a duct-sizing method like the Air Conditioning Contractors of America's Manual D to make sure there are enough supply registers to deliver sufficient air to the right spots. Leaky or uninsulated ducts can reduce system efficiency considerably.
Window units. Energy Star-qualified window models use about 25 percent less electricity than those made before late 2000. Use the savings calculator on the A/C page at www.energystar.gov to see if replacing the unit makes sense, and use the sizing calculator at www.consumerreports.org to determine the right size.
The full report, which includes comprehensive window air conditioner Ratings, reliability on 11 central air brands, and a look at split ductless and portable air conditioners, is in the July issue of Consumer Reports, on sale June 2. The reports are also available at www.consumerreports.org.