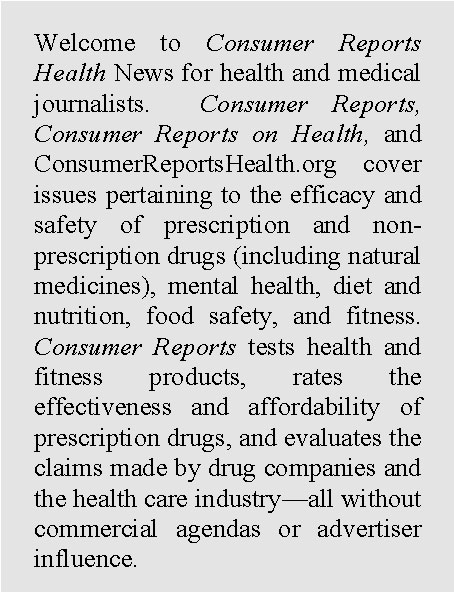 Consumer Reports examines how to fix the health-care system in an in-depth online guide. To access the guide, log on to www.ConsumerReportsHealth.org and click on "Health-Care Reform." With the forces of opposition to health-care reform mounting, Consumer Reports examines five common fears about reform, separating fact from fiction. Case in point: it's been suggested that comparing the relative effectiveness of treatments and drugs will lead to rationing. Congress recently approved more funding for comparative-effectiveness research (CER). This term refers to the studies to evaluate which drugs or treatments work best for different medical conditions and different patients. That's one more piece of information—based on science, not drug company advertising or sales reps pushing pills—to help your doctor and you decide what's right.
For a window into CER, log on to www.ConsumerReportsHealth.org and click on the prescription-drug tab for Consumer Reports Best Buy Drugs, which provides drug ratings for more than 20 conditions from asthma to heart disease. If you suffer from one of those conditions, you may find you could choose a better medicine with fewer side effects and save thousands of dollars a year. That's not rationing, that's picking the right medication based on the evidence.
PROTECTING CHILDREN'S HEARING IN A NOISY WORLD
Some 12.5 percent of American children ages 6 to 19 have noise-induced hearing loss (NIHL) in one or both ears. NIHL is a condition that is easy to miss, can get worse over time, and is permanent. According to Consumer Reports, loud noise can damage the delicate hair cells in the ear. Because cochlear hair cells don't regenerate, it's important to prevent damage to reduce the need for hearing aids later in life. What's a safe noise level? Health and safety experts at Consumer Reports say that almost everyone can be safely exposed to 70 decibels (dB), about as loud as the noise inside a shower, indefinitely without harm. But sounds at 100 dB can cause damage after 15 minutes of unprotected exposure. That's a sound level that can be exceeded by rock concerts, sporting events, movie theaters, and some MP3 players. Consumer Reports advises parents to use hearing protectors, such as ear plugs, on their children when needed, monitor and control exposure to common sources of noise that can damage hearing, and have their children's hearing tested by a certified audiologist. For more information, go to www.ConsumerReportsHealth.org.
THE ABCs OF FEEDING BABY
The tenth edition of Consumer Reports Best Baby Products is now available at major bookstores, offering an A-Z guide for new and expecting parents, as well as product ratings for common, everyday items. Wondering what or how to feed your baby? Consumer Reports recommends these tips:
Check the labels on baby formulas. Some brands, such as Similac Organic, contain sucrose, which can harm a baby's tooth enamel faster than other sugars.
Choose organic baby foods. The evidence suggests that organically grown foods contain fewer pesticide residues than conventionally grown foods. Buy organic when you can, especially those fruits and vegetables that typically carry the highest residue levels. Consumer Reports found that it can be worth paying more for organic apples, peaches, spinach, milk, and beef.
Buy BPA-free plastic baby bottles and sippy cups by looking for the numbers 1, 2, 4, or 5 on the bottom. Researchers have expressed concern about the effects of BPA on the brain, behavior, and reproductive system of infants and children.
Say "no" to the 5-second rule. A dropped pacifier should be rinsed with at least water and dried with a paper towel before handing back to baby.
COPING WITH SUMMER PESTS
Summer is here: time for barbecues, beaches, and baseball – not to mention ticks, mosquitoes, sunburn, and poison ivy. Orly Avitzur, M.D., medical adviser to Consumers Union, advises vacationers to remember their sunscreen and bring along hydrocortisone cream for sunburn and poison ivy. Beware of symptoms like rash, headache, joint pain, or muscle ache, which can be signs of Lyme disease, especially from May to August. And avoid being a target for ticks and other bugs by being sure to wear long sleeves and pants in wooded or grassy areas; applying an insect repellent registered by the Environmental Protection Agency; shunning perfume or scented soaps or deodorants; and draining standing water from outside containers. For more details, log on to www.ConsumerReportsHealth.org.
GET THE LATEST ON EXERCISE MACHINE RATINGS AND SAFETY TIPS
Visit Consumer Reports Health online at www.ConsumerReportsHealth.org for updated ratings on exercise treadmills and elliptical machines, along with safety recommendations. According to the Consumer Product Safety Commission, more than 25,000 children under age 14 are injured each year by exercise equipment, including treadmills, stationary bikes, and stair climbers. Consumer Reports advises parents on how to prevent injuries from treadmills and other exercise machines by keeping children away from them when they're in use and unplug and locking them, if possible, when they're not in use. Young children should be kept away from all exercise equipment without safety locks.