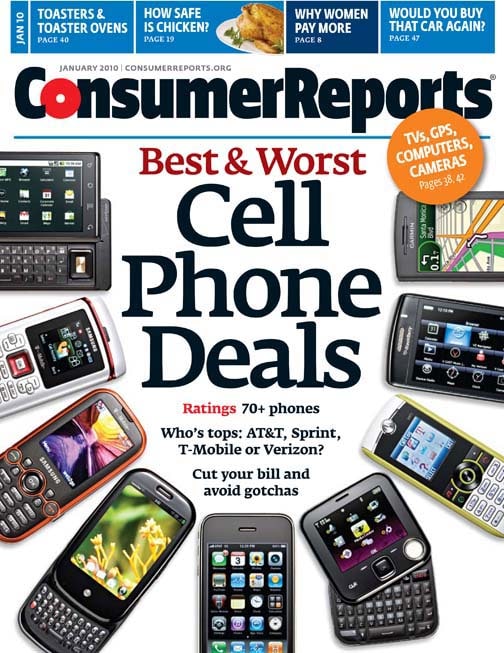 YONKERS, NY — Consumer Reports most recent annual cell-phone service survey of more than 50,000 readers found that only 54 percent of respondents were completely or very satisfied with their cell-phone service. Despite "smarter phones," more flexible plans, and faster wireless networks, cell service continues to be among the lower-rated of all the services that Consumer Reports evaluates. The full report which includes carrier Ratings in 26 cities is featured in the January 2010 issue of Consumer Reports and at www.consumerreports.org.
The survey also showed that almost two-thirds of respondents had at least one major complaint. About one in five readers cited high prices as their top complaint, which is more than any other annoyance.
"America is in love with the cell phone, but they are lukewarm about cell-phone service," said Paul Reynolds, electronics editor at Consumer Reports. "They're especially concerned about its cost in these tight economic times."
Cell-Phone Service Ratings
Verizon, the nation's largest wireless carrier, is the top option for most people and was a better choice in most of the 26 cities surveyed. Overall, Verizon was above average on every attribute including customer support, voice connectivity and data service and has the biggest network in the industry, but it tends to be costly. About one in five Verizon customers cited high cost as their top complaint; Verizon's $60 Nationwide basic with 900 voice minutes is more expensive compared to carriers such as T-Mobile, which offers 100 extra minutes for the same price.
T-Mobile was the next-best competitor to Verizon in overall satisfaction, and worth considering as a good value for some. However, the carrier received lower marks in voice, messaging, web and e-mail services. Sprint, the worst carrier last year, shares the title with AT&T this year, and got low marks for customer service. While AT&T's main weak spot is voice connectivity, they also scored below average in every attribute except Web access and texting.
Phones that are exclusive to certain carriers shaped service choices for many subscribers. Another Consumer Reports survey found that over one-third (38%) of respondents who had switched carriers in the past two years did so because it was required to get the phone they wanted, while 27 percent of all respondents went shopping for a specific phone in mind. Apple iPhones are the top smart phones in Consumer Reports latest Ratings of cell phones and craved by fans. Additionally, a staggering 98 percent of iPhone users were satisfied enough that they would buy the phone again, despite below-par ratings for AT&T, the phone's exclusive carrier.
Prepaid Service
For service on a budget, prepaid contracts are quickly becoming the leading option. Boost Mobile added 1.5 million new customers in the first half of 2009. The main difference between prepaid and traditional cell phone service is the absence of a required contract. The fairly small percentage of readers who used prepaid service were generally happy with it. TracFone received the highest satisfaction score. It offers inexpensive, basic handsets that operate on AT&T's network and others. T-Mobile and Verizon prepaid options as well as Virgin Mobile received the next highest scores.
Service often costs $25 or less per month, compared with $50 to $100 per month for contract customers. Savings can run between $100 and $1,080 per year, depending on whether users are an individual or couple. About three quarters of Consumer Reports readers who chose prepaid did so because it cost them less than a monthly billing plan. The cost advantage of prepaid service was less for multiphone families.
Additional survey results include:
Texting and Data Usage Increases Significantly. Almost 70 percent sent and received text messages, compared to 55 percent in Consumer Reports 2007 survey; 20 percent of this year's texters pecked out 10 or more messages per day. In 2009, roughly 40 percent of survey responders said they access the Internet with their phones, up from 23 percent two years ago.
Data Service: Mixed Satisfaction. For the first time this year, Consumer Reports asked readers about data service and found that only 24 percent of users rated their web and e-mail experience as excellent and 18 percent of e-mail users cited the inability to send or receive e-mail as a problem.
The full report on cell-phone service — including cell-phone service by city and Consumer Reports cell phone ratings, can all be found in the January 2010 issue of Consumer Reports, available wherever magazines are sold and also online at www.consumerreports.org.